Jaffer Bhai's goes 'glocal' with its newest branch in DIFC
Jaffer Bhai's, the Biryani King of Bombay, inaugurated their newest outlet in Dubai on Tuesday, November 29, ahead of UAE's 51st National Day celebrations.
The over-the-counter Quick Service Restaurant (QSR) concept in the South Market food court at the Gate Avenue of Dubai International Financial Centre (DIFC) Is the four-decades-old legacy group's third establishment in the UAE after their oldest and flagship restaurant in Karama, and a second one in Al Barsha. "This is also by far our most significant step forward considering the concept of the kitchen and the pan-Asian, pan-European/American clientele it will serve, So this is our first truly global restaurant with a very localised outlook making us a glocal outfit," said Moin Jaffer Mansuri, the second-generation owner of the chain that first began operations in 1973 in Mumbai before coming to the shores of Dubai in UAE in the nineties. "We have consistently been voted one of Dubai's best restaurants for biryani but there's more to us than our dum-cooked rice and meat legacy and our specialist team at DIFC outlet can't wait to showcase it by catering to everyone, including the resident upmarket executive foodies with a more refined palate and everyone else that loves a hearty workday lunch."


According to Mansuri, Jaffer Bhai's DIFC will be mostly targeting customers looking to grab a quick bite on the go, in between work and meetings. "And so, the kitchen here will be serving daily specials including biryanis, kebabs and choicest of desserts. But one thing that we are also introducing here is our own version of the world's best kathi rolls, something we expect our patrons to absolutely fall in love with," he added. "This is truly a landmark moment for us. It is always a great sign when we can expand and serve new customers in a completely new market."
Besides the new additions, guests here can expect Jaffer Bhai's other wildly popular dishes like the 1952 Gosht Biriyani, Murgh-e-Nargis and all of their famous kebabs.
About Jaffer Bhai's Restaurants
Since the inception of Jaffer Bhai's Delhi Darbar in Mumbai, India in 1986, it has been the spot synonymous with an unparalleled mouth-watering pot of Indian dum biryani. With a passion in his heart and hands, Moin 'Jaffer Bhai' Mansuri, today leads a team of select chefs to serve what has been consistently rated by media, influencers and foodies as one of Dubai's best biryanis. Jaffer Bhai imbibed the philosophy of pursuing perfection in the biriyani making process from start to the end from his father. He believes in identifying the right ingredients for a quality product and adding a distinct Mughlai flavour from India's financial capital of Mumbai to create a biryani that has so far wowed more than 50 million customers over five decades of being in business.
Three places in Dubai to enjoy the great Indian Thali meal
Brrrr, UAE residents! It is winter time and it no secret that cold weather can increase your appetite. It is also time to indulge in a Thali, the Indian version of a multi-dish meal or a readymade buffet in one plate.
Tourists from India, a predominant segment of people visiting the UAE, also prefer to opt for a fulfilling Thali for lunch or dinner. With the stomach sorted, there can be much more time for sightseeing at their convenience.
While there are many options in different price ranges, from the modest to premium, we have chosen three of the best-rated ones in varied locations:
MyGovinda's Thali Festival
Known for its holistic and healthy vegetarian food in the UAE, MyGovinda's is all set to host a Thali festival at all their outlets, serving the best regional dishes from the end of January through to March.
At MyGovinda's, Thali is the ultimate Indian legacy meal. It's vibrant, wholesome, and fulfilling! Available daily from 12 Noon until 11 pm, each Thali features more than 10 items, from starters to mains and desserts, including a mouth-watering selection of Maharashtran, Gujarati, Sindhi, Punjabi, and Rajasthani cuisine.
MyGovinda's has always aimed to produce vegan and vegetarian-friendly dishes that are tastefully curated, elevating vegetarian cuisine to a level that can satisfy any dietary preference. With the use of hand-picked herbs, spices, the freshest vegetables, and dairy products, the chefs at MyGovinda's use their exceptional skills to prepare the finest and the healthiest vegetarian and vegan food that will leave you asking for more with every bite.
Locations: Arjan, Silicon Oasis, Jumeirah Lake Towers & Karama
Date: 30 January – 5 March, 2023
Cost:
Monday – Thursday
AED 32 – JLT & Arjan; AED 38 – DSO & Karama
Friday – Sunday (Friday – Rajasthani Thali / Saturday to Sunday – MyGovindas Special Thali)
AED 34 – JLT & Arjan; AED 40 – DSO & Karama
Experience a premium Thali experience when you head from Bur Dubai to Karama, taking a right after Ansar Gallery where, ensconced in a corner is Maharaja Bhog.
This restaurant has been operational for over a decade and is very popular for its wide variety of tasty Indian dishes. There is a minor photo-op for your Instagram page also if you fancy sitting on a big regal-looking chair.
View this post on Instagram
For 35, you can enjoy two steamed and fried appetizers each, four Punjabi-style vegetarian dishes, eight chapatis (Indian flat bread), dal, rice, two desserts, salad, papadums, pickle and masala chaas. You can also opt for a small Thali portion that costs Dh25.
To those looking for a minor kick with fusion, there are various flavour enhancers such as the smokey chaas (buttermilk) and Zaffran tea.
Location: Ground Level, Hamsah Mall, Next to Ansar Gallery, Al Karama – Dubai
Reservations: Required
Price Range: AED 90 for two people
The Indian restaurant with a twist, is making waves for its irresistibly piquant Thalis and taking Dubai's food scene by storm. Perfect for both vegetarians and meat lovers, there is an eclectic variety of choices and savory flavours for all palettes.
Available from 12 pm until 4 pm on weekdays only, Bombay Bungalow's veg Thali includes their signature subz handi, dal, hara bhara kebab, jeera pulao, roti, raita, and masala chaas, along with a dessert. Their smashing hit non-veg Thali is tantalising and irresistible in equal measure with a royal spread containing smooth and creamy butter chicken and savory chicken tikka, served with jeera pulao, roti, and more.
But nothing beats their Tawa King Fish Fry Thali with its zesty and tangy, pop-in-the-mouth flavours, and fish that's cooked to crispy perfection. It is served with a variety of palatable chutneys, luscious curries, and refreshingly good Indian sauces. Its other well-loved fish Thali contains sherry fish and is served piping hot with delicious curry and aromatic rice.
A gorgeous setting across Ain Dubai and Bluewaters Island, and the picture-perfect, Instagram-worthy interiors ooze endless amounts of charm.
Time: 12 Noon- 4 PM
When: Weekdays only (Mon-Fri)
Contact: 044270758
Address: The Beach Mall, JBR
Price range: 250 for two people
View this post on Instagram
Dates revealed for Global Village Season 27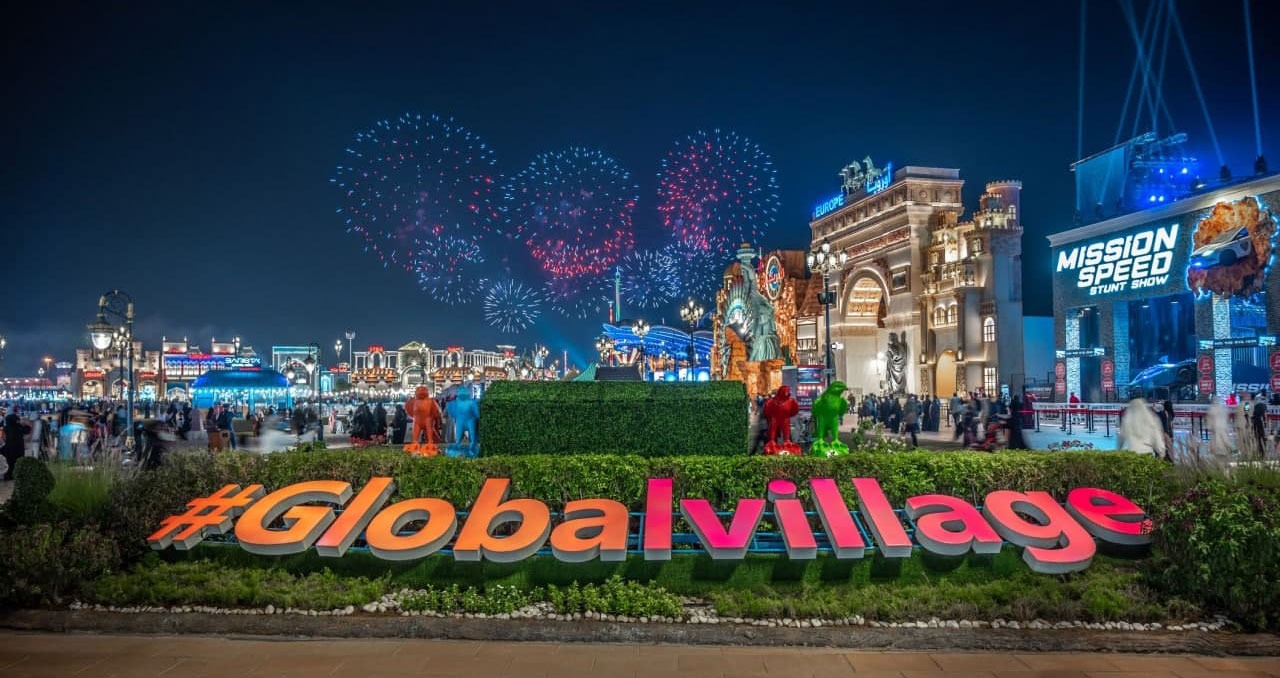 Hurrrray.…the countdown begins.
Global Village has announced its opening date for its coming season. The popular family-friendly destination will reopen on October 25, although little other details are known yet including when exactly it will run until and what will be new. However, on the official website, it says Season 27 followed by the dates "October 2022 — April 2023" which follows the typical dates the attraction usually stays open for.
Last season's Global Village had a record 7.8 million guests visit during the six months it was operational. This also includes an extended period, which saw the attraction stay open for an extra four weeks until May 7.
The destination marked its 26th season with 26 pavilions representing more than 80 cultures from around the world.
Among the countries and continents represented were: the UAE, Saudi Arabia, Bahrain, Kuwait, Afghanistan, China, Egypt, India, Iran, Iraq, Japan, South Korea, Lebanon, Morocco, Pakistan, Palestine, Syria, Thailand, Turkey, Yemen, Russia, the Americas, Africa and Europe.
UAE chips in for food parks in India to tackle insecurity
Reuters – The UAE has pledged $2 billion to help develop a series of "food parks" in India to tackle food insecurity in South Asia and the Middle East, a joint statement said on Thursday.
Speaking in Jerusalem at a virtual summit with UAE, Israeli and Indian leaders, US President Joe Biden said the investment could "increase India's food yields in the region three-fold in just five years".
The parks would bring farmers, processors and retailers together using advanced climate technology to minimise waste, conserve water and maximise crop yields, focusing at first on crops including potatoes, rice and onions.
The four countries would also advance renewable energy projects in India, including wind and solar energy plants, they said.
The projects would be supported by the Israeli and US private sectors, Biden said at the summit on food security and clean energy amid fears of global food shortages caused by the war in Ukraine.
Russia and Ukraine are the world's third and fourth largest grain exporters, respectively, while Russia is also a key fuel and fertiliser exporter.
The war has disrupted their exports, pushed world food prices to record levels and triggered protests in developing countries already contending with elevated food prices due to COVID-related supply chain disruptions.
Going bananas and potatoes
Economic fallout from the pandemic, climate change, food insecurity and volatile energy markets, Biden said, had been "made worse by Russia's brutal and unprovoked attack" on Ukraine.
"All these issues require cooperation and coordination, and none of us can mount a comprehensive response on our own," Biden said.
UN agencies warned this month that the war in Ukraine and climate change could push starvation and mass migration to unprecedented levels.
Apart from benefiting local farmers, the food parks would help reduce trade barriers and unify food safety standards, Indian foreign secretary Vinay Kwatra said in New Delhi.
They would also provide India with an opportunity to benchmark its perishable food products for global export and allow Indian produce access to the strategic Gulf markets starting with UAE, Kwatra said.
He said Indian states Gujarat and Madhya Pradesh – both ruled by Prime Minister Narendra Modi's Bharatiya Janata Party – were exploring setting up these parks, which would initially cultivate bananas, potatoes, rice, onions and spices.
Gulf Arab states import as much as 80-90% of their food and while their oil wealth renders them less vulnerable to rising global food prices than poorer countries in the region, disruptions threaten their supply chains.
India, the world's third-biggest oil importer and consumer, depends on Gulf state for meeting most of its oil needs.
Wealthy Gulf states have invested heavily in farmland overseas and have been investing domestically more in agritech, which is also a fast-growing sector in Israel.
Crop yields are relatively low in India, which despite being a major farm goods producer, lacks regular irrigation for around half its farmland. Venture capital firms are increasingly pouring money into local agritech start-ups.