World's tallest residential tower to be built in Dubai
Uniting their rich heritage and iconic architectural and horological codes, power brands Binghatti and Jacob & Co introduce their ultra-luxury Dubai skyscraper. The project, 'Burj Binghatti Jacob & Co Residences', aspires to achieve the record for the world's tallest residential structure. Burj Binghatti Jacob & Co Residences coins a new term in upper-crust real estate: hypertower. Opening a new era in uber-luxury living, this unparalleled skyscraper aims to set a record as one of the tallest residential constructions in the world. In a great leap upwards, it stands opulently in the heart of Dubai's most eminent financial district, Business Bay.


The proposed design comprises over 100 stories that are made of lavish two-bedroom and three-bedroom residences. This jewel of a building features unique designs co-signed by and co-designed in the recognizable style of watchmaking and jewelry brand Jacob & Co and leading Dubai-based developer Binghatti. Burj Binghatti Jacob & Co Residences includes multiple levels dedicated to such amenities as an infinity pool overlooking the entire Dubai skyline, a luxury spa and a gymnasium. This hypertower also houses a dedicated concierge team, offering à la carte services such as daycare, bodyguard, chauffeur and private chef.
"This unparalleled skyscraper aims to set a record as one of the tallest residential constructions in the world," according to a Binghatti statement. In a great leap upwards, the property developer said ultra-luxury skyscraper will stand opulently in the heart of Dubai's most eminent financial district, Business Bay. The proposed design comprises over 100 stories that are made of lavish two-bedroom and three-bedroom residences.

Jaffer Bhai's goes 'glocal' with its newest branch in DIFC
Jaffer Bhai's, the Biryani King of Bombay, inaugurated their newest outlet in Dubai on Tuesday, November 29, ahead of UAE's 51st National Day celebrations.
The over-the-counter Quick Service Restaurant (QSR) concept in the South Market food court at the Gate Avenue of Dubai International Financial Centre (DIFC) Is the four-decades-old legacy group's third establishment in the UAE after their oldest and flagship restaurant in Karama, and a second one in Al Barsha. "This is also by far our most significant step forward considering the concept of the kitchen and the pan-Asian, pan-European/American clientele it will serve, So this is our first truly global restaurant with a very localised outlook making us a glocal outfit," said Moin Jaffer Mansuri, the second-generation owner of the chain that first began operations in 1973 in Mumbai before coming to the shores of Dubai in UAE in the nineties. "We have consistently been voted one of Dubai's best restaurants for biryani but there's more to us than our dum-cooked rice and meat legacy and our specialist team at DIFC outlet can't wait to showcase it by catering to everyone, including the resident upmarket executive foodies with a more refined palate and everyone else that loves a hearty workday lunch."


According to Mansuri, Jaffer Bhai's DIFC will be mostly targeting customers looking to grab a quick bite on the go, in between work and meetings. "And so, the kitchen here will be serving daily specials including biryanis, kebabs and choicest of desserts. But one thing that we are also introducing here is our own version of the world's best kathi rolls, something we expect our patrons to absolutely fall in love with," he added. "This is truly a landmark moment for us. It is always a great sign when we can expand and serve new customers in a completely new market."
Besides the new additions, guests here can expect Jaffer Bhai's other wildly popular dishes like the 1952 Gosht Biriyani, Murgh-e-Nargis and all of their famous kebabs.
About Jaffer Bhai's Restaurants
Since the inception of Jaffer Bhai's Delhi Darbar in Mumbai, India in 1986, it has been the spot synonymous with an unparalleled mouth-watering pot of Indian dum biryani. With a passion in his heart and hands, Moin 'Jaffer Bhai' Mansuri, today leads a team of select chefs to serve what has been consistently rated by media, influencers and foodies as one of Dubai's best biryanis. Jaffer Bhai imbibed the philosophy of pursuing perfection in the biriyani making process from start to the end from his father. He believes in identifying the right ingredients for a quality product and adding a distinct Mughlai flavour from India's financial capital of Mumbai to create a biryani that has so far wowed more than 50 million customers over five decades of being in business.
Financial planning for UAE's sudden millionaires is market advisory only
Kumar Shyam
The latest winner of the Mahzooz draw threw up an interesting candidate example at an opportune time to reflect on the nearly two years of existence for the raffle offering which has spread wings fast.
If fortune can favour the brave, they also favour those who are consistent. Dalip (full name withheld for privacy reasons) became Mahzooz's 30th millionaire when he won a grand promotional prize of Dh20 million, which was on offer in the 102nd Super Saturday draw pick. Dalip, 48, an Indian expatriate in Kuwait City, took part in all of them.
"I knew that I will be lucky and try to win at least 100,000 (a guaranteed raffle draw prize amount) if I participate regularly. If I don't give myself that chance then how will it happen," said the mechanical engineer, who hails from north of India and is a father of three. He matched five of the five winning numbers which were 12, 24, 31, 39, 49.
While Dalip's plans with the fortune was similar to many in the past, he did spoke in true career fashion that "I will travel the world first and enjoy the life I have only dreamt of. After that I will see what I will do with the rest of the money. The blueprint is there, but I will finalize it in consultation with the family at ease."
The main prize has not always been won and rolled over for a few weeks before lapsing. In winning the grand prize, Dalip broke a few stereotypes as Farid Samji, the Mahzooz CEO, pointed out before introducing the winner at the office of Ewings, the operating company.
"This was part of our latest promotion, which offered participants the chance to win AED 20m instead of the usual AED 10m and I am very happy that the promotion didn't end before that top prize was claimed," Samji said.
"This also confirms that Mahzooz's popularity is cross borders. Dalip, is one amongst thousands of winners who joined Mahzooz from other GCC countries, and who collectively have won close to AED 30million till date."
The maturity of financial planning that Dalip hinted at is an aspect very few think of. While becoming millionaires in the UAE is a dream for most, many who do get lucky only end up paying up debts or spending in fulfilling expensive desires.
A former banker, Samji agrees financial planning and advice is important, but he is quick to stress that the after-life of their winners and their changed fortunes are not part of the remit. The neutrality is tempting to break but the status quo is sacrosanct. "Financial advise is not part of our license. Out domain stops at most with suggesting a bank account so we can transfer the winnings. It would be nice to see the winners work on their own financial planning."
Meanwhile, Dalip is determined to give his family – his wife, three children aged 25, 23 and 20 years old as well as his aging parents – all the comforts of life possible with the prize money. "I couldn't have saved this much even if I had worked for a hundred years," says the engineer who spent more than a decade away from his family working in the steel industry.
His visit to Dubai to claim the winnings was his first to the country. Pushed and prodded a bit too much by journalists, unfairly, about any plans to invest in Dubai, Dalip said he was considering 'life in Dubai but it is a family decision."
"I had goosebumps when I received the email from Mahzooz on that memorable night. While getting ready for bed, I received an email from Mahzooz, but I assumed that I had won either the third prize of AED 350 or the AED 100,000 raffle draw prize. With the aid of this money, my family and I will be able to pursue all of our aspirations", Dalip said.
To become the next millionaire, participants now have the chance to join multiple Mahzooz draws every week. All they need to do is register at www.mahzooz.ae and purchase a bottle of water for AED 35, which enables them to enter the Fantastic Friday Epic Draw and the Super Saturday Draws, by choosing two different set of numbers.
The Super Saturday Draws require participants to pick 5 out of 49 numbers for a chance to win the top prize of AED 10,000,000, the second prize of AED 1,000,000, or the third prize of AED 350. Participants will also be automatically entered into the Super Saturday raffle draw in which three guaranteed winners will each receive AED 100,000. The new Fantastic Friday Epic Draw requires participants to choose only 6 numbers out of 39 for a chance to win AED 10,000,000.
Dates revealed for Global Village Season 27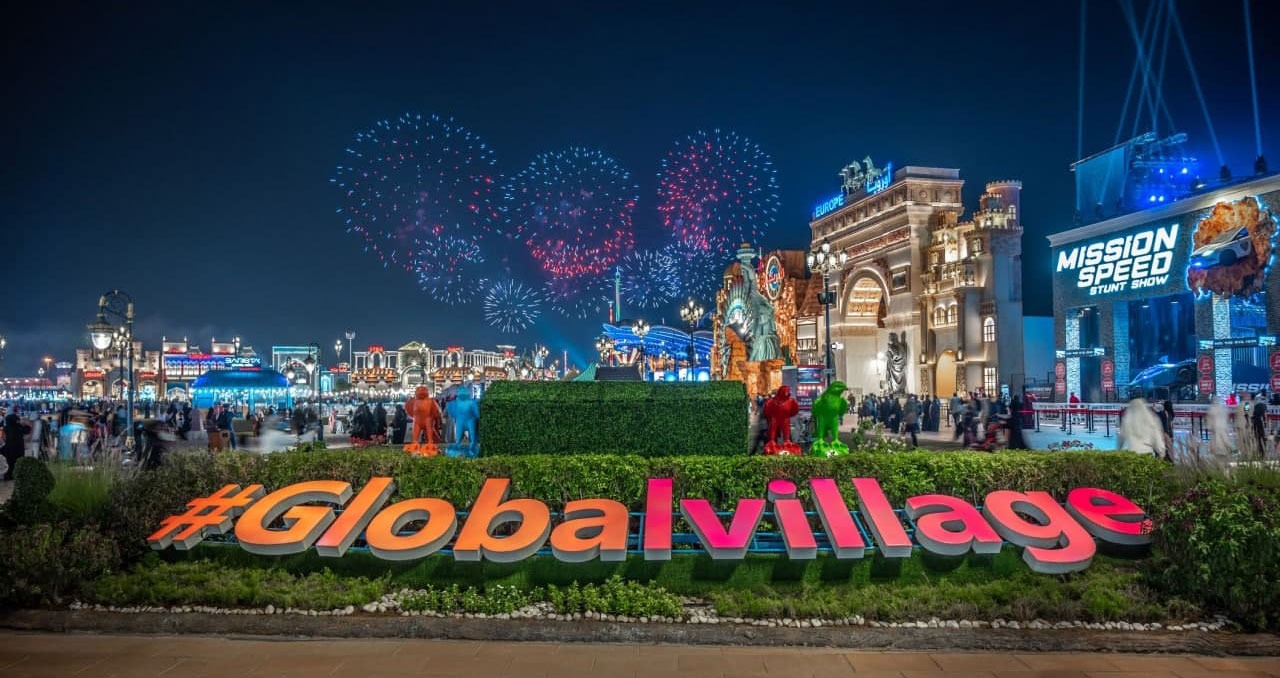 Hurrrray.…the countdown begins.
Global Village has announced its opening date for its coming season. The popular family-friendly destination will reopen on October 25, although little other details are known yet including when exactly it will run until and what will be new. However, on the official website, it says Season 27 followed by the dates "October 2022 — April 2023" which follows the typical dates the attraction usually stays open for.
Last season's Global Village had a record 7.8 million guests visit during the six months it was operational. This also includes an extended period, which saw the attraction stay open for an extra four weeks until May 7.
The destination marked its 26th season with 26 pavilions representing more than 80 cultures from around the world.
Among the countries and continents represented were: the UAE, Saudi Arabia, Bahrain, Kuwait, Afghanistan, China, Egypt, India, Iran, Iraq, Japan, South Korea, Lebanon, Morocco, Pakistan, Palestine, Syria, Thailand, Turkey, Yemen, Russia, the Americas, Africa and Europe.