Burj Al Arab hosts enchanting Chopin tribute concert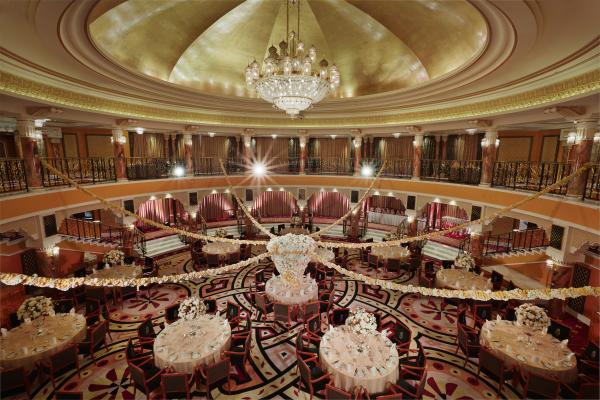 Dubai, September 9, 2023 – The iconic Burj Al Arab set the stage for an evening of classical elegance as the Al Falak Ballroom played host to a mesmerizing tribute concert celebrating the timeless compositions of the legendary Polish composer and pianist, Frédéric Chopin. Renowned pianist Aldo Dotto took the center stage, weaving a musical narrative that transcended time and touched the hearts of the audience. The event was organised and hosted by CandleLight events by FEVER. CandleLight has also done concerts all around the world's venues, bringing people together through music and melodies. From classical to pop to jazz, they curate events for all lovers of harmony.
Chopin's journey, marred by the tumultuous backdrop of war, exile, and artistic evolution, was brought to life through Aldo Dotto's exquisite rendition of his finest works. As the pianist's fingers gracefully danced across the keys, the audience was transported to Vienna, where Chopin initially sought refuge, and later to the vibrant artistic hub of Paris, where he found his voice.
The evening's performance was marked by the delicate balance of fragility and strength that characterized Chopin's compositions. His music, known for its ability to mimic the human voice and evoke a profound sense of melancholy while maintaining a romantic essence, resonated deeply with the audience. The Nocturnes, often described as "night music," created an atmosphere of dreamy introspection.
One of the standout pieces of the night was the unusually dramatic "Polonaise," a Polish dance composition that encapsulated Chopin's longing for his homeland and the desire to reunite with loved ones. Despite its lively dance nature, the piece was imbued with a poignant and nostalgic undertone, leaving a lasting impact on the listeners.
Each composition performed by Aldo Dotto unfolded as a unique short story, encapsulating the essence of Chopin's life and creative evolution. The audience was enraptured by the ethereal melodies that seemed to transcend the confines of time, reminding everyone of the enduring power of classical music to stir the soul.
The Burj Al Arab's Al Falak Ballroom, with its opulent surroundings and acoustically perfect setting, proved to be the ideal backdrop for this enchanting Chopin tribute concert, leaving attendees with memories of a musical journey that will resonate for years to come.

Varun Sharma, Pankaj Tripathi starrer gets flying start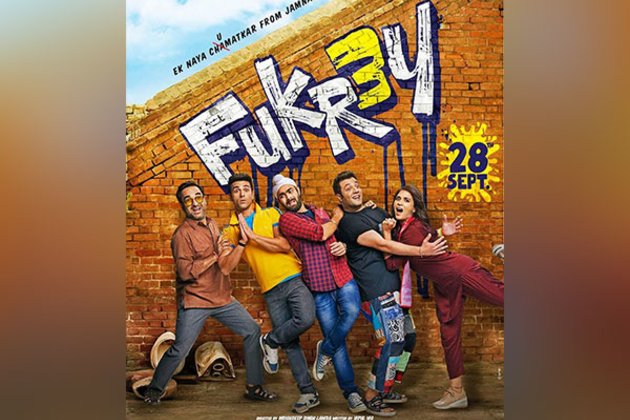 Mumbai (Maharashtra) [India], September 29 (ANI): Actors Varun Sharma, Pankaj Tripathi and Pulkit Samrat starrer comedy film'Fukrey 3′ has according to estimates collected Rs 8.82 crore at the Indian box office on its first day.
Taking to Instagram, trade analyst Taran Adarsh shared a post which he captioned,"Fukrey3 fares well on Day 1… Evening / night shows perform better… Biz in Maharashtra affected due to GanpatiVisarjan… Needs to witness substantial growth from Fri – Mon for a strong, impressive total… Thu 8377; 8.82 cr. India biz. Boxoffice"Helmed by Mrighdeep Singh Lamba and produced under the banner of Excel Entertainment by Ritesh Sidhwani and Farhan Akhtar, the film also stars, Richa Chadha and Manjot Singh in the lead roles.
Both 'Fukrey' and 'Fukrey Returns' had audiences in splits and emerged as hits at the box office in 2013 and 2017, respectively.
There have been several delays for 'Fukrey 3′. The movie's initial release date was September 7–was intended to conflict with Shah Rukh Khan's'Jawan'. After that, it was pushed to December 1.
Now it's shifted back to the month of September.
Actor Ali Fazal, who appeared in the first two instalments of the hit franchise, is not a part of the third instalment.
Ali, earlier issued a statement, confirming his exit from the franchise. He informed that he did not work in 'Fukrey 3' owing to a scheduling conflict with 'Mirzapur 3' season.
Reacting to Ali's absence from the film, actor Pulkit Samrat told ANI, "We actually miss him a lot. We have a lot of fun with him during the promotions or even during the shoot. He also gives very interesting inputs, but unfortunately due to his dates and time he will not be seen in Part 3, but who knows, he might be in Part 4." (ANI)
RajKummar Rao urges people to participate in PM Modi's 'Swachhata Hi Seva' campaign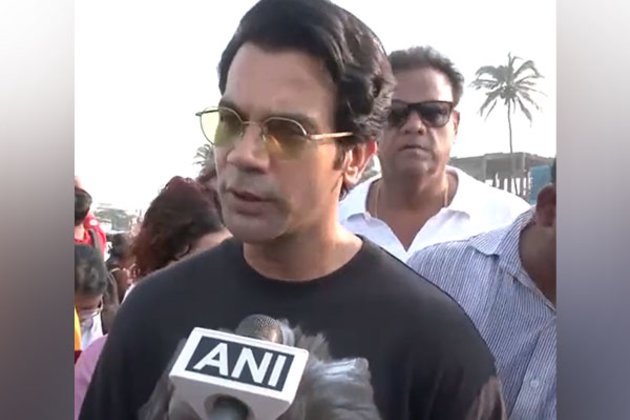 Mumbai (Maharashtra) [India], September 29 (ANI): Actor RajKummar Rao on Friday morning took part in a beach clean-up drive at Juhu Beach in Mumbai.
Speaking to ANI, RajKummar hailed Prime Minister Narendra Modi's "Swachhata Hi Seva" campaign, urging citizens to do their bit to ensure public places are clean and tidy.
"This is a very important initiative. We all should take part in Modi ji's 'Swachta hi Sewa' as it is very important to keep our city and country clean," he said.
On his 105th episode of Mann Ki Baat, Prime Minister Narendra Modi appealed to people for 1 hour of shramdaan for the swachhata (cleanliness) at 10 am on October 1 calling the initiative- 'Ek tareekh ek ghanta ek saath'.
On organising a cleanliness drive at Juhu Beach today, social worker and singer Amruta Fadnavis said, "Many people including celebrities and the city police commissioner have joined this beach cleanup. It is our responsibility to leave a clean planet for future generations. Mumbai's bio-diverse coastline can be protected only through each individual's contribution."Brihanmumbai Municipal Corporation (BMC) Commissioner Iqbal Singh Chahal also talked about the drive which is scheduled to take place on October 1.
"On 1st October, we are conducting cleanliness drives at 168 locations in Mumbai…We are setting up seven Sewage Treatment Plants at the cost of Rs 25,000 crore in Mumbai. this way we will be able to release only treated and chemical-free water in the sea," he said. Actors Manushi Chhillar, Saiyami Kher and Isha Kopikkar were also spotted at the cleanliness drive "Cleanathon 2.0" — organised a day after immersion of the idols of Lord Ganesh during Ganesh Chaturthi. (ANI)
Soni Razdan wishes son-in-law Ranbir Kapoor on his birthday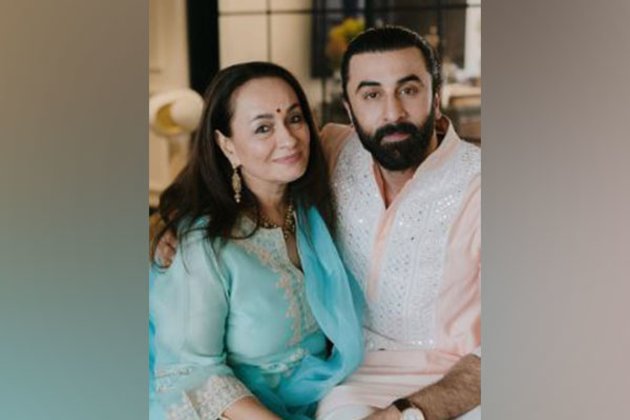 Mumbai (Maharashtra) [India], September 28 (ANI): Actor Soni Razdan has a special birthday wish for her son-in-law Ranbir Kapoor.
On Thursday, she took to Instagram and shared a selfie with Ranbir.
"Happy birthday to the sweetest SIL RanbirKapoor. You make the world a better place just by being in it…Have an amazing year ahead love you loads," she wrote.
Actor and wife Alia Bhatt also wished her hubby Ranbir Kapoor with some adorable pictures of him and penned down a sweet message.
She took to her Instagram handle to post several pictures of Ranbir. In the first one, Alia can be seen kissing Ranbir on his cheek, while in the other the couple can be spotted enjoying a baseball match.
The following image shows Alia posing in front of the number 8 while taking a selfie. She further shared a close-up, monochrome picture of Ranbir taken on their wedding day. Another black and white photo shows Alia gazing at Ranbir's palm. The final image was another up-close portrait of Ranbir's face.
Along with the pictures, she wrote in the caption,"my love.. my best friend.. my happiest place.. as you read this caption from your secret account sitting right next to me .. all I'd like to say is.. happy birthday baby… you make it ALL magical"He also received special birthday wishes from his mother and veteran actor Neetu Singh and his sister, Riddhima Kapoor.
Ranbir tied the knot with Alia Bhatt on April 14, 2022, and announced their pregnancy in June 2022. On November 6, last year, the couple welcomed their first child, a baby girl, named Raha.
Meanwhile, on the work front, Ranbir is all set to come up with a film titled 'Animal' and the teaser of the film has been unveiled.
The movie also stars Anil Kapoor, Rashmika Mandana and Bobby Deol. The film will hit the theatres on December 1 in five languages – Hindi, Telugu, Tamil, Kannada, Malayalam. (ANI)