Sneak peek in Abu Dhabi's Sea World which opens next week
Abu Dhabi: Abu Dhabi's latest theme park will welcome visitors from Tuesday, May 23 onwards, and is now gearing up for its grand opening.
SeaWorld Abu Dhabi spans 183,000 square metres in Yas Island spread over five floors, and is divided into eight themed zones. Home to 100,000 individual animals from 150 species, the venue will also feature a number of thrilling rides, a variety of restaurants and cafés, and interactive exhibits for visitors of all ages.
This is the first SeaWorld opening outside the United States. Developed as a collaboration between Miral and the US-based SeaWorld Parks and Entertainment, it is also the first not to feature captive killer whales. Instead, there are dolphins, rays, sea stars, flamingoes, penguins, and a multitude of fish.
Take a tour
Abu Dhabi ocean: This is the introductory zone and accessible from two flights of escalators. The touch pools are surrounded by decor reminiscent of Abu Dhabi's mangrove forests, and the emirate's fossil dunes and peaks dot the upper areas of the halls. Resembling traditional fishing ports in the UAE, the zone then connects to the other seven 'realms' of the park, known as One Ocean.
Tropical ocean: A flock of flamingoes greets visitors strolling into the area, which appears to be dotted by pools of water. Past this is an aviary, a cavernous cave resembling those underground in Mexico and then to a roller-coaster or a set of windows through which dolphins can be seen. A pod of 24 Atlantic bottle-nosed dolphins resides in the park. Emerging from this underground area, visitors reach a 2,000-person amphitheatre area that is designed like the tropical rice fields of Indonesia.
Endless Ocean: This houses one of the world's largest multispecies aquarium, with 68,000 different animals in 25 million litres of water. A total of 20 viewing windows will allow visitors to take in the marine beauty. The park will also offer diving experiences and underwater walking tours.
Arctic: This zone emulates polar conditions for its below-zero inhabitants, including walruses, puffins and sea otters. Interactive exhibits will teach visitors about seafaring and underwater life.
Antarctica: Penguins are the star of this zone, and visitors can plan encounters with many species of these birds, or watch them live harmoniously with other cold-water fish and sea stars.
Rocky Point: Seals and sea lions are the main draw at rocky point, where the cold-clime creatures stage presentations, or simply rest on rocks or in the sea.
Micro Ocean: Designed for children, Micro Ocean features family-friendly rides. Young visitors can also enjoy picking up a few souvenirs.
One Ocean: This main park hub has been built to stage immersive shows using screens and drones. Visitors can also head in to the park's Animal Care Centre, or access other realms from this zone.
YAS ISLAND SEA WORLD
Opening: May 23, 2023
Tickets: Dh375 for every adult, Dh290 for children below the age of 11 years
Eight zones with 150 species of animals

Mahzooz gets its first Emirati female millionaire
UAE weekly draw Mahzooz celebrated its first Emirati female millionaire Sahar, as she took home the guaranteed raffle prize of Dh 1 million on Saturday as the 45th millionaire to do so.
The UAE's favourite weekly draw with the biggest and most frequent payout, has given away more
than AED 415,000,000 in prize money to over 242,000 winners in a span of two years.
Sahar is the third Emirati millionaire through Mahzooz, with a total of Dh7.5 million in prize money given away to more than 8,000 Emirati winners.
Since being introduced to Mahzooz two years ago, Sahar has participated in the weekly draw almost
every weekend. She remembers the moment she found out that she had won with fondness. On
Saturday evening, Sahar received multiple calls from her friends to congratulatee her on the bonanza.
She initially thought it was an orchestrated joke and didn't give the happy messages much thought.
She decided to check her Mahzooz account the next morning and before even finding out she
received a call from Mahzooz announcing the good news to her. Her brother was the first person she
told about her victory because he was the one who introduced her to Mahzooz.
"While money does not buy happiness, I believe it can bring comfort and security to the life of a
person. This is what the prize is going to do for my family," an elated Sahar said.
"This is not the first time I have won with Mahzooz. In fact, the year started off on a good note for
me, as I have won the third prize in January, having scored three out of 5 numbers. But this time, the
prize is incomparable, and I will use good judgement to decide how to invest this money" Sahar
continued.
The same draw also saw 888 participants take home Dh 1,417,000 in prize money split between the
second and third prizes of the grand draw and the guaranteed raffle prize.
For only AED 35, participants can purchase a bottle of Mahzooz water, and enter the weekly draw
every Saturday consisting of the grand draw, for a chance to win the new top prize of Dh20 million and the new weekly raffle draw for one guaranteed winner irrespective of the numbers matching.
Dubai group rekindles theatre magic with The Addams Family musical
A new and upcoming group of theatre enthusiasts is keeping the arts and culture scene of Dubai alive and kicking by bringing their fifth production. Musical Theatre Dubai (MTDXB) will stage The Addams Family musical in the first weekend of June at the Sunmarke School in Jumeirah Village Triangle.
The show brings forth the familiar family-friendly musical comedy that tells the tale of Wednesday Addams, a young lady who has grown up and fallen in love with a sweet young man from a respectable family. She brings her new friend and his family home for dinner and to meet her 'not-so-regular' parents, Gomez and Morticia, her brother Pugsley, and their extended family of Uncle Fester, Grandma Addams and their loyal butler, Lurch. The comical feast embraces the wackiness in every family with a celebration of the weird, the funny and the macabre.
MTDXB was formed after the pandemic, thanks to the efforts of James and Behtanie Mitchinson, and Sarah Jordan, British expats who realised that the city's cultural landscape lacked musical theatres. They set about forming a group of like-minded individuals whose objective was to give talented performers a stage to showcase their art. It started with a post on Facebook that attracted a lot of attention and soon it became an actual community.
The eclectic group, comprising professionals in various fields, met, discussed on how to take their passions forward and it wasn't long before they were ready with their first production. The group has thus far put up four shows – A Night at the Musical, Everybody's Talking about MTDXB, Return to the Musicals with MTDXB and A Christmas Concert.
The Addams Family musical is their largest and most ambitious one bringing together a huge cast of 50, a live 12 piece band and a stunning set, put up at the Shyam Mankani auditorium hall of Sunmarke, one of the leading British Curriculum schools in Dubai.
The MTDXB show sticks to the spirit of the story and will feature a number of showstopper songs, and elaborate dance routines. The group hopes to work on more shows and create a space for creative individuals in the city to come together and boost the musical theatre space.
Showtimes:
• Thursday 1 June at 7:30pm (doors open at 7pm)
• Friday 2 June at 7:30pm (doors open at 7pm)
• Saturday 3 June at 2:30pm (doors open at 2pm)
• Saturday 3 June at 7:30pm (doors open at 7pm)
Venue: Sunmarke School, Jumeirah Village Triangle
Prices: AED 150 for a single ticket, or AED 550 for 4 tickets (saving AED 50) with groups of 10 tickets at AED 1,350 (saving AED 150) and only from ticketslover.ae
Abu Dhabi does star turn again with IIFA 2023
Another sizzling weekend at Yas Island cements city's reputation as amazing hosts
Abu Dhabi cemented its reputation as great hosts as the 23rd IIFA) Awards came to an end at the Etihad Arena, where the event was held for a second successive time after drawing praise from the creme de la creme of Bollywood.
The International Indian Film Academy Awards is a celebration of the key achievements from the tinsel town in the year gone by, but attempts are made to take the event to different corners of the world even though the popular industry does not have to. IIFA 2022 was a runaway success because of the excellent hosting arrangements by the Department of Culture and Tourism, Abu Dhabi and the reputation was enhanced over the weekend.
The Sobha Realty and NEXA-sponsored IIFA saw star performances, a rain of celebrity glitterati, some veteran names honoured and achievements recognised over two nights of fun and glamour. Miral, Abu Dhabi's leading creator of immersive destinations and experiences, joined in as the other key, local collaborator.
The first evening focuses on music and fashion traditionally under the banner of IIFA Rocks. Cue exciting performances by Amit Trivedi, Badshah, Sunidhi Chauhan, Sukhbir Singh, Palak Muchhal & Iulia Vantur, the touted girlfriend of Salman Khan, the show's superstar representative icon for Bollywood. The evening programme was presented by Farah Khan and Rajkummar Rao.
The musical spectacular began with a dance performance by Palak Muchhal, who was followed by Farah Khan, who also danced her way on to the stage. Rao entered while playing the song Main Hoon Na, and the two recreated a scene from Kuch Kuch Hota Hai, in which they both greeted the crowd and engaged in witty conversation about friendship.
Chauhan, Badshah, Jacqueline Fernandez, Rakul Preet Singh and Nora Fatehi gave enthralling performances later in the evening.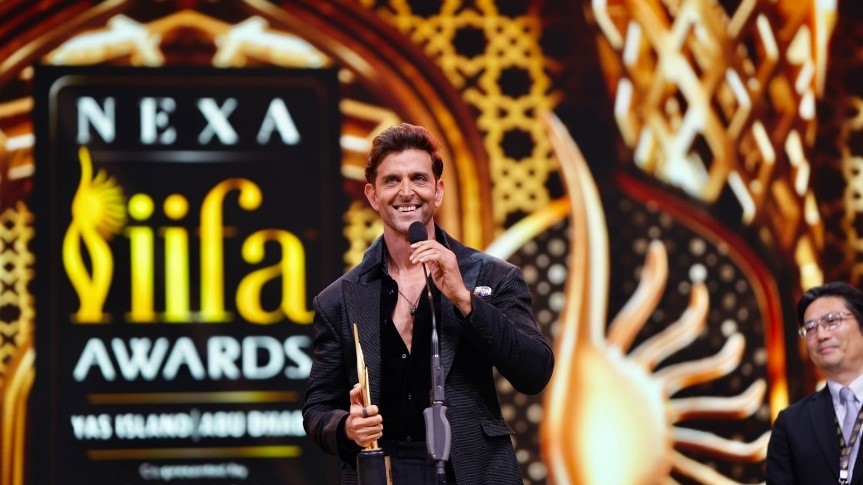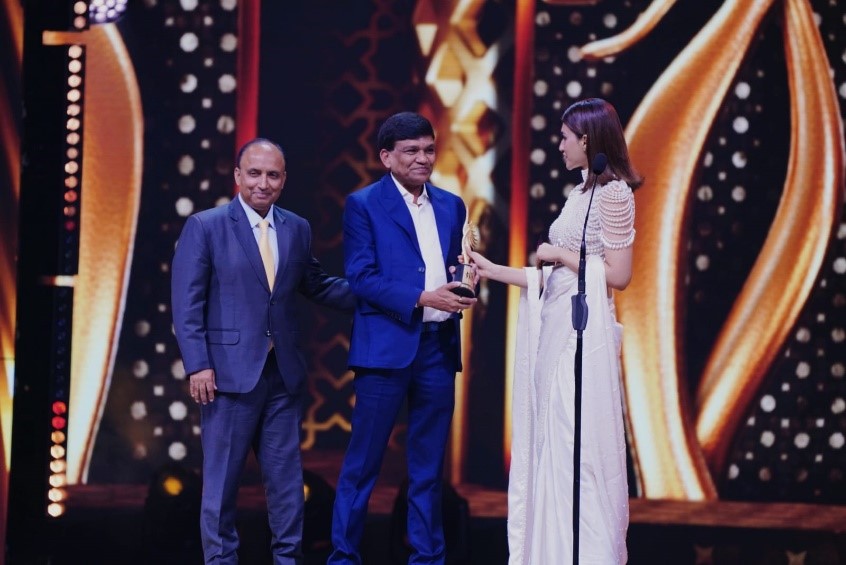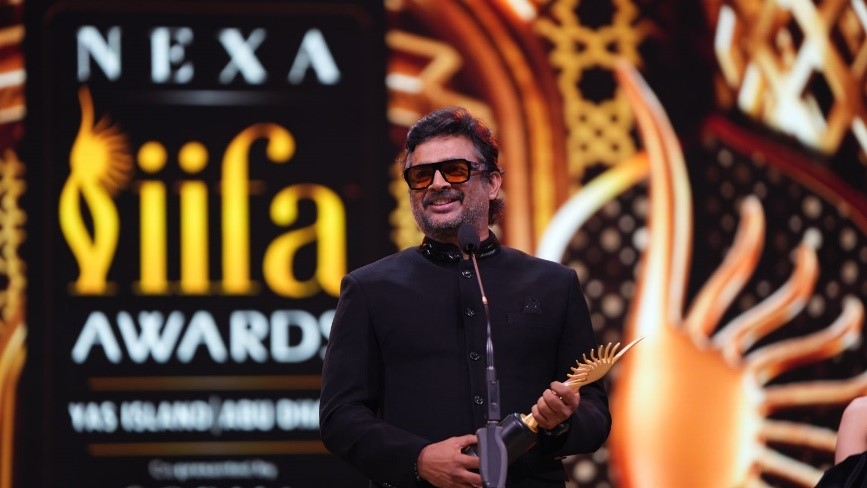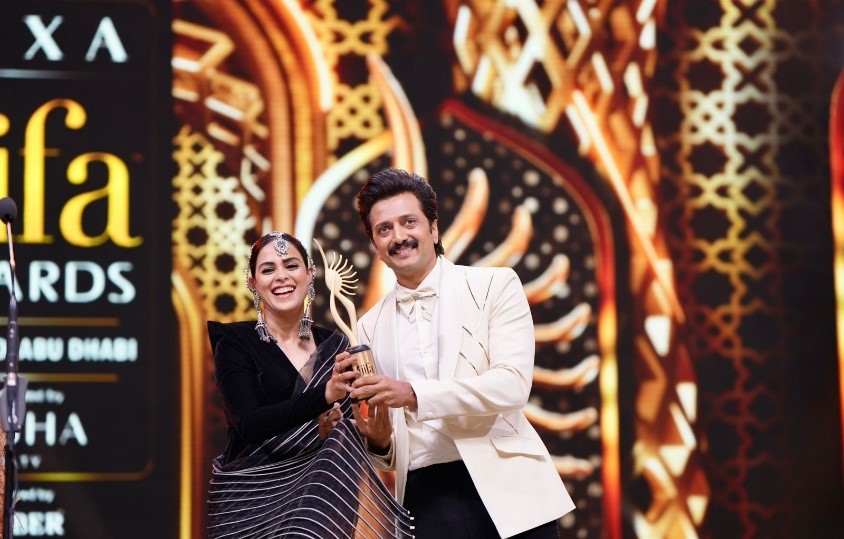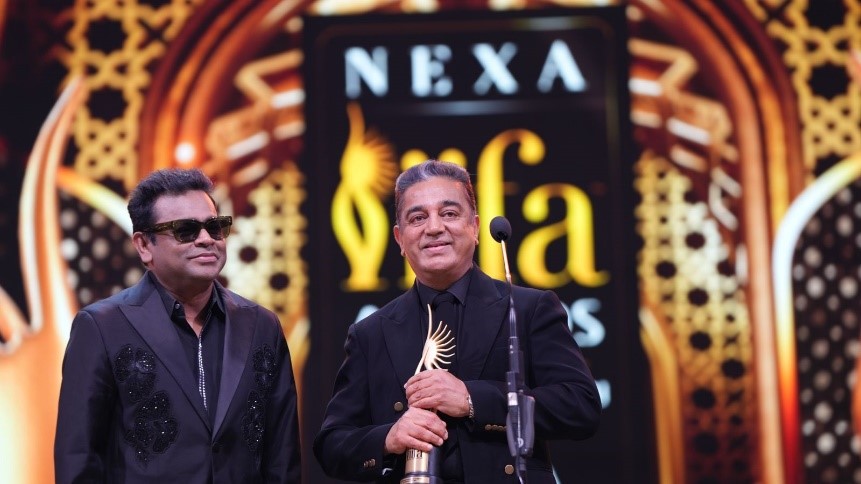 Awards were given out through the glitzy IIFA statuette across various categories, including in the technical aspects. One of the key highlights of IIFA Rocks was a special collection showcased by Bollywood's favourite designer Manish Malhotra. The collection reflected 'old world charm meets the new world' that was breakthrough and imaginative and had Salman Khan and Nora Fatehi as the showstoppers for the evening.
And the award goes to:
Best Picture Category | Drishyam 2
Best Direction Category| R Madhavan for Rocketry: The Nambi Effect
Best Actor In A Leading Role (Female) | Alia Bhatt for Gangubai Kathiawadi
Best Actor In A Leading Role (Male) | Hrithik Roshan for Vikram Vedha
Performance In A Supporting Role (Female) | Mouni Roy for Brahmastra: Part 1 – Shiva
Performance In A Supporting Role (Male) | Anil Kapoor for Jug Jugg Jeeyo
Music Direction | Pritam for Brahmastra: Part 1 – Shiva
Playback Singer (Female) | Shreya Ghoshal for the song Rasiya from Brahmastra: Part 1 – Shiva
Playback Singer (Male) | Arijit Singh for the song Kesariya from Brahmastra: Part One – Shiva
Best Story (Original) | Parveez Sheikh and Jasmeet Reen for the film Darlings
Best Story (Adapted) | Aamil Keeyan Khan and Abhishek Pathak for Drishyam 2
Lyrics | Amitabh Bhattacharya for the song Kesariya from Brahmastra: Part 1 – Shiva
Best Debut – Female, Khushali Kumar for Dhoka Around the Corner
Best Debut – Male, Shantanu Maheshwari for Gangubai Kathiawadi and Babil Khan for Qala