Standard Chartered's pre-tax profit jumps to $996mn in Q3
Standard Chartered, a British multinational bank, has posted almost a billion-dollar pre-tax profit in the third quarter, doubled from a year earlier.
Beating market forecasts, the bank's pre-tax earnings climbed to $996 million in July-September, from $435 million a year ago. Earlier, 16 analysts estimated a $942 million profit for the bank.
The London-headquartered bank, which earns most of its revenue in Asia, reported on Tuesday credit impairment charges of $107 million compared with $353 million a year earlier.
After taking the helm of Standard Chartered in 2015, chief executive officer Bill Winters focused on restoring growth while creating a portfolio of digital assets in the last few years. He also repaired the bank's balance sheet, cutting thousands of jobs in his early years.
Standard Chartered's London-listed shares have underperformed rivals since then, and are up 8 percent this year versus an 18 percent rise for HSBC and 37 percent surge for Barclays.

OneScreen's six-minute promise to keep corporates and educators connected
Call it the answer to the modern variant of six-degrees of separation or what want, but a San Diego-based smart tech provider is making waves at this Gitex Global with an innovative system that promises to transform the way teams collaborate and communicate through its round-the-clock support inside a matter of six minutes.
OneScreen is participating at this year's biggest tech gathering for the first time in partnership with DVCOM, the region's leading value-added ICT distributors.
The highlight for OneScreen is their unique Guru Support that provides the corporate community with free live product demonstrations and after-sales suport through audio/video calls at any time.
"We are absolutely thrilled to be attending Gitex to showcase the brilliant technologies that OneScreen has developed to change the scope of collaboration in the corporate sector for good. Our Guru Support is one of them," said Sufian Munir, CEO of OneScreen.
Their collaboration technologies allow teams to seamlessly work together. The hardware, software and web conferencing solutions are ideal for the conference or board room, allowing remote teams as well as on-site teams to communicate without any barriers.
"As an organization with associates all over the state, we are really happy with the service OneScreen offers. We can "get together" from our own offices! If we encounter issues the tech support is available immediately to get things solved in minutes," said Heather Calhoun of Stark Raving Solutions.
OneScreen's smart EdTech solutions are also changing the way students and teachers interact in the classroom.
"OneScreen is awesome! I use it for my livestreams, course creation process and to present my lectures. The Screen Skills support team helped me learn all the software," said Alan Nafarette, Principal – Founder of Blend | Logic.
OneScreen's has grown exceptionally and has offices in Canada, Mexico, Pakistan, Colombia, and the UAE. It was ranked 481 on the 2021 Inc. 5000 list of the Fastest Growing Companies in the US.
World's largest tech show Gitex Global opens to strong interest in Dubai
Dubai will transform into the ultimate digital epicentre of the world this week, as the UAE hosts the world's largest tech show, converging the most advanced companies and best minds to deep dive into the making of the Web 3.0 economy.
Starting Monday, at the Dubai World Trade Centre, the Gitex Global returns bigger and stronger with 5,000 companies spanning 26 halls and two million square feet of exhibition space, at an extraordinary 25 percent year-on-year increase, pushing its capacity limit at the venue.
The Gitex 3.0 edition, in its 42nd year presents the most empowering curation ever with seven multi-tech themes experimenting in the metaverse, a decentralised future of the internet, and a sustainable global digital economy.
Massive scale reflects digital ambitions of UAE and the region
The five-day event's record size and continued expansion mirrors the ambitions of the UAE and region's digital transformation movement, as government initiatives such as the National Program for Coders, the Dubai Metaverse Strategy, and Next GenFDI propels the UAE to the forefront of the global digital economy.
This is amplified by new Gitex 2022 launches of X-Verse, sponsored by TMRW Foundation, in collaboration with Decentraland, one of the world's most immersive metaverse journeys featuring 28 experiential brands; and Global DevSlam, the Middle East's largest ever coder and developer meetup, both of which sold-out to a global audience within two months.
UAE companies also held the lion's share of a record-breaking US$2.6 billion in start-up funding across the Middle East and North Africa in 2021, figures that underscore an additional hall and 30 percent increase to 1,000 exhibitors at Gitex's start-up event, North Star.
Omar Al Olama, Minister of State for AI, Digital Economy & Remote Work Applications, who delivered the welcome note at the official Gitex 2022 press conference today, said: "Gitex this year is bigger than ever. It spans two million sq. ft. with over 5,000 exhibitors from more than 90 countries, which makes this truly the biggest tech show in the world. This year, my office has partnered with Gitex to ensure that we're not just showcasing technology, but actually inventing and developing technology."
In his speech, Mr Al Olama also highlighted that the Global DevSlam event is poised to be one of the biggest developer events in the world. He concluded by thanking each and every single person that has believed in the UAE's mission and who has supported the UAE.
Trixie LohMirmand, vice president of events management at Dubai World Trade Centre, Gitex's organiser, added: "Gitex is not just a big gathering of people. It's the super-connector humanising the virtual and digital economies.
"Gitex serves a profound purpose of enabling and accelerating the digital economies of UAE and many of its alliance partners through connecting earnest stakeholders with outstanding minds from the world, and materialising these connections into actionable partnerships."
Global interest for the UAE rising
Gitex 2022 will welcome an unprecedented 52 percent new exhibitors this year choosing the show and the UAE as the first-choice partner in their market access strategies.
The influx of global interest will see North Star hosting the biggest Unicorn meetup of the year in Dubai, with 35 Unicorns from 15 countries looking to explore new opportunities and expand in one of the world's fastest-growing markets.
The 'Africa Fast 100' programme presents the largest ever gathering of African start-ups to be hosted outside Africa, as the African tech companies have been touted as the next ones to watch by global investors.
Debut international exhibitors such as Binance, Ooku, AMD, Tencent, and ByteDance, are seeking to extend their brand reach to a global audience through Gitex, along with FTX Exchange, one of the world's largest cryptocurrency exchanges with a five million-plus global customer base and an average daily trading volume of US$12 billion.
"We are thrilled to announce our first ever participation in Gitex, the world's most prominent technology exhibition. It is great testament to Dubai, the UAE and the vision of its leadership in embracing technology and Innovation" said Mohammad Hans Dastmaltchi, Chairman of the Supervisory Board, FTX Exchange, which this year was licensed to establish and operate Virtual Asset Exchange and Clearing House services in Dubai by the Virtual Asset Regulatory Authority (VARA).
"FTX is looking forward to this exhibition, and seeing industry leaders, innovators and entrepreneurs sharing the same stage. We are excited to be interacting with a diverse audience and showcasing what FTX stands for as a brand and our ambitious plans for Dubai and the region."
Influential UAE entities inspire R&D in transformative technologies
UAE companies are shaking up the global tech scene with their bold undertakings and commitments in tech R&D and inventions, including Technology Innovation Institute (TII) a leading global scientific institution and the applied research pillar of Abu Dhabi's Advanced Technology Research Council.
TII will have a significant presence at Gitex showcasing AI and Digital Science, Directed Energy, and Autonomous Robotics Research. Dr Ray O. Johnson, CEO of Technology Innovation Institute, said: "We are delighted with our significant presence at Gitex , billed as the largest tech event in the world.
"Working at the intersection of discovery science and advanced technology, our research centres have announced, within the last two years, multiple research breakthroughs that give Abu Dhabi and the UAE greater tech sovereignty. Our journey has just begun. Research today is a collaborative field, and we look forward to the networking opportunities with the technology world's leaders to accelerate our breakthroughs in the years to come."
UAE conglomerate to build smart city in Zimbabwe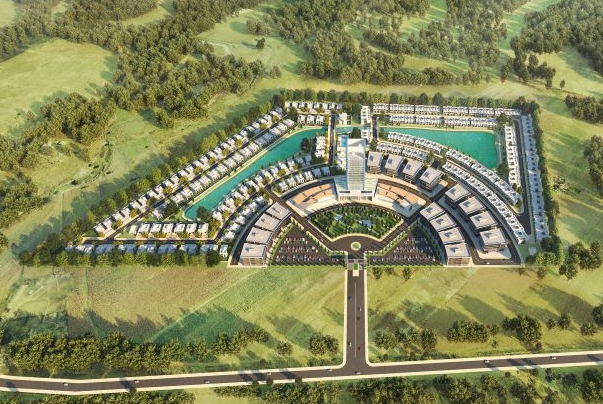 The Zimbabwean president Emmerson Mnangagwa broke ground to launch the US$500 million (Dh1.83 billion) state-of-the-art Zim Cyber City – a mixed-use park on the outskirts of capital Harare – that is being developed by the UAE conglomerate Mulk International.
Sprawled across 2.5 million square feet, Zim Cyber City is currently under construction in Mount Hampden, New Harare. The master plan includes the newly completed parliament building and all the ministry buildings as well as high-end residential and commercial buildings. Many can compare this to the Downtown and Sheikh Zayed Road developments in Dubai, UAE.
"Zim Cyber City stands to become Zimbabwe's landmark project, offering a world-class high-end lifestyle to all the residents. Our government fully supports this exciting development," Mr Mnangagwa said, offering his "thanks to my good friend Shaji-ul-Mulk, the chairman of Mulk International."
The president recalled in detail how initial discussions happened when he visited the Dubai Expo 2022 in March and how his government has worked at breakneck speed to get the necessary clearances for a project that will be close to the Zimbabweans.
After he broke from his long address extolling the virtues of the project, he returned back on the dias because he forgot to address the other important connection – cricket. In case his audience didn't know, Mr Mnangagwa reminded all that Mr Shaji-ul-Mulk is the founder of the popular T10 Cricket League which was born in Sharjah and has become the second most popular league in the world while operating out of Abu Dhabi. The Zim Cyber City will be the start of a very healthy relationship with the UAE businessman, the president hoped.
Under Mnangagwa's patronage, Zimbabwe has granted Mulk International an exclusive licence to establish a blockchain and digital assets special economic zone.
Mulk Holdings, the parent company of Mulk International, owns Alubond USA, the world's largest aluminum composite panel (ACP) and has investments in Africa, Asia and Europe.
Reciprocating the sentiments, the UAE businessman Mulk, said: "President Emmerson Mnangagwa has whole-heartedly supported Mulk International's first Zimbabwean endeavour. Zim Cyber City is the first of many investments that our group, Mulk International, has committed to delivering through the special economic status channel of Zimbabwe Global Investments.
"Zim Cyber City will be a unique, iconic development, offering multi-fold economic benefits to commercial enterprises combined with lavish, uptown living."
Mount Hampden, in Mashonaland West Province, Zimbabwe is about 11 miles North West from the capital, Harare. Along the Old Mazowe Road, this area of 15,500 acres has been allocated towards building a new city that represents a new era for Zimbabwe, as well as a special economic zone exclusively for investors.
The master plan of the project includes 250 townhouses, more than 80 luxury villas, a number of apartment blocks, hi-tech office facilities, high-end retail arcade, a 15-storeyed commercial tower, landscaped gardens – all within a high-security gated community with a health club, community centre and other facilities.
Zim Cyber City will offer high-end residential living for those operating and living in the community. It will include 24/7 advanced, built-in surveillance technology that is directly connected to local law enforcement authorities for maximum security of the residents.
Corporate license holders within the Zim Cyber City will enjoy a bouquet of incentives including free repatriation of capital and profits without any limit caps; ease of fund transfers in and out of the country through local or foreign bank accounts without any caps; exemption from paying all taxes for a period of five years; freehold resale of the real estate and permission to employ foreign staff at a flat rate of 15 percent tax.
— Staff report