Standard Chartered's pre-tax profit jumps to $996mn in Q3
Standard Chartered, a British multinational bank, has posted almost a billion-dollar pre-tax profit in the third quarter, doubled from a year earlier.
Beating market forecasts, the bank's pre-tax earnings climbed to $996 million in July-September, from $435 million a year ago. Earlier, 16 analysts estimated a $942 million profit for the bank.
The London-headquartered bank, which earns most of its revenue in Asia, reported on Tuesday credit impairment charges of $107 million compared with $353 million a year earlier.
After taking the helm of Standard Chartered in 2015, chief executive officer Bill Winters focused on restoring growth while creating a portfolio of digital assets in the last few years. He also repaired the bank's balance sheet, cutting thousands of jobs in his early years.
Standard Chartered's London-listed shares have underperformed rivals since then, and are up 8 percent this year versus an 18 percent rise for HSBC and 37 percent surge for Barclays.

UAE conglomerate to build smart city in Zimbabwe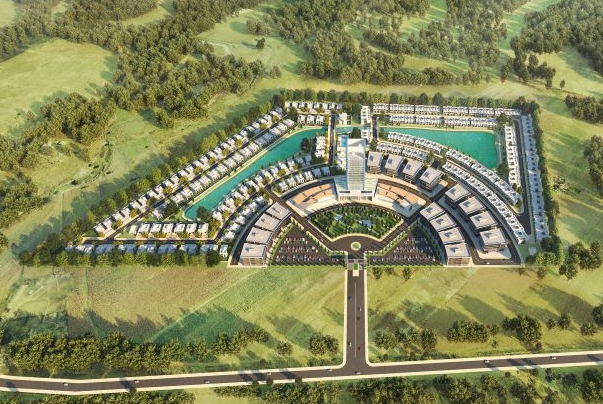 The Zimbabwean president Emmerson Mnangagwa broke ground to launch the US$500 million (Dh1.83 billion) state-of-the-art Zim Cyber City – a mixed-use park on the outskirts of capital Harare – that is being developed by the UAE conglomerate Mulk International.
Sprawled across 2.5 million square feet, Zim Cyber City is currently under construction in Mount Hampden, New Harare. The master plan includes the newly completed parliament building and all the ministry buildings as well as high-end residential and commercial buildings. Many can compare this to the Downtown and Sheikh Zayed Road developments in Dubai, UAE.
"Zim Cyber City stands to become Zimbabwe's landmark project, offering a world-class high-end lifestyle to all the residents. Our government fully supports this exciting development," Mr Mnangagwa said, offering his "thanks to my good friend Shaji-ul-Mulk, the chairman of Mulk International."
The president recalled in detail how initial discussions happened when he visited the Dubai Expo 2022 in March and how his government has worked at breakneck speed to get the necessary clearances for a project that will be close to the Zimbabweans.
After he broke from his long address extolling the virtues of the project, he returned back on the dias because he forgot to address the other important connection – cricket. In case his audience didn't know, Mr Mnangagwa reminded all that Mr Shaji-ul-Mulk is the founder of the popular T10 Cricket League which was born in Sharjah and has become the second most popular league in the world while operating out of Abu Dhabi. The Zim Cyber City will be the start of a very healthy relationship with the UAE businessman, the president hoped.
Under Mnangagwa's patronage, Zimbabwe has granted Mulk International an exclusive licence to establish a blockchain and digital assets special economic zone.
Mulk Holdings, the parent company of Mulk International, owns Alubond USA, the world's largest aluminum composite panel (ACP) and has investments in Africa, Asia and Europe.
Reciprocating the sentiments, the UAE businessman Mulk, said: "President Emmerson Mnangagwa has whole-heartedly supported Mulk International's first Zimbabwean endeavour. Zim Cyber City is the first of many investments that our group, Mulk International, has committed to delivering through the special economic status channel of Zimbabwe Global Investments.
"Zim Cyber City will be a unique, iconic development, offering multi-fold economic benefits to commercial enterprises combined with lavish, uptown living."
Mount Hampden, in Mashonaland West Province, Zimbabwe is about 11 miles North West from the capital, Harare. Along the Old Mazowe Road, this area of 15,500 acres has been allocated towards building a new city that represents a new era for Zimbabwe, as well as a special economic zone exclusively for investors.
The master plan of the project includes 250 townhouses, more than 80 luxury villas, a number of apartment blocks, hi-tech office facilities, high-end retail arcade, a 15-storeyed commercial tower, landscaped gardens – all within a high-security gated community with a health club, community centre and other facilities.
Zim Cyber City will offer high-end residential living for those operating and living in the community. It will include 24/7 advanced, built-in surveillance technology that is directly connected to local law enforcement authorities for maximum security of the residents.
Corporate license holders within the Zim Cyber City will enjoy a bouquet of incentives including free repatriation of capital and profits without any limit caps; ease of fund transfers in and out of the country through local or foreign bank accounts without any caps; exemption from paying all taxes for a period of five years; freehold resale of the real estate and permission to employ foreign staff at a flat rate of 15 percent tax.
— Staff report
Q-com startup promises to address SME gap with Amazon, Noon and others
Kumar Shyam
A new e-commerce marketplace startup is promising to fill "the gap" it sees with giants such as Amazon, Noon and others as it prepares for a launch on August 27.
Veppy.com will be a Q-commerce (Q for quick), the faster version of an e-commerce operation, and promises delivery for certain categories of products in less than three hours.
According to the top brass, founder-chairman Moustafa Banbouk and vice president Praveen Kumar, a large part of SMEs are "not yet on the digital platforms" for sales. And small and medium enterprises constitute more than 80 percent of UAE's economy.
With Veppy, which takes its name from the company motto "very happy", sellers can look forward to connecting with buyers over 14 categories to start with. Most of the focus will be on products, which are gift ideas mostly.
"Imagine we have an occasion we forgot and need to buy a gift – flowers, cakes, any tech product – urgently and we are at work … with Veppy we can address that," Mr Banbouk told Headline at a hotel in Dubai.
His deputy Mr Kumar, who has built a career out of focusing on digital transformation for his clients, explained that the company will not be investing in warehouses and will directly connect the buyer with the seller to ensure the quickness of product delivery.
"There will be no fees for registering for the seller, and we will offer a consultative process during the onboarding of the seller. However, there will be a fee with each transaction involved for the seller," Mr Kumar said.
___________________
ALSO READ: It is Prime time for Amazon faithful among UAE shoppers!
___________________
Mr Banbouk, a property developer in a family business in Lebanon, is excited about succeeding with his q-commerce model in UAE, the land of opportunities and where digital growth is the best in the region.
Q-Commerce – sometimes used interchangeably with 'on-demand delivery' and 'e-grocery' – is e-commerce in a new, faster form. It combines the merits of traditional e-commerce with innovations in last-mile delivery.
It is one of the fastest-growing businesses in the world. Driven by the changing consumer behavior dominated by last-minute shopping trends, the Q-Commerce market in the Middle East and North Africa (MENA) region is expected to grow from US$9 billion in 2020 to US$20 billion by 2024, according to Statista.com, a global market intelligence provider. Globally, the Q-Commerce market for food and grocery delivery is expected to grow to $72 billion by 2025, according to a report by Forbes magazine.
An analysis by the Dubai Chamber of Commerce and Industry revealed during the Gulfood Breakfast Briefing event at Gulfood 2021 that as per Euromonitor's data, online sales within the UAE's food and beverage market surged 255% year-over-year in 2020 to reach $412 million.
The analysis predicted the value of online food and beverage sales in the country to reach $619 million by 2025 and record a compound annual growth (CAGR) of 8.5% over the 2020-2025 period.
The latest estimates from Visa Middle East have forecasted the total MENA E-Commerce market size, including all categories, to be worth US$48.6 billion in 2022.
UAE petrol price to get costlier by 50 fils in July 2022
The UAE fuel price committee on June 30 announced petrol and diesel prices for the month of July 2022.
Starting July 1, Super 98 petrol will cost Dh4.63 a litre, compared to Dh4.15 in June.
أسعار الوقود الشهرية: أسعار الوقود لشهر يوليو 2022 وفقاً للجنة متابعة أسعار الجازولين والديزل في #الإمارات

⛽ Monthly Fuel Price Announcement:
July 2022 fuel prices released by the #UAE Fuel Price Follow-up Committee pic.twitter.com/2vE4WBTfTu

— Emarat (امارات) (@EmaratOfficial) June 30, 2022
Special 95 petrol will cost Dh4.52 per litre, compared to Dh4.03 in June. E-Plus 91 petrol will cost Dh4.44 a litre, compared to Dh3.96 a litre last month, while diesel will be charged at Dh4.76 a litre compared to Dh4.14 in June.