Dates revealed for Global Village Season 27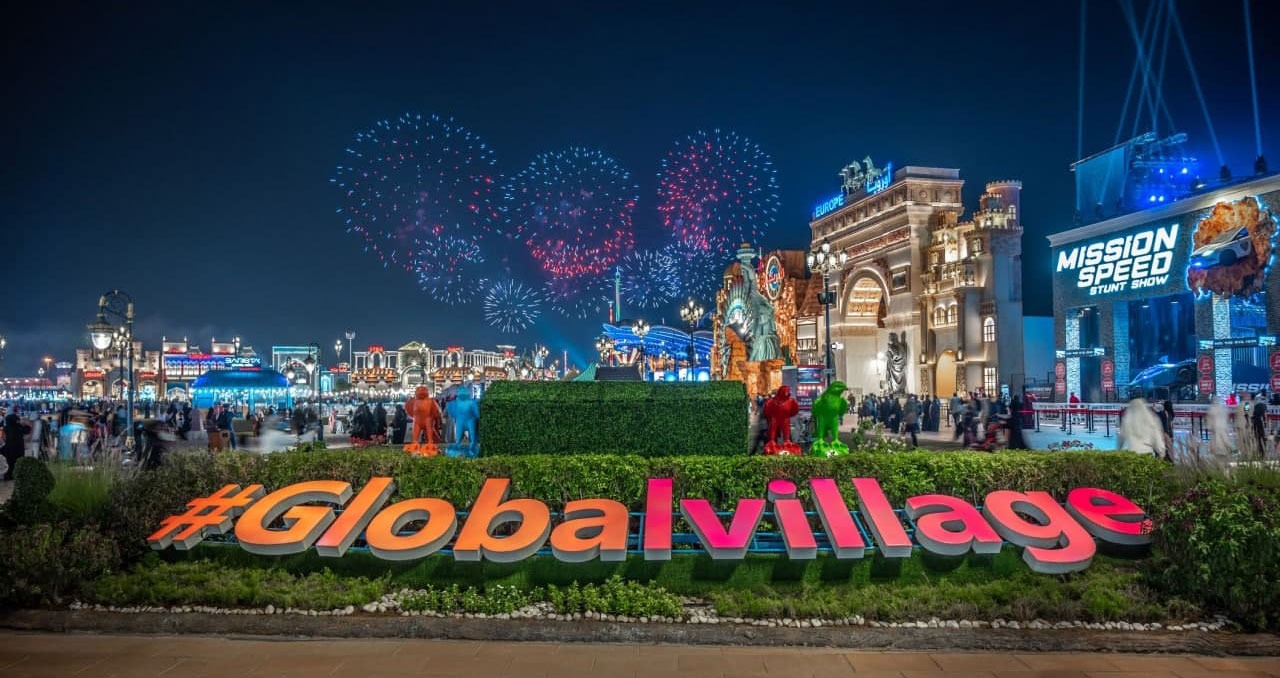 Hurrrray.…the countdown begins.
Global Village has announced its opening date for its coming season. The popular family-friendly destination will reopen on October 25, although little other details are known yet including when exactly it will run until and what will be new. However, on the official website, it says Season 27 followed by the dates "October 2022 — April 2023" which follows the typical dates the attraction usually stays open for.
Last season's Global Village had a record 7.8 million guests visit during the six months it was operational. This also includes an extended period, which saw the attraction stay open for an extra four weeks until May 7.
The destination marked its 26th season with 26 pavilions representing more than 80 cultures from around the world.
Among the countries and continents represented were: the UAE, Saudi Arabia, Bahrain, Kuwait, Afghanistan, China, Egypt, India, Iran, Iraq, Japan, South Korea, Lebanon, Morocco, Pakistan, Palestine, Syria, Thailand, Turkey, Yemen, Russia, the Americas, Africa and Europe.

UAE ministry clarifies on corporate tax for individuals
The UAE's Ministry of Finance has clarified that individuals conducting business activities will be subject to corporate tax only if their combined turnover exceeds AED 1 million in a calendar year.
It added that personal income from employment, investments or real estate (without licensing requirements) will not be taxed.
For example, if a UAE resident operates an online business and the combined annual turnover from this business exceeds AED 1 million, under the new decision, the income from the online business would be subject to corporate tax.
The Ministry of Finance has announced the issuance of the UAE Cabinet Decision on Treatment of Natural Persons Undertaking a Business or Business Activity for Corporate Tax Law purposes.#CorporateTax #UAECT #mofuae pic.twitter.com/7dyCCkCVbS

— وزارة المالية | الإمارات (@MOFUAE) May 17, 2023
However, if the resident also earns income from a rental property and personal investments, these sources of income would not be subject to tax as they fall under the out-of-scope categories.
The UAE Cabinet Decision No. (49) of 2023 spells out the treatment of resident and non-resident individuals undertaking a business or business activity, for Corporate Tax Law purposes.
"The new Cabinet Decision demonstrates the UAE's commitment to maintaining a clear and competitive tax framework for both local and foreign individual investors," said Younis Haji Al Khouri, Undersecretary of the Ministry of Finance.
"By simplifying the Corporate Tax system, the UAE continues to foster an attractive business environment that supports the growth of small businesses, startups, and the overall economy,"
Kapil Dev bats for Thriwe as tech firm looks to thrive in UAE
Thriwe, the India-based benefits-as-platform company has announced some exciting and ambitious expansion plans in the region.
Thriwe recently hosted an exclusive fireside chat event titled "Power Drive with DRV at the Capital Club Dubai, featuring legendary Indian cricketer and former captain of the Indian cricket team, Kapil Dev, and founder-CEO Dhruv Verma. The conversation centred around meeting challenges, be it in the field of sports or business, entrepreneurial aspirations and growth.
Verma unveiled the company's plans to increase its footprint across the UAE where it serves about 1.5 million customers through its 15 clients, including major banks such as Emirates NBD, FAB, Emirates Islamic, Commercial Bank of Dubai and Mashreq.
Over the years, the tech-driven B2B platform that was founded in 2011, has served global leaders in lifestyle and wellness, digital experiences, travel, retail and dining sectors by designing innovative loyalty solutions through rewards and benefits platforms and a seamless customer experience.
"The UAE has always been an exciting and important market for us. In the last couple of years, the country has shown remarkable resurgence after the pandemic, and the time is therefore, right for us to expand into new product categories here such as beach clubs, hotel memberships, and luxury lifestyle products," says Verma adding that Saudi Arabia and Egypt are also on the horizon for the firm, over the next 18-24 months.
For more information, visit https://www.thriwe.com/
Jumbo Group donates Dh1 million to Dubai Cares for children's education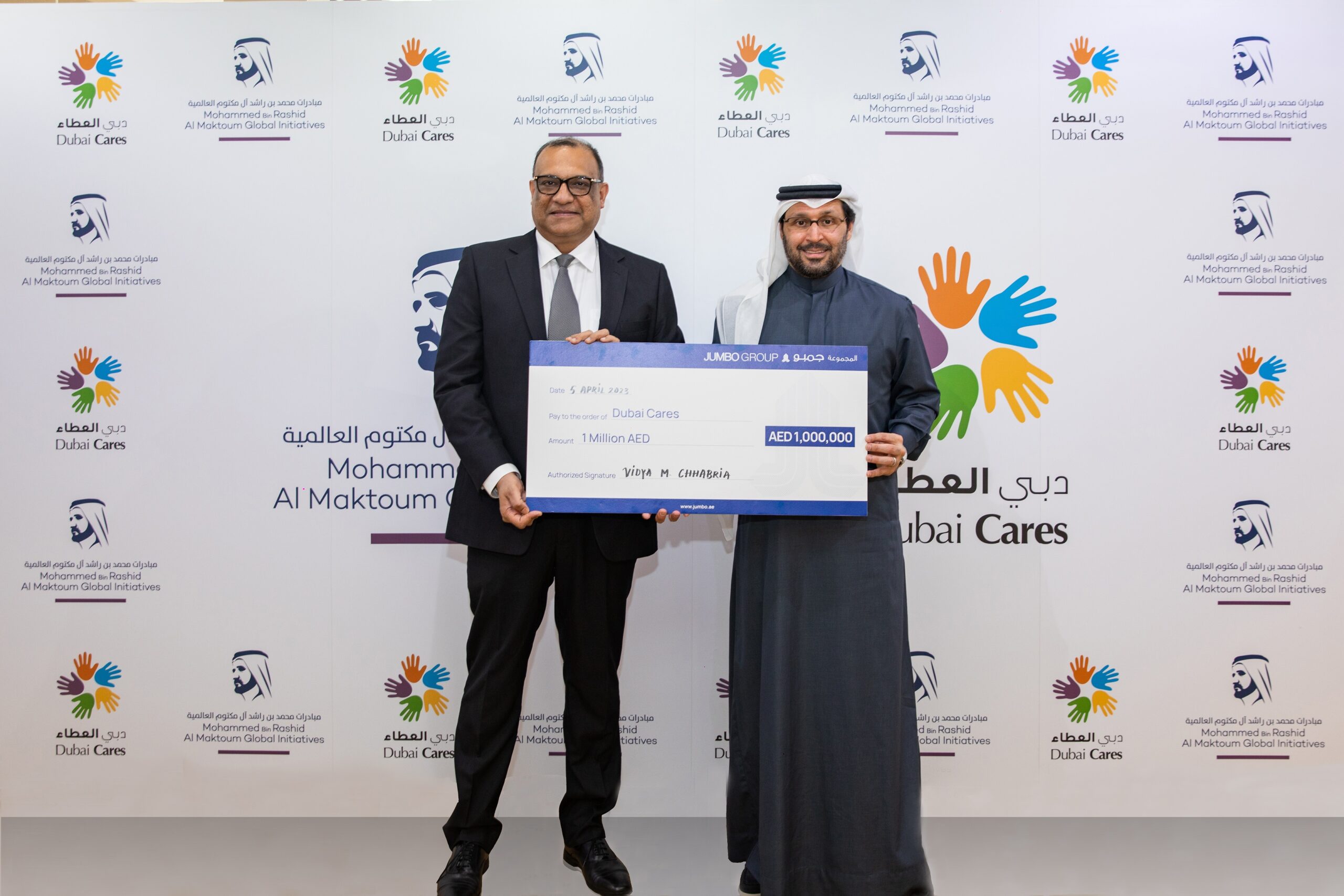 The Jumbo Group has coincided the spirit of giving this Ramadan while remembering its founder Manohar Chhabria with a donation of Dh1 million to Dubai Cares for children's education on Thursday.
Vikas Chadha, chief executive officer of Jumbo Group, handed over the one-million cheque to Tariq Al Gurg, his counterpart and the vice-chairman at Dubai Cares.
The day marked the 21st death anniversary of Chhabria who started Jumbo in 1973 as a retail agency and 50 years on, it has evolved into a group companies and is the UAE's leading retailer for latest technology products.
In true Indian tradition of doing charity as a show of thanksgiving to the universe on behalf of Mr Chhabria, Jumbo Group's contribution towards the cause of children's education now amounts to a total of Dh6 million to date.
"The donation is part of Jumbo's enduring support towards advancing the vision of the UAE's wise leadership to empower children and youth through access to quality education," Chadha said on behalf of Jumbo Group.
View this post on Instagram
Dubai Cares is an organisation that works to improve children's access to quality primary education in the UAE as well as developing countries. The vision that the organisation wants to transmit is that education goes beyond training. It is a tool to break the cycle of poverty.
Apart from cash, organizations as well as individuals can also donate new or used devices such as desktop computers, laptops and tablets by filling out a donation form on www.dubaicares.ae.
Last year, Jumbo Group supported the 1 Billion Meals campaign, an initiative by the Dubai government, with a similar amount. "Our relationship with the UAE and its people was established over 45 years ago and we are proud to be able to contribute to such important initiatives," Vidya Chhabria, chairperson of Jumbo Group, had said then.
"Ramadan is a time for self-reflection and charity and as a company Jumbo Group is in full support of the efforts made by the government here to help those in need."