Locally cloned camels to hit UAE race tracks soon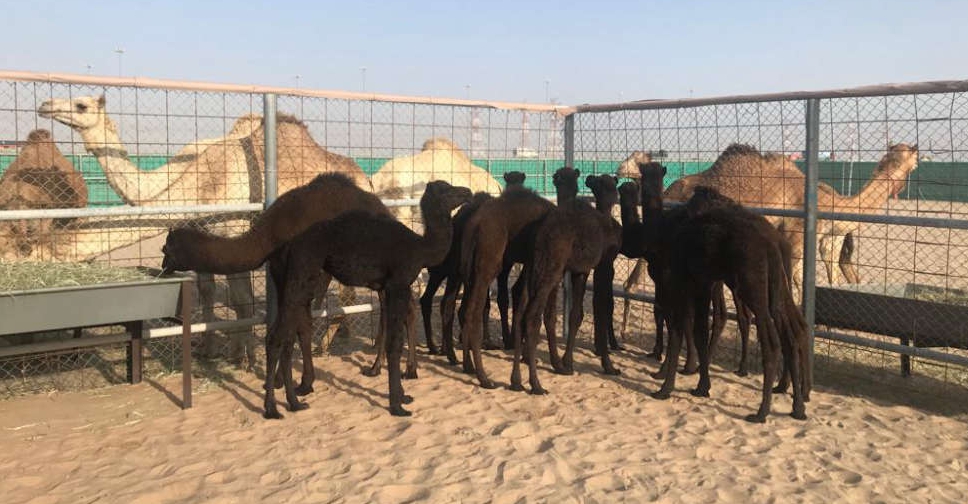 A highly successful camel cloning project has been underway in the UAE since 2018.
It's being used to breed some of the fastest animals on the track for the popular sport of camel racing, which is worth millions of dirhams in prize money, gold swords and cars as well.
Speaking exclusively to ARN News, Alex Tinson, Head of Laboratories and Research at the Reproductive Centre, said a good racing camel can be worth between AED 4 million and AED 18 million. 
Cloning animals is often not hugely successful, but with camels the success rate is between 35 to 50 per cent.
Alex recalled how the project has had great success, especially when cloning a camel, which died 10 years ago. 
Racing camels have increased dramatically in speed over the years, so although cloning a fast camel is a good start, they have to be able to run faster than the original.
ARN News asked Alex if that was actually happening.  
Being able to clone animals successfully also has many benefits from a research point of view, as different experiments can be tested on exact genetic  specimens.
Currently, they have a camel from last year, Murdia, which could be the best camel on the planet. It's won seven Gulf awards in two years, and 23 cloned copies of this camel will be born some time next year. 
This leads to the possibility of racing the same camel simultaneously in different locations, and also has exciting possibilities for research. 
More from Sports

Placido Domingo returns to Dubai Opera as headline act for Dresden Ball's UAE debut
The Dresden Opera Ball, which will be hosted by Dubai Opera in 2022, will bring together internationally renowned performers to share their cultural legacies with the varied population of the UAE.
Taking place on November 15, the gala and awards feature performances by Placido Domingo (tenor), Marina Rebeka (soprano), hosts of the evening Riz Khan and Oksana Fedorova, the European Peace Chamber Orchestra Dresden, Anton Lubchenko (conductor), Igor Butman (saxophone), Roman Lyulkin (bass) and more.
The first Dresden Opera Ball in Dubai will take place five years after the "king of opera," Placido Domingo, wowed the audience at the Dubai Opera's grand opening in 2016.
As part of the program, debutant couples will also put on a choreographed dance show. As they have done in high society throughout European history, these couples will captivate the audience. Ladies in spectacular gowns and gentlemen in stylish tuxedos will take over the stage in an extraordinary dance exhibition in a three-four-time signature.
The glamorous event is presented by M Premiere and the Opernball Dresden, the largest classical entertainment event in the German-speaking world that made its debut in 2006 in the German city of Dresden.
The Dubai Dresden Opera Ball follows the recent gala event at the beautiful Catherine Palace in St Petersburg, Russia and now, it is arriving in the UAE.
Dubai's convening power creates the natural platform for an event which seeks to connect cultural and artistic icons from the European and Arab worlds.
A VIP guest list for the Dresden Opera Ball includes HE Mariam bint Mohammed Saeed Hareb Almheiri, Minister of Climate Change and Environment of the UAE.
Hikmat Al Kaitoob, an international businesswoman and global philanthropist, is the official presenter of the evening's festivities. Leading broadcaster and author Riz Khan will moderate the proceedings, which will also be hosted by former Russian Miss Universe Oksana Fedorova.
Hans Joachim Frey, General Director of the Dresden Semper Opera Ball, said: "The main message is to have international cultural bridge building between Germany, the Arabic world, the United Arab Emirates and the European world. Culture brings people together and Dubai is a centre for this and we are very happy to be here."
Dresden Opera Ball Programme
18.00 Red carpet opening ceremony
18.30 VIP reception
20.00 Gala show program
21.30 Grand finale with Dresden Opera Ball debutants
21.45 Fulminant ball opening dance
22.00 Gala dinner orchestrated by Armani Hotel Dubai culinary team
23.00 Dancing music and entertainment
01.30 Closure of the event
Tickets are available to purchase at:
Dubai Opera: https://www.dubaiopera.com/events/dresden-opera-ball-in-the-uae
Platinumlist: https://dubai.platinumlist.net/event-tickets/84187/dresden-opera-ball-in-the-uae
or by calling +971507686418
Ticket pricing:
Silver AED 975 (including a pre-show drink)
Gold AED 1,125 (including a pre-show drink)
Platinum AED 1,425 (including a pre-show drink)
Premium table AED 3,825 per person
Diamond table AED 4,675 per person
Royal table AED 5,525 per person
VIP table AED 6,375 per person
All table seats include: a VIP welcome cocktail, three-course dinner and a beverage package from 8pm until midnight (T&C apply)
Dubai Land Department updates Ejari rules with co-habitants asked to register
In two weeks, through the Dubai REST app, property owners, developers, management companies, and tenants must register any family members or co-tenants against their Ejari contracts.
All owners, developers, property management organizations, and tenants are required to complete an eight-step registration process, which includes providing personal information and an Emirates ID, according to the Dubai Land Department (DLD).
You can sign up with your Emirates ID and add your personal information, or you can log in with the UAE pass.
Once the registration is complete, the co-occupants will be automatically updated on the rental agreement.
Each inhabitant of a house can use an Ejari contract as identification by registering all the occupants.
The registration must be finished "within two weeks, effective immediately," a DLD circular said. The Dubai REST app is available for both iOS and Android.
The registration process explained:
Whom does the rule apply to?
The rules apply to all owners, developers, property management companies and tenants.
What details of co-occupants must be uploaded to the app?
Some tenants and homeowners in Dubai have already begun receiving instructions from their property owners or developers on details of how to register co-occupant details.
According to information made available on the Dubai REST app, tenants and homeowners must upload the name, Emirates ID and date of birth of all co-occupants on the application. Once the data is entered, applicants must click 'verify'. Details of all members of the family who are living on the property must be entered.
DLD has not confirmed if details of live-in house help must be entered as well.
Is there a penalty for not applying before the two-week deadline?
DLD has not provided details of potential penalties for failing to register co-occupants within the two-week deadline.
What steps must they follow to register?
Open Dubai REST App and log in to the application. Please register if you're a new user
Choose your role as an "individual" and log in with UAE PASS for quick access
Authenticate yourself via the UAE PASS application
From the dashboard, select the property where you are a tenant/ owner
Select manage co-occupants to proceed
Select "add more" to add co-occupants to the property where you are a tenant
Enter the Emirates ID and date of birth of the co-occupant and select 'verify.'
Add all family members/ flatmates living on that property. To remove a co-occupant, select the delete icon and submit.
All you need to know about the Ejari contract:
What is an Ejari contract or number?
Ejari means 'my rent' in Arabic. It is the mandatory registration of your tenancy contract. Initiated by the Real Estate Regulatory Agency (Rera), the regulatory arm of DLD, Ejari came into being to make the rental market in Dubai one of the most transparent markets in the world.
How does Ejari work?
Registration through Ejari is a simple process requiring little technical knowledge, and only the basic details of agreements are entered. These include details of the property, the rental company's name, and the agreement's terms.
Once the agreement is entered into the system and registered, it is allocated a unique barcode that acts as its reference throughout the contract's life. RERA will keep its record of the agreement and update changes to the register as these occur.
How to register for Ejari?
One can register on Ejari via the Ejari app. Registering the tenancy contract with Ejari will cost you Dh 220 at a typing centre and Dh 195 on the mobile application. Applications have to upload all documents, which include:
Passport copy
UAE visa
Tenancy contract
Emirates ID
Recent Dewa Bill or receipt of Dewa Connection
Title Deed of Rented Property
Once all documents are uploaded, pay a fee of Dh195, and within 6 hours, a registered contract and the Ejari certificate will be emailed to the applicant.
Typing centres in Al Manara Centre, Al Barsha Mall, Oud Metha, Port Saeed or Zabeel also provide Ejari registration services.
Kimono craze hits Dubai as Japanese culture gets on catwalk
Ramp walks and fashion presentations in the flesh are back on the radar and a big reason to celebrate. Look Up Japan, a fashion show on traditional, famous 'Kimonos' has added ripples to Dubai's fashion scene.
Designer Yuko Murokami  hosted an exclusive fashion show at the Dubai World Trade Center on September 10, blending the modern with the new in a revival of sorts for the pretty kimonos.
Ms Murakami said during the event announcement she chose Dubai as the venue for her Kimono collection because she is trying to modernise folk fashion in a western style and with modern-day materials using nanotechnology.
The Kimono is traditionally worn with a broad sash, called an obi, and is commonly worn with accessories such as zōri sandals and tabi socks.
From voluminous dresses to wild flowers on head, the collection on Saturday0 was nothing short of innovative as displayed on the models who walked the stage. With vintage upcycled fabric work and ruffled sleeved pieces, the innovative pieces were an ode to the Japanese culture.
The evening saw celebrities galore such as singers Ibrar Ul Haq and Azeem Dar of Pakistan, Hollywood singer Persian Dulao and the Arab 'Michael Jackson' Maher Alkhaja, who enthralled the audience with their electrifying performances. The dignitaries present were Sheikh Obad Bin Suhail Al Maktoum, Shiekh Buti Bin Abdulhakkim Al Maktoum, Dr Bu Abdullah, Dr Maryam Mohd Fatma Matar.
Organised by Westfield Event Management, the show was a gateway for fashionistas in Dubai to experience the Japan culture on the catwalk. The event, claimed to be region's first Japanaese fashion show was attended by some big fashion minds like Mr Nishida, Mr Arakawa and Ms Rytshiko Kaneko.