Iftar deals to look out for this Ramadan
The holy month of Ramadan is upon us. Depending on the moon sighting, Ramadan should start on March 22 or 23. It means different working hours, different lifestyle and change in food habits as people from Muslim faith observe a month of prayers and fasting to renergise the body and soul from within.
Even though Ramadan is a period of fasting, food is central to Ramadan. Fasting means many people do not eat during daylight hours, which makes Iftar the most special time in the evenings when everyone ends their day spending quality time with family and friends.
Iftar is the time you replenish energy levels so every effort should be made to consume foods from all major food groups: fruit and vegetables, rice and alternatives, as well as meat and alternatives (which include dairy). And F&B outlets in the UAE come out with special offerings to partake in this special occasion for their customers, and themselves too.
Here are some of the offerings we have lined up so far (please visit this space for more deals and details):

KRIS WITH A VIEW
Elevate your Iftar experience with a magnificent 360° view of the bustling city of Dubai at Kris With A View and Lounge of the Park Regis Kris Kin hotel in Karama.
The faithful can break their Ramadan fast during the holy month at Kris With A View on the 19th floor where diners are spoilt for
choice with selections to suit each palate amidst postcard sceneries of Dubai at dusk.
Diners are taken on an international sojourn of culinary creativity combining the traditional flavours of Ramadan. There are timeless classics such as Lamb Ouzi and Shawarma, traditional regional recipes such as Kibbeh Bil Laban, Chicken Couscous, Oriental Mixed Grill and Samak Mashawi, and Asian and Continental specials such as Hyderabadi Chicken Biryani, Malaysian
Fish Curry, Baked Mussels, and Penne Alfredo, to name just a few.
Those with the ubiquitous sweet tooth will relish in an array of desserts from Basbousa, Pistachio Mohalabia to Baked Yoghurt, Umm Ali and many more. Ladies also get a complimentary henna with the resident artist.
Available throughout Ramadan from Maghrib to 11pm, the iftar is priced Dh120 per adult, Dh60 for children from 6 to 12 years while children 5 years or younger dine for free.
Kris With a View,
19th floor, Park Regis Kris Kin Hotel
Al Karama, Dubai
For bookings, call: +971 4 377 1184
@parkregiskriskin / @kriswithaviewdubai

MYGOVINDA'S
Ramadan is not all about meat. And so MyGovinda's, the vegetarian food place famous for its Great India Thali or multi-course meals, is back with an incredible iftar spread. The delectable 5-course set menu for two and four people comes at just AED 89 and AED 179 respectively.
Giving a taste of everything refreshingly light and invigorating and offering fan-favourites such as Greek salad, beetroot hummus, piquant soups, savoury kebabs and sweets, MyGovinda's is all set to win hearts this Ramadan. What makes MyGovinda's different from any other vegetarian foodie hotspot is its adherence to the Satvik diet (no onion and garlic as ingredients that presents nourishing soul foods that are great for health.

BAOFRIEND
Combining the slightly sweet and fiercely tangy with the spicy sizzle of Asian fusion cuisine, Baofriend brings an exquisite iftar spread that is inspired by the bustling food streets. Starting from sundown to 10 pm every evening, Baofriend's four-course set menu promises to treat the patrons' tastebuds.
Along with assorted Turkish sweets and dates, the feast includes Bala-Bala, an Asian fritter made out of vegetables and served with tangy and spicy Thai sweet-chilli sauce, Gado-Gado, the well-loved mixed vegetable salad topped with creamy peanut sauce and crunchy crackers, and the miso lentil soup, a hearty and nutritious family favourite, which is sure to gratify customers.
Patrons can then choose a main course from delicious mains such as chicken wok-fried noodles that are cooked to perfection with crunchy mixed vegetables, bokchoy, and oyster sauce, Hambagu rice, one of Baofriend's top favourites that comes with a succulent Wagyu beef patty, spicy cucumber, and irresistible Japanese slaw. The spread will also offer Kimchi ramen with chicken for those who love a bit of spicy and tangy, handcrafted by Baofriend's incredible Indonesian chef and served with kimchi broth, bokchoy, and sesame.
Desserts include pisang goreng with crispy fried plantain served with vanilla ice cream and amazingly luscious dulce de leche that promises to transport guests to gastronome heaven. Guests can also get their hands on 'Es Campur' a cold Indonesian mixed-ice concoction made with jackfruit, avocado, grass jelly, and more. Head to Baofriend's Dubai Silicon Oasis outlet during Ramadan for just AED 69 per person.

BELGRAVE
For those in Abu Dhabi, an indulgent treat awaits you at Belgrave. Relish Persian flavours and hospitality from the London-born restaurant at the UAE capital with an 'All You Can Eat' offer at an exciting price point. You will love the distinctive amalgamation of delicious Eastern cuisines with a Western twist.
The Iftar feast will begin with a hearty special soup of the day. This is followed by a choice of unlimited main course, a basket of mixed herbs and bread, and a choice of either salad Shirazi or mast kheer. Entrees include rich and succulent lamb koobideh grilled to perfection and containing a wonderful balance of spices and herbs, served with aromatic rice. Guests can also pick from Belgrave's moist and flavourful chicken koobideh, their signature chicken masti, top favourite chicken zafrani or savoury chicken reyhani, all served unlimited, and grilled to delightful perfection, each complementing the multiple palates and preferences of each patron.
The Belgrave fan-favourites will be available for takeouts daily from 5 pm onwards and for dine-in from 6.30 pm to 2 am. Belgrave's Ramadan Special Boxes include sunrise meals also, which means these savoury offerings can be relished at home and outside or gifted as well.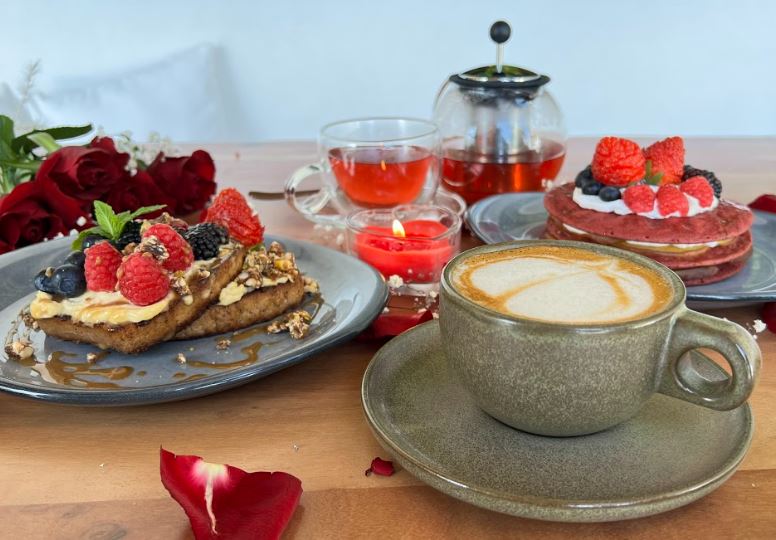 LAPA EATERY
Lapa Eatery, a Dubai-based venue celebrating clean eating and well-being, has announced a nourishing Ramadan spread where an array of gluten, dairy and preservative free options to choose from a delectable spread. Its exclusive iftar and suhoor offers include foods that are light and wholesome, rejuvenating the fasting ones physically and spiritually.
Some of the menu highlights include a creamy butternut hummus, pumpkin or balila soups, spicy-savoury shakshuka, creamy eggplant avocado on toast, baked falafels, gluten-free fiery chicken quinoa biryani, Karan beef bowl, and more.
Though Ramadan is for those who are hitting puberty at the start of the spectrum, many children start fasting much earlier. The restaurant's kids' menu is a knockout win baked sweet potato chips, margarita pizza with homemade cauliflower and broccoli base, beetroot and carrot-based pancakes topped with caramelised peaches and mixed forest berries.
If you know of any Iftar deals you think are worth mentioning, send an email to info@headline.ae.

Go down Dhaba Lane for deliciously simple Indian cuisine in JLT
Add one more Indian cuisine restaurant to your must-try list. Dhaba Lane, a popular name for North
Indian food lovers in the Karama-Bur Dubai belt has hopped on to the other side of the city – swanky
Jumeirah Lake Towers (JLT).
In the last few years, JLT, Marina and its neighbourhoods have welcomed a number of South Asian
outlets, most of which have originated in old Dubai. But that's all the more reason to cheer since fans of Indian or Pakistani food now don't have to trudge to a Karama or Deira for their fill of good kebabs or butter chicken.
And that brings us to the home-grown Dhaba Lane, a restaurant founded by entrepreneur Eti Bhasin,
that, true to its name, pays homage to the famed Dhaba cuisine in India in its interiors and menu.
Thus you are welcomed by an eclectic décor, comprising vibrant art on the walls by talented artist Snehita, colourful ceiling draping and cushions, chunky and quirky jewellery pieces paced artfully, the ubiquitous truck facade and bright lights. The detailing spill over to the presentation too, as seen in the dahi chaat which was interestingly served in an umbrella like bowl and the daal makhni served in a faux "well". Both score high on the taste too!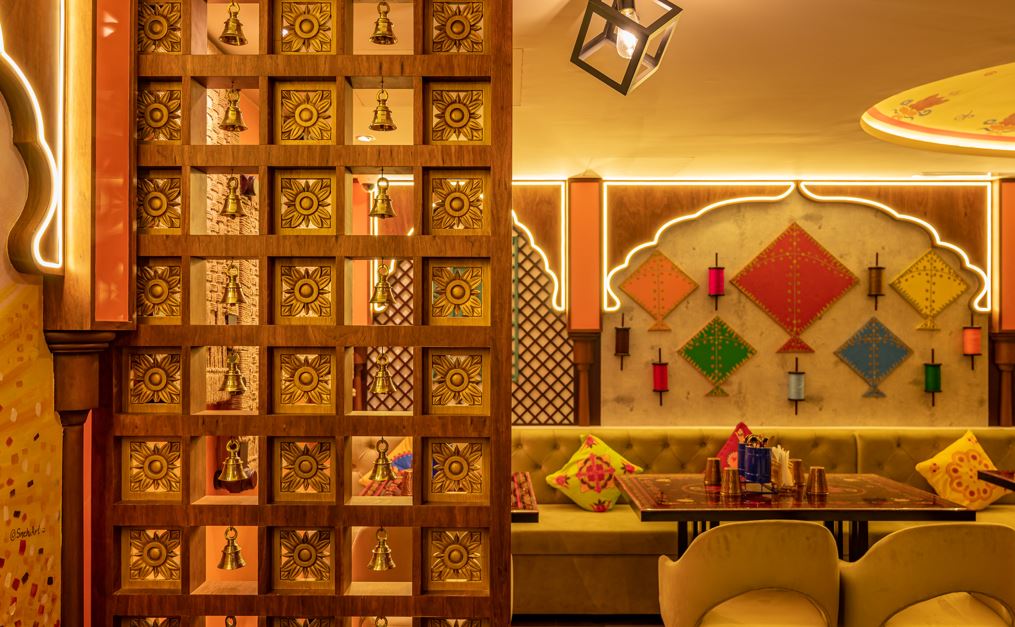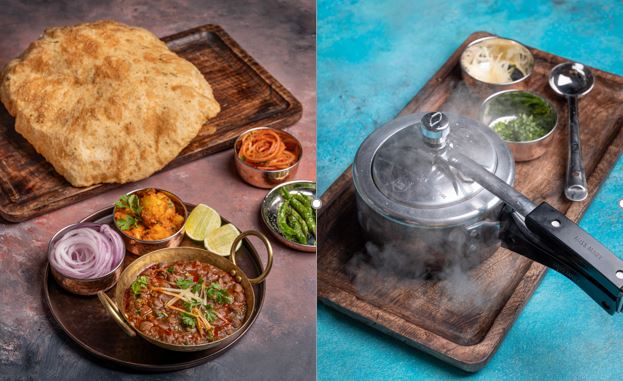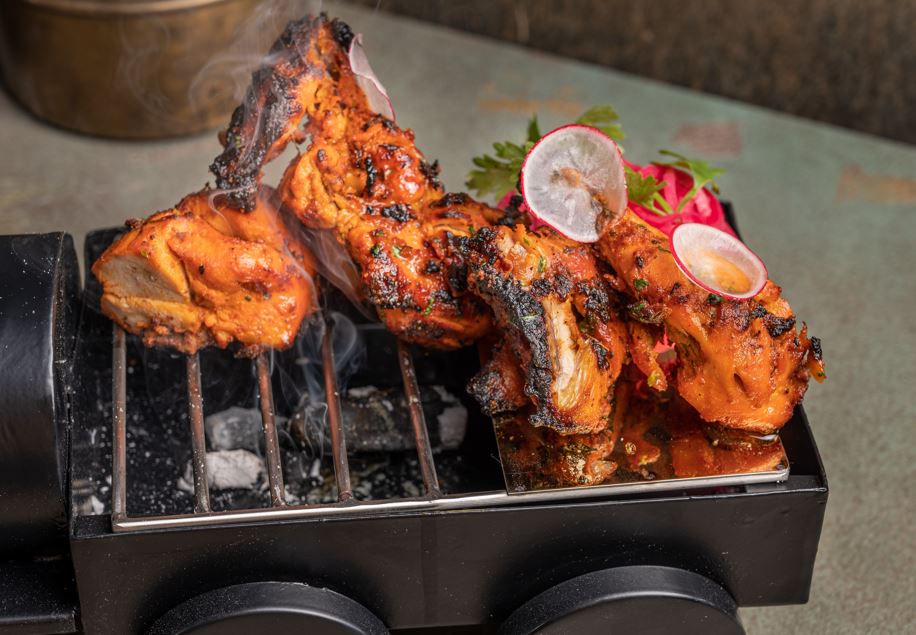 The menu has been designed by award-winning chef Harangad Singh who has stuck to the tried-and-
tested and much-loved flavours sans any weird experimentation that have come to define Indian food in Dubai. However, some dishes deserve a special mention.
The mushroom galauti kebab hits the ball out of the stadium! Mildly spiced with a true melt-in-the-mouth consistency (just the way galautis are supposed to be!), this vegetarian version of what is essentially a meat delicacy, deserves full marks for innovation and execution. A trip to Dhaba Lane is worth it just for this one dish alone.
View this post on Instagram
By comparison, the dahi kebabs, an eternal Delhi favourite, seemed a bit tame. A misstep from the otherwise great starters and drinks list, was the pani puri with guava spiced water, which didn't work for us!
For the main course, all the palate-pleasers in the traditional flavours like Tandoori Murgh, Kadai Paneer, Martban Ke Chole, Murgh Masala Maarke and a range of paneer curries tempted the taste buts along with an array of desserts. The Ras Malai stood out!
In other words, Dhaba Lane has everything that a Punjabi food fanatic loves, so for New Dubai residents, here's another comfort restaurant to go to (or order from), when the pangs of home food hit hard.
PS: if you are in the mood for something different, try their 'Bahubali Bhature'. A 1-feet long and round Bhatura is paired with Chickpea Curry aka Chole and other condiments for Dh35. Order now!
ALSO READ: The Great Indian Thali in Dubai
Food and Staycation deals this Valentine's Day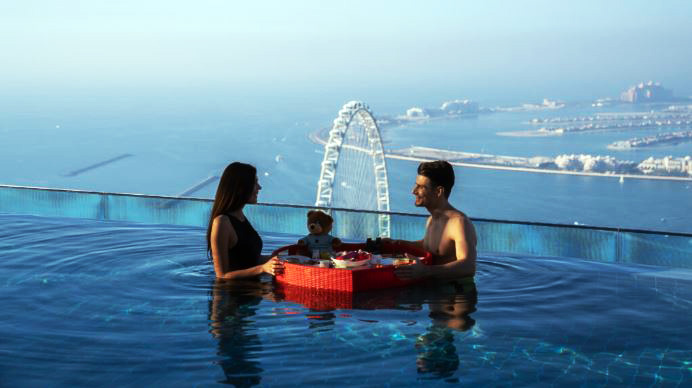 Restaurants in the UAE will vouch that the way to one's heart is through the stomach, and not surprisingly, they have lined up special menus and bargain deals to celebrate love on Valentine's Day, February 14. A lunch or dinner date with your love at one of the many signature restaurants in Dubai or a drive as far as Ras Al Khaimah should be on your cards to make the day truly romantically special.
Lapa Eatery
Make this Valentine's Day unique by heading to the first gluten-, dairy- and sugar-free wellness restaurant that has just opened on 594, Jumeirah Beach Rd, Umm Suqeim, Dubai. From exotic charred eggplant and smashed avocado on homemade almond bread toast, sweet potato benedict with a slice of fondant and homemade spicy napolitana sauce, and hand-crafted shakshuka sauce served with eggs and coconut flat bread, Lapa Eatery's exhaustive menu is a must-try if you love and care for your body. Check out its a la carte menu of breakfast items as well as appetizers, salads, main courses, desserts, and cold and hot beverages. There is a 15 per cent discount on the total bill.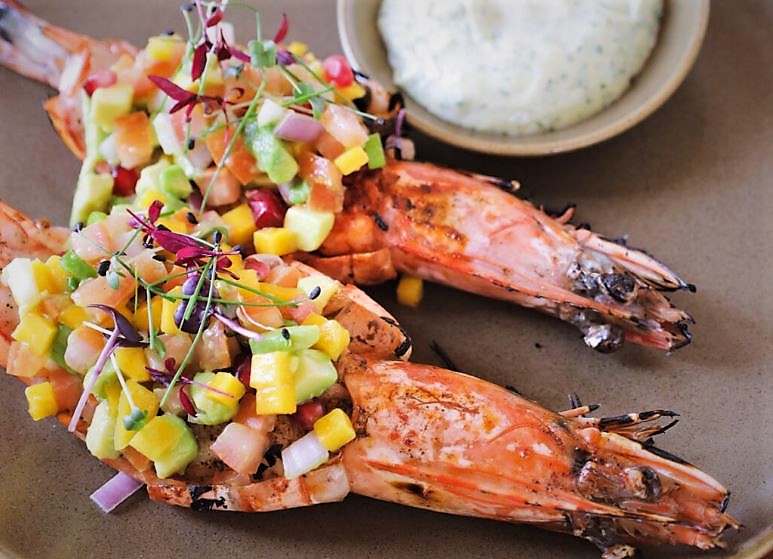 Banan Beach Brunch
Banan Beach in Ras Al Khaimah offers a Palestine-flavoured brunch every Saturday this month while the instagrammable place promises to transport you to Greece. The brunch takes place at their pool area called The Human Club and is open to adults only. Located at Al Hamra just an hour's drive from Dubai, Banan Beach is pet-friendly and and is named after its founder Banan Abdalla, a Palestinian/ Canadian entrepreneur.
The brunch is named after the 1,100-year-old Olive Tree a staple at Banan Beach and many Palestinian households. The property is built in the most sustainable way possible, hence all furniture, fixtures, doors, windows, and decorations for the villas and tents, are handmade by the local team using recycled, locally sourced, and biodegradable materials.
Zeta 77
When you start with a nice breakfast to set the tone for the day everyday, why should Valentine's day be lunch or dinner-only affairs? This year treat your loved one to the ever-popular floating breakfast. Zeta Seventy Seven is offering guests to float above the clouds (and water) and enjoy a range of delightful breakfast dishes as well as a glass of prosecco each for Dhs698 per couple.
Zeta Seventy Seven, Address Beach Resort, Feb 10 to 14 from 9am to 11am, Dhs698 per couple, pool access included. Tel: (0)4 879 8866 addresshotels.com.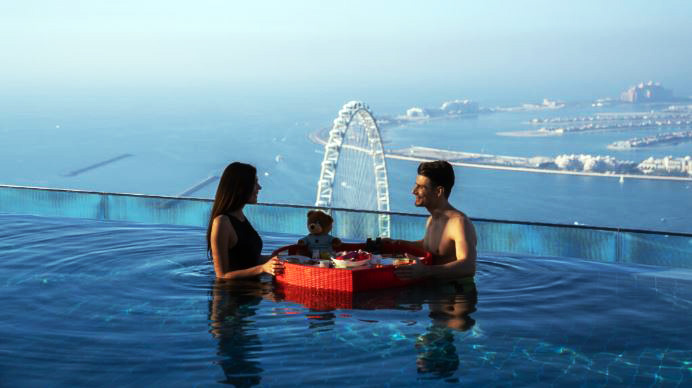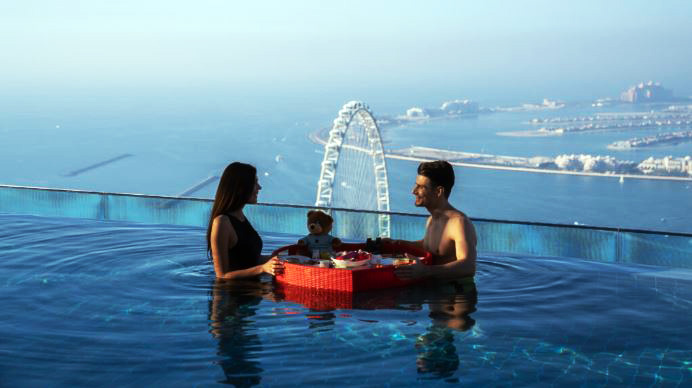 Bombay Bungalow
Relish the flavours of India as you celebrate love desi style at Bombay Bungalow in the Beach Mall, JBR while soaking in the sights of the iconic Ain Dubai and Bluewaters Island. The gastronomic journey will take you to the best of desi cuisine from mustard jumbo prawn curry, lamb korma, butter chicken and dal makhni to crunchy pani puris with guacamole and jhinga kalimirch among others. For vegetarian lovers, the array includes paneer (cottage cheese) steak, kadai bhindi, vegetable jalfrezi, wild mustard seed potatoes, biryani and breads. The non-vegetarian menu is priced at AED 300 per couple and the vegetarian at AED 250 per couple.
View this post on Instagram
Hilton Ras Al Khaimah Beach Resort
Steal your beloved away from the hustle and bustle and bask in some quality time and attention together surrounded by the pristine natural beauty of the bay, beach and gardens of Hilton Ras Al Khaimah Beach Resort.
Indulge in a relaxing couple's massage, followed by a romantic candlelit 'Cena Romantica', a private three-course dinner for two at a secluded spot on the 1.5 km private beach, ask about the exclusive 'Dinner in the Sand' option. RAKmantic Retreat packages start from just AED 1,050, inclusive of stay, spa treatments, and breakfast for two.
Contact the resort on +971 (0)56 992 9631 or email reservations_rakresort@hilton.com
China Bistro
Treat your Valentine to the flavours of Asia at any of the six outlets of China Bistro for just AED 160 per couple. The Special Valentine's Day Set Menu at the Pan Asian restaurant will provide a five-course culinary adventure all day to patrons wanting a sophisticated dining experience. Be refreshed with Pomegranate Lemon Ginger drink or soups before snacking on Appetizers like Fire Roasted Mandarin Chicken and South Asian Cottage Cheese. Fish Hubei Style, T-Hoi Chicken and Exotic Vegetable Chilly Basil Sause feature in the Main dishes along with Fried Rice or Wok Tossed Hakka Noodles. End your romantic dinner on a sweet note with desserts such as Brownie with Hot Chocolate Sauce or the classic Vanilla Ice Cream.
Three places to enjoy great Indian Thali in Dubai
Brrrr, UAE residents! It is winter time and it no secret that cold weather can increase your appetite. It is also time to indulge in a Thali, the Indian version of a multi-dish meal or a readymade buffet in one plate.
Tourists from India, a predominant segment of people visiting the UAE, also prefer to opt for a fulfilling Thali for lunch or dinner. With the stomach sorted, there can be much more time for sightseeing at your convenience.
While there are many options in different price ranges, from the modest to premium, we have chosen three of the best-rated ones in varied locations:
MyGovinda's Thali Festival
Known for its holistic and healthy vegetarian food in the UAE, MyGovinda's is all set to host a Thali festival at all their outlets, serving the best regional dishes from the end of January through to March.
At MyGovinda's, Thali is the ultimate Indian legacy meal. It's vibrant, wholesome, and fulfilling! Available daily from 12 Noon until 11 pm, each Thali features more than 10 items, from starters to mains and desserts, including a mouth-watering selection of Maharashtran, Gujarati, Sindhi, Punjabi, and Rajasthani cuisine.
MyGovinda's has always aimed to produce vegan and vegetarian-friendly dishes that are tastefully curated, elevating vegetarian cuisine to a level that can satisfy any dietary preference. With the use of hand-picked herbs, spices, the freshest vegetables, and dairy products, the chefs at MyGovinda's use their exceptional skills to prepare the finest and the healthiest vegetarian and vegan food that will leave you asking for more with every bite.
Locations: Arjan, Silicon Oasis, Jumeirah Lake Towers & Karama
Date: 30 January – 5   March, 2023
Cost:
Monday – Thursday
AED 32 – JLT & Arjan; AED 38 – DSO & Karama
Friday – Sunday (Friday – Rajasthani Thali / Saturday to Sunday – MyGovindas Special Thali)
AED 34 – JLT & Arjan; AED 40 – DSO & Karama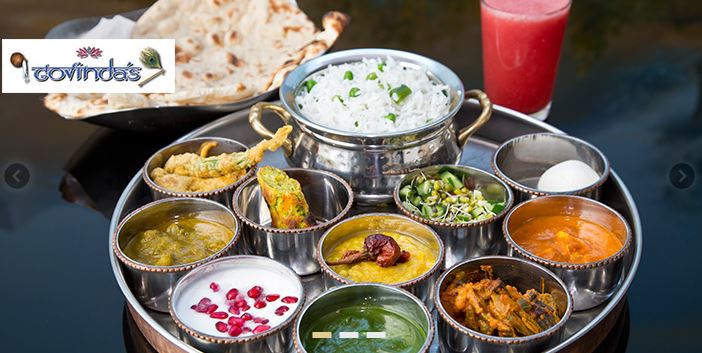 Maharaja Bhog
Experience a premium Thali experience when you head from Bur Dubai to Karama, taking a right after Ansar Gallery where, ensconced in a corner is Maharaja Bhog.
This restaurant has been operational for over a decade and is very popular for its wide variety of tasty Indian dishes. There is a minor photo-op for your Instagram page also if you fancy sitting on a big regal-looking chair.
For 35, you can enjoy two steamed and fried appetizers each, four Punjabi-style vegetarian dishes, eight chapatis (Indian flat bread), dal, rice, two desserts, salad, papadums, pickle and masala chaas. You can also opt for a small Thali portion that costs Dh25.
To those looking for a minor kick with fusion, there are various flavour enhancers such as the smokey chaas (buttermilk) and Zaffran tea.
Location: Ground Level, A Block, Hamsah Mall Next to Ansar Gallery – Al Karama – Dubai, UAE
Reservations: Required
Price Range: AED 90 for two people
Bombay Bunglow
The Indian restaurant with a twist, is making waves for its irresistibly piquant Thalis and taking Dubai's food scene by storm. Perfect for both vegetarians and meat lovers, there is an eclectic variety of choices and savory flavours for all palettes.
Available from 12 pm until 4 pm on weekdays only, Bombay Bungalow's veg Thali includes their signature subz handi, dal, hara bhara kebab, jeera pulao, roti, raita, and masala chaas, along with a dessert. Their smashing hit non-veg Thali is tantalising and irresistible in equal measure with a royal spread containing smooth and creamy butter chicken and savory chicken tikka, served with jeera pulao, roti, and more.
But nothing beats their Tawa King Fish Fry Thali with its zesty and tangy, pop-in-the-mouth flavours, and fish that's cooked to crispy perfection. It is served with a variety of palatable chutneys, luscious curries, and refreshingly good Indian sauces. Its other well-loved fish Thali contains sherry fish and is served piping hot with delicious curry and aromatic rice.
A gorgeous setting across Ain Dubai and Bluewaters Island, and the picture-perfect, Instagram-worthy interiors ooze endless amounts of charm.
Time: 12 Noon- 4 PM
When: Weekdays only (Mon-Fri)
Contact- 044270758
Address: The Beach Mall, JBR
Price range: 250 for two people