'London Calling' and 'Loud House' part of entertainment's return to Global Village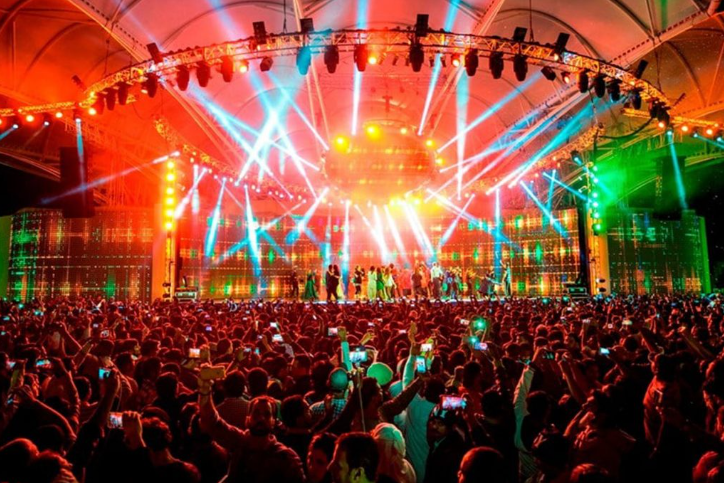 Global Village has revealed a packed new season line-up featuring a range of fan favourites, renowned performers, stunt shows, famous characters, world-class concerts and street entertainment.
With over 400 performers from around the world, guests can enjoy more than 200 performances each night at the region's leading multicultural family destination.
Back by popular demand and turning Global Village into the hottest jazz club in town, 'Putting on the Glitz' returns to enthral music lovers with groovy notes and spirited cheers.
If you love all things cool Britannia, 'London Calling' will take you through a whirlwind of nostalgic numbers from the swinging sixties through punk rock to the trend-setting tunes of today.
'Calling Clowns' to the rescue, with hapless fire-fighters who never actually get to fighting fires – the high energy clowns from Colombia are sure to give audiences a laughter riot.
For those who prefer some slapstick comedy 'Bank Heist' will offer a true-blue Dr. Seuss-style escapade featuring Townsville's very own 'Keystone Kops', determined to crack down on the crime wave.
If you thought your family was crazy, wait till you enter 'Loud House', a big Bollywood celebration featuring an eccentric set of characters in a hilarious soap-opera style show, who will serve up laughter in all its dysfunctional glory.
'Skyline' will provide a vibrant sensory showcase of music, style, dance and light which will transport the audience straight to the heart of Bollywood at night.
Global Village will continue to bring some of the world's best talent, performing a range of mesmerising spectacles during Season 27.
Straight from the stage of America's Got Talent (AGT), 'V.Unbeatable' – the extremely talented dance crew from Mumbai got the golden buzzer not once but twice before winning The Champions title in 2020.
The crew will guest star on the Main Stage from January 4 for just one month.
Another Global Village favourite has also recently gained AGT fame, Philippine troupe 'Urban Crew'.
These flyers of the south, as they like to be known, will take centre-stage again in Season 27, having received unprecedented love and support from audiences in Season 26.
Known to defy gravity with their contagious energy and unrivalled acrobatic skills, the group is currently competing in this year's America's Got Talent, before they fly right back to Dubai to entertain Global Village guests again this season.
Another international troupe returning by popular demand are the incredible drumming ensemble AAIJAA from Columbia. These extraordinary young percussionists will be pumping the perfect beats for a memorable evening.
Flagship Global Village productions and characters will also be making a return with fresh shows and new storylines.
Global Village's very own characters, The Wonderers – Ozka, Waleef and Zoya will return in their Main Stage hit, Legend of the Staff.
They will also appear at the Kids Theatre in a brand new production as they uncover 'The Mystery of the Golden Rock'.
From epic dance moves to echoing drum beats, season 27 is knocking our doors with America's Got Talent's @AGT stars V-UNBEATABLE and the one & only AAINJAA! 🤸🏻 Ready for a season full of excitement? 🤩

We're excited to welcome you all starting 25 October#GlobalVillage #GVWOW pic.twitter.com/X7kvTvl4j4

— Global Village القرية العالمية (@GlobalVillageAE) August 18, 2022
Peter Rabbit, Lily Bobtail and Squirrel Nutkin are back on their quest to steal a giant prize radish from Mr. Noweeds – the GV gardener on duty.
The Octonauts are back at their station, as Captain Barnacles, Kwazii and new-ship-mate Kai get on board to complete their new missions and share oceans of fun.
Care Bare favourites – Grumpy, Funshine and Cheer will be making a special on-stage appearance, while Ben & Holly and PJ Masks will also be back in their own shows.
Chhota Bheem will also be on ground to snap a selfie. The Kid's Theatre will also host Don't Do the Dodo, based on the illustrated children's book 'The Curious Tale of the Dodo' by world-famous writer, comedian and conservationist Bill Oddie.
Bigger, better, and more explosive than ever! Get ready for the best sequel to Aqua Action – the region's only water-based stunt show.
With incredible new fire effects, record-breaking LED car scenes, high-powered street bikes and a gigantic monster truck, this one is a firm favourite with guests, jam-packed with explosions, drifting, back-flipping bikes, precision driving, jet-ski stunts and fly-board action.
"It doesn't matter where you're from, what age you are or what you're into – there really is something for everyone. We want our guests to have exciting new experiences every time they visit and keep coming back for more. That's why we've pulled out all the stops to give our guests the best performers from all over the world," said Shaun Cornell, Director – Entertainment, Dubai Holding Entertainment.
DP World ILT20 kicks off after welcome from Shahrukh Khan and Badshah
Dubai Capitals won by 73 runs against the Abu Dhabi Knight Riders in the opening match, kicking off the new international cricket league on Friday in Dubai and ushering in one month of 34 high-class games.
Dancing in the aisles to Jason Derulo and Indian rap superstar Badshah while star-spotting Bollywood legend Shah Rukh Khan. Then watching some of cricket's biggest names in a fast-paced opening match. What a way to start the inaugural DP World International League T20.
The tournament will include stars such as Jamaica's Andre Russell, Sri Lanka's Wanindu Hasaranga, Trinidad's Dwayne Bravo, India's Robin Uthappa, Australia's Chris Lynn and England's Moeen Ali and Joe Root.
Dubai Capitals took on the Abu Dhabi Knight Riders, co-owned by Indian film superstar Shah Rukh Khan, in the opening match at the Dubai International Stadium. Dubai Capitals won the match by 73 runs, thanks to some strong batting by openers Root and Uthappa.
The tournament includes six teams, including the Abu Dhabi Knight Riders, Desert Vipers, Dubai Capitals, Gulf Giants, MI Emirates, and Sharjah Warriors. All six clubs will play matches across the UAE at Dubai, Abu Dhabi and Sharjah's cricket stadiums. 
Amid fireworks and an army of dancers, Derulo and Badshah entertained the crowds, with the Indian rapper singing the official DP World ILT20 anthem 'Halla Halla'. Even cricketer Dwayne Bravo got in on the entertainment, performing his own song Champion for the adoring crowd.
Dubai's international cricket stadium is nicknamed the 'Ring of Fire', and after the opening DP World International League T20 here, fans will be warmed up for plenty more action in the coming month.
Sunidhi Chauhan is going the single way in early 2023 around IIFA
Kuumar Kavita Shyam
Sunidhi Chauhan is planning to release a music single early next year, the popular singer has revealed exclusively to Buzzzing.com. Winner of two Filmfare awards, Chauhan would not disclose any more or even the fact whether it will coincide with the IIFA Rocks awards while be held in Abu Dhabi on February 9-11.
The singer spoke to us amid a hectic schedule of promoting the IIFA Rocks well in advance and her other commitments. Last week, Indian singer Sunidhi Chauhan took part and entertained in a political rally titled 'Bharat Jodo Yatra', translating into a mission to unite India in an attempt by opposition party Congress.
Just 39, and singing for more than two decades, the country and her fans worldwide are united in the opinion that she is a world-class talent who has managed to hold on to her own with the passage of time. And she will head to the UAE capital where the IIFA awards will be held for a second successive year. The event is held away from India as much as possible to celebrate the achievers of Bollywood with fans worldwide.
No less than Lata Mangeshkar, the recently departed 'Nightingale of India', picked Chauhan as the most versatile singer in the contemporary period. "I am honoured and humbled that Lataji thought so for me. I think I am learning and still have so much to do. Every day, I am trying to explore different avenues and different styles in my singing. I hope I can keep doing that while staying grounded for my fans," the melody queen said in an exclusive interview.
Her address to the fans is not new. She learned to talk the talk long back, after hastening headlong into a doomed early love marriage at 18 – a result of a one-year relationship with aspiring filmmaker Bobby Khan which nearly derailed her career before it began.
Be it a peppy item song number or a melodious track, Chauhan is adept and has rendered hits like Mast, Beedi, Dhoom Machale, Sheila ki Jawaani, and many more to Saami Saami as late as last year. But she prefers to be tight-lipped on what songs will she line up at the IIFA Rocks.
But she almost lets the cat slip out of the bag on any big projects in the pipeline, similar the international collaboration she did with Enrique Iglesias in 2011 and it has been a long time. "You will hear about something major soon early next year. It has been a long time since I have done a single. I don't remember when I did that, honestly. So I am excited about and you will hear about it very soon."
Chauhan has been ruling roost in an industry which has seen many changes and many singers rising on the scene in recent years. "I practice my craft every day," she says on how she has managed to stay relevant and on her daily routine as an established singer. "The demands on my time means that it is not at a fixed time of the day or in the early hours, so I have adapted. Now I practice while I am driving or going from one place to another. But I agree times have changed and we have to adapt."
Usually, most B-town celebrities prefer Dubai, but asked for her most favourite moment in the UAE, the private personality said she had a "very good time when she last came here for a vacation in Yas Island", ironically, the venue of IIFA Rocks. The event will be hosted by Karan Johar and Farah Khan, who also hosted the 2022 IIFA Awards as well with Aparshakti Khurrana and Maneish Paul.
"I had recently been to Abu Dhabi for a vacation," Chauhan said. "I had a blast, so I am looking forward to returning there. I have been a part of IIFA before. Wherever it is held, it is a great platform for singers to catch up and mix with people from different cultures and the music industry. It will be great to see fans from all over the world, who buy tickets and come to watch us. There will be other artists and we should have a gala time performing."
Lionel Messi's Instagram post becomes most liked ever
The GOAT has now beaten the egg. Lionel Messi's Instagram post after winning the World Cup has become the most liked ever with over 68 million likes dethroning the viral picture of an egg which garnered more than 55 million likes.
Messi had taken to Instagram to thank his fans in Argentina for their support. The post had several pictures of Messi lifting the trophy at the Lusail stadium after Argentina beat France on penalties to win the coveted cup after 36 years. 
The post by Messi has surpassed 68 million likes: 
"CHAMPIONS OF THE WORLD!!!!!!! So many times I dreamed it, so much I wanted it that I still don't fall, I can't believe it…… Thank you so much to my family, to all who support me and also to all who believed in us.
"We prove once again that Argentinians when we fight together and united we are able to achieve what we aim.
"The merit is of this group, which is above individuals, is the strength of all fighting for the same dream that was also the one of all Argentinians… We did it!!! LET'S GO ARGENTINA!!!!"
While many believe this was Messi's last World Cup, he hasn't ruled out continuing to play for the national team for a few more years. 
Messi's sensational form saw him break several records at the tournament:
Most Man of the Match awards won at the FIFA World Cup: 11
First person to assist at five different FIFA World Cups
Most FIFA World Cup matches played by a player: 26
Most FIFA World Cup appearances as captain: 19
Most appearances in FIFA World Cup tournaments by a player (male): 5
The Argentina captain also scored in each stage of the tournament in Qatar, truly becoming the driving force behind the team's ultimate triumph. 
Before the World Record Egg had the most liked post on Instagram, influencers Kylie and Kendall Jenner both held this record, as well as Kim Kardashian and Beyoncé.
A timeline of Instagram's most liked image has not featured sports stars till Messi.
In 2014, Will Smith and Justin Bieber jointly set the record with 1.5 million likes. The same year Kim Kardashian and Kanye West took the title with 2.4 million likes with their wedding photo.
In 2015, Kendall Jenner broke the record with 2.6 million likes, which continued to rise to 3.5 million. 
It then took two years for a new image to receive that sort of global acclaim with Beyoncé Knowles-Carter's announcement of her pregnancy with Sir and Rumi Carter getting over 7.3 million likes in 2017.
It was dethroned in 2018 when Kylie Jenner's photo of her newborn daughter Stormi received over 18 million likes.