Now Indians in UAE can travel visa free to Oman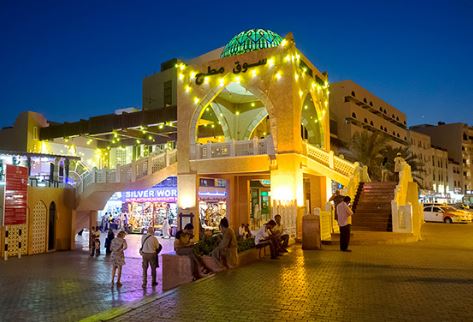 Oman is joining the UAE and Saudi Arabia to revamp visa formalities for visitors, now extending its visa-free doors to residents of 103 countries.
The Sultanate has changed entry guidelines to offer visa-free entry for upto 14 days, according to the local media.
According to the Royal Oman Police (ROP), tourists from Portugal, Sweden, Norway, Italy, Bulgaria, Switzerland, Croatia, Hungary, Serbia, Georgia, Denmark, Germany, Greece, Iceland, Belgium, Romania, Slovenia, Finland, Luxembourg, Malta, Monaco, Cyprus, Ukraine, Spain, Czech Republic, Austria, Ireland, United Kingdom, Poland, Slovakia, France, Netherlands, Venezuela, Colombia, Uruguay, Paraguay, Argentina, Brazil, Japan, Thailand, South Africa, Russia, China, the United States of America, Turkey, South Korea, New Zealand, Iran, Australia, Indonesia, Taiwan, Canada, Malaysia, and Singapore are allowed visa-free entry.
Additionally, some Indian tourists can also obtain a visa on arrival, provided they have an entry visa of the US, Canada, the United Kingdom, Schengen countries, Japan, or have a resident permit of one of the GCC countries, and work in a profession approved by the Oman government.
An ROP representative confirmed that visitors can extend their stay for up to 30 days with an additional cost. Visitors from these nations can submit an online application for an e-visa for a charge of OMR 20 for a duration of one month once inside. If certain requirements are completed and they stay no longer than one month during each visit, they can also apply for a multi-entry visa for one year.
The UAE last month initiated multiple-entry visa for families which is valid for five years. The new step has been further streamlined with easy processing online and document requirements.

Iftar deals to look out for this Ramadan
The holy month of Ramadan is upon us. Depending on the moon sighting, Ramadan should start on March 22 or 23. It means different working hours, different lifestyle and change in food habits as people from Muslim faith observe a month of prayers and fasting to renergise the body and soul from within.
Even though Ramadan is a period of fasting, food is central to Ramadan. Fasting means many people do not eat during daylight hours, which makes Iftar the most special time in the evenings when everyone ends their day spending quality time with family and friends.
Iftar is the time you replenish energy levels so every effort should be made to consume foods from all major food groups: fruit and vegetables, rice and alternatives, as well as meat and alternatives (which include dairy). And F&B outlets in the UAE come out with special offerings to partake in this special occasion for their customers, and themselves too.
Here are some of the offerings we have lined up so far (please visit this space for more deals and details):

MYGOVINDA'S
Ramadan is not all about meat. And so MyGovinda's, the vegetarian food place famous for its Great India Thali or multi-course meals, is back with an incredible iftar spread. The delectable 5-course set menu for two and four people comes at just AED 89 and AED 179 respectively.
Giving a taste of everything refreshingly light and invigorating and offering fan-favourites such as Greek salad, beetroot hummus, piquant soups, savoury kebabs and sweets, MyGovinda's is all set to win hearts this Ramadan. What makes MyGovinda's different from any other vegetarian foodie hotspot is its adherence to the Satvik diet (no onion and garlic as ingredients that presents nourishing soul foods that are great for health.

BAOFRIEND
Combining the slightly sweet and fiercely tangy with the spicy sizzle of Asian fusion cuisine, Baofriend brings an exquisite iftar spread that is inspired by the bustling food streets. Starting from sundown to 10 pm every evening, Baofriend's four-course set menu promises to treat the patrons' tastebuds.
Along with assorted Turkish sweets and dates, the feast includes Bala-Bala, an Asian fritter made out of vegetables and served with tangy and spicy Thai sweet-chilli sauce, Gado-Gado, the well-loved mixed vegetable salad topped with creamy peanut sauce and crunchy crackers, and the miso lentil soup, a hearty and nutritious family favourite, which is sure to gratify customers.
Patrons can then choose a main course from delicious mains such as chicken wok-fried noodles that are cooked to perfection with crunchy mixed vegetables, bokchoy, and oyster sauce, Hambagu rice, one of Baofriend's top favourites that comes with a succulent Wagyu beef patty, spicy cucumber, and irresistible Japanese slaw. The spread will also offer Kimchi ramen with chicken for those who love a bit of spicy and tangy, handcrafted by Baofriend's incredible Indonesian chef and served with kimchi broth, bokchoy, and sesame.
Desserts include pisang goreng with crispy fried plantain served with vanilla ice cream and amazingly luscious dulce de leche that promises to transport guests to gastronome heaven. Guests can also get their hands on 'Es Campur' a cold Indonesian mixed-ice concoction made with jackfruit, avocado, grass jelly, and more. Head to Baofriend's Dubai Silicon Oasis outlet during Ramadan for just AED 69 per person.

BELGRAVE
For those in Abu Dhabi, an indulgent treat awaits you at Belgrave. Relish Persian flavours and hospitality from the London-born restaurant at the UAE capital with an 'All You Can Eat' offer at an exciting price point. You will love the distinctive amalgamation of delicious Eastern cuisines with a Western twist.
The Iftar feast will begin with a hearty special soup of the day. This is followed by a choice of unlimited main course, a basket of mixed herbs and bread, and a choice of either salad Shirazi or mast kheer. Entrees include rich and succulent lamb koobideh grilled to perfection and containing a wonderful balance of spices and herbs, served with aromatic rice. Guests can also pick from Belgrave's moist and flavourful chicken koobideh, their signature chicken masti, top favourite chicken zafrani or savoury chicken reyhani, all served unlimited, and grilled to delightful perfection, each complementing the multiple palates and preferences of each patron.
The Belgrave fan-favourites will be available for takeouts daily from 5 pm onwards and for dine-in from 6.30 pm to 2 am. Belgrave's Ramadan Special Boxes include sunrise meals also, which means these savoury offerings can be relished at home and outside or gifted as well.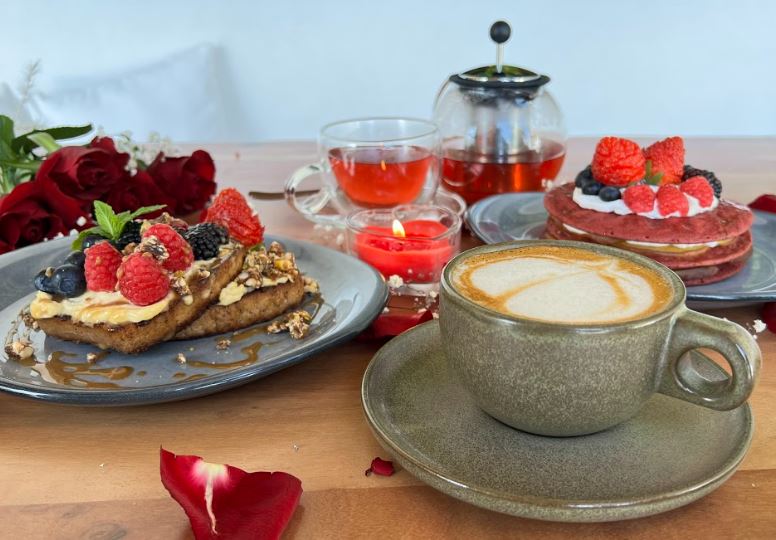 LAPA EATERY
Lapa Eatery, a Dubai-based venue celebrating clean eating and well-being, has announced a nourishing Ramadan spread where an array of gluten, dairy and preservative free options to choose from a delectable spread. Its exclusive iftar and suhoor offers include foods that are light and wholesome, rejuvenating the fasting ones physically and spiritually.
Some of the menu highlights include a creamy butternut hummus, pumpkin or balila soups, spicy-savoury shakshuka, creamy eggplant avocado on toast, baked falafels, gluten-free fiery chicken quinoa biryani, Karan beef bowl, and more.
Though Ramadan is for those who are hitting puberty at the start of the spectrum, many children start fasting much earlier. The restaurant's kids' menu is a knockout win baked sweet potato chips, margarita pizza with homemade cauliflower and broccoli base, beetroot and carrot-based pancakes topped with caramelised peaches and mixed forest berries.
If you know of any Iftar deals you think are worth mentioning, send an email to info@headline.ae.
Now winning Dh100 million is easier than you think in Emirates draw
The 76th Emirates Draw edition saw the debut of the new format over the weekend with one participant missing the grand Dh100 million prize by one ball-number. A total of AED 535,877 in cash prizes was given away.
Besides the 15 guaranteed raffle winners, the main draw had one lucky participant match 6 out of 7 digits and win AED 250,000, while 7,233 participants matched 5, 4, and 3 out of 7 digits to win a total of AED 135,877. The next draw is on March 19, 2023, at 9 PM UAE time.
Earlier, the Emirates Draw MEGA7 required ticket holders to match seven numbers from right to left. But making it easier, the seven balls can now be in any order to be eligible for the jackpot prize.
Emirates Draw is dedicated to creating life-changing opportunities, as per its vision of 'For A Better Tomorrow.' To this end, the socially responsible organization announced the ground-breaking change to its MEGA7 game, responding to popular demand by eliminating the requirement of matching winning numbers from right to left after 18 months of operation.
View this post on Instagram
The modification simplifies the game, making it easier to win out of a reduced probability pool of 37 numbers, thus closer to claiming the grand prize in multi-millions. Moreover, the socially responsible organization distributed cash prizes to 12,440 winners in its games over the weekend.
For an AED50 entry fee, players can now select their seven numbers between 1 and 37 in any order, as opposed to the previous 70-ball format, adding to the excitement of the game.
The ultimate price of AED 100m is the largest in the Middle East, Africa, and Asia, and will remain until one person or a group matches all seven numbers in any order.
Moreover, the raffle part of the game includes 15 guaranteed winners, each receiving AED 10,000. So, play more to win more and experience the thrilling changes in Emirates Draw MEGA7.
The upcoming games will be live-streamed across Emirates Draw's digital platforms, YouTube, Facebook, and website.
ALSO READ: Emirates Draw host Erica Fernandes reveals plans at Dubai fashion event as showstopper
Erica Fernandes in reveal mode as showstopper in Dubai
Kuumar Kavita Shyam
Leading actress-model Erica Fernandes enthralled a select audience in Dubai as a showstopper at a fashion event, fresh after getting her 10-year golden visa.
On the sidelines of the event at the Park Hyatt hotel resort in Deira over the weekend, Fernandes revealed how her days spent in Dubai are on the cusp of getting longer as she has turned entrepreneur with her own production company Celeste. The hostess of the popular Emirates Draw is only 29 and the business move comes as unusual for someone who was ranked top in 2020 as the 'most desired woman on TV' by Times of India.
"I always wanted to do stuff for myself, tell stories – mostly for the OTT platforms – produce good content besides my modelling and other things. But generally, films and Bollywood are not something that I would say I am craving for. If they happen, then it is good, but it is not my focus," Fernandes says with the confidence that would define the clarity of a startup founder.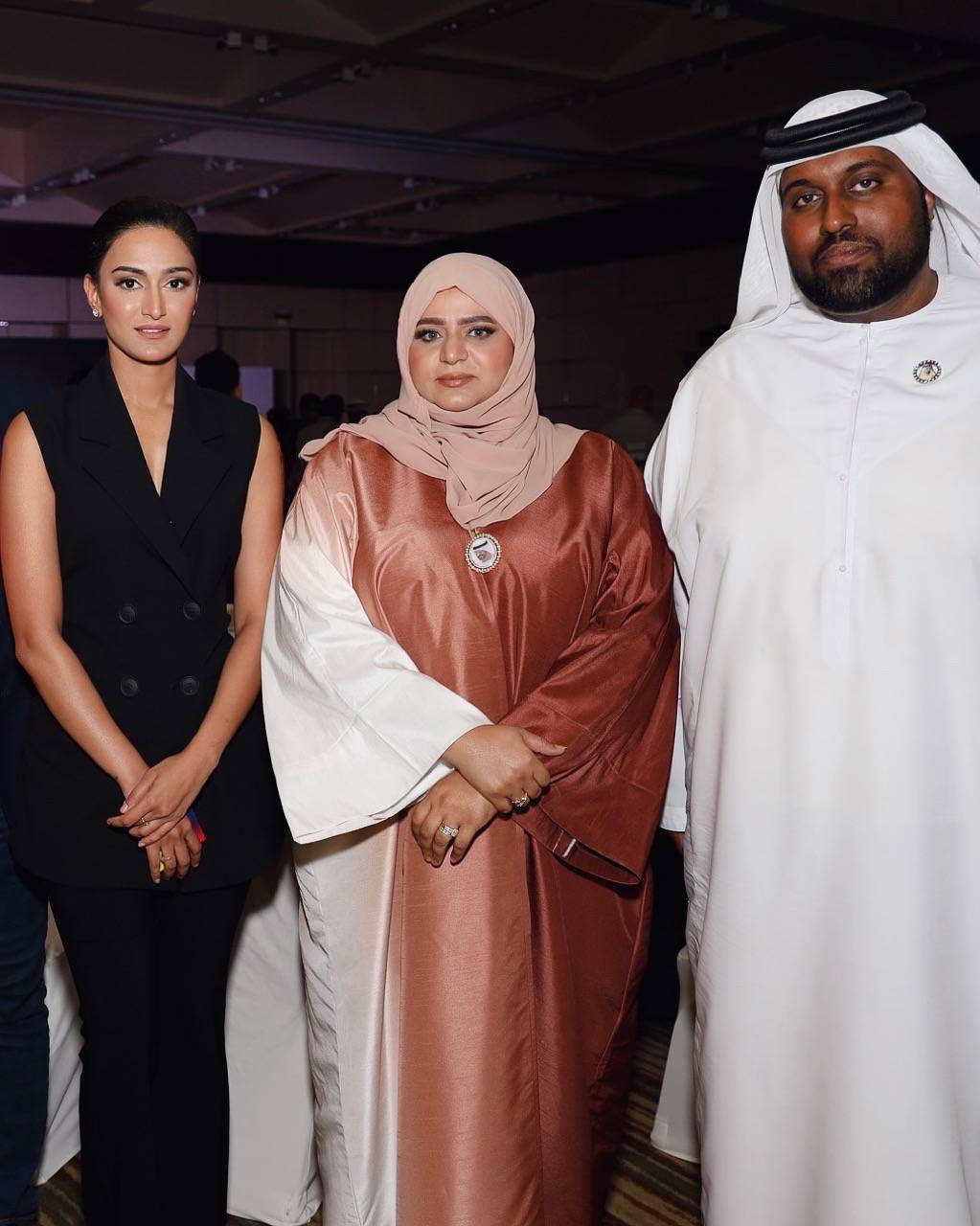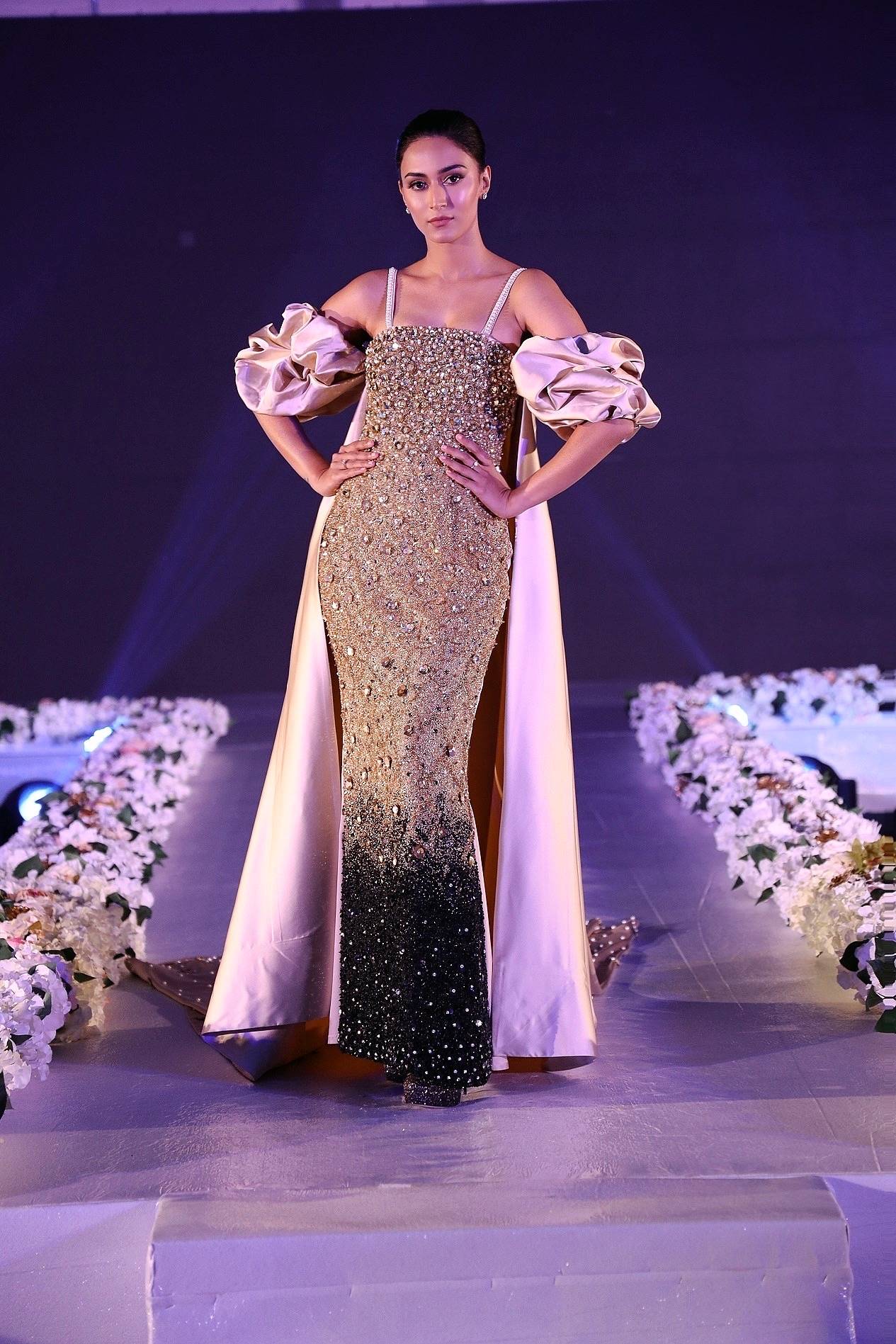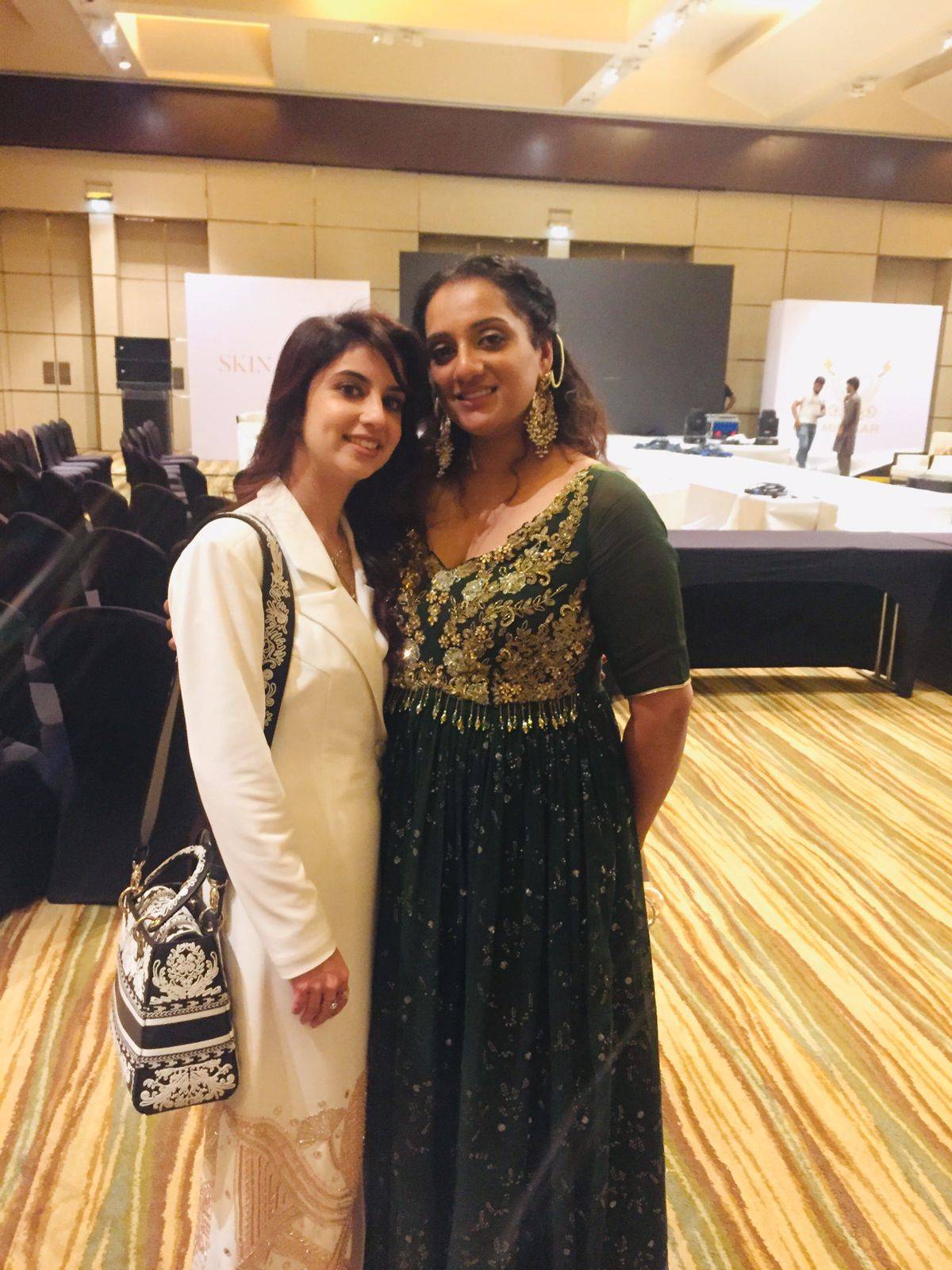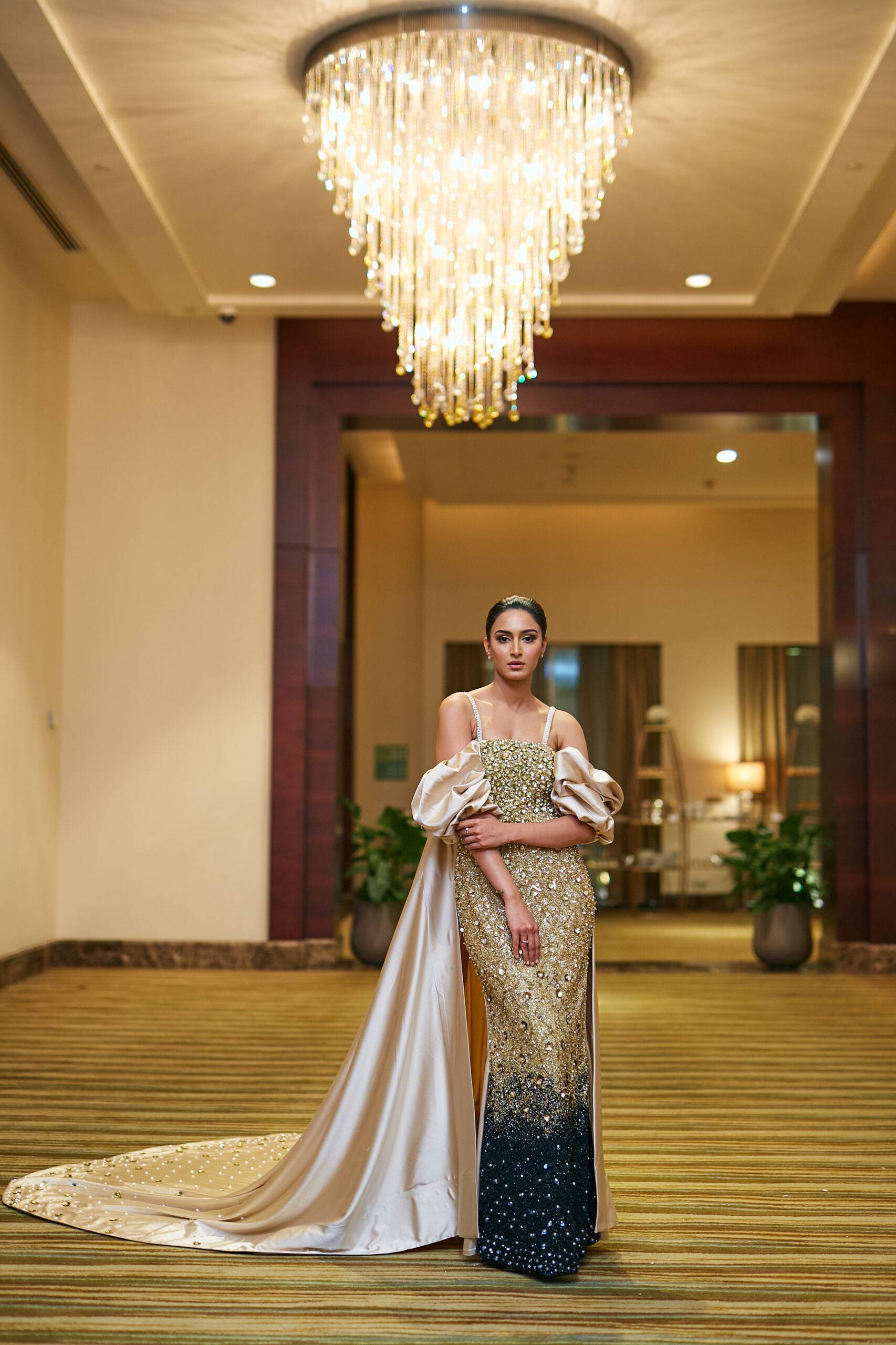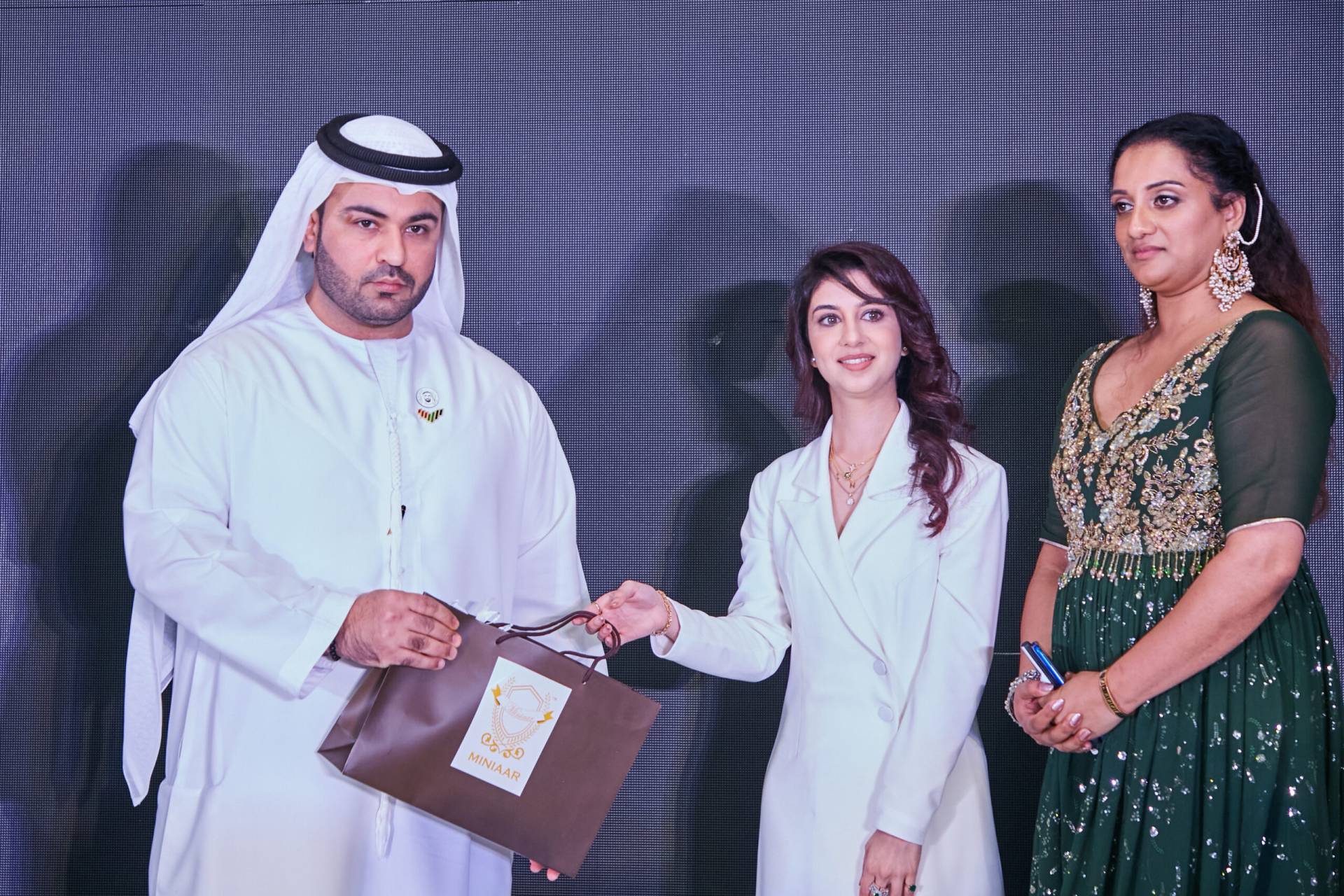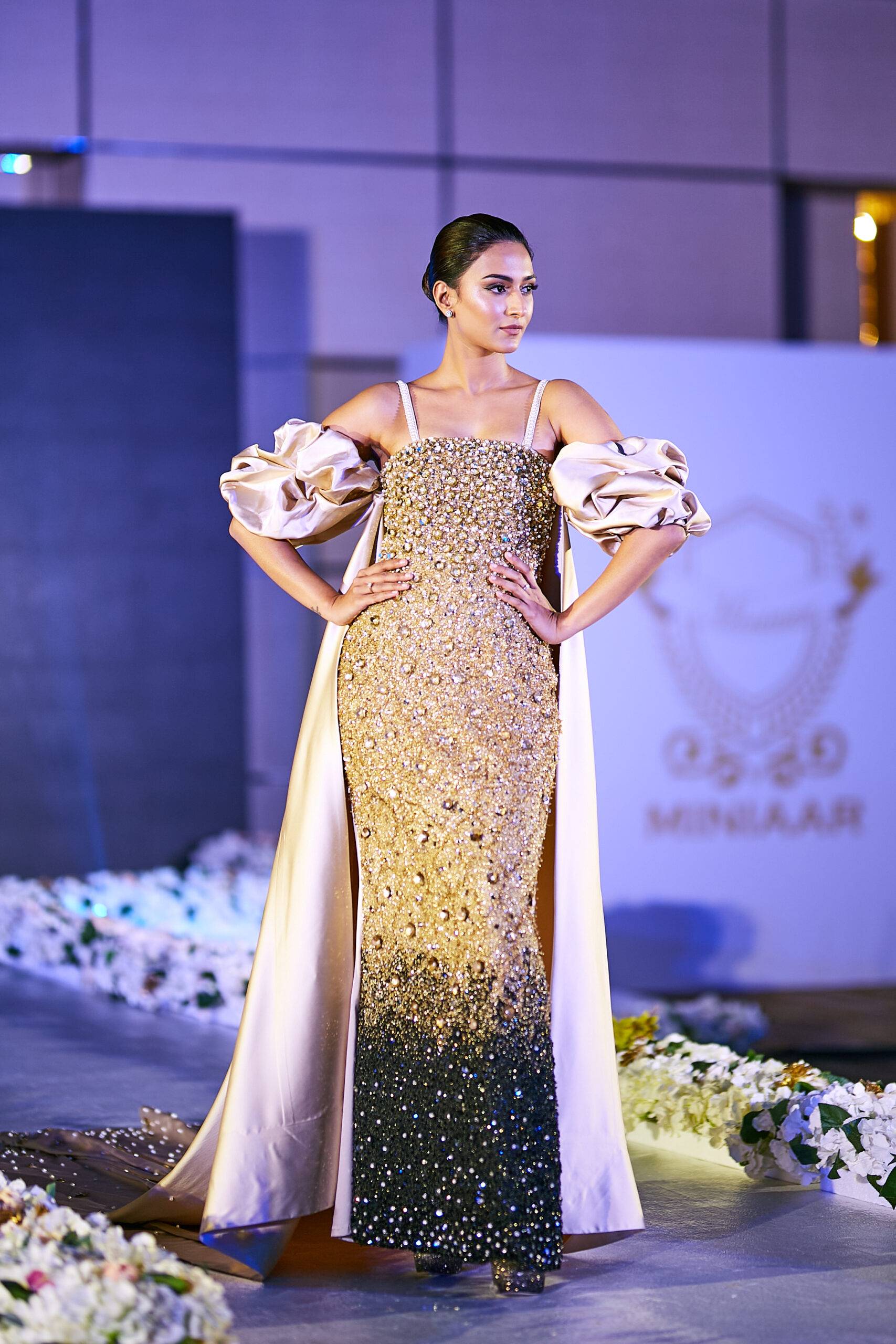 0fbea333-fcca-42d4-8d11-37b923b4c90a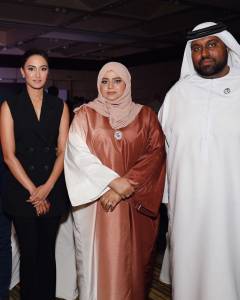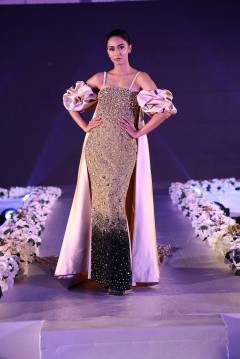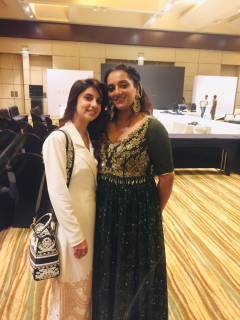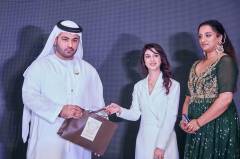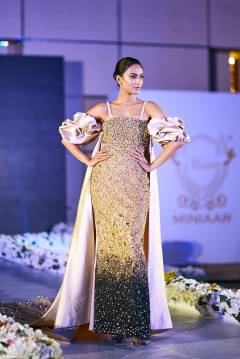 The jury on her success will have to wait, but the Mumbai lass is not the only one looking at Dubai as the land of opportunity – officially. "Work has meant that I have been going to and fro between Mumbai and here, although Dubai has been my home for the past 6-7 years."
It does not mean work from the tinsel town of India has stopped. In fact, she is unauthorized to do but cannot stop dropping a hint that something is coming up very soon on Amazon Prime. It could be a web series, we speculate, judging by her reaction that "it is something she has never done before and very exciting."
With Celeste on her mind in the hotel ballroom, showstopper Fernandes wore the designs by Mumbai-based fashion designer Tinaz Bodhanwala and her brand Miniaar. The event, sponsored by SkinAura, saw two Arabic dancers kickstart the show with performances on tribal tunes and ended with a typical Bollywood dance show.
Many dignitaries including Sheikh Majid Rashid Al Mualla, Juma Madani and wife Munira Al Bloushi, Bangaldesh consul general Jamal Hossain and wife Abida, Kazakhstan consul Dr Nawab Mir Khan, and others graced the event.
Bodhanwala said she believed in working hard on her designs and taking risks by not following the beaten path. "The success everyone saw today is a result of years of hard work and perseverance," she said.
The event was also the stage for Skin Aura founder Fiza Khan to announce their mission to go "old school and bring back boutique style luxury clinics to establish affordability with a personal touch."
With over 15 years of experience in dermatology and aesthetics, Khan said she was confident after making it big in the already crowded market of Dubai. "After-care and going on a personal journey with your clients is very important from start to finish and this is one of the USPs of SkinAura. I feel this is missing in Dubai."
Meanwhile, Erica is using the upcoming Ramadan lull to prepare her launch more projects with Celeste. Famous for performances in the TV series Kuch Rang Pyar Ki Aise Bhi and Kasautii Zindagii Kay, she brings along a huge fan base. Erica uses her presence on social media to promote a variety of social causes and bring attention to significant topics in addition to her acting career.