Sudan selects Cannes award-winning film Goodbye Julia for Oscars
"Goodbye Julia", the first-ever Sudanese feature to screen at the Cannes Film Festival, has been selected by Sudan to represent the war-torn country at the Academy Awards in the Best International Film category.
Mohamed Kordofani's trailblazing debut feature about South Sudan's split from the north won the Un Certain Regard freedom prize at this year's Cannes Film Festival, the world's most prestigious film gathering.
Its selection at the French Riviera festival acquired special resonance when war broke out in Sudan in April, pitting the army against a rival militia in a bitter and bloody power struggle that has further derailed Sudan's already fragile transition to democracy.
"Goodbye Julia" is only the second Sudanese feature film to be submitted for selection at the Academy Awards, after Amjad Abu Alala's 2020 movie "You Will Die at Twenty".
"I feel very grateful that the committee in Sudan reactivated and selected 'Goodbye Julia' for the Oscars race despite the war," Kordofani said in a statement after learning about the movie's submission for the Academy Awards, where it will compete for Best International Feature Film.
"This only shows how resilient and hopeful people in Sudan can be," he added. "I feel immensely honoured that my film is now on the list of Sudan's submissions to the Academy, and I hope we can be visible to voters so that – maybe – we can be visible to the world and show it a different side of Sudan."
"Goodbye Julia" is set in Khartoum in the years leading up to South Sudan's independence referendum in 2010, following another grisly civil war, this one between North and South. It explores the troubled coexistence between unequal communities in a society blighted by racism and divided along ethnic and religious lines.
The great divide is portrayed through two households, starkly unlike in fortune: one Muslim, Arab and well-off, the other Christian, Black and poor. The titular character Julia (played by Siran Riak) belongs to the latter, though the film is really about the wealthier Mona (Eiman Yousif).
When their worlds collide in a fatal shooting, Mona's husband Akram (Nazar Gomaa) dismisses the incident as "self-defence". But Mona knows there is more to it, racked by a consuming sense of guilt that leads her to take Julia in as her maid – without disclosing the terrible secret behind her husband's death.
Read moreCannes movie explores roots of Sudan bloodshed, making festival history
In an interview with FRANCE 24 during the Cannes Film Festival, Kordofani spoke of a "toxic tendency" towards "tribalism and racism" in his home country, which he blamed for the conflict that led to Sudan's partition and the years of bloodshed in Darfur.
"I feel we need to build a new national identity that is proud of things that don't drive us apart, like freedom, like coexistence, like compassion," he said. "I want to ignite that dialogue by admitting that I, myself, had a problem and I hope that people watching the film will admit that as well."
Originally published on France24

Ananya Panday, Siddhant Chaturvedi surprise fans at NH7 Weekender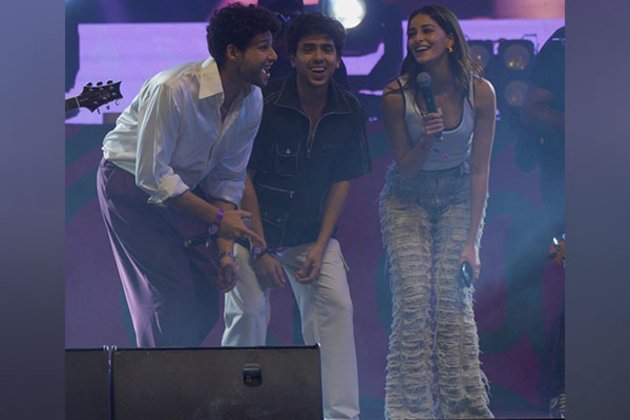 Pune (Maharashtra) [India], December 4 (ANI): Actors Ananya Panday, Siddhant Chaturvedi and Adarsh Gourav recently attended the NH7 Weekender 2023 music festival in Pune, where they performed their song 'Do Jo Hota Hai' from their upcoming film 'Kho Gaye Hum Kahan' live in front of audiences.
Pictures and videos from the gala have been doing the rounds on the internet. Take a lookAn ode to the carefree essence of youth, 'Hone Do Jo Hota Hai', in its melodic concoction brews a cup of warm feelings for the listeners. OAFF and Savera's music is blended perfectly with Lothika's vocals and compliments Savera's breezy voice. The lyrics, which weave the music together, have been penned to action by veteran Javed Akhtar.
Speaking of 'Kho Gaye Hum Kahan', 'Kho Gaye Hum Kahan' is a 'coming-of-digital-age' story about three friends in their mid-20s navigating life in the world of social media.
Set in Mumbai, this refreshing narrative of three friends is brought to life by the debutant director Arjun Varain Singh and the creative forces, known for exploring different facets of friendship, Excel Entertainment's Ritesh Sidhwani and Farhan Akhtar in collaboration with Tiger Baby's Reema Kagti and Zoya Akhtar.
'Kho Gaye Hum Kahan' chronicles the lives of Imaad (Siddhant Chaturvedi), Ahana (Ananya Panday) and Neil (Adarsh Gourav), through the very relatable journey of three best friends together navigating aspirations, relationships and emotions.
Bringing their infectious energy from reel to real, the young and dynamic cast helped turn a wall on the bustling street in Mumbai into a vibrant mural, capturing their friendship and inviting the crowds to join their journey as they kicked off the promotions for the film.
'Kho Gaye Hum Kahan' is set to arrive on December 26 on Netflix. (ANI)
Emily Blunt shares how 'The Office' fans react when they spot her with John Krasinski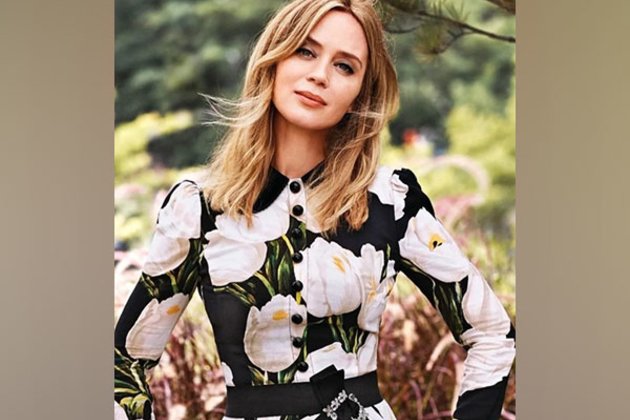 Washington [US], December 4 (ANI): The popular sitcom 'The Office' may have ended more than a decade ago but that doesn't mean fans of the NBC comedy are over the relationship between Jim (John Krasinski) and Pam (Jenna Fischer).
On the latest episode of Variety's Awards Circuit podcast, Krasinski's wife, Emily Blunt, admitted fans aren't always happy to see her out with her 13-year-old husband and they yell at her, reported People.
'The Office' is an American sitcom television series that follows the daily lives of office workers at the fictional Dunder Mifflin Paper Company's Scranton, Pennsylvania, branch. It ran on NBC for nine seasons, from March 24, 2005, until May 16, 2013.
'The Office's original cast included Steve Carell, Rainn Wilson, John Krasinski, Jenna Fischer, and BJ Novak; however, the ensemble cast changed frequently throughout the series' existence. Outside of the core cast, notable actors include Ed Helms, Rashida Jones, Amy Ryan, Mindy Kaling, Craig Robinson, James Spader, Ellie Kemper, and Catherine Tate.
"Do you know how many people still yell out, 'I wish you were with Pam!' like when I'm walking next to him?" Blunt, 40, shared. "'Where's Pam?' I'm like, 'She's not here!'"When asked if she had met Fischer, she replied, "She's the best. She's one of our dearest friends. We love Jenna."Fischer, 49, acknowledged in 2020 that she finds it difficult to explain to fans that she and Krasinski, 44, are only former on-screen lovers on 'An Oral History of The Office'.
"People don't know how John and I are not a couple in real life," Fischer told host Brian Baumgartner, who played Kevin Malone on the series at the time. "They don't understand it."During the nine seasons of 'The Office,' Jim and Pam flirted, dated, broke up, reconciled, married, had two children, and eventually relocated from Scranton to Austin, Texas.
"I don't know how to explain it, because it's a little bit like telling kids there's no Santa," she added.
Fischer explained that she feels like she has to "justify" why she and Krasinski aren't "actually in love." Krasinski has been married to Blunt since 2010, while Fischer tied the knot to writer and director Lee Kirk the same year. She was previously married to James Gunn from 2000 to 2008.
On 'Watch What Happens Live with Andy Cohen', the actress previously acknowledged her on-screen connection with Krasinski.
"Oh, John and I have real chemistry," she shared. "There's like a real part of me that is Pam and a real part of him that's Jim, and those parts of us were genuinely in love with one another."However, Krasinski clarified that his former costar's words were misconstrued. "I think that was wildly misquoted or taken out of context," Krasinski told The Daily Beast at the time.
"I'm sure she was trying to say something nice about how genuine the acting relationship was–of bringing a relationship that became that popular onscreen – and I think we both feel it's such an honour to be a part of that relationship," reported People. (ANI)
Amy Jackson on being part of Indian cinema
Jeddah [Saudi Arabia], December 4 (ANI): Despite hailing from England, Amy Jackson is known for her work in Indian cinema. This week, the British actress and model dropped by the Red Sea Film Festival studio to talk about how that happened and what's next for her following a five-year hiatus, reported Deadline.
The '2.0', 'Singh Is Bliing', and 'Thanga Magan' actor, who also played Saturn Girl in the CBS hit 'Supergirl', have appeared in films in Tamil, Hindi, Telugu, and Kannada.
According to Deadline, describing her journey, Jackson talked about starting out in Indian cinema at age 16. "When you're that young, you embrace it. "I fully embraced that world; it was amazing," said Jackson.
The actress, who was in attendance at the Red Sea Film Festival with her actor partner Ed Westwick, hailed her position in 'Supergirl' as "possibly a favourite role" and stated that she would be glad to don a cape or head to outer space for future roles.
"I am alien obsessed. I am totally into space and parallel universes…I would love to do more of that for sure," she said.
As for the films in post, she will play a Europol agent in Reliance's sports action film 'Crakk – Jeetegaa Toh Jiyegaa!', which stars Vidyut Jammwal and Arjun Rampal in the story that charts the journey of a man from the slums of Mumbai to the world of underground extreme sports.
She's also in Mission Chapter I, in which she stars with Arjun Vijay. This time, the actress plays a British guard at London's Wandsworth prison.
"There is a lot of action and a big escape attempt," promises Jackson. Both are due for release next year, reported Deadline. (ANI)