Suhoor in the Sky: Jetex offers Dh140,000 experience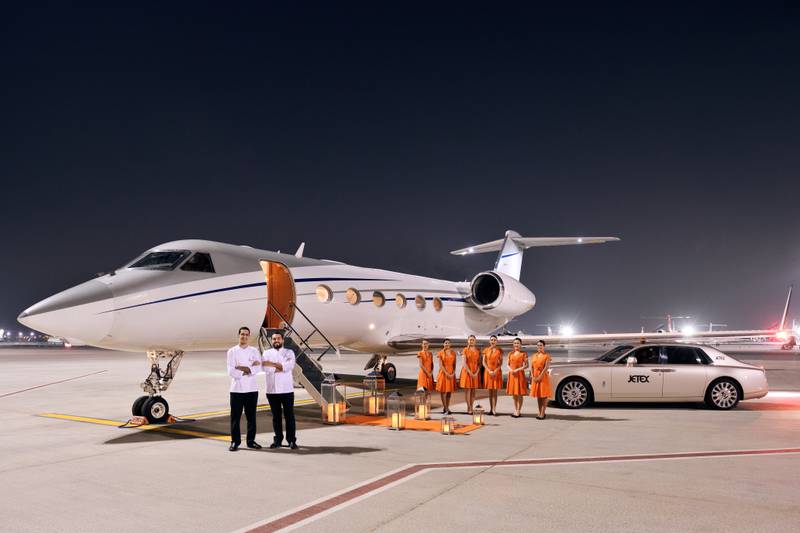 Jetex has launched a Dh140,000 'Suhoor in the Sky' experience to mark Ramadan this year. Up to 14 guests will be greeted at the Jetex VIP Terminal at Dubai World Central under the initiative.
Traditional music will be played and light refreshments offered to the guests. They will be taken by Rolls-Royces to a private 18-seater jet. Inside the flight, a musician will regale the passengers.
They will be able to see the scenic Dubai skyline from the plane. The suhoor menu will have traditional Ramadan starters, a selection of mezze and baked artisan bread as well as lobster and lamb chops.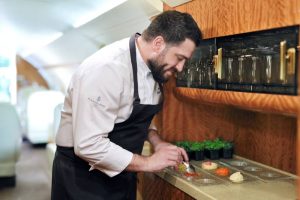 The flight will be of two hours. Once the guests land at the Jetex VIP Terminal, they will be offered desserts, tea and coffee. They can also enjoy a range of leisure facilities at the terminal.
During Ramadan 2021, Jetex had rolled out Dh66,000 ($17,971) Iftar in the Sky experience.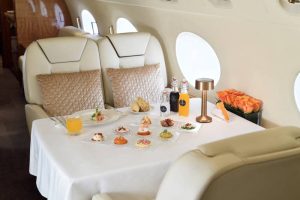 Those interested in 'Suhoor in the Sky' are required to carry their passports to board the flight. They can reserve their seats by sending an email to: experience@jetex.com

Villa property goes for 63m in Dubai's Palm Jumeirah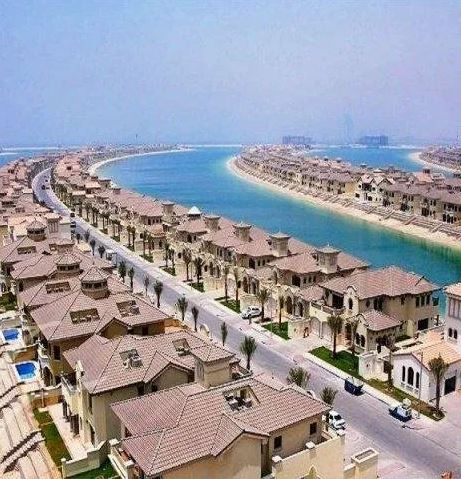 Luxhabitat Sotheby's International Realty has announced that it has closed a deal for an LA-inspired beach mansion on the Palm Jumeirah at AED63 million ($17.1 million).
Although the brokers touted it as a property "extremely hard to find", the deal is nowhere close to the beachfront villa on Palm Jumeirah that sold for a record 280m in the first week of April.
Spanning 8,600 sq ft with its coveted location on N Frond, the five-bedroom Garden home's smart home technology, excellent condition and bespoke finishes made it a rare option in the market, it stated.
"Homes of this calibre are extremely hard to find in the Dubai market now due to a limited supply of product offerings like these as well as an influx of luxury property buyers who are seeking exactly this type of quality home.
The home was presented in absolute mint condition – which went well noticed by the buyers and made them fall in love with it almost immediately," remarked Kunal Singh Gupta, the Associate Director of Luxhabitat Sotheby's International Realty who represented both buyer and seller in the transaction.
The European buyer purchased this Californian style beach house as an end-user who has recently moved to Dubai with his family.
Luxhabitat Sotheby's International Realty has reported buyers of a similar profile in the recent past – many HNW / UHNW international buyers are being drawn to Dubai as home.
The Palm Jumeirah has made a big comeback after 2020 in terms of prime residential sales. Over AED 4.6 billion in sales have been recorded this year so far in the area, based on data from the Dubai Land Department, out of which 57 villas have been sold for a sales volume of AED 1.59 billion, stated Gupta.
According to him, the most in-demand luxury homes now are those designed in a modern or Mediterranean style, with a larger plot and built-up area as well as mega-mansions with views over beach or golf course or park (depending on the location).
Mediterranean in vogue
Super prime villas, apartments and penthouses are most in demand, as people living here like to enjoy the sun and outdoors as much as possible.
The villa sold was built from scratch on the plot and designed with keen attention to detail by the sellers. The Garden Home with sunset views has a contemporary style and hosts neutral colors.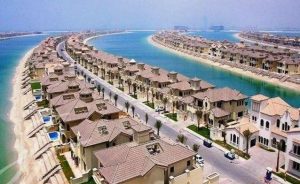 The exotic open plan living area is modern and airy with a beautiful transition to the outdoors and breath-taking sea views. Automated guillotine windows designed to create seamless indoor/outdoor living with pocket doors to privatise the living & dining space as needed.
All the furniture in the villa is of Italian make – with pieces from high-end brands like Minotti, Flexform, Poliform, Paola Lenti, and Poltrona Frau all flown in from their respective design studios.
The home also has an infinity pool that hosts a swim jet and access to 3km of prime beachfront. According to analysis by Luxhabitat Sotheby's using data from the Dubai Land Department, the top 10 most expensive properties sold in Q1 2022 were from the Palm Jumeirah, Emirates Hills, Jumeira Bay and Downtown Dubai areas.
Indian millionaire gets lucky twice with Dubai Duty Free
Lightning may strike once but for an Indian expatriate in Dubai, Lady Luck has smiled twice in quick succession.
The expat has joined the list of US$1 million winners who doubled their luck and won the promotion twice when the latest Dubai Duty Free Millennium Millionaire and Finest Surprise draws were held today in Concourse A of Dubai International Airport.
Sree Sunil Sreedharan, a 55 year old Indian national based in Dubai became the 8th person to win the Millennium Millionaire promotion twice when his ticket number 1938 in Millennium Millionaire Series 388, which he purchased online on 10th April, was drawn today.
Sreedharan previously won a US$1 million in Millennium Millionaire Series 310 with ticket number 4638 in September 2019. Incredibly, he also won a Range Rover HSE 360PS (Fuji White) car in Finest Surprise Series 1746 with ticket number 1293 in February 2020.
A regular participant to Dubai Duty Free promotions for more than 20 years, Mr. Sreedharan, who used to work as an estimation manager for a company in Abu Dhabi, now runs his own online trading business in Dubai. "Thank you Dubai Duty Free for making me a second time winner of US$1 million. I'm encouraging everyone to participate in this amazing promotion and be patient. I am certainly a proof of that!" he said.
Mr Sreedharan, who hails from Kerala in India is also the 188th Indian national to have won US$1 million since the start of the Millennium Millionaire promotion in 1999. Indian nationals make up the highest number of Dubai Duty Free Millennium Millionaire ticket buyers.
Today's Millennium Millionaire draw was conducted by Dubai Duty Free's Chief Operating Officer, Ramesh Cidambi, Salah Tahlak, Executive Vice President – Corporate Services, Sinead El Sibai, SVP – Marketing, Mona Al Ali, SVP – Human Resources, Michael Schmidt, SVP – Retail and Zayed Al Shebli, SVP – Loss Prevention and Corporate Security.
Following the Millennium Millionaire draw, the Finest Surprise draw was conducted for two luxury vehicles.
Mr Rashid Al Mutawaa, a 41-year-old Emirati national based in Dubai, won a BMW 750Li xDrive M Sport (Mineral White Metallic) car, with ticket number 0924 in Finest Surprise Series 1804, which he purchased online on 21st April.
Mr Al Mutawaa, who runs his own travel agency, started buying tickets for Dubai Duty Free promotion only last year and couldn't believe that he won.
"What a lucky day! Thank you Dubai Duty Free!" he commented.
Lastly, Mr Purushothaman Pachairaj, a 61 year old Indian national from Chennai, India won a BMW R 1250 RS (Imperial Blue Metallic) motorbike, with ticket number 0814 in Finest Surprise Series 496, which he purchased on 23rd April when he travelled between India and Basra, Iraq.
Dubai named best destination for family holidays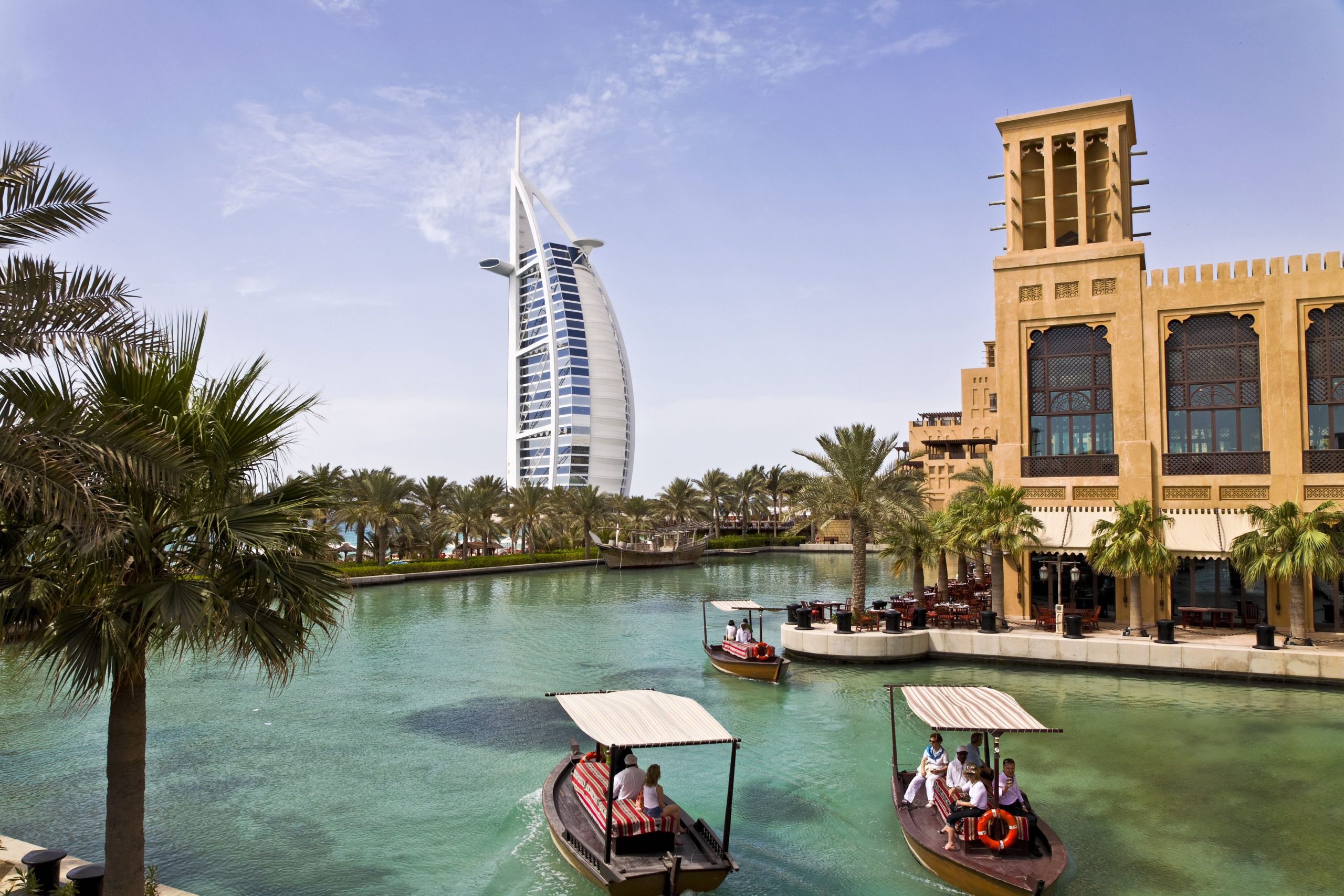 Dubai is the number one go-to destination for family holidays, according to a recent survey by travel insurance comparison site InsureMyTrip.
The site compared various destinations against relevant travel data such as the quality of family hotels, attractions, beaches as well as general safety.
Cities were ranked from most to least suitable as potential destinations for family vacations.
Among 62 cities, Dubai ranked first, with a rating of 7.42 out of 10.
It was followed by Sri Lanka, Turks and Caicos, Barbados and Corfu in Greece.
Out of the seven categories, Dubai ranked highly in five, including area safety (10), quality of family attractions (10), weak ocean current (9.75), and sea temperature (7.7).
"Dubai is fast becoming a family-friendly wonderland, offering access to a variety of theme parks," said InsureMyTrip. "It's deemed one of the safest cities in the world and is becoming a more affordable destination for families, offering all-inclusive resorts with an array of activities."
Dubai has earned recognition by The Blue Flag Scheme and named 'Best Global Destination' in Tripadvisor Travellers' Choice Awards.