UAE conglomerate to build smart city in Zimbabwe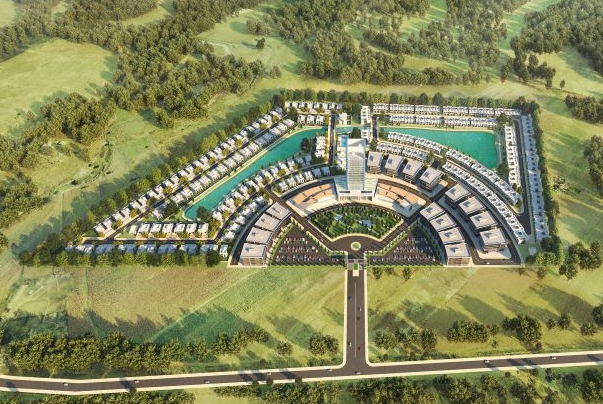 The Zimbabwean president Emmerson Mnangagwa broke ground to launch the US$500 million (Dh1.83 billion) state-of-the-art Zim Cyber City – a mixed-use park on the outskirts of capital Harare – that is being developed by the UAE conglomerate Mulk International.
Sprawled across 2.5 million square feet, Zim Cyber City is currently under construction in Mount Hampden, New Harare. The master plan includes the newly completed parliament building and all the ministry buildings as well as high-end residential and commercial buildings. Many can compare this to the Downtown and Sheikh Zayed Road developments in Dubai, UAE.
"Zim Cyber City stands to become Zimbabwe's landmark project, offering a world-class high-end lifestyle to all the residents. Our government fully supports this exciting development," Mr Mnangagwa said, offering his "thanks to my good friend Shaji-ul-Mulk, the chairman of Mulk International."
The president recalled in detail how initial discussions happened when he visited the Dubai Expo 2022 in March and how his government has worked at breakneck speed to get the necessary clearances for a project that will be close to the Zimbabweans.
After he broke from his long address extolling the virtues of the project, he returned back on the dias because he forgot to address the other important connection – cricket. In case his audience didn't know, Mr Mnangagwa reminded all that Mr Shaji-ul-Mulk is the founder of the popular T10 Cricket League which was born in Sharjah and has become the second most popular league in the world while operating out of Abu Dhabi. The Zim Cyber City will be the start of a very healthy relationship with the UAE businessman, the president hoped.
Under Mnangagwa's patronage, Zimbabwe has granted Mulk International an exclusive licence to establish a blockchain and digital assets special economic zone.
Mulk Holdings, the parent company of Mulk International, owns Alubond USA, the world's largest aluminum composite panel (ACP) and has investments in Africa, Asia and Europe.
Reciprocating the sentiments, the UAE businessman Mulk, said: "President Emmerson Mnangagwa has whole-heartedly supported Mulk International's first Zimbabwean endeavour. Zim Cyber City is the first of many investments that our group, Mulk International, has committed to delivering through the special economic status channel of Zimbabwe Global Investments.
"Zim Cyber City will be a unique, iconic development, offering multi-fold economic benefits to commercial enterprises combined with lavish, uptown living."
Mount Hampden, in Mashonaland West Province, Zimbabwe is about 11 miles North West from the capital, Harare. Along the Old Mazowe Road, this area of 15,500 acres has been allocated towards building a new city that represents a new era for Zimbabwe, as well as a special economic zone exclusively for investors.
The master plan of the project includes 250 townhouses, more than 80 luxury villas, a number of apartment blocks, hi-tech office facilities, high-end retail arcade, a 15-storeyed commercial tower, landscaped gardens – all within a high-security gated community with a health club, community centre and other facilities.
Zim Cyber City will offer high-end residential living for those operating and living in the community. It will include 24/7 advanced, built-in surveillance technology that is directly connected to local law enforcement authorities for maximum security of the residents.
Corporate license holders within the Zim Cyber City will enjoy a bouquet of incentives including free repatriation of capital and profits without any limit caps; ease of fund transfers in and out of the country through local or foreign bank accounts without any caps; exemption from paying all taxes for a period of five years; freehold resale of the real estate and permission to employ foreign staff at a flat rate of 15 percent tax.
— Staff report
InsurTech company Wellx straps on free Fitbit for UAE residents
UAE's insurance platform Wellx has partnered with Fitbit to encourage insurees to stay healthy throughout the year while covering them with a policy linked to their well-being.
Wellx plans to connect their platform with the API of Fitbit, Google's fitness wearable company, and have access to activity data upon user consent to enable them to set fitness goals and unlock rewards while achieving them.
Founded in 2021, Wellx is an insurtech company which combines digital medical insurance and wellness. The startup is also part of the DIFC Fintech Hive's 2022 Accelerator Programme.
"Our association with Fitbit will enable us to turn a traditional financial product into an engaging lifestyle product by gamifying the individual wellness journey," said Vaibhav Kashyap, Wellx co-founder & CEO. "By incentivising our customers to care for themselves, and rewarding them financially, we expect to change the way customers perceive insurance. Our aim is to become their everyday health companions and remind them of the benefits of staying healthy." Javed Akberali is Kashyap's founding partner at Wellx.
Wellx has brought together an ecosystem of wellness-focused services and products, with the singular goal of making insurance fun, engaging and impactful.
"By associating with locally grown companies whose prime focus is health & wellbeing of people of UAE, we at Fitbit are supporting our bigger mission of helping everyone in the world become healthier. Through this association, Wellx customers will be able to get even the recently announced Fitbit smartwatches & trackers including Sense 2, Versa 4 and Inspire 3, that feature some most advanced wellness capabilities; these devices will enable users to have a holistic view of their health and wellness." said David Amehame, Regional Sales Manager, Middle East & Africa, Fitbit at Google.
Nicola Maxwell, Head of Fitbit Health Solutions EMEA, said: "This association shows how Fitbit can help to support innovation in health tech in the region. Over the years, Fitbit has worked globally with leading health insurers to promote healthy behaviour change. We're happy to collaborate with Wellx here in the UAE to support them on their journey to launch unique insurance plans that will provide lifestyle benefits when customers achieve their health and wellness targets – tracked by Fitbit devices."
You can sign up for an insurance plan with Wellx digitally using any web browser or smartphone on www.wellxai.com.
Indian cricket board starts bid process for women's IPL teams
The Indian cricket board (BCCI) on Tuesday invited bids for the right to "own and operate" teams in the first ever women's Indian Premier League (IPL).
In December, the BCCI also floated tenders for the women's league's media rights for the 2023-27 cycle.
"The Governing Council of the IPL invites bids from reputed entities to acquire the right to own and operate a team in Women's Indian Premier League, through a tender process," the BCCI said in a statement.
"The (Invitation to Tender) will be available for purchase till January 21, 2023."
The inaugural season of the women's IPL is likely to be played from March 3-26, an ESPNcricinfo report said in December.
A three-team Women's T20 Challenge had been staged alongside the men's IPL since 2018, but the BCCI have been urged to set up an expanded tournament for women with more teams and players.
The Indian board also decided to give equal pay rights to the women cricketers, it announced in October last year.
India's men and women cricket teams will be paid the same appearance fees to represent their country, Board of Control for Cricket in India (BCCI) Secretary Jay Shah said on Thursday.
The agreement will see women's players at international level receive the same match fees as men across all formats – 1,500,000 rupees ($18,225) for Tests, 600,000 rupees for one-day internationals and 300,000 for Twenty20 internationals. However, the retainer fees remain in stark contrast to their male counterparts.
Australia hosts the Women's Big Bash League as its domestic T20 league, while New Zealand has the Women's Super Smash.
England hold the 'The Hundred' tournament for women alongside the men's competition.
Huge interest for Women's IPL 🏏🇮🇳 pic.twitter.com/zkmkfUkjQl

— CricketGully (@thecricketgully) January 2, 2023
La Liga in JV with e-sports company for Middle East and India
LaLiga, Spain's top-flight football league, and Galaxy Racer (GXR), the world's largest esports, gaming and lifestyle organisation, today signed a 15-year Joint Venture (JV) which will transform the Spanish league's brand's presence in the Middle East and North Africa region and Indian subcontinent.
The JV establishes an historic first for the world of sports rights in the territories and positions GXR as LaLiga's local partner in the MENA and Indian subcontinent markets. The deal is expected to generate more than €3 billion in revenue. LaLiga and GXR will each hold a 50 per cent stake in the JV.
With more than 1.3 billion people under the age of 30 in the two markets, the deal will provide LaLiga with new ways to grow its brand and reach new audiences. It will also grant broadcast and media rights in MENA and Indian subcontinent, boosting viewership of LaLiga matches in the 29 countries in which the JV is in effect.
LaLiga teams with @GalaxyRacerDxb to transform the sports media scene in MENA region and Indian subcontinent… ⤵️

🔗 https://t.co/7bRTrSMlUq pic.twitter.com/rRa85BFnmR

— LaLiga English (@LaLigaEN) December 9, 2022
This is an especially important time for football in the region, as Qatar hosts the first Fifa World Cup competition ever to be held in the Arab world. More than five billion people worldwide are expected to watch the tournament.
Paul Roy, CEO & Founder of Galaxy Racer, said: "The agreement marks the dawn of a new era of football in the region. Our collaboration with LaLiga offers us a novel way to share its intellectual property with GXR's 500 million-strong global audience."
Maite Ventura, LaLiga's Managing Director for the Middle East and North Africa, said: "Partnering with Galaxy Racer in the MENA region and Indian subcontinent is of great strategic importance to the LaLiga brand and its continued expansion in these critical markets.
GXR's extensive experience in the region will also serve as an important source of support towards our international strategy. The Middle East is growing as a dedicated sports hub and the Fifa World Cup in Qatar now is the best example of the power of the sport."
The JV will see collaboration with LaLiga representatives in Morocco, Egypt, Qatar, Saudi Arabia, Turkey, Israel, India, and the UAE, which is essential in achieving true regional development.
Galaxy Racer and LaLiga are already collaborating on a number of projects, including a documentary series, competitions, merchandise, live events, and activations.
Additionally, GXR will launch a roster of influencers who will focus exclusively on LaLiga and curate creator events to promote the LaLiga brand throughout the whole year.