Dubai jewellery designer wins top Germany award for crab earrings
Headline staff
Leading jewellery designer Pavit Gujral has won the prestigious Inhorgenta award in Munich, Germany, for her crab earrings creation from the Marine Collection. She won in the High Jewellery of the Year classification out of a total of 10 categories.
Pavit has a studio in Dubai Design District where she shared the award news on the sidelines of a pre-planned event to also showcase vignettes of her designs for a select audience.
"I am delighted to be acknowledged by such a prestigious institution where I submitted two designs in the same category. Also, I could not make it to the event, so my father (Daljit) got to collect it on my behalf. And I cannot be happier than that because he is the one who keeps pushing me in my career, so it was just good that he got to pick it."
Already a multiple award-winning celebrity designer, Gujral, 30, had planned to share a peek into her latest collection couple of months back. With father Daljit bringing back the earrings in the early hours of Thursday, it took the pride of the place at the interaction at The Name café in D3.
A few items each from the Voyage, Marine, Sylvan, Memoir and Le Fleur collections by Pavit Gujral were also on display. Gujral's winning crab earrings design is from her Marine collection. Gujral is an ace scuba diver as well.
The Crab earrings seem like balancing beautiful Tanzanite hearts with their claws when they adorn the earlobes of the owner. The pair has been set in 18K Gold with over 800 pieces of in pink and yellow Sapphires and Rubies. The piece is finished with deep blue heart Tanzanites and round Diamonds.
"I try to seek perfection in all my designs. These are designs which are inspired by the nature or life around us on a daily basis or through my travels around the world," Gujral said.
View this post on Instagram

"As totems, Crabs are symbols of intuitive nature, perseverance, self-sufficient behaviour and sensitivity. The earrings are very dynamic and display movement due to the setting technique. A crab I saw which was pinkish-orange in colour, so that's behind the choice of the gems I picked."
The Inhorgenta award has a jury comprising journalists, entrepreneurs from the industry and other prominent personalities. "When I am working on the designs, I am not thinking of the awards. The crab earrings were always my favourite, but it is great to see that experts also liked it, and it is a big vindication coming from Europe's best."
Gujral's latest award and reputation as a perfectionist proves she is on the roll ever since she graduated from the Gemological Institute of America, New York, in 2015. She is also a recipient of the prestigious Saul Bell Design Awards and the IJ Jewellers' Choice Design Awards, both won in 2020. Her works were chosen as part of the 'Contemporary Jewels as never seen before' at the Milan Jewellry Week by Artistar Jewels.
For more information, please visit www.pavitgujral.com and follow the brand on Instagram @pavitgujraldesigns.

Daredevil pilot lands plane on Burj Al Arab helipad with 'Bullseye' stunt
Headline staff
Another breathtaking moment has been added to the list of feats achieved at Burj Al Arab in Dubai when a pilot achieved a perfect drop landing on the iconic hotel's famous helipad.
#Dubai hosts another record-breaking stunt as Polish pilot Luke Czepiela (@lc_aerobatics) makes history with "Bullseye Landing" of a plane on the iconic Burj Al Arab helipad.@redbull @BurjAlArab pic.twitter.com/CpdAL2QLM8

— Dubai Media Office (@DXBMediaOffice) March 14, 2023
Polish pilot Luke Czepiela, who has also done many difficult types of flying feats, termed it a "bulls-eye landing" in the prevailing weather conditions and the given challenges.
At 6.58am on March 14, the pilot became "the first person in history to land a plane on the helipad" at 212 metres of height.
Ranking his other achievements in detail, Czepiela went on to rate his latest feat on a stellar resume as "11 out of 10". A former Red Bull Air Race Challenger Class World Champion, he had just 27 metres of round space to bring his Cub Crafters STOL (short take-off and landing) plane to a stop from a landing speed of 43km/h. He brought it to a halt in just 20.76 metres from touchdown on his third attempt.
Although the aircraft is designed for abrupt landings in typical conditions, landing a plane on a platform raised 212 metres in the air, next to a 56-storey building, and with no visual cues to guide him made Czepiela's historic landing an extraordinary feat.
Czepiela had been preparing for this historic moment since 2021, having completed 650 test landings at ground level in Poland, the US, and Dubai to build his confidence in landing on the helipad without any visual references.
"Normally, when approaching a runway, I can easily see how high above it I am and control the approach path. But today, the ground was 212 metres below, and the helipad disappeared over the nose of the plane, reducing my periphery. As my last few references disappeared, I had to rely on my practice and instincts to bring the plane to a stop before running out of space," he said.
The world's only seven-star Burj Al Arab hotel has a history of staging events, mostly around sports, to raise the adrenaline levels of viewers and visitors ever since Tiger Woods hit a routine tee shot from the green pad in 2004.
In 2005, two of tennis' biggest legends, Roger Federer and Andre Agassi, played a match on a makeshift court on the landing area.
In 2013, former Formula 1 driver David Coulthard performed doughnuts to celebrate Red Bull Racing winning the Formula One Drivers' and Constructors' championships that season.
In 2019, professional BMX rider Kriss Kyle rode his bike off the edge of a helicopter and landed on the helipad in a few breathtaking moments.
Dates revealed for Global Village Season 27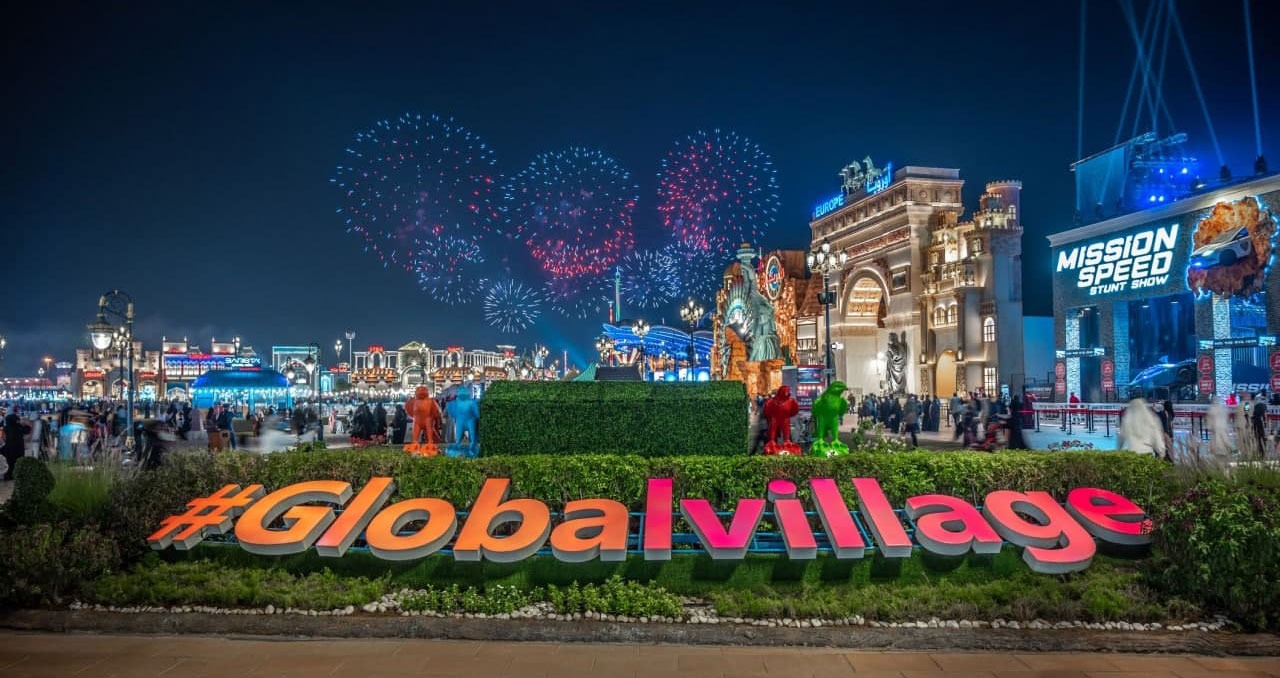 Hurrrray.…the countdown begins.
Global Village has announced its opening date for its coming season. The popular family-friendly destination will reopen on October 25, although little other details are known yet including when exactly it will run until and what will be new. However, on the official website, it says Season 27 followed by the dates "October 2022 — April 2023" which follows the typical dates the attraction usually stays open for.
Last season's Global Village had a record 7.8 million guests visit during the six months it was operational. This also includes an extended period, which saw the attraction stay open for an extra four weeks until May 7.
The destination marked its 26th season with 26 pavilions representing more than 80 cultures from around the world.
Among the countries and continents represented were: the UAE, Saudi Arabia, Bahrain, Kuwait, Afghanistan, China, Egypt, India, Iran, Iraq, Japan, South Korea, Lebanon, Morocco, Pakistan, Palestine, Syria, Thailand, Turkey, Yemen, Russia, the Americas, Africa and Europe.
Covid or recession cannot replace personal touch in networking, says BNI chief of UAE
Kumar Shyam
Dubai – A visit to the annual expo and members day of the Business Network International has revealed that the face to face meetings will still remain the preferred option for many.
While the world moved its business online wherever possible in the Covid-19 aftermath, the recessionary pressures that followed also meant people resorted to more networking.
"Not just this Covid, but four times in the past two decades that I have been associated with BNI, I have seen that membership figures have got the actual momentum only during times of recession," said Bijay Shah, the national director of BNI for Qatar and UAE.
According to BNI, it is the world's largest business networking and referral organisation. Shah put the member strength in the UAE to 800 members, who pay an annual subscription amount and then meet in person at a designated venue with a stipulated cover amount to cover for the costs of the venue and refreshments.
The annual day also provided businesses with an opportunity to explore mutual synergies through networking sessions while some also put up stalls to advertise their wares.
K Kalimuthu, Consul (Economic, Trade & Commerce) at the Consulate General of India also graced the event to mark 17 years of BNI in the UAE, which has mushroomed into 20 chapters and few about to start.
Members also came together to share industry knowledge and trends while there was a panel discussion on the importance of integration of the metaverse in businesses.
While the businessmen and professionals have gone back to operating onsite, the era of Zoom and Teams meetings online ensured that networking can happen virtually too.
Ask Mr Shah and members from the BNI at the expo at JW Marriott Marquis hotel, Dubai, the unanimous verdict is that personal meetings have their own strengths.
In a recent PwC Consumer Intelligence Series survey, 75 percent of 15,000 consumer respondents confirmed the observation that when it comes to business, the human touch is still extremely important.
"In a world where automation and digitalisation are the way to generate new businesses, human relationships have been challenged since a long time and to greater degree post-pandemic. BNI significantly contributes that to business growth through the power of building interpersonal relationships."
"We are growing in the UAE with close to 800 members and last year alone the members closed businesses worth over 336 Million AED," Shah said. "Not just in the UAE, BNI has a proven growth track record globally and is a business model able to grow in any economic environment. BNI is now franchising across the Middle East (email information@bni.ae to know more)."
Shirish Jain, a member, gave a real-life example to explain this. "What happens in online meetings is that the personal touch is lacking. Even in BNI, sometimes the important connections are made around the coffee table. For instance, four-five members are casually chatting and during a talk on metaverse, some shares an anecdote citing a friend whom I would love to do business with. So many times it has happened that we mention our friends and family who the network could benefit from and vice versa. So I would say in-person meetings are still better than online."
_________________
ALSO READ: Oil pinch hurt growing in UAE
_________________
The Expo and Members Day was loaded with a range of learning events, such as panel discussions with keynote speakers and members sharing their success stories. The event ended with a spectacular awards ceremony honoring and recognizing the members' achievements.
"Networking is an important element of every business. BNI aspires to be a guiding light for companies and individuals seeking to connect and thrive," Mr Shah added.
About BNI
It is a 37-year-old business and professional networking organization that allows only one person from each trade or profession to join a chapter. BNI has over 289K members worldwide, in over 75 different countries, from over 300 different types of professions. In each chapter, there is a long list of categories for businessmen and profession. Once a member signs up and fills up that category, the chapter blocks out others in the same providing monopoly to protect the member's interests.