Enjoy your stay in Dubai to fullest at Suha Mina Rashid Hotel Apartments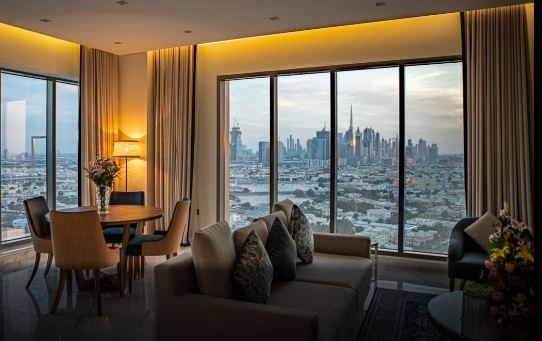 The best of residential projects and communities keep mushrooming in Dubai, but the evergreen choices for tourists and all those who relish life's conveniences at stone's throw distance is Bur Dubai and Mankhool. And nestled in a welcome, quiet corner of both adjoining areas is Suha Mina Rashid Hotel Apartments.
Barely 500 metres away from Al Fahidi Metro Station, there are hordes of convenience stores and walking distance from an array of bus routes emerging out of the central bus station in Al Ghubaiba.
The nervous system of the city's transport structure is buzzing as always when you take a right from the Fahidi intersection, past the affordable Day To Day and couple of hypermarket and there is a graveyard behind a tall wall.
Bang opposite, mirroring the quiet, is the Suha Mina apartment hotel which is perfectly in sync with the atmosphere. Offering a plush experience at decent rates for the budget-conscious families looking at longer stays, the hotel is equipped with everything possible.
We had the pleasure of experiencing first hand a luxurious two-bedroom apartment and it looked nothing like a small piece of a palace. The first thing that strikes you in the 120 square metre deluxe apartment is the absolutely-perfect balance between a minimalist, yet functionally complete living conditions on offer.
As a bonus, it is heartening to see that the electrical fittings are in synchronization with energy conservation. Yet, the light settings add more charm and utility to the family time spent here.
The property has 136 apartments. The three-bedroom options measure 169 sqm – a near-palatial configuration by modern standards.
Suha Mina Rashid is an ideal fit for the mostly transient population of Dubai or the long stay-preferring visitors who seek jobs or have to set up businesses through the elaborate processes involved. With all-day supermarkets downstairs, a functional restaurant and a modern, elegant design to the property, Suha Mina Rashid Apartments easily make the occupants feel like staying in a home away from home.

Buy this book to get 42 tips to handle career mid-life crisis
Life coach, endurance athlete and esteemed author Binod Shankar has answered millions who suffer from mid-life crisis with their careers. His book Let's Get Real offers 42 invaluable bits of advice, especially for managers who find themselves feeling stagnant or stuck at cross roads of their corporate careers.
Shankar's relatable, inspirational, and insightful writing provides a comprehensive guide for individuals seeking to break free and unlock their true potential. The book was launched at a function at Taj JLT hotel and has been published by Motivate Media Group. "Let's Get Real is a culmination of my experiences, and I believe it will provide practical guidance and inspiration to those who feel stuck. Let's transform our careers to transform our lives," Shankar said.
Let's Get Real is a treasure trove of wisdom that tackles the challenges faced by managers and provides actionable strategies for personal and professional growth. Whether it's discovering and embracing your own worth or navigating life transitions with confidence, this book offers practical tips and relatable anecdotes to inspire readers at every step of their journey.
ALSO READ: Sudha Murty offers tips for budding writers and anecdotes
Shankar is a former corporate warrior-turned-entrepreneur himself, and this guidebook is a leading light by example for professionals to approach their careers. The starting point is not outside, but from within, says Shankar in the book. With Let's Get Real, the focus is on self-awareness, managing oneself and the team and navigating career transitions.
Shankar draws from his own experiences, delivering relevant and actionable insights to help readers make tough career decisions with confidence. This fiercely inspirational and relentlessly practical book encourages individuals to work on themselves first, empowering them to influence the world around them.
Shankar is an accomplished professional with a diverse background. As a qualified coach and mentor, board member at Heriot-Watt University, and sought-after keynote speaker, corporate trainer, and guest speaker at prestigious platforms such as CNBC and Bloomberg, Shankar's expertise shines through his writing. Having worked with notable organizations including KPMG, Andersen, Ernst Young, and Nakheel, he brings a wealth of knowledge to his readers.
Additionally, Shankar's passion for long-distance cycling and high-altitude mountaineering adds depth to his perspectives on personal growth and resilience. For more information about Shankar and his book, please visit his website or LinkedIn profile.
Three-Day Super Sale in Dubai is back again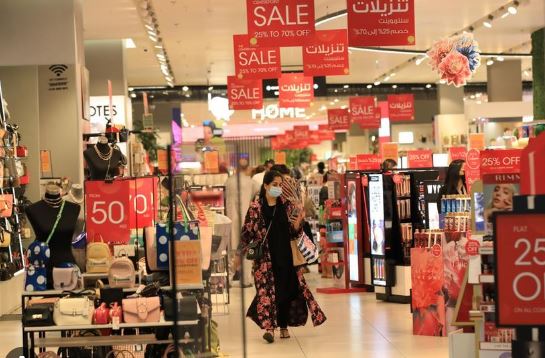 The annual feature to beat summer blues in Dubai is on us this weekend when shopaholics can go bargain hunting again during the 3-Day Super Sale (3DSS).
Residents and visitors can look forward to finding deals at certain times when certain retailers offer up to 90 per cent off on leading brands.
The seasonal shopping event, organised by Dubai Festivals and Retail Establishment (DFRE), runs from May 26-28, offering unbeatable deals on fashion, beauty, lifestyle, furniture, electronics and more.
Participating shopping centres and destinations includes Mall of the Emirates, City Centre Mirdif, City Centre Deira, City Centre Me'aisem & City Centre Al Shindagha, Dubai Festival City Mall, Dubai Festival Plaza, Nakheel Mall, Ibn Battuta, Circle Mall, Mercato, Town Center, The Beach, Bluewaters, City Walk, The Outlet Village and more.
Earn bonus points with partners of Dubai Holding's Tickit loyalty programme, and spend AED 200 or more at any of the participating retail outlets to enter into a grand prize draw where the winner will walk away with 50,000 Tickit points worth AED 50,000.
Majid Al Futtaim SHARE rewards members stand a chance to win 1 million SHARE points by spending AED 300 or more in a single or cumulative purchase by scanning the receipts in the SHARE application to automatically enter into the draw.
Sneak peek in Abu Dhabi's Sea World which opens next week
Abu Dhabi: Abu Dhabi's latest theme park will welcome visitors from Tuesday, May 23 onwards, and is now gearing up for its grand opening.
SeaWorld Abu Dhabi spans 183,000 square metres in Yas Island spread over five floors, and is divided into eight themed zones. Home to 100,000 individual animals from 150 species, the venue will also feature a number of thrilling rides, a variety of restaurants and cafés, and interactive exhibits for visitors of all ages.
This is the first SeaWorld opening outside the United States. Developed as a collaboration between Miral and the US-based SeaWorld Parks and Entertainment, it is also the first not to feature captive killer whales. Instead, there are dolphins, rays, sea stars, flamingoes, penguins, and a multitude of fish.
Take a tour
Abu Dhabi ocean: This is the introductory zone and accessible from two flights of escalators. The touch pools are surrounded by decor reminiscent of Abu Dhabi's mangrove forests, and the emirate's fossil dunes and peaks dot the upper areas of the halls. Resembling traditional fishing ports in the UAE, the zone then connects to the other seven 'realms' of the park, known as One Ocean.
Tropical ocean: A flock of flamingoes greets visitors strolling into the area, which appears to be dotted by pools of water. Past this is an aviary, a cavernous cave resembling those underground in Mexico and then to a roller-coaster or a set of windows through which dolphins can be seen. A pod of 24 Atlantic bottle-nosed dolphins resides in the park. Emerging from this underground area, visitors reach a 2,000-person amphitheatre area that is designed like the tropical rice fields of Indonesia.
Endless Ocean: This houses one of the world's largest multispecies aquarium, with 68,000 different animals in 25 million litres of water. A total of 20 viewing windows will allow visitors to take in the marine beauty. The park will also offer diving experiences and underwater walking tours.
Arctic: This zone emulates polar conditions for its below-zero inhabitants, including walruses, puffins and sea otters. Interactive exhibits will teach visitors about seafaring and underwater life.
Antarctica: Penguins are the star of this zone, and visitors can plan encounters with many species of these birds, or watch them live harmoniously with other cold-water fish and sea stars.
Rocky Point: Seals and sea lions are the main draw at rocky point, where the cold-clime creatures stage presentations, or simply rest on rocks or in the sea.
Micro Ocean: Designed for children, Micro Ocean features family-friendly rides. Young visitors can also enjoy picking up a few souvenirs.
One Ocean: This main park hub has been built to stage immersive shows using screens and drones. Visitors can also head in to the park's Animal Care Centre, or access other realms from this zone.
YAS ISLAND SEA WORLD
Opening: May 23, 2023
Tickets: Dh375 for every adult, Dh290 for children below the age of 11 years
Eight zones with 150 species of animals