Enjoy your stay in Dubai to fullest at Suha Mina Rashid Hotel Apartments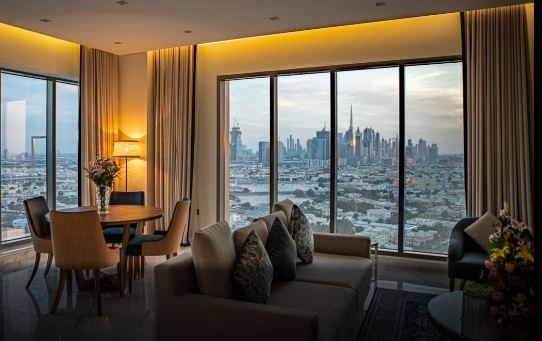 The best of residential projects and communities keep mushrooming in Dubai, but the evergreen choices for tourists and all those who relish life's conveniences at stone's throw distance is Bur Dubai and Mankhool. And nestled in a welcome, quiet corner of both adjoining areas is Suha Mina Rashid Hotel Apartments.
Barely 500 metres away from Al Fahidi Metro Station, there are hordes of convenience stores and walking distance from an array of bus routes emerging out of the central bus station in Al Ghubaiba.
The nervous system of the city's transport structure is buzzing as always when you take a right from the Fahidi intersection, past the affordable Day To Day and couple of hypermarket and there is a graveyard behind a tall wall.
Bang opposite, mirroring the quiet, is the Suha Mina apartment hotel which is perfectly in sync with the atmosphere. Offering a plush experience at decent rates for the budget-conscious families looking at longer stays, the hotel is equipped with everything possible.
We had the pleasure of experiencing first hand a luxurious two-bedroom apartment and it looked nothing like a small piece of a palace. The first thing that strikes you in the 120 square metre deluxe apartment is the absolutely-perfect balance between a minimalist, yet functionally complete living conditions on offer.
As a bonus, it is heartening to see that the electrical fittings are in synchronization with energy conservation. Yet, the light settings add more charm and utility to the family time spent here.
The property has 136 apartments. The three-bedroom options measure 169 sqm – a near-palatial configuration by modern standards.
Suha Mina Rashid is an ideal fit for the mostly transient population of Dubai or the long stay-preferring visitors who seek jobs or have to set up businesses through the elaborate processes involved. With all-day supermarkets downstairs, a functional restaurant and a modern, elegant design to the property, Suha Mina Rashid Apartments easily make the occupants feel like staying in a home away from home.

Japanese culture gets full display in Dubai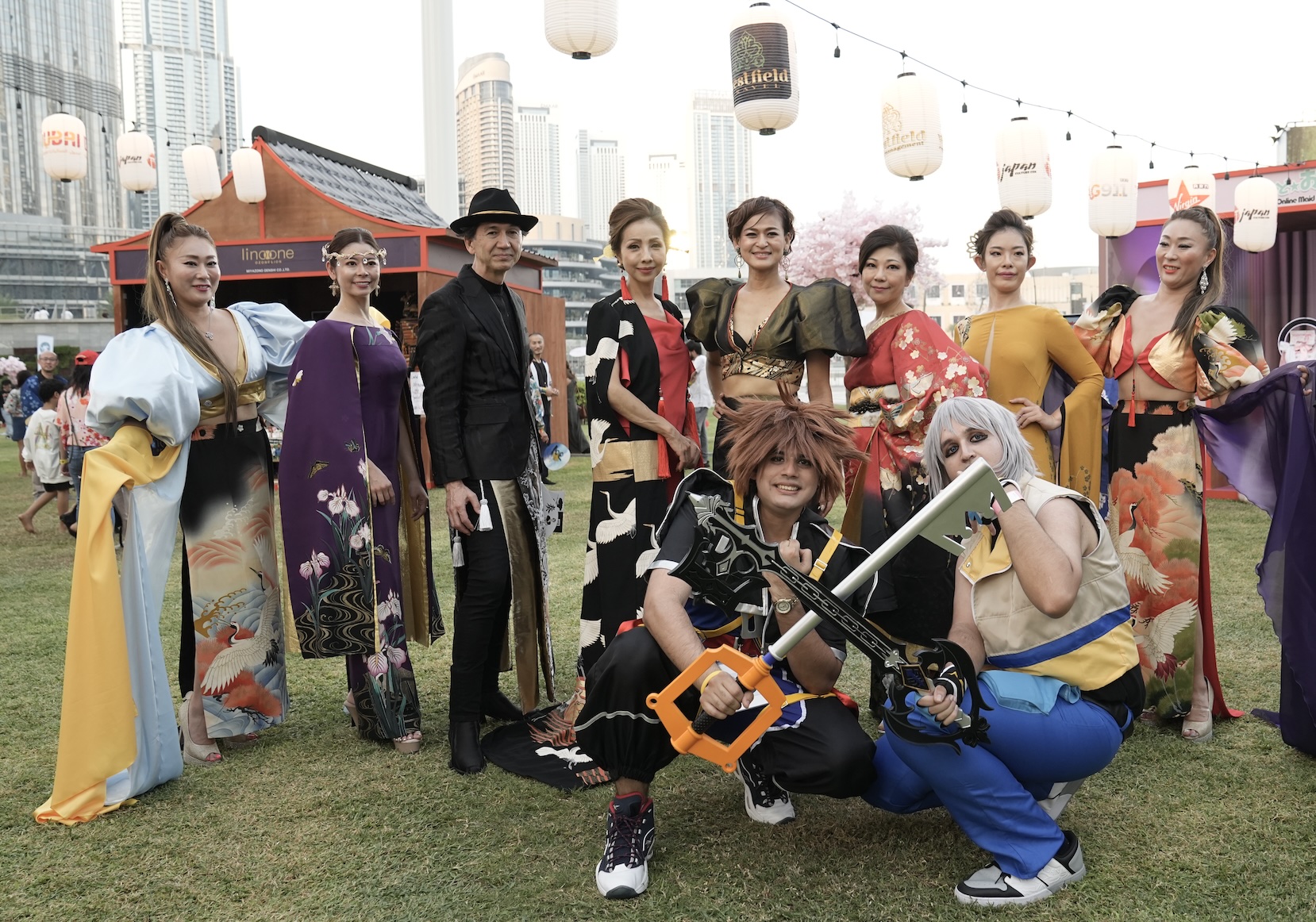 The Japan Culture Con (JCC) convention, dedicated to showcasing the richness of culture from the Land of the Rising Sun, drew to a close with resounding response at the Burj Park, Dubai.
The JCC brought together enthusiasts, artists, and experts over a period of three days to create a vibrant tapestry of traditional and contemporary expressions.
According to the organisers, JCC exceeded their expectations with record-breaking attendance numbers. Over 13,000 enthusiasts gathered to immerse themselves in the multifaceted beauty of Japan's cultural heritage. The diverse audience contributed to the event's dynamic atmosphere, fostering cultural exchange and understanding.
A range of diverse and dynamic programming played an important part in the event's success. Attendees experienced a kaleidoscope of traditional arts, modern performances, interactive workshops, and immersive exhibits that showcased the evolution of Japanese culture. The fusion of tradition and innovation was a key theme, resonating with participants of all ages and backgrounds.
The convention featured a stellar lineup of cultural icons and rising stars, including renowned artists, performers, and experts in various fields. Their contributions brought authenticity and depth to the event, enriching the experience for attendees and highlighting the global appeal of Japanese culture.
The Culture Con successfully leveraged various platforms to engage a global audience. Social media channels buzzed with excitement, with attendees sharing their favorite moments and connecting with like-minded individuals. The virtual components of the event allowed those unable to attend in person to participate, expanding the reach of the convention.
The success was further amplified through strategic collaborations and partnerships. Japanese businesses, cultural organisations, and sponsors played a crucial role in supporting and enhancing the event, contributing to its overall success. Journalists and influencers highlighted the unique experiences, performances, and cultural insights presented at Japan Culture Con, further establishing it as a premier event in the cultural calendar.
The organisers – Keisaku Nishida (CEO) and Beenish Muneer (Managing Director) of Westfield Event Management – said in a statement: "We extend our heartfelt gratitude to all attendees, supporters, sponsors, and partners who contributed to the success of Japan Culture Con. Their enthusiasm and commitment to celebrating Japanese culture made the event a truly memorable and enriching experience." There are plans already to build on the success, they said.
UAE fuel prices drop after four months of consecutive increases
Fuel prices for November 2023 dropped by 12 and 12.5 per cent for gasoline and four percent for diesel, according to the UAE Fuel Price Follow-up Committee. The price of Super 98 dropped by 12 per cent to Dhs3.03 per litre for November, down from Dhs3.44 per litre in October, down by 41 fils, and so did the price of Special 95, which dropped by 12 per cent to Dhs2.92 per litre for November, down from Dhs3.33 per litre in October, down by 41 fils.
https://www.instagram.com/reel/CzDj60rpQcU/?utm_source=ig_web_copy_link&igshid=MzRlODBiNWFlZA==
The price of E-Plus 91 dropped by 12.5 per cent to Dhs2.85 per litre for November, down from Dhs3.26 per litre in October, down by 41 fils. The price of diesel dropped by four per cent to Dhs3.42 per litre for November, down from Dhs3.57 per litre in October, down by 15 fils.
These monthly fluctuations in fuel prices reflect the dynamic nature of the global energy market and its impact on the cost of fuel in the UAE. Stay updated with the UAE Fuel Price Committee's monthly announcements to make informed decisions regarding your fuel-related expenses.
 Elevate your coffee experience with The Brew Crew's Cold Brew and Nitro Brew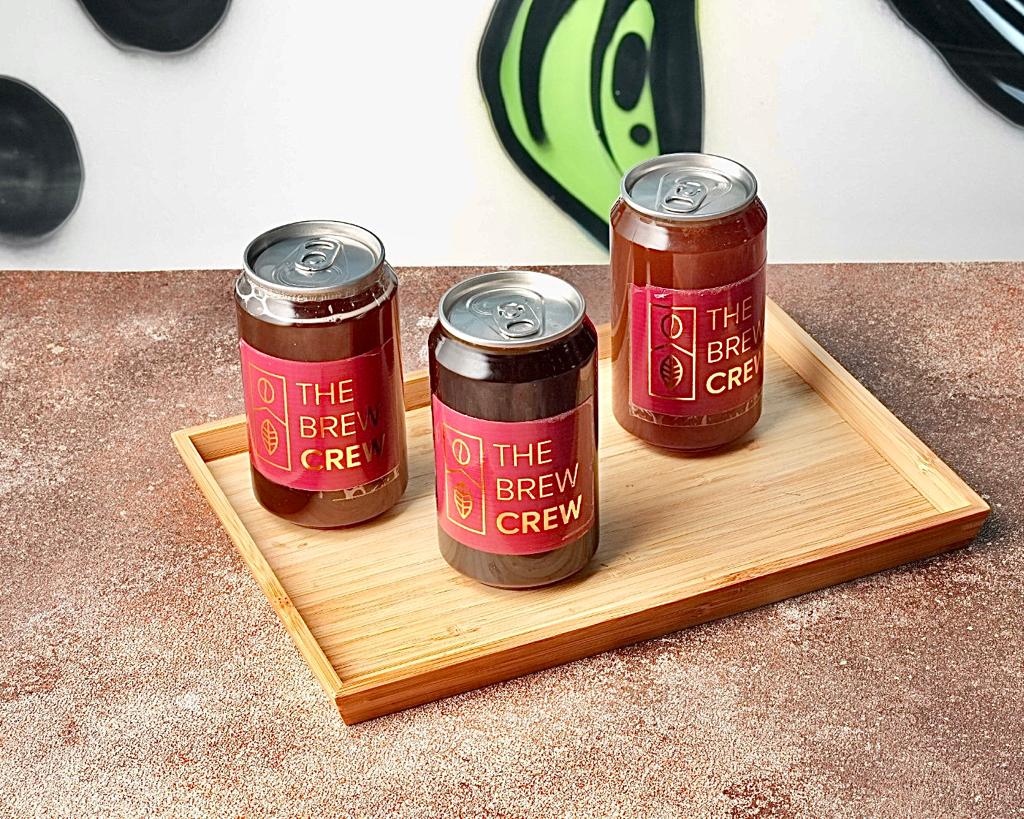 Why limit International Coffee Day celebrations to just one day? The Brew Crew believes every day can be a celebration of brewing up special treats for coffee lovers, which is why the cafe located in Dubai Investment Park (DIP) 2, Dubai, is now delivering unique coffee experiences in a can. In their continuous quest to enhance customer experience, they've worked on elevating their delivery menu with new signature offerings — Nitro Coffee and unique Nitro Infused beverages — all in a can and dine-in too. Isn't that exciting?
Once the coffee grounds are steeped in water (room temperature) for about 16-18 hours — the slow extraction process makes the cold brew, which is more intense than a regular drip coffee. Cold Brew is literally a concentrated coffee drink. And, what's Nitro Brew? Nitro Brew is a cold-brewed coffee infused with nitrogen gas. So, whether you prefer the subtly sweet, creamy body, and smooth finish of a
Nitro Brew, or the mellow, smooth, and mild acidity of the Cold Brew, The Brew Crew has a brew for everyone. Both the beverages are priced at Dh15, 300ml. The other Infused beverages are complex in preparation, but the taste profile is tropical, sporty, and fizzy. The Nitro allows the drinks to be more full-bodied and memorable.
"We realised that the options for Dubai coffee aficionados to experience Cold and Nitro brews were limited, so we decided to add them to the menu. Similarly, we also wanted to provide a product for non-coffee drinkers in the UAE. And of course, we didn't want to restrict it to only as a dine-in option, so here we are offering the brew in a can for a takeaway or delivery," said Ashjeet, Founder, The Brew Crew.
The cafe is also home to a temperature and humidity-controlled facility, which includes a nouvelle Brew Bar in action, a Roasting Training Campus, and a Green Coffee Storage, which is where the magic happens. The Brew Crew is renowned for its commitment to delivering a unique coffee experience and opened its doors to coffee aficionados in September 2023. The caféopens its doors at 9 am and serves until 6 pm, Monday through Saturday. At the location, you can indulge in various other roasted favourites, other than, of course, ordering the Cold Brew and Nitro Brew, whenever you please.
Order now:
Coffee on Tap -> All in a Can. Priced at Dh15, 300ml.