Floating Bridge to shut down for five weeks of repair
Dubai's Roads and Transport Authority (RTA) will close the Floating Bridge for five weeks starting April 17 to ensure major maintenance works.
Built in a record span of 2007 at a cost of Dh155 million then, the Floating Bridge serves as an alternative route for Al Maktoum Bridge, where the Salik toll is applicable, and is the preferred choice of many commuters because it offered free access.
The RTA has clarified that Salik charges will remain applicable on Al Maktoum bridge. The unique floating motorway opens for marine traffic and shuts down for road vehicles from 10pm to 6am in clockwork fashion.
WATCH: How the Floating Bridge opens and closes every night
It is the fifth crossing on Dubai Creek, the others being Al Shindagha Tunnel, Al Maktoum Bridge, Al Garhoud Bridge, and Business Bay Crossing.
To ensure a smooth traffic flow, RTA charted out an integrated plan to reroute the traffic to alternative roads and crossings, namely Al Maktoum Bridge, Infinity Bridge, and Al Garhoud Bridge, open Al Mamzar Street's exit for motorists coming from Al Ittihad Street in addition to main roads such as Sheikh Mohammed bin Zayed Road and Emirates Road as follows:
Traffic from Sharjah through Al Ittihad Street: To use Al Mamzar Exit which will be open for traffic (previously restricted to Buses and Taxis) to ease the access to the Infinity Bridge via Cairo and Al Khaleej Streets.
Traffic from Deira to Bur Dubai through Al Khaleej Street: To use the Infinity Bridge.
-Traffic fromSharjah to Bur Dubai through Al Ittihad Road: To use the Infinity Bridge via Cairo and Al Khaleej Streets, as well as Al Garhoud Bridge or Al Maktoum Bridge.
#RTA will close the Floating Bridge in both directions for 5 weeks starting this Monday, April 17, 2023 to give way for major maintenance works.https://t.co/6pqh6VIL3f pic.twitter.com/4UZ983ewE2

— RTA (@rta_dubai) April 14, 2023
Traffic from Bur Dubai to Deira through Khalid bin Al Waleed Street: To use Al Maktoum Bridge and the Infinity Bridge.
Traffic from Bur Dubai to Deira through Umm Hurair Road: To use Al Maktoum Bridge.
Traffic from Bur Dubai to Deira through Sheikh Zayed Road: To use Al Garhoud Bridge, Al Maktoum Bridge, Infinity Bridge and the Business Bay Crossing.
Traffic from Bur Dubai to Deira through Oud Metha Road: To use Al Maktoum Bridge and Al Garhoud Bridge.
Traffic from Bur Dubai to Deira through Al Riyadh Street: To use Al Maktoum Bridge.
Motorists travelling between Bur Dubai and Deira may use main roads such as Sheikh Mohammed bin Zayed Road and Emirates Road.
Riders are recommended to follow RTA's social media channels, or contact the Call Centre at 8009090 for more information.

Tom-Kohler Cadmore's 27-ball fifty sealsmassivewin for Deccan Gladiators over New York Striker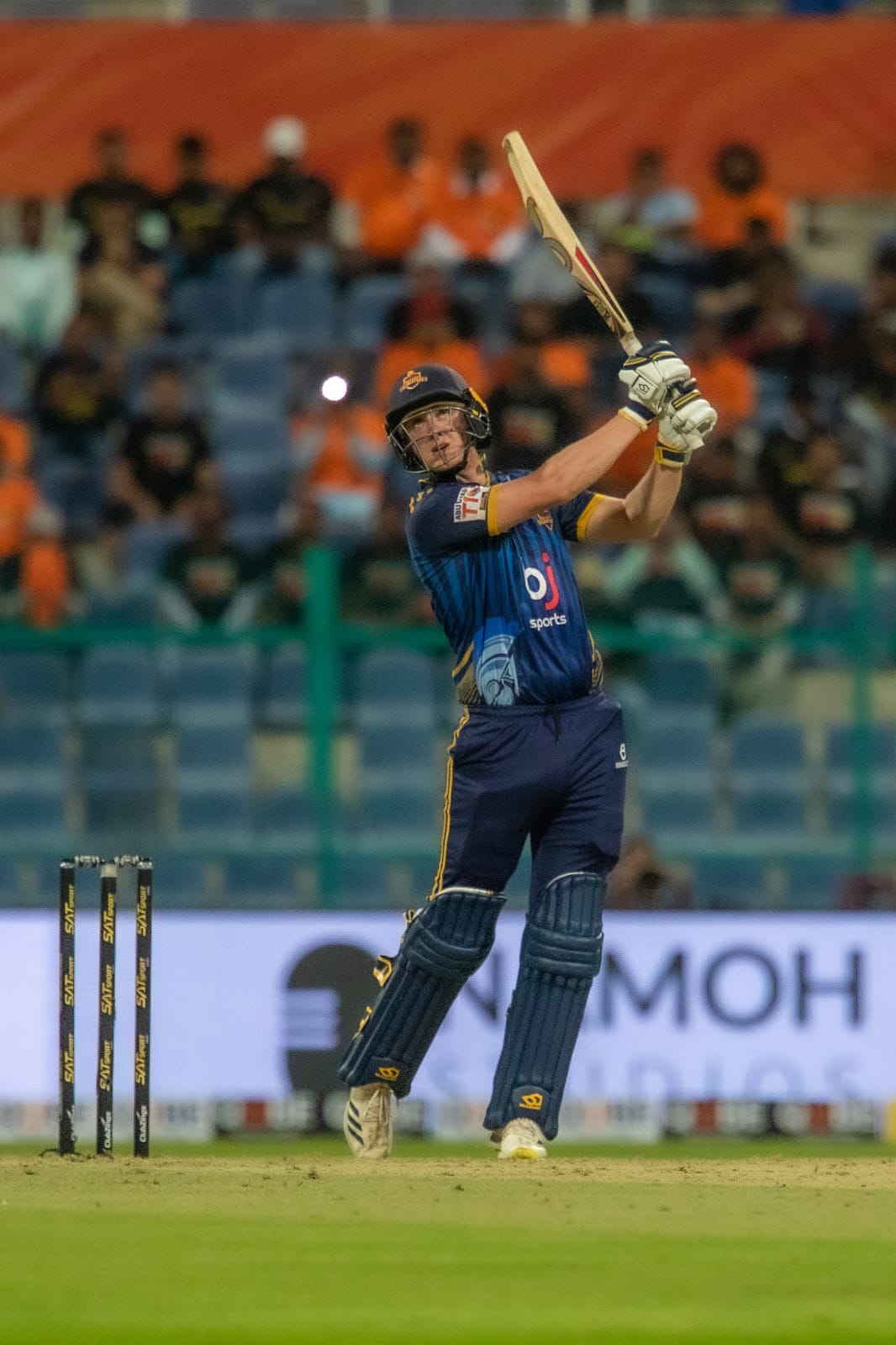 Deccan Gladiators continued their winning run over New York Strikers in the glitzy opening encounter of the 7th edition of Abu Dhabi T10. The night saw enthralling dance performances along with a glamourous fashion show, along with a memorable performance from Tom Kohler-Cadmore, who smashed an unbeaten 68 off 33 balls to help the defending Champions to their first win to kick off the season.
An exciting buzz engulfed the Sheikh Zayed Stadium as the Gladiators stepped out to bat on a pristine surface, covered with a nice patch of grass. The cool winds in the city only made the conditions perfect for cricket. Shaji Ul Mulk, Chairman, T10 Sports Management, declared the tournament open with a motivating speech and the action began in Abu Dhabi. Pollard-led New York Strikers strategically opted to bowl first.
Unleashing Mohammad Amir to use the swing offered by the surface, the Strikers shackled the openers Nicholas Pooran and Kohler-Cadmore. Pooran's early dismissal by pacer Muhammad Jawadullah made things trickier for the Champions. With runs hard to come by, pressure built on Gladiators that led to Andre Fletcher getting run out after a horrible mix-up.
The dynamic Andre Russell began counter-attacking with innovative shots. But a failed big hit from the power-hitter on Ali Khan's off-cutter landed straight in Pollard's hands. Not letting the momentum slip away, Kohler-Cadmore struck Sunil Narine for two sixes in the next over. Chamika Karunaratne handed a double whammy to Gladiators on consecutive deliveries, but Kohler-Cadmore waged a lone battle, and hamered a 27-ball fifty. The England batter's brave innings led Gladiators to 118/8 in 10 overs.
As Strikers began their chase, left-arm speedster Trent Boult handed Deccan Gladiators their first blow, dismissing the dangerous Rahmanullah Gurbaz. Kusal Perera tried to counter-attack after the dismissal, but fast bowler Zahoor Khan picked his wicket to put his side in control. As the Gladiators missed three simple catches in the first couple of overs, the momentum slipped away.
The defending Champions brought in substitute Nuwan Thushara to replace Kohler-Cadmore under Impact Player rule. As per the rule, Thushara was allowed to bowl, but the right-arm speedster was struck for boundaries by Muhammad Waseem. His fiery innings came to an end in the next over by Luke Wood with Imad Wasim finally catching one. As Asif Ali held one end, skipper Kieron Pollard stepped out to provide some momentum in the steep run-chase. With 36 needed off the final 2 overs, Ali and Pollard were dismissed in quick succession. Gladiators sealed the win by 22 runs.
Russia's economic and social sectors have expanded the use of AI, says Putin
The AI Journey international conference hosted the main discussion, The Generative AI Revolution: New Opportunities, attended by President Vladimir Putin and moderated by Sberbank CEO and Chairman of the Executive Board Herman Gref. Putin said that "over the past year, Russia's economic and social sectors have expanded the use of AI solutions by a factor of 1.5. Investments in this area are growing, and companies are solving their production tasks more and more efficiently thanks to AI."
The application of AI can bring huge opportunities to the sphere of public administration. This is a complete transition to data-driven management, which will make it possible to automate even more administrative procedures and accelerate decision-making processes based on big data, which means radically improving and changing the appearance of many spheres that directly affect every citizen. However, Putin added "Artificial intelligence will not replace a medical worker or a teacher, but it can serve as their faithful and effective assistant; e.g., it can give teachers more time to educate children, help doctors prevent and detect diseases at an early stage, and be used for remote monitoring of people's health."
Putin also announced that a new version of the National Strategy for the Development of Artificial Intelligence will be approved in the near future, taking into account the rapid development of generative models.
Herman Gref added that another important task was to create trusted artificial intelligence. More advanced models are already able to point out that less advanced models have some flaws in the datasets and show how to solve these problems. In the same way, more advanced models can be used to solve the "black box" problem, i.e. to explain why the AI made this or that decision. He outlined three main areas in which AI, according to expert forecasts, will make the greatest breakthroughs: healthcare, education, and the construction of fundamentally new management systems. The following speakers focused on AI development prospects in these three areas.
At the end of the discussion, the President of the Russian Federation noted that Russia needed an AI evolution, but this evolution must be organized quickly, in a quality manner, efficiently, and affect all levels: businesses, municipalities, constituent entities of Russia, federal authorities, in all aspects of life. This is what we should aspire to achieve, and this goal requires concentration of all our intellectual, administrative and financial resources, if we want to secure the future of the country
Deccan Gladiators captain Nicholas Pooran, Northen Warriors skipper Angelo Mathews eye record third trophy
In anticipation of another explosive season of cricket's fastest format, Abu Dhabi T10 2023 edition, announced the captains for the season at a press conference held in Sheikh Zayed Cricket Stadium in Abu Dhabi. West Indies heavy hitter Nicholas Pooran, who led Deccan Gladiators to a title win in the previous edition has been retained as a Captain by the defending Champions for the upcoming seventh edition, which will take place between November 28th and December 9th. Meanwhile, the runners-up of last season New York Strikers and Morrisville Samp Army will also continue with veteran allrounders Kieron Pollard and Moeen Ali as Captains, respectively.
The remaining teams made a change in leadership as Sikandar Raza handed over the reins for The Chennai Braves to Charith Asalanka, whilst Northern Warriors named Angelo Mathews as Captain, and Delhi Bulls named Rovman Powell as skipper for the season. Team Abu Dhabi picked Dwaine Pretorius to lead the side whilst Bangla Tigers made a surprise pick in Benny Howell as Captain.
All the Captains, in attendance at the Press Conference made their intentions clear for the season. Pooran, who was also the highest run-scorer of the last season with 345 runs in 10 matches at an average of 49.29 and a strike rate of 234.69, said that he wishes to win the record third title for Gladiators this season.
"It was a good season for me the last time around, and I was happy to contribute to the team's success, not only as Captain but also as a batsman. Our target this year is to retain the trophy and we will continue to play the kind of cricket we like to play. It would be an honour for me to lead Gladiators to a record third title this time around. I am ready to take up any role the team wants me to," Pooran said.
Presently, Gladiators and Northern Warriors are the only two teams to have won two titles. The Warriors have made a strong choice in Mathews as skipper, who has been one of the most successful Captains for Sri Lanka in international cricket.
"I am grateful to be considered to lead Northern Warriors, a franchise that has already achieved massive success in this league. Warriors have already won two trophies and I would love to bring the trophy back to the team so that we all can script history together. This is an exciting format, and the fans can expect big things from our side in the 7th season," Mathews said.
Meanwhile, Strikers and Morrisville will look to use Pollard and Moeen's familiarity with the format once again to boost their chances of getting their hands on the trophy. Pollard said he wants to finish the job this season.
"We came so close to winning the title last season, but the final was a lesson for us. We now know the temperament that is needed in big matches, and we will look to use that knowledge to our advantage. We have a solid squad, and we are ready to go all the way this time," he said.
Moeen Ali said that such a quick format is a test of players' skills. "While one may feel that T10 is all about big shots, and heavy hitting, it is also about recognising and adapting to situations quickly and efficiently when you are out there. In such a short time, anything can happen. We must be ready for Plan A, Plan B, and Plan C and if we do that, we will be in a good position to win the whole thing."
Meanwhile, Sri Lanka top-order batter Asalanka will be leading the side in place for Raza, and he admitted he has big shoes to fill. "Sikandar Raza enjoys a massive fan following and support in this part of the world. I am excited to take over the reins as Captain for the Braves and will look forward to leading the team. We must take one game at a time, but our goal is to make the playoffs and set ourselves up for a chance to play in the all-important Final."
Delhi's choice of giving Captaincy to Powell is another interesting move as the West Indies batting allrounder led Northern Warriors last season and scored 196 runs in 7 matches at a whopping strike rate of 245. "I was in good form in the previous edition and also gained experience in leading a team in this format. Now, with a new squad and a new franchise, I am even more motivated to perform. We want to see Delhi Bulls get their hands on the trophy once again – and we must stick to our plans in in order to do so," Powell said.
Team Abu Dhabi decided to put their stocks on bowlers during the draft, and backing their bowling unit, named South Africa speedster Pretorius as the Captain. In 10 games last season, Pretorius was the leading wicket-taker with 12 scalps to his name at an average of 13.08.
"This is a good chance for me to change the mindset that short formats are only for the batters. The bowlers also have an equally important role to play, especially fast bowlers who start the attack with the new ball. They have very little time to get used to the track and implement their plans and get crucial wickets in the first three overs, and that is what we will try to do in every game," Pretorious said.
Bangla Tigers, meanwhile, have named veteran English domestic talent Benny Howell and are banking on his experience to make their way into the top four. "I am delighted to lead Bangla Tigers as Captain this year. It is an important year for us – as we want to make it to top four. We have an impeccable squad, but we will have to work together as a collective unit. If we can all perform to our abilities, we are hard to beat," he signed off.
Abu Dhabi T10 2023 will be broadcast on CricLife3 available on Etisalat, Elife IPTV, Switch TV, and Starzplay in UAE-MENA. It will also be aired in Pakistan on channel A Sports and live streamed on TapMad. Indian fans can watch the season on Viacom Sports 18 2 (Hindi) and on Jio Cinema app. The tournament this season, will also air on Supreme TV in Sri Lanka, on BT Sport in the United Kingdom, on ESPN in the Caribbean, on Willow TV in North America, on T Sports in Bangladesh, and Fox Sports in Australia.
Cricket fans in UAE can buy the Abu Dhabi Season 7 Tickets online for just AED 10 via: https://events.q-tickets.com/uae/eventdetails/4013826602/abu-dhabi-t10-season-7.