Football legends and celebrities have a ball in Dubai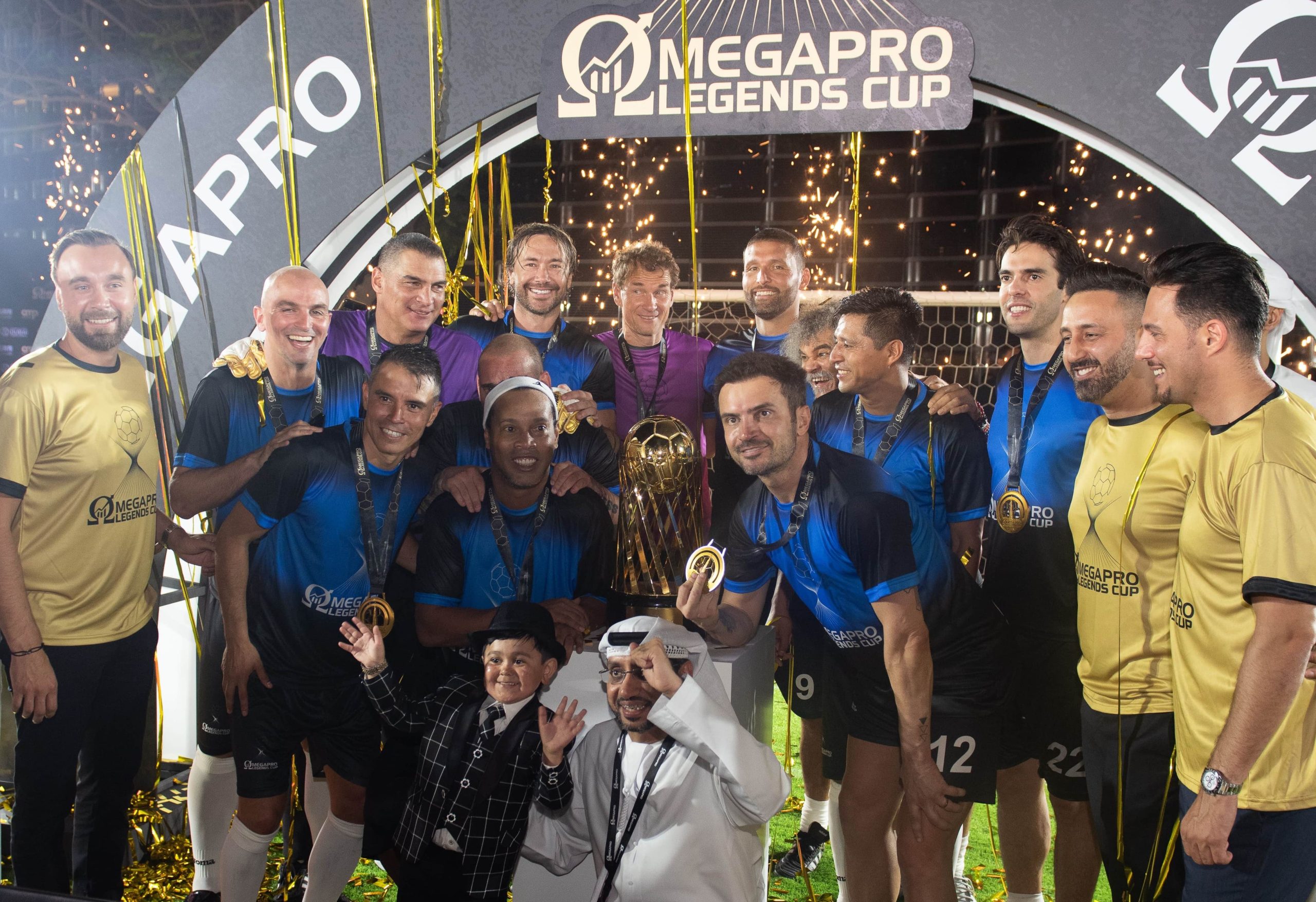 The OmegaPro Legends Cup made a splash on debut in Dubai on May 12 with a welcome overdose of stardust that put the starry Arabian night and the glittering Burj Khalifa in the shade.
Nearly 20 big names from the world of football, cricket and social media influencers shared space in a preceding press conference before slugging it out for three games of action between the Champions and Stars.
Among the football biggies were captains Luis Figo and Ronaldinho, goalkeeper Iker Casillas, John Terry, Javier Saviola, Kaka, Marco Materrazi, Patrick Kluivert, Wesley Sneijder, Carlos Valderrama and many more.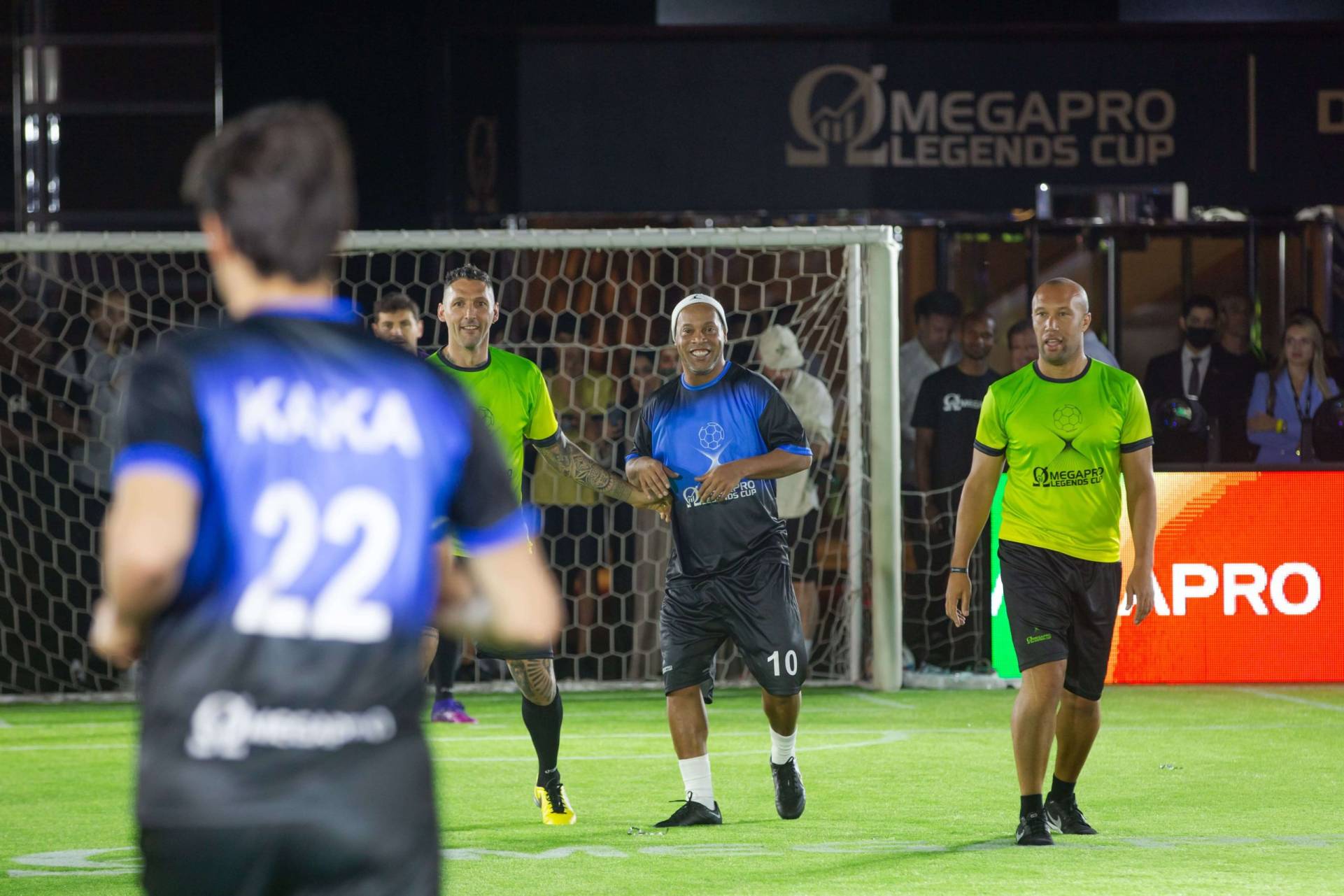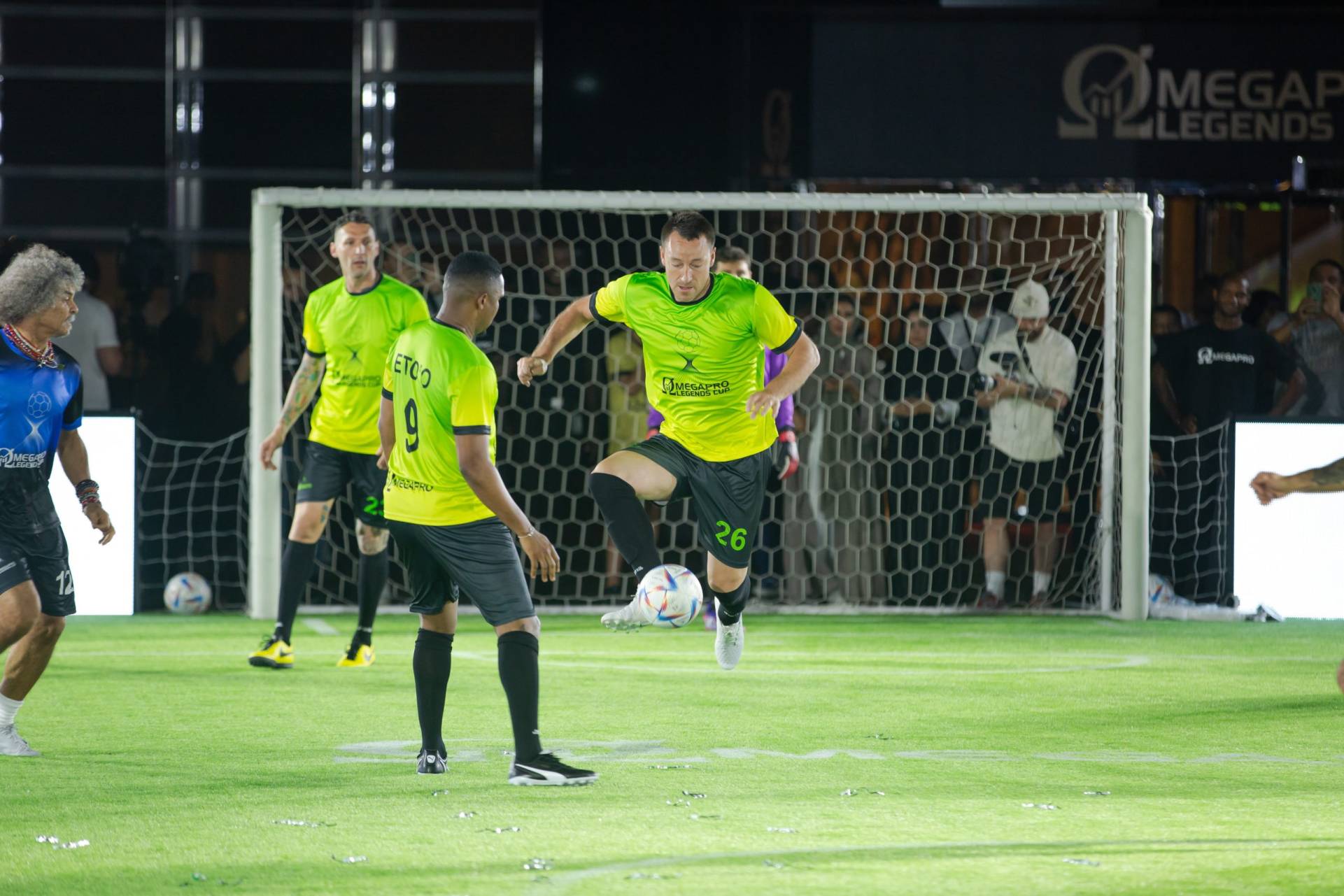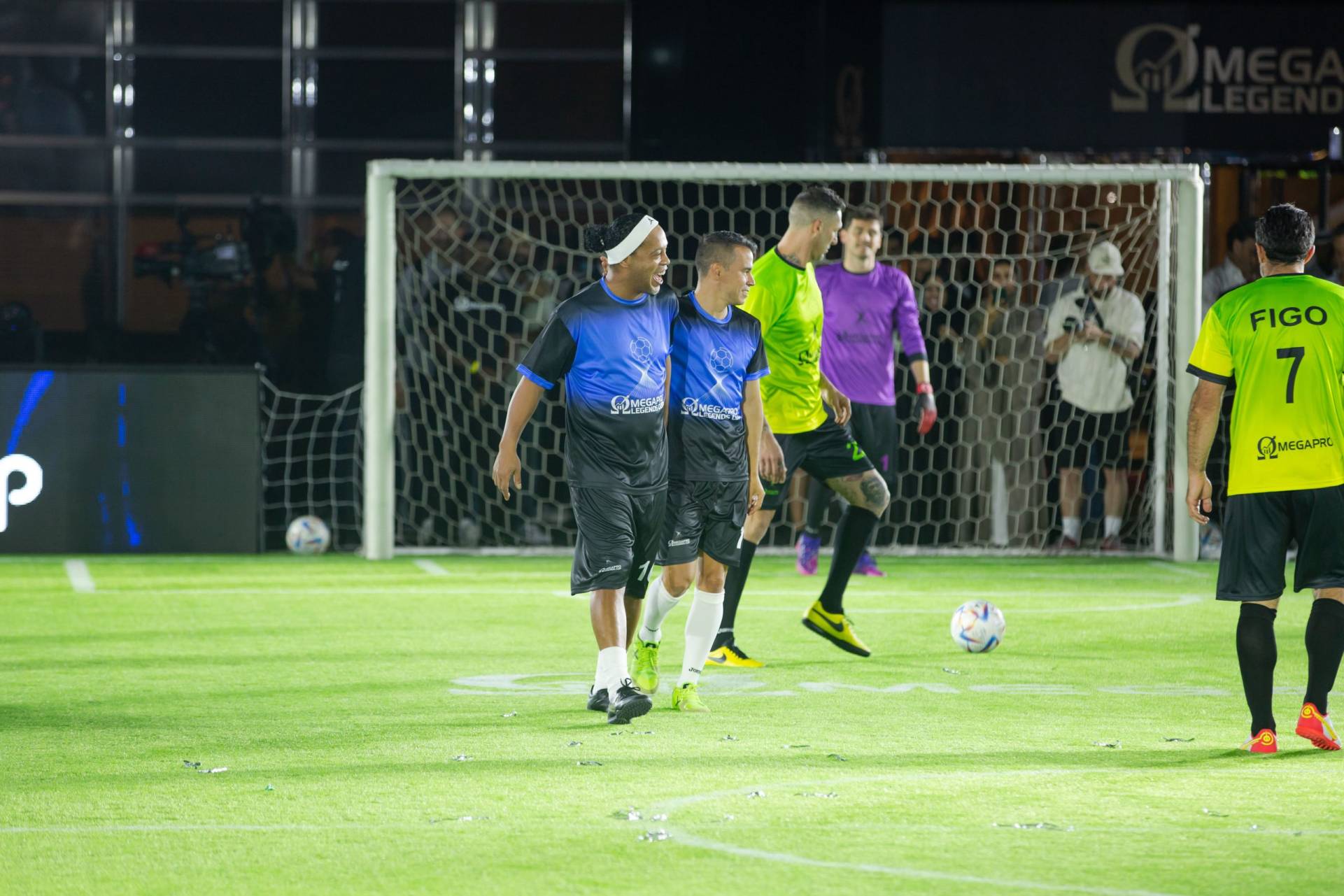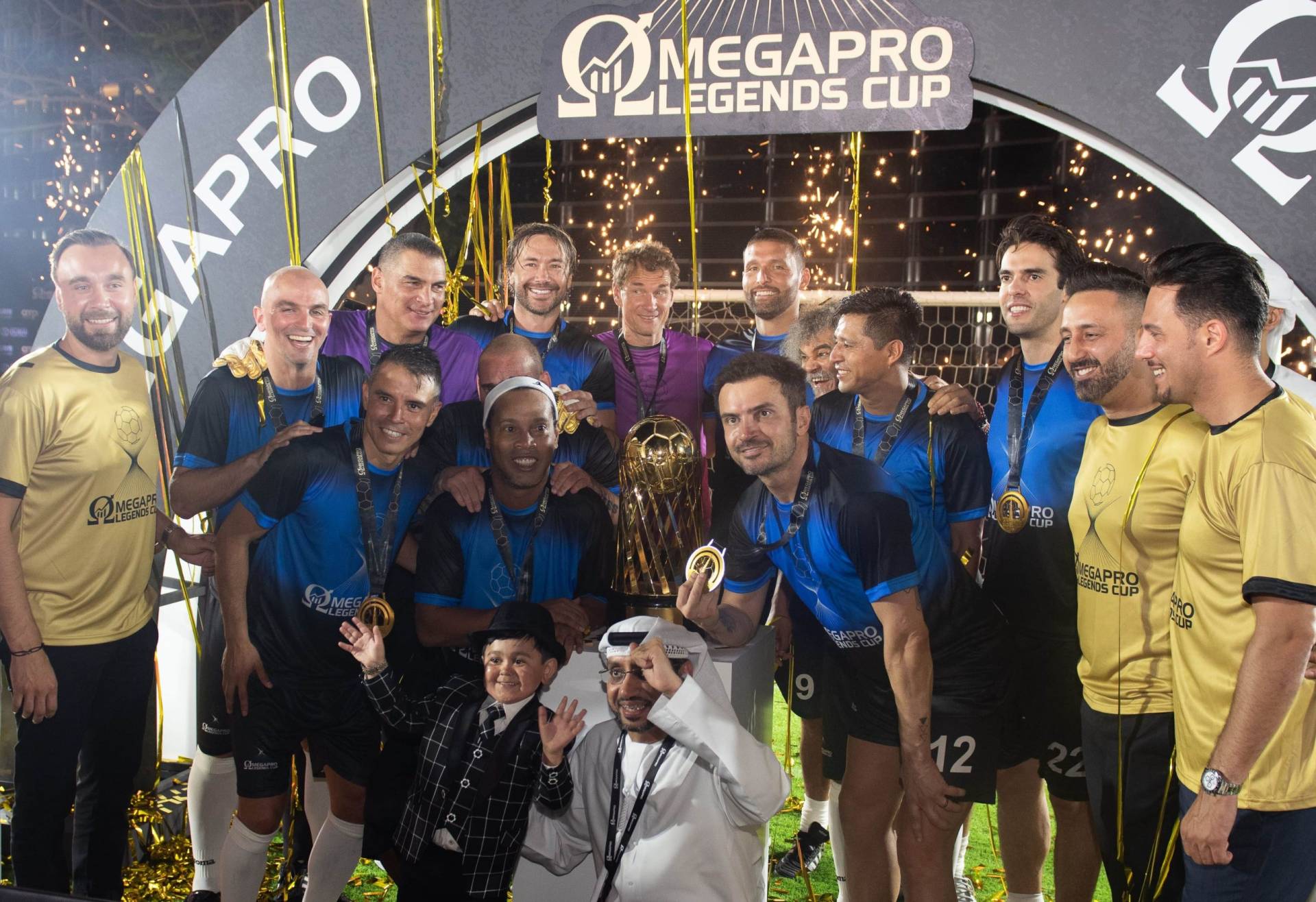 Moments before Terry_s Bicycle Kick-min

Adding up the glamour elements were celebrities and influencers such as Bollywood stars Suniel Shetty and Sonu Sood, former cricketers Suresh Raina and Yuvraj Singh along with GCC Favorites like Turkish TikTok artist Ayda, Lebanese entrepreneur Joelle Mardinian and others.
When such big legends of the game take the field for clash of titans even after hanging up their boots, the fact that it was an exhibition five-a-side mini tournament was as irrelevant as the result. For the record, the OmegaPro Stars prevailed in the first and third match in humid conditions to quell the fighting challenge of the OmegaPro Champions.
The match follows another Celebrity Football Cup that was played between Bollywood stars and a side of UAE footballers and influencers.
At the preceding press conference before the OmegaPro event, rival captains Figo and Ronaldinho shared an excellent camaraderie with Figo even doubling up as an interpreter when Ronaldinho had to address the media and VIPs. That ticked off the fair play requirement in advance!

Meet the Dubai actor who Naseeruddin Shah wants to work with
Lekha Menon
If there is one word that describes Tahaa Shah best, it is tenacity. Having observed the Sharjah-born actor for over a decade now, his determination and focus has been commendable, as well as his ability to adapt and reinvent. His journey in the glamour industry has not been an easy one by any means and like any other "outsider", he has seen his share of successes, failures, triumphs and heartbreaks.
Over the years, he has been seen in films like Luv Ka The End (a YRF production), Baar Baar Dekho (a Karan Johar and Farhan Akhtar produced venture), Gippy (Dharma) among many others. They yielded mixed results but his love for cinema, dedication to his craft and never-say-die attitude keeps him going in Mumbai.
However, it would seem that the talented youth, now a Dubai resident, is finally getting his due. Tahaa's portrayal as Murad, one of Akbar's sons in the ZEE5 show Taj: Divided by Blood is being appreciated by one and all. The plot, detailing the palace intrigues and struggle for power in Akbar's court, is fascinating, but the actors lined up for this make it more fascinating.
With veteran Naseeruddin Shah and Dharamendra leading the cast, and Aditi Rao Hydari, Sandhya Mridul, Ashim Gulati and Zarina Wahab among others headlining it, Taaha is in great company. We met during his stopover in Dubai and chatted about life, the show and the art of being tenacious!
'Taj: Divided by Blood' has put you in the spotlight once again. What else are you busy with these days?
Aside from promoting Taj, I am working on a few projects. An interesting one is for Amazon, a comedy show. It has a sitcom, Friends-like feel that is quite enjoyable. I am really looking forward to its release. Then I am also working on a huge production, unfortunately I can't reveal details of it just yet. But I promise, it will be huge! Finally, I am also doing a film, Ikroop, that will be released on Sony Liv or Hotstar or maybe even the big screen. Besides, I have started developing projects of my own as well, have started writing and looking at production details for them.
With so many shows and movies being produced for OTT, has the increased number of platforms resulted in greater opportunities for actors like you?
Yes and No. Sure, there are a lot of projects happening but you want to be part of ventures that take off and would be considered good and credible. Otherwise, it's like doing any other run-of-the-mill TV show which won't help you in any way. Hence, having patience and keeping the faith is important. I have said no to so many projects because I didn't want to do ordinary stuff.
How difficult is it to say no to work?
It is a risk to wait for the right one but at the end of the day you need to know where you see yourself and work accordingly. If you don't, nothing will fall into place. You should have that belief. I try and keep working to make myself better and better each day, for then when the opportunity strikes, it strikes hard. As they say, opportunity meets preparation = success. The same thing happened with Taj and my other current projects. The opportunity came and I was prepared for it.
In the last 14 years of my life, the one conclusion I have come to is that when you want something really hard, most of the time it won't come to you. But you can't allow that to get you down, you need to get up, pick the pieces and move on. You need to constantly upskill, learn what you need to and keep moving.
What's the best compliment you have got recently?
Naseeruddin Shah said something incredible. At a screening event of a few episodes, he came up to me and said, "Son, I am so proud of you, I didn't expect this from you." He gave me a kiss and added, "You and me… we have to do a movie now." That is my biggest reward – him coming up to me and saying he wants to work with me and not the other way round! It was unbelievable! I made him say it on camera for it was so unbelievable!
Of course, I have got a great response for my character, Murad. A lot of people send me messages about my performance which were great but the compliment from Naseeruddin Shah was something else altogether.
'London Calling' and 'Loud House' part of entertainment's return to Global Village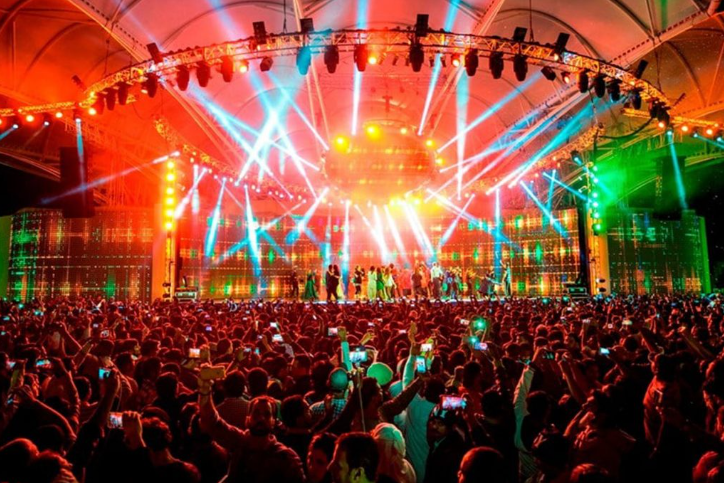 Global Village has revealed a packed new season line-up featuring a range of fan favourites, renowned performers, stunt shows, famous characters, world-class concerts and street entertainment.
With over 400 performers from around the world, guests can enjoy more than 200 performances each night at the region's leading multicultural family destination.
Back by popular demand and turning Global Village into the hottest jazz club in town, 'Putting on the Glitz' returns to enthral music lovers with groovy notes and spirited cheers.
If you love all things cool Britannia, 'London Calling' will take you through a whirlwind of nostalgic numbers from the swinging sixties through punk rock to the trend-setting tunes of today.
'Calling Clowns' to the rescue, with hapless fire-fighters who never actually get to fighting fires – the high energy clowns from Colombia are sure to give audiences a laughter riot.
For those who prefer some slapstick comedy 'Bank Heist' will offer a true-blue Dr. Seuss-style escapade featuring Townsville's very own 'Keystone Kops', determined to crack down on the crime wave.
If you thought your family was crazy, wait till you enter 'Loud House', a big Bollywood celebration featuring an eccentric set of characters in a hilarious soap-opera style show, who will serve up laughter in all its dysfunctional glory.
'Skyline' will provide a vibrant sensory showcase of music, style, dance and light which will transport the audience straight to the heart of Bollywood at night.
Global Village will continue to bring some of the world's best talent, performing a range of mesmerising spectacles during Season 27.
Straight from the stage of America's Got Talent (AGT), 'V.Unbeatable' – the extremely talented dance crew from Mumbai got the golden buzzer not once but twice before winning The Champions title in 2020.
The crew will guest star on the Main Stage from January 4 for just one month.
Another Global Village favourite has also recently gained AGT fame, Philippine troupe 'Urban Crew'.
These flyers of the south, as they like to be known, will take centre-stage again in Season 27, having received unprecedented love and support from audiences in Season 26.
Known to defy gravity with their contagious energy and unrivalled acrobatic skills, the group is currently competing in this year's America's Got Talent, before they fly right back to Dubai to entertain Global Village guests again this season.
Another international troupe returning by popular demand are the incredible drumming ensemble AAIJAA from Columbia. These extraordinary young percussionists will be pumping the perfect beats for a memorable evening.
Flagship Global Village productions and characters will also be making a return with fresh shows and new storylines.
Global Village's very own characters, The Wonderers – Ozka, Waleef and Zoya will return in their Main Stage hit, Legend of the Staff.
They will also appear at the Kids Theatre in a brand new production as they uncover 'The Mystery of the Golden Rock'.
From epic dance moves to echoing drum beats, season 27 is knocking our doors with America's Got Talent's @AGT stars V-UNBEATABLE and the one & only AAINJAA! 🤸🏻 Ready for a season full of excitement? 🤩

We're excited to welcome you all starting 25 October#GlobalVillage #GVWOW pic.twitter.com/X7kvTvl4j4

— Global Village القرية العالمية (@GlobalVillageAE) August 18, 2022
Peter Rabbit, Lily Bobtail and Squirrel Nutkin are back on their quest to steal a giant prize radish from Mr. Noweeds – the GV gardener on duty.
The Octonauts are back at their station, as Captain Barnacles, Kwazii and new-ship-mate Kai get on board to complete their new missions and share oceans of fun.
Care Bare favourites – Grumpy, Funshine and Cheer will be making a special on-stage appearance, while Ben & Holly and PJ Masks will also be back in their own shows.
Chhota Bheem will also be on ground to snap a selfie. The Kid's Theatre will also host Don't Do the Dodo, based on the illustrated children's book 'The Curious Tale of the Dodo' by world-famous writer, comedian and conservationist Bill Oddie.
Bigger, better, and more explosive than ever! Get ready for the best sequel to Aqua Action – the region's only water-based stunt show.
With incredible new fire effects, record-breaking LED car scenes, high-powered street bikes and a gigantic monster truck, this one is a firm favourite with guests, jam-packed with explosions, drifting, back-flipping bikes, precision driving, jet-ski stunts and fly-board action.
"It doesn't matter where you're from, what age you are or what you're into – there really is something for everyone. We want our guests to have exciting new experiences every time they visit and keep coming back for more. That's why we've pulled out all the stops to give our guests the best performers from all over the world," said Shaun Cornell, Director – Entertainment, Dubai Holding Entertainment.
Yo Yo Honey Singh's Casanova gets grandiose launch in Dubai
A music video, the product of an interesting collaboration of international talent and shot at a nightclub in Dubai, was released on Sunday evening at Dubai Festival City waterfront with a laser show and fireworks.
Produced by Beast Music, the single Casanova is touted to be part of the web series 7th Sense which is in the works for the OTT platform. It is an international collaboration with two producers from India and Pakistan, sung by Yo Yo Honey Singh (New Delhi), American rapper Lil Pump (Miami) and DJ Shadow (Dubai).
Producer Gaurang Doshi, of Aankhen fame, has collaborated with Pakistan's Rocky Khan, to conceive Casanova and presented it on a grand scale with all bells and whistles on display in the laser presentation. Indian actor Vivek Oberoi was also present as special guest.
The façade of the Intercontinental Hotel that lines up on the waterfront also serves as the canvas for the motion poster for the 7th Sense series and also Line of Fire, both productions which have been announced earlier but delayed. Doshi attributed the setbacks to Covid, but assured that things were back on track, along with Roadies host Rannvijay Singh who was the emcee for the event.
"When Covid kicked we couldn't do much but we could not sit idle as well," Doshi said. "So among many others that we [him and Khan] discussed, this video was something that we were all keen on and on the same page. And where else such as international collaboration happen than in Dubai."
Even the song has a depth of international flavours as DJ Shadow said: " For the past one year, I have travelled across the global. I picked up cues from the music scene in South America, Nigeria … there is some Latin hymns. So we have tried to do something different here."
Waxing eloquent about the 'different' and grand approach of Doshi, partner Khan added: "Who else can think of such a unique and magnificent display to launch the video than Gaurang. It was a great learning experience to do this with him. It has not been easy, he is tough to please but his vision is amazing and it is so great to work with him."
The grandiose show featured laser searchlights, fire effects, geysers, choreographed fountain and lights, fireworks and graphics on spraying fountain water. According to a claim by the organisers, it was the first time in history that a song was choreographed on laser, fountain and fireworks during its launch.
Although Lil Pump and Honey Singh were absent, representatives from other sponsors such as the Futtaim Group, Bhutani Infra, Satoshi FX, DEX Sports Radio and others were present. Members from the audience won gift vouchers randomly handed out by the celebrities on stage.
The choreographed fountain on the CASANOVA music will be played thrice a day for the next month. You can catch a glimpse of it on our Instagram page.  Within 24 hours, the video crossed 5.6 million views on Youtube.
— Staff report