Football legends and celebrities have a ball in Dubai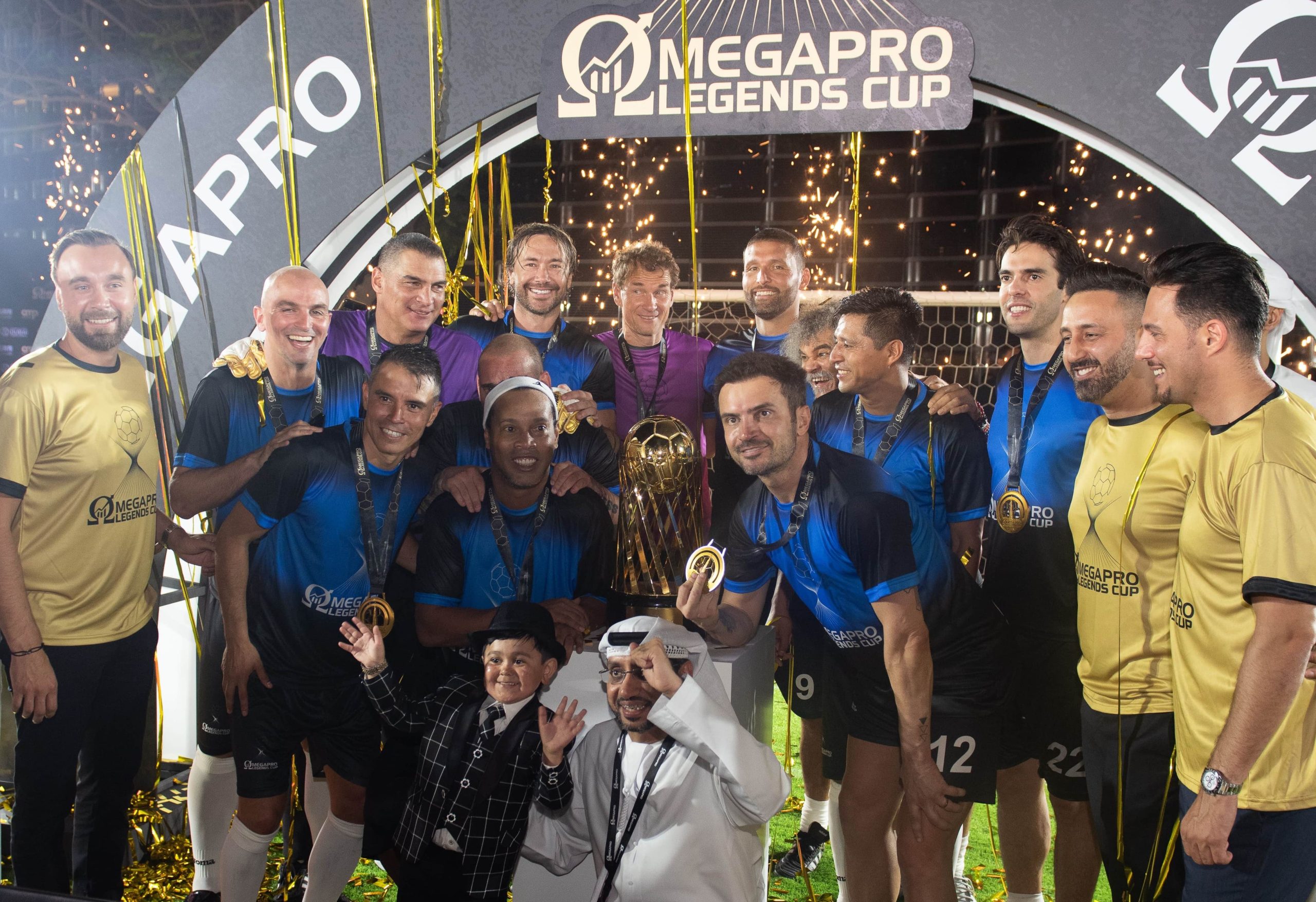 The OmegaPro Legends Cup made a splash on debut in Dubai on May 12 with a welcome overdose of stardust that put the starry Arabian night and the glittering Burj Khalifa in the shade.
Nearly 20 big names from the world of football, cricket and social media influencers shared space in a preceding press conference before slugging it out for three games of action between the Champions and Stars.
Among the football biggies were captains Luis Figo and Ronaldinho, goalkeeper Iker Casillas, John Terry, Javier Saviola, Kaka, Marco Materrazi, Patrick Kluivert, Wesley Sneijder, Carlos Valderrama and many more.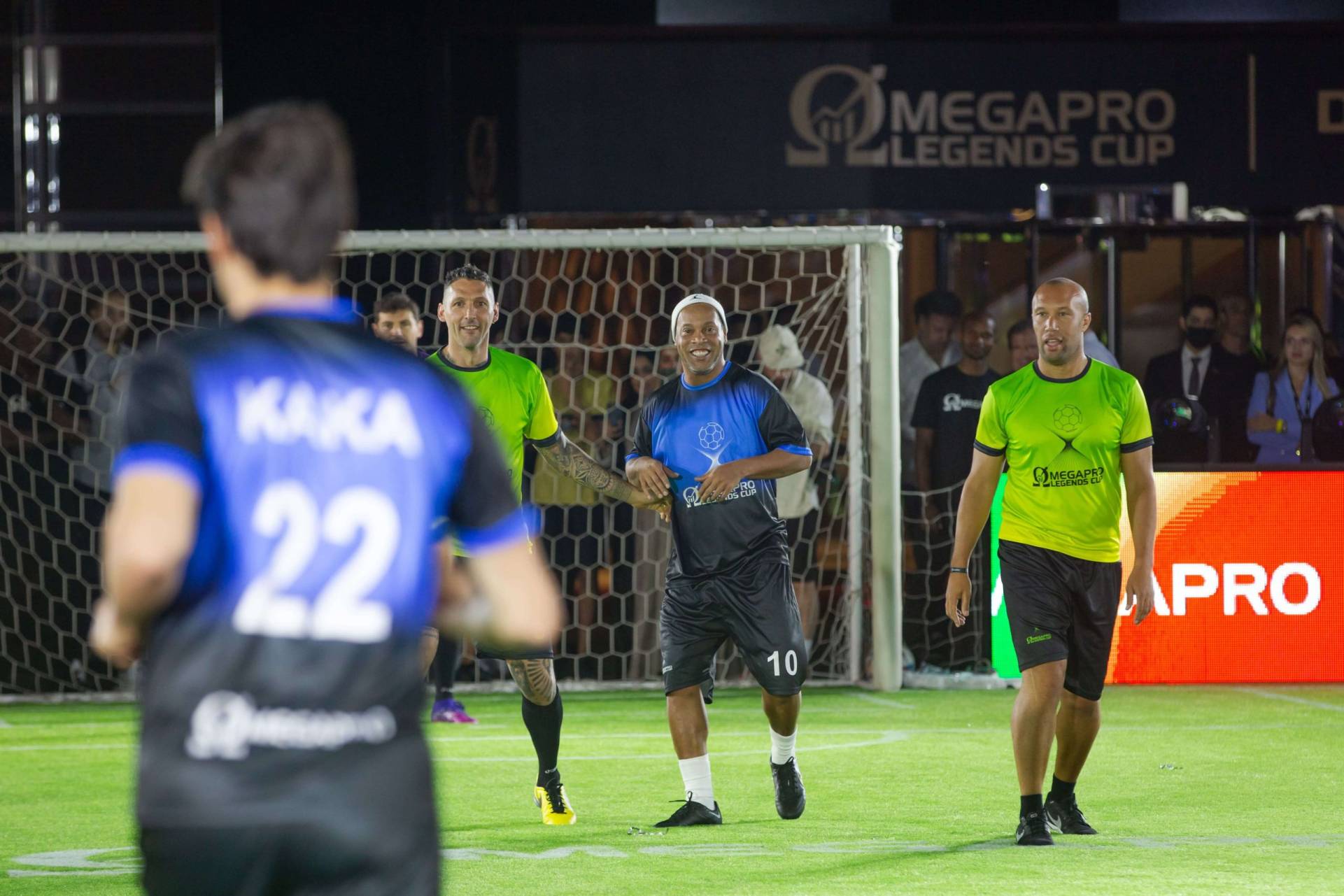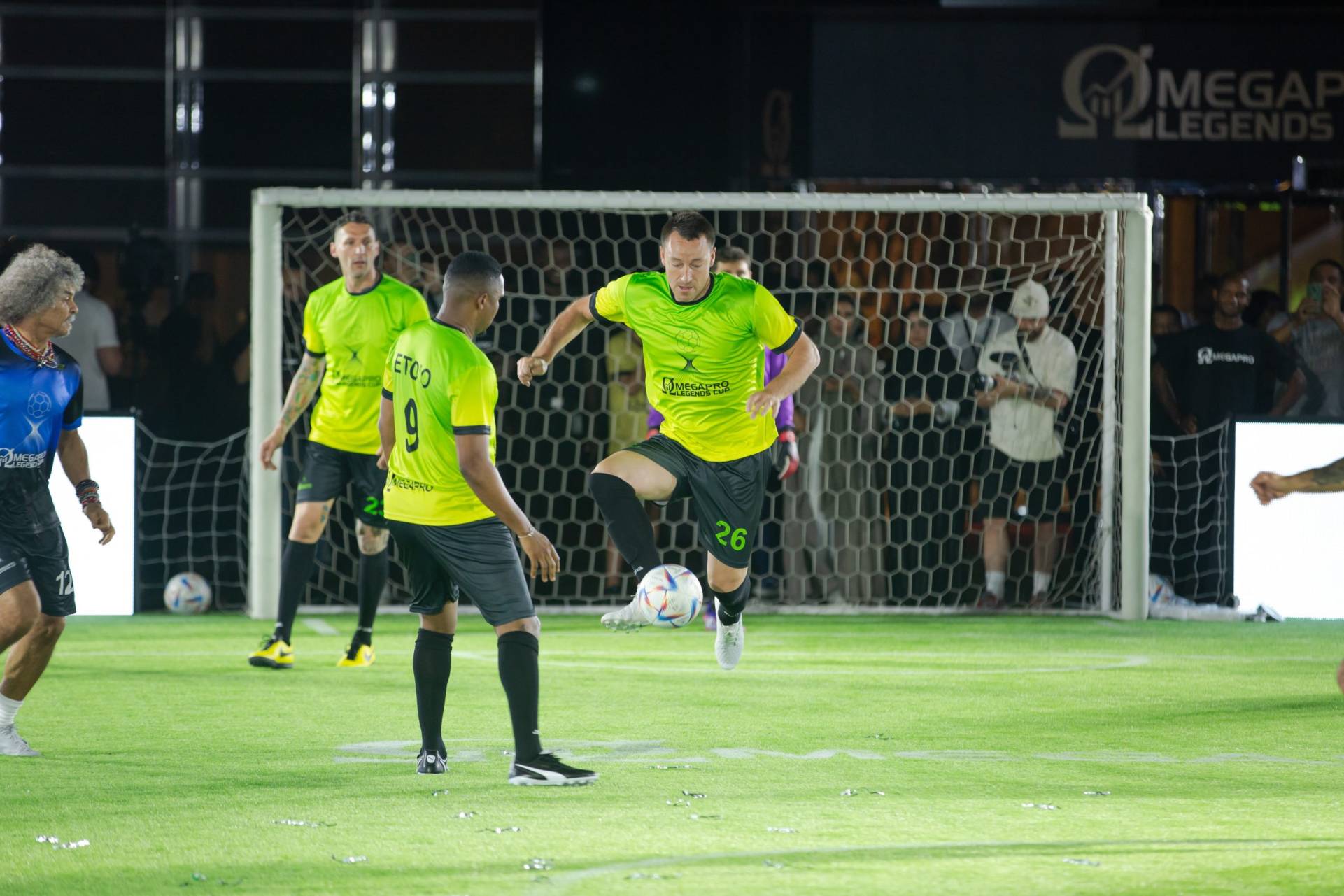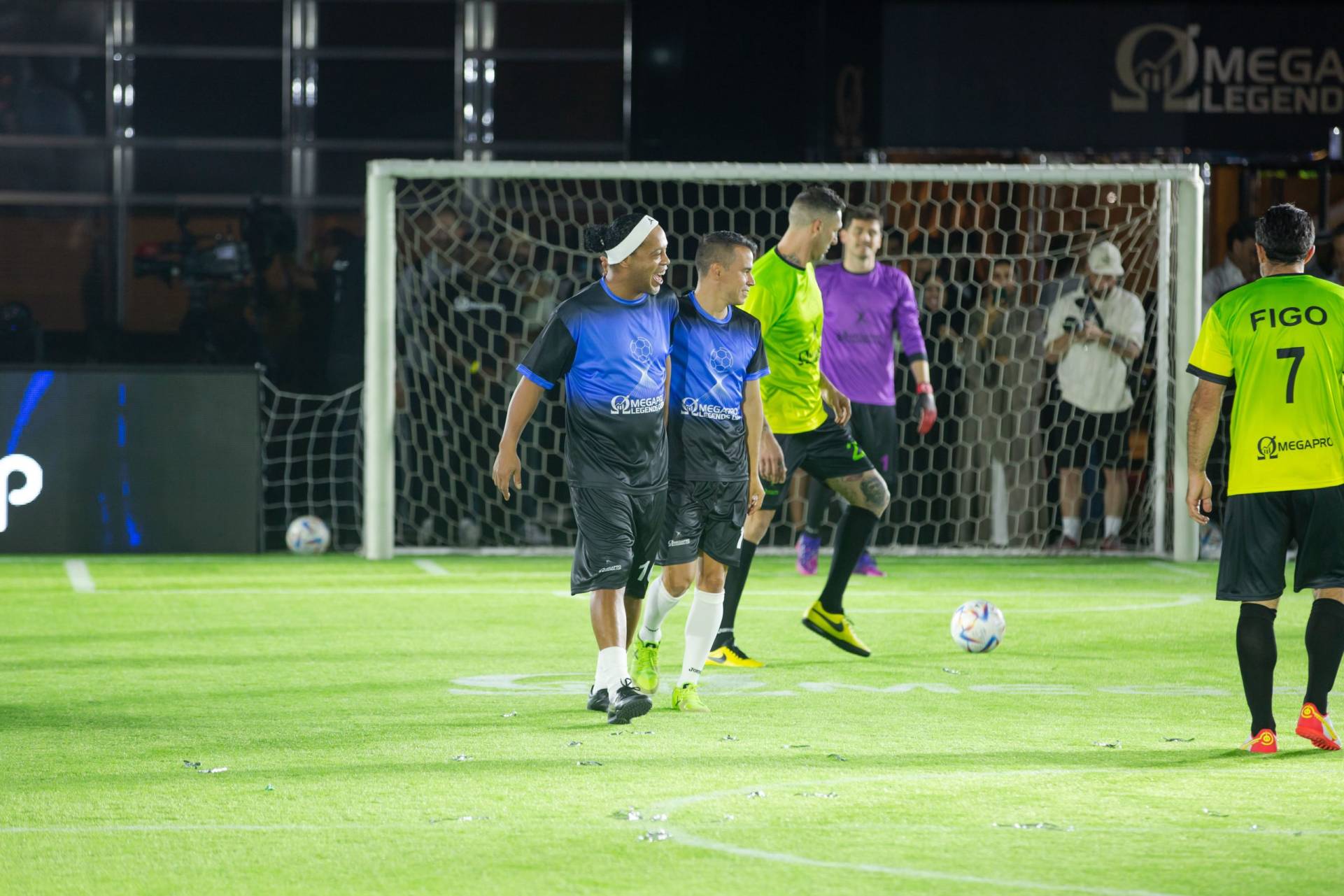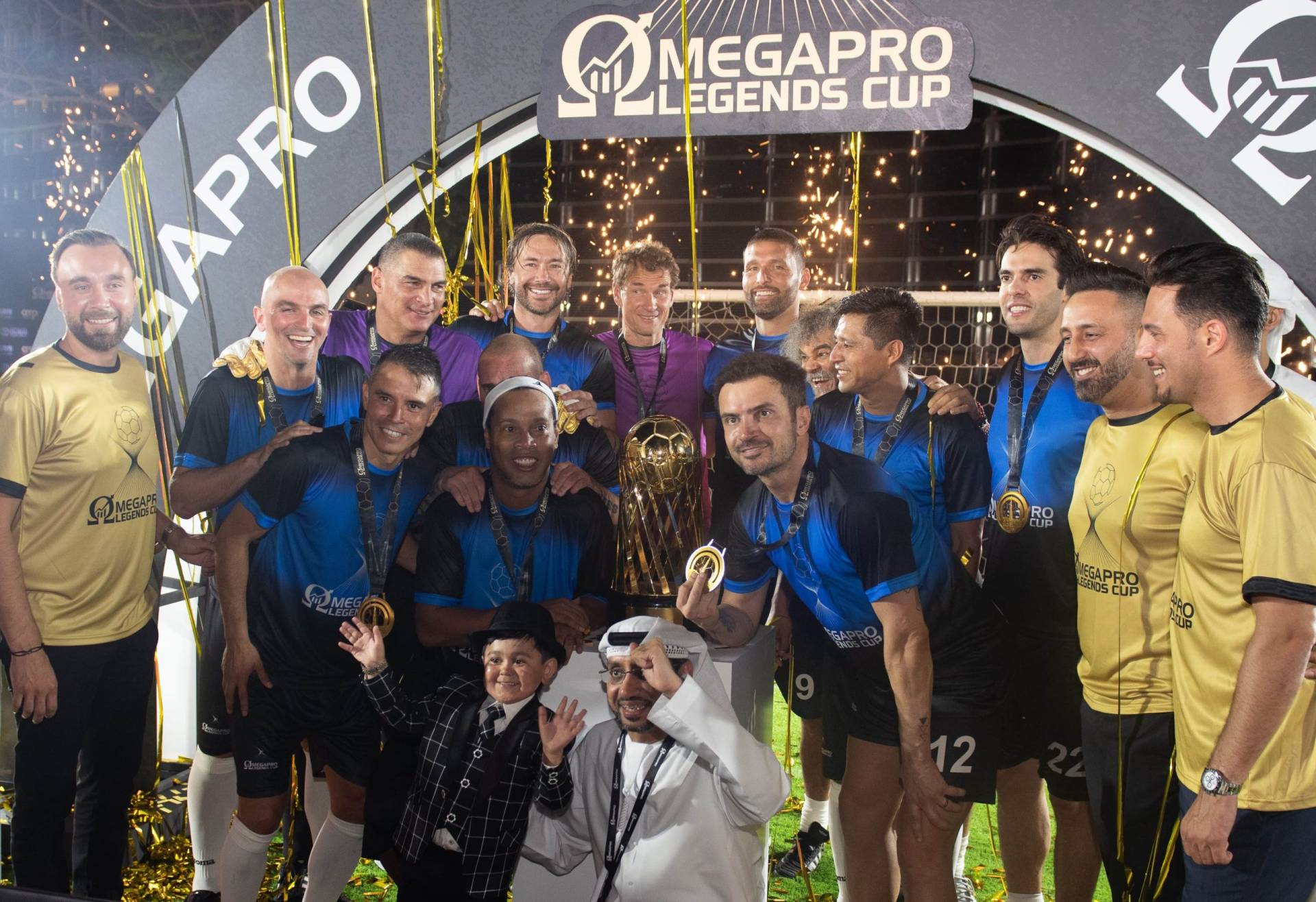 Moments before Terry_s Bicycle Kick-min

Adding up the glamour elements were celebrities and influencers such as Bollywood stars Suniel Shetty and Sonu Sood, former cricketers Suresh Raina and Yuvraj Singh along with GCC Favorites like Turkish TikTok artist Ayda, Lebanese entrepreneur Joelle Mardinian and others.
When such big legends of the game take the field for clash of titans even after hanging up their boots, the fact that it was an exhibition five-a-side mini tournament was as irrelevant as the result. For the record, the OmegaPro Stars prevailed in the first and third match in humid conditions to quell the fighting challenge of the OmegaPro Champions.
The match follows another Celebrity Football Cup that was played between Bollywood stars and a side of UAE footballers and influencers.
At the preceding press conference before the OmegaPro event, rival captains Figo and Ronaldinho shared an excellent camaraderie with Figo even doubling up as an interpreter when Ronaldinho had to address the media and VIPs. That ticked off the fair play requirement in advance!

Ranveer Singh breaks down in Dubai after Filmfare Middle East honour
Kumar Shyam
Ranveer Singh has a reputation to be melodramatic, sometimes his statements and actions bigger than what warrants the situation.
Irrespective of that as it may, things got teary-eyed with him and his family at the Filmfare Middle East Achievers' Night in Dubai on Saturday night when the organisers bestowed him with the Superstar of the Decade honour.
The night was a celebration of artists, old and new, ranging from the latest such as singers Jasmine Royal and Guru Randhawa and Jahnvi Kapoor to the dancing 'boy' of the 80s and 90s, Govinda, to the 'dream girl' of Bollywood – Hema Malini.
Now a Member of Parliament, the veteran Indian actress was given the lifetime achievement award by the sponsors and Filmfare ME publishers Danube. In her own "humble" thank you address, she said she has got many such awards while wishing the best to the new crop of talent.
In a career spanning 12 years in Bollywood, Singh has also seen a few accolades but when he started recalling the days how he started, things got emotional for him and his parents seated in the audience.
View this post on Instagram
"Mom, remember I told I will make it big some day. Not many gave me a chance but you believed in me," said Ranveer, who started the sentence smiling but the pitch suddenly quivered a little.
He then remembered and thanked producer Aditya Chopra for giving him his first break and the benefactor reportedly going to town about how 'he had found his next Shahrukh Khan'.
Ranveer then moved to address his father. "Dad, I remember I met this photographer and he said we need to make a portfolio and a half-decent one cost Indian Rs 50,000 which was big money that time. I was stuck and down to tears because we could not afford it, but you just got up and said, 'beta, chinta kyu karta hai … main hoon na (Son, why are you worrying … I am there to handle it)." At this point, even Singh senior burst into tears.
RANVEER SINGH TO PERFORM AT IIFA 2023
Bollywood star Ranveer Singh is all set to dazzle at Yas Island, Abu Dhabi with his electrifying performance for the prestigious IIFA Awards next year! Ranveer, who is the Brand Ambassador of Yas Island, will deliver a never seen before onstage performance at the 23rd edition of IIFA Awards at the magnificent Etihad Arena in 2023. Ranveer is regarded as the undisputed best live performer of his generation and the energy is set to be off the scale when he takes the stage at the IIFA awards night.
This already popular & high-demand event, the IIFA awards and weekend, will return to Yas Island in Abu Dhabi on February 10th and 11th, 2023. IIFA is the world's biggest celebration of Indian cinema and it is set to bring together the very best in music and entertainment under one roof. Ranveer Singh, who has become the cultural ambassador of India given his soaring popularity the world over, will give audiences attending the IIFA Awards at Yas Island, Abu Dhabi, a performance that they will never forget.

Talking about the event Ranveer Singh says, "I'm excited to be headlining IIFA again with a performance that hopefully will be memorable to all those attending it. I'm thrilled for this one because I will be performing at Yas Island, my home away from home. As the Brand Ambassador for such a spectacular destination, I cannot wait to showcase the island to my friends from the industry, as well as to those attending this event as an audience. I'm anticipating the most incredible IIFA experience to date at Yas because I know it will be epic in every way possible! The grandiose global event will take place at the Middle East's largest state-of-the-art indoor entertainment venue, Etihad Arena, part of Yas Bay Waterfront on Yas Island, Abu Dhabi.
Placido Domingo returns to Dubai Opera as headline act for Dresden Ball's UAE debut
The Dresden Opera Ball, which will be hosted by Dubai Opera in 2022, will bring together internationally renowned performers to share their cultural legacies with the varied population of the UAE.
Taking place on November 15, the gala and awards feature performances by Placido Domingo (tenor), Marina Rebeka (soprano), hosts of the evening Riz Khan and Oksana Fedorova, the European Peace Chamber Orchestra Dresden, Anton Lubchenko (conductor), Igor Butman (saxophone), Roman Lyulkin (bass) and more.
The first Dresden Opera Ball in Dubai will take place five years after the "king of opera," Placido Domingo, wowed the audience at the Dubai Opera's grand opening in 2016.
As part of the program, debutant couples will also put on a choreographed dance show. As they have done in high society throughout European history, these couples will captivate the audience. Ladies in spectacular gowns and gentlemen in stylish tuxedos will take over the stage in an extraordinary dance exhibition in a three-four-time signature.
The glamorous event is presented by M Premiere and the Opernball Dresden, the largest classical entertainment event in the German-speaking world that made its debut in 2006 in the German city of Dresden.
The Dubai Dresden Opera Ball follows the recent gala event at the beautiful Catherine Palace in St Petersburg, Russia and now, it is arriving in the UAE.
Dubai's convening power creates the natural platform for an event which seeks to connect cultural and artistic icons from the European and Arab worlds.
A VIP guest list for the Dresden Opera Ball includes HE Mariam bint Mohammed Saeed Hareb Almheiri, Minister of Climate Change and Environment of the UAE.
Hikmat Al Kaitoob, an international businesswoman and global philanthropist, is the official presenter of the evening's festivities. Leading broadcaster and author Riz Khan will moderate the proceedings, which will also be hosted by former Russian Miss Universe Oksana Fedorova.
Hans Joachim Frey, General Director of the Dresden Semper Opera Ball, said: "The main message is to have international cultural bridge building between Germany, the Arabic world, the United Arab Emirates and the European world. Culture brings people together and Dubai is a centre for this and we are very happy to be here."
Dresden Opera Ball Programme
18.00 Red carpet opening ceremony
18.30 VIP reception
20.00 Gala show program
21.30 Grand finale with Dresden Opera Ball debutants
21.45 Fulminant ball opening dance
22.00 Gala dinner orchestrated by Armani Hotel Dubai culinary team
23.00 Dancing music and entertainment
01.30 Closure of the event
Tickets are available to purchase at:
Dubai Opera: https://www.dubaiopera.com/events/dresden-opera-ball-in-the-uae
Platinumlist: https://dubai.platinumlist.net/event-tickets/84187/dresden-opera-ball-in-the-uae
or by calling +971507686418
Ticket pricing:
Silver AED 975 (including a pre-show drink)
Gold AED 1,125 (including a pre-show drink)
Platinum AED 1,425 (including a pre-show drink)
Premium table AED 3,825 per person
Diamond table AED 4,675 per person
Royal table AED 5,525 per person
VIP table AED 6,375 per person
All table seats include: a VIP welcome cocktail, three-course dinner and a beverage package from 8pm until midnight (T&C apply)