Football legends and celebrities have a ball in Dubai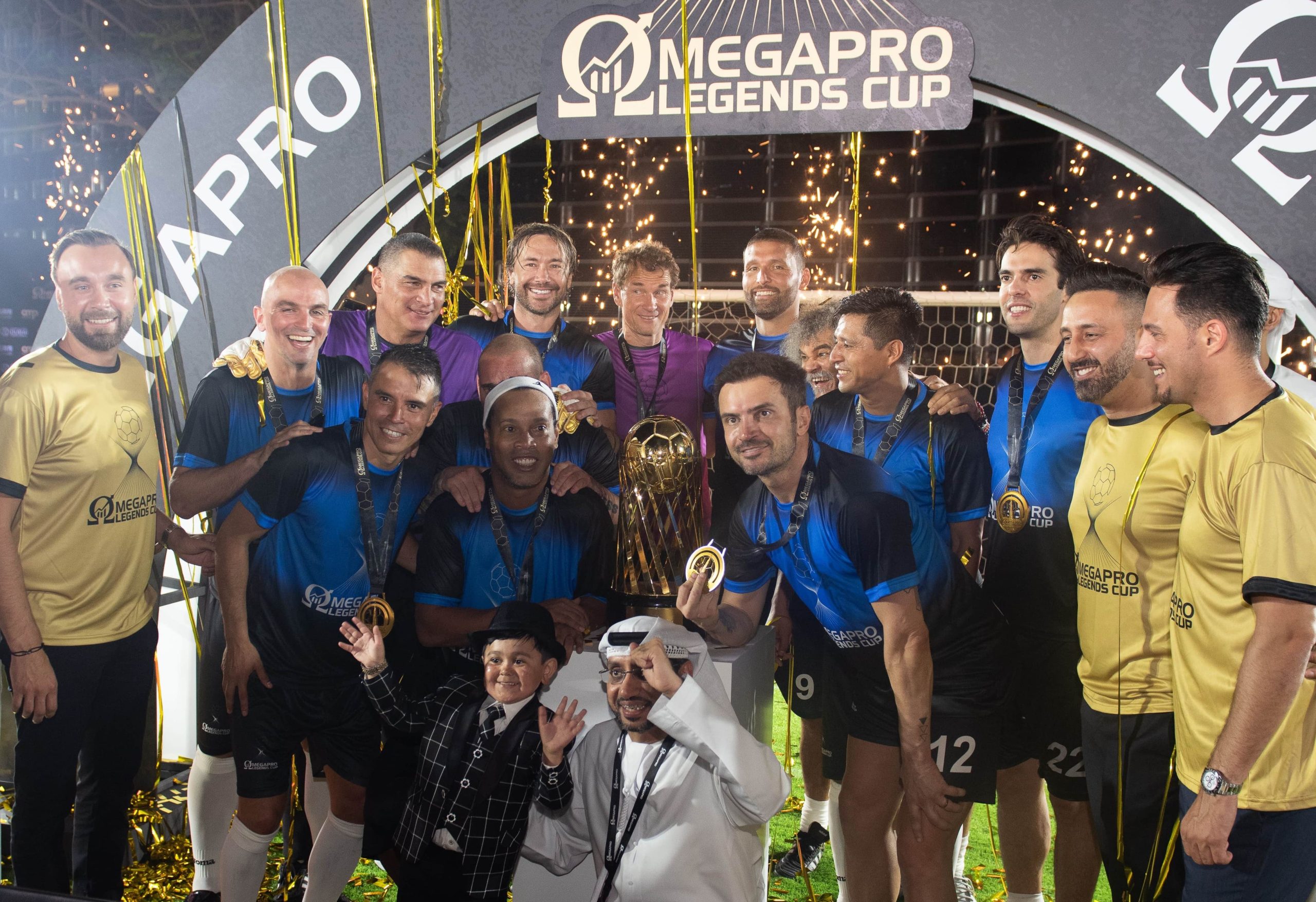 The OmegaPro Legends Cup made a splash on debut in Dubai on May 12 with a welcome overdose of stardust that put the starry Arabian night and the glittering Burj Khalifa in the shade.
Nearly 20 big names from the world of football, cricket and social media influencers shared space in a preceding press conference before slugging it out for three games of action between the Champions and Stars.
Among the football biggies were captains Luis Figo and Ronaldinho, goalkeeper Iker Casillas, John Terry, Javier Saviola, Kaka, Marco Materrazi, Patrick Kluivert, Wesley Sneijder, Carlos Valderrama and many more.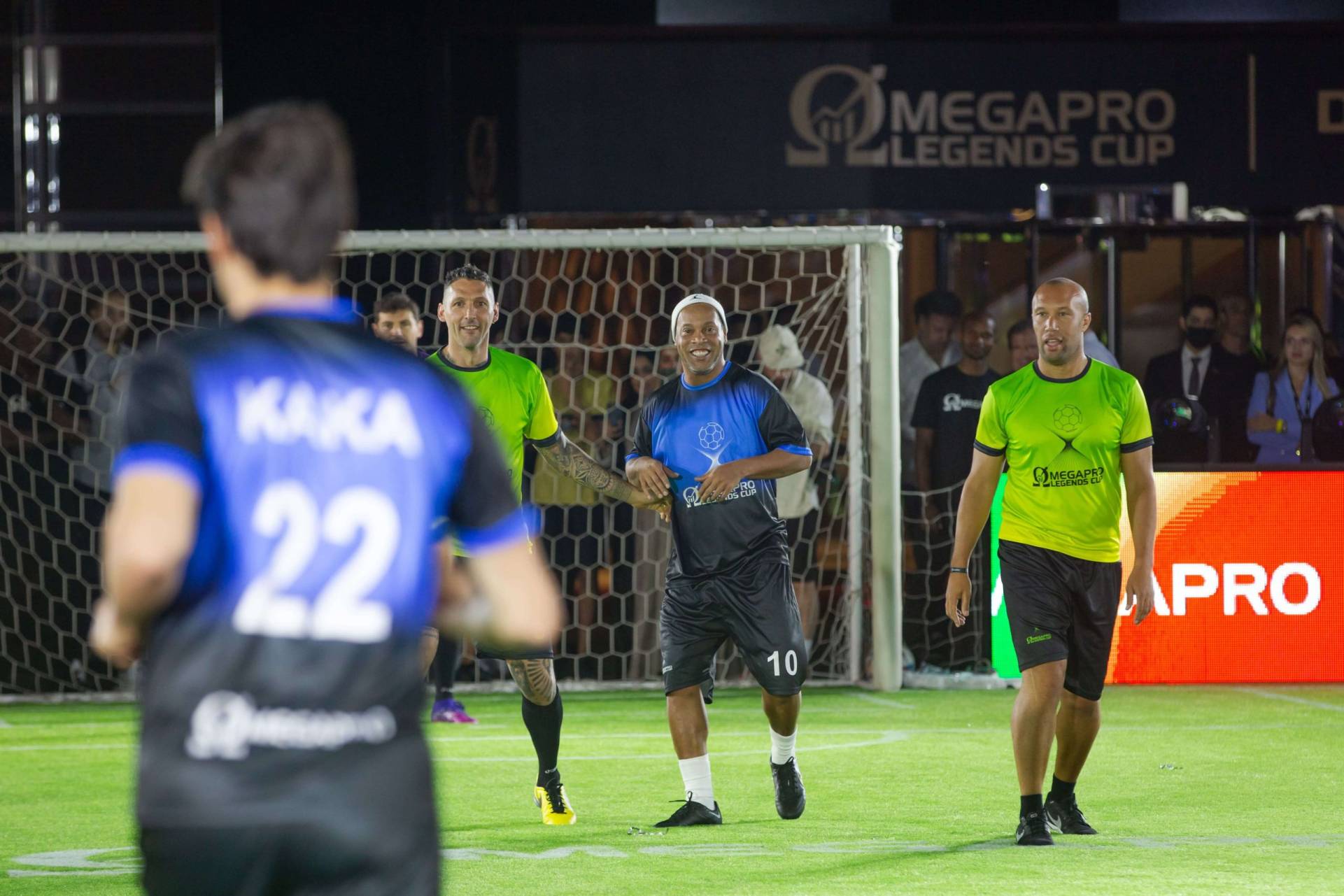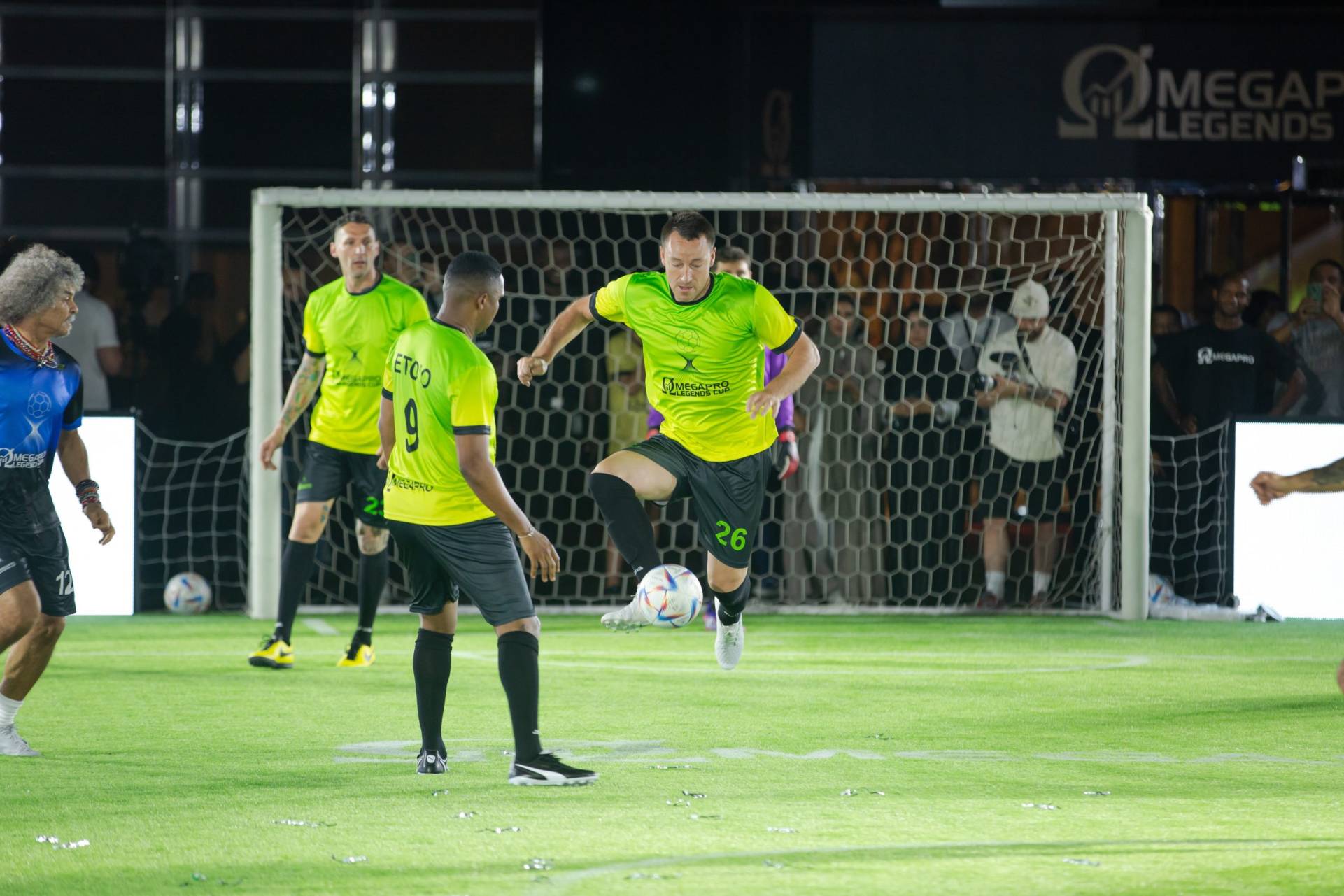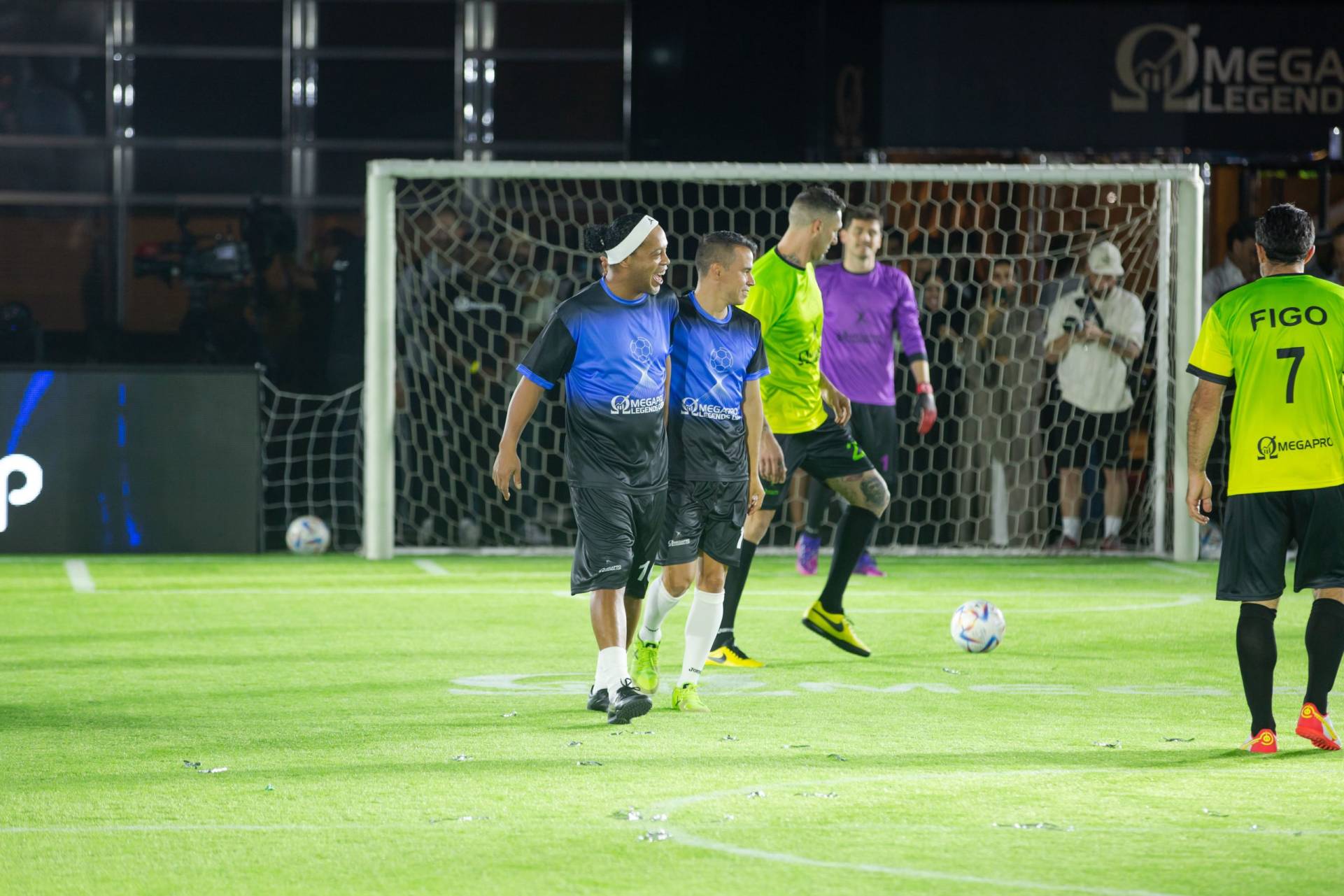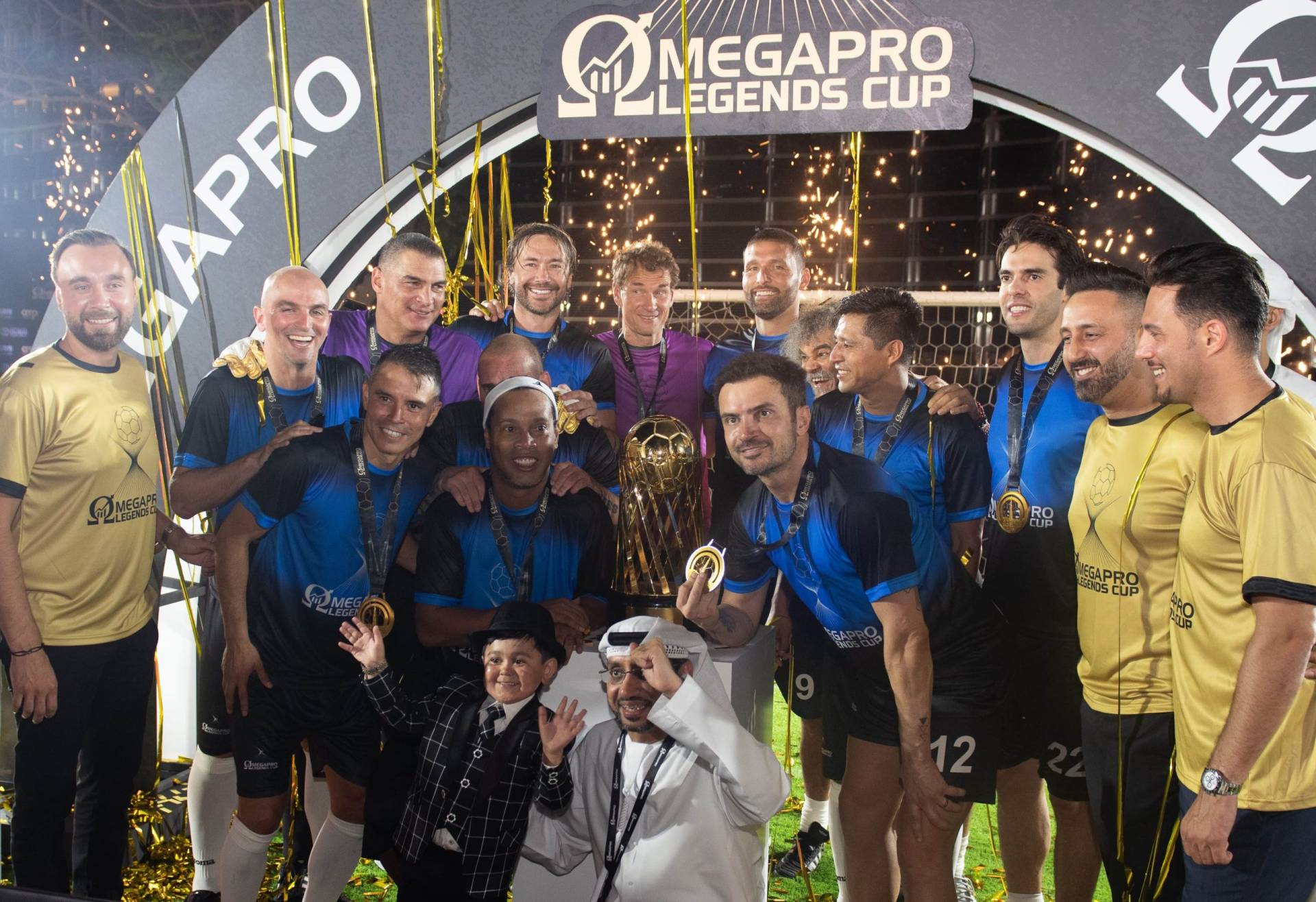 Moments before Terry_s Bicycle Kick-min

Adding up the glamour elements were celebrities and influencers such as Bollywood stars Suniel Shetty and Sonu Sood, former cricketers Suresh Raina and Yuvraj Singh along with GCC Favorites like Turkish TikTok artist Ayda, Lebanese entrepreneur Joelle Mardinian and others.
When such big legends of the game take the field for clash of titans even after hanging up their boots, the fact that it was an exhibition five-a-side mini tournament was as irrelevant as the result. For the record, the OmegaPro Stars prevailed in the first and third match in humid conditions to quell the fighting challenge of the OmegaPro Champions.
The match follows another Celebrity Football Cup that was played between Bollywood stars and a side of UAE footballers and influencers.
At the preceding press conference before the OmegaPro event, rival captains Figo and Ronaldinho shared an excellent camaraderie with Figo even doubling up as an interpreter when Ronaldinho had to address the media and VIPs. That ticked off the fair play requirement in advance!

BTS announce hiatus, to focus on solo projects
BTS's band members—who include RM, Jin, Suga, J-Hope, Jimin, V and Jungkook—announced they are taking a hiatus in a video posted to social media on June 14.
"We're each going to take some time to have fun and experience lots of things," Jungkook said. "We promise we will return someday, even more mature than we are now." As they celebrated their nine-year long journey, the music band shared with their fans that they are planning to take a break to focus on their individual interests.
[#2022BTSFESTA]
🕘614
기다리고 기다렸던
2022 찐 방탄회식 공개!
(https://t.co/lxC4g968IC)#2022BTSFESTA#BTS9thAnniversary#2022찐방탄회식#아미사랑해 #아포방포

— BTS_official (@bts_bighit) June 14, 2022
Band leader RM or Namjoon said that the whole K-Pop Idol thing is a constant work, which doesn't really give artistes time to focus on their own careers as solo performers, which is what they now intend to do with their break."I always thought that BTS was different from other groups, but the problem with K-pop and the whole idol system is that they don't give you time to mature. You have to keep producing music and keep doing something," said the rapper. Meanwhile, Jimin said that this was a tough decision to take as they feel bad for letting down their fans in some respect. "We can't help but think of our fans no matter what. We want to be the kind of artistes that are remembered by our fans. I think that's why we are going through a rough patch right now. We are trying to find our identity and that's an exhausting and long process."
Suga, 29, noted that the "hardest thing" lately has been writing lyrics and that "we need something to say … you can't force it. I have to talk about something that I really feel, but right now I'm just squeezing it out because we have to satisfy people's wants and the listeners … it's so painful."
This news isn't going down smooth like butter.
'Keep me in your prayers': Justin Bieber tells fans as he is stuck with Ramsay Hunt Syndrome
After cancelling a series of shows on his latest tour, Justin Bieber revealed that a virus has caused "full paralysis" on one side of his face. "I'm just physically, obviously not capable of doing them," He said, on his cancelled shows.
The 28-year-old singer opened up about the condition, that has rendered his half-face paralysed, in an Instagram video recently. "Obviously, as you can probably see from my face, I have this syndrome called Ramsay Hunt syndrome and it is from this virus that attacks the nerve in my ear and my facial nerves and has caused my face to have paralysis," he said. He added that he's doing facial exercises "to get my face back to normal and it will go back to normal, it's just time". "This is pretty serious as you can see. I wish this wasn't the case but obviously, my body is telling me I got to slow down and I hope you guys understand and I'll be using this time to rest and relax and get back to 100 per cent so that I can do what I was born to do," he added.
https://www.instagram.com/tv/CeorE9OjqX9/?utm_source=ig_web_copy_link
What is Ramsay Hunt Syndrome ?
Named after James Ramsay Hunt, a physician who first described the disorder in 1907, the disorder is sometimes known as herpes zoster oticus because of the characteristic ear rash. The symptoms of Ramsay Hunt syndrome include paralysis (palsy) of the facial nerve and a rash affecting the ear. Often, only one side of the face is affected, and the facial muscles affected by nerve palsy may be weak or feel stiff and may result in the inability of affected individuals to smile, wrinkle the forehead or close their eye on the affected side. Additionally, in some cases, speech may become slurred.
What causes this syndrome?
According to the US based National Organization for Rare Diseases, Ramsay Hunt syndrome is caused by the varicella-zoster virus, which is the same virus that causes chickenpox and shingles.
It is important to note that the virus can remain dormant for decades in a person who has had chickenpox as a child. "Reactivation of the varicella-zoster virus results in shingles and, in some cases, develops into Ramsay Hunt syndrome," the report said. Interestingly, the actual reason for the virus reactivating and its affects on the facial nerve in Ramsay Hunt syndrome is not known yet.
IIFA Awards 2022: And the winner is…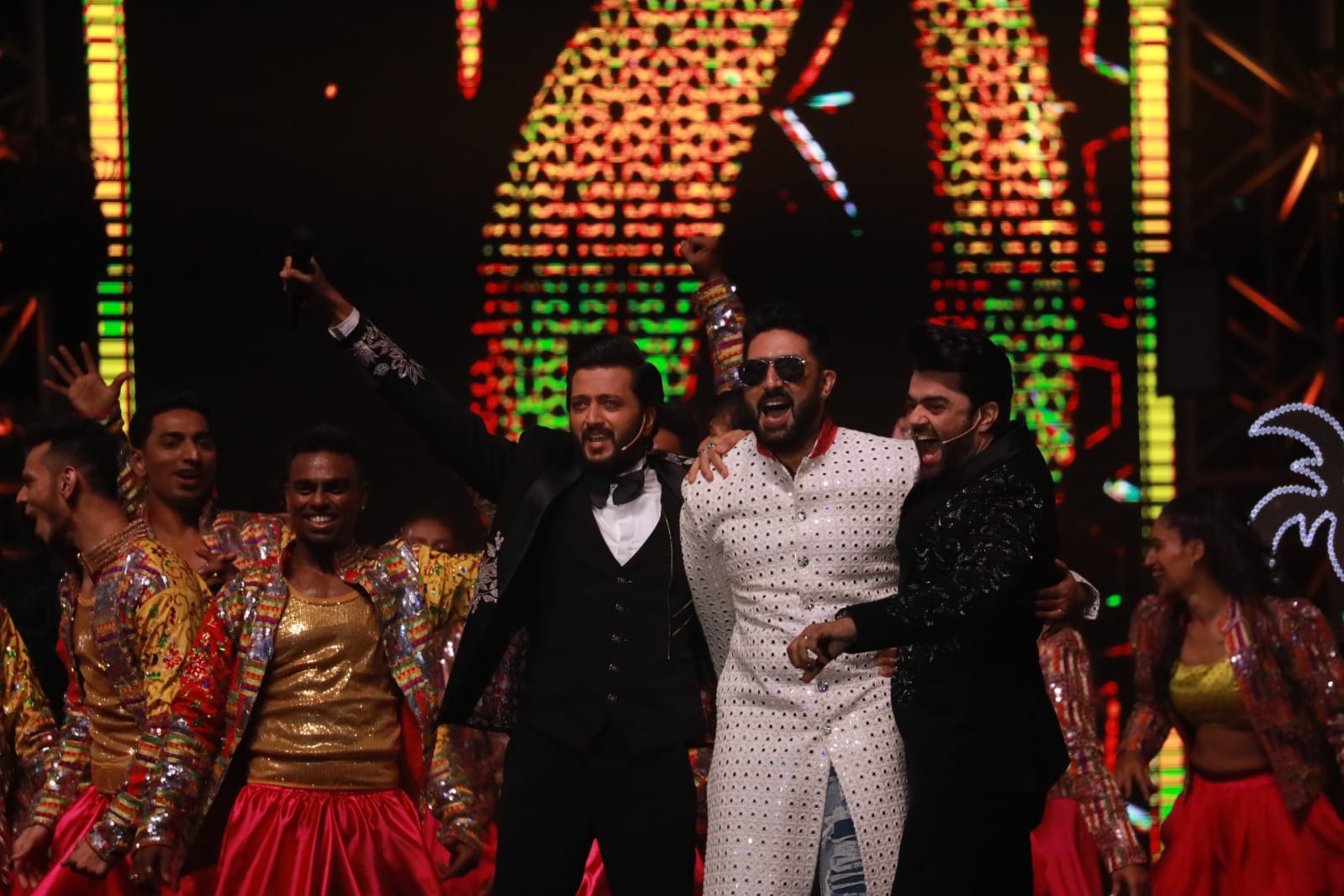 We know IIFA is all about the glam and the glitter, but those winning speeches after each award have our heart.IIFA 2022 started with great pomp and show and what a spectacular event it turned out to be. Salman Khan was the perfect host and so was Shahid Kapoor and Nora Fatehi's duet performance. But having said, don't you want to know who the IIFA 2022 winners are? Lo and behold for we have the complete winners list ready at your disposal.
Best Picture Category – Hiroo Yash Johar, Karan Johar, Apoorva Mehta, Shabbir Boxwala, Ajay Shah, Himanshu Gandhi (Shershaah)
Best Direction Category – Vishnuvaradhan (Shershaah)
Best Actor In A Leading Role (Female) – Kriti Sanon (Mimi)
Best Actor In A Leading Role (Male) – Vicky Kaushal (Sardar Udham)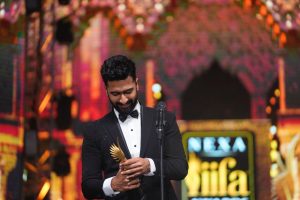 Performance In A Supporting Role (Female) – Saie Tamhankar (Mimi)
Performance In A Supporting Role (Male) – Pankaj Tripathi (Ludo)
Music Direction | AR Rahman (Atrangi Re) Tanishk Bagchi, Jasleen Royal, Javed-Mohsin, Vikram Montrose, B Praak, Jaani (Shershaah)
Playback Singer (Female) – Asees Kaur for Raataan Lambiyan (Shershaah)
Playback Singer (Male) – Jubin Nautiyal for Raataan Lambiyan (Shershaah)
Best Story (Original) – Anurag Basu (Ludo)
Best Story (Adapted) – Kabir Khan, Sanjay Puran Singh Chauhan (Based on ICC World Cup 1983 – 83)
Best Lyrics – Kausar Munir for the song Lehre Do (83)
Best Debut Female- Sharvari Wagh (Bunty Aur Babli 2)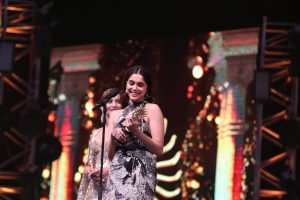 Best Debut Male – Ahan Shetty (Tadap 2)
It was a star-studded affair as the stars graced the IIFA Green Carpet. The evening was made even more memorable as the stars took to the stage.
Among the most-anticipated performances was Nora Fatehi's dance medley. The Moroccan-Canadian actor also brought onstage six-year-old Kashvi Majmundar, her die-hard fan, to share the stage.
Sara Ali Khan, on the other hand, grooved to Chaka Chak, while Ananya Pandey brought out the best of Gehraiyaan. Abhishek Bachchan also rocked the stage with a show-stopping performance to his old numbers in the presence of wife Aishwarya and daughter Aradhya. The show ended with Shahid Kapoor's tribute to late music director Bappi Lahiri.