IIFA in Abu Dhabi gets in celebratory mode with stardust all over
Kumar Shyam
A gamut of Bollywood stars descended on the Yas Island in Abu Dhabi where Etihad Arena will host the 22nd IIFA Awards and the buzzword on the eve of it was 'celebration'.
Led by Salman Khan and organised by Wizcraft along with Watermelon as their local partners, the International Indian Film Academy Awards makes its debut in UAE. In keeping with the international feel of the event, journalists from 30 countries were present on invitation at the press conference to give out details on what to expect over the course of the next two days.
Despite the sad death of singer KK three days back, every star or singer present in the room at Etihad Arena on Thursday said they were looking forward to the event for various reasons.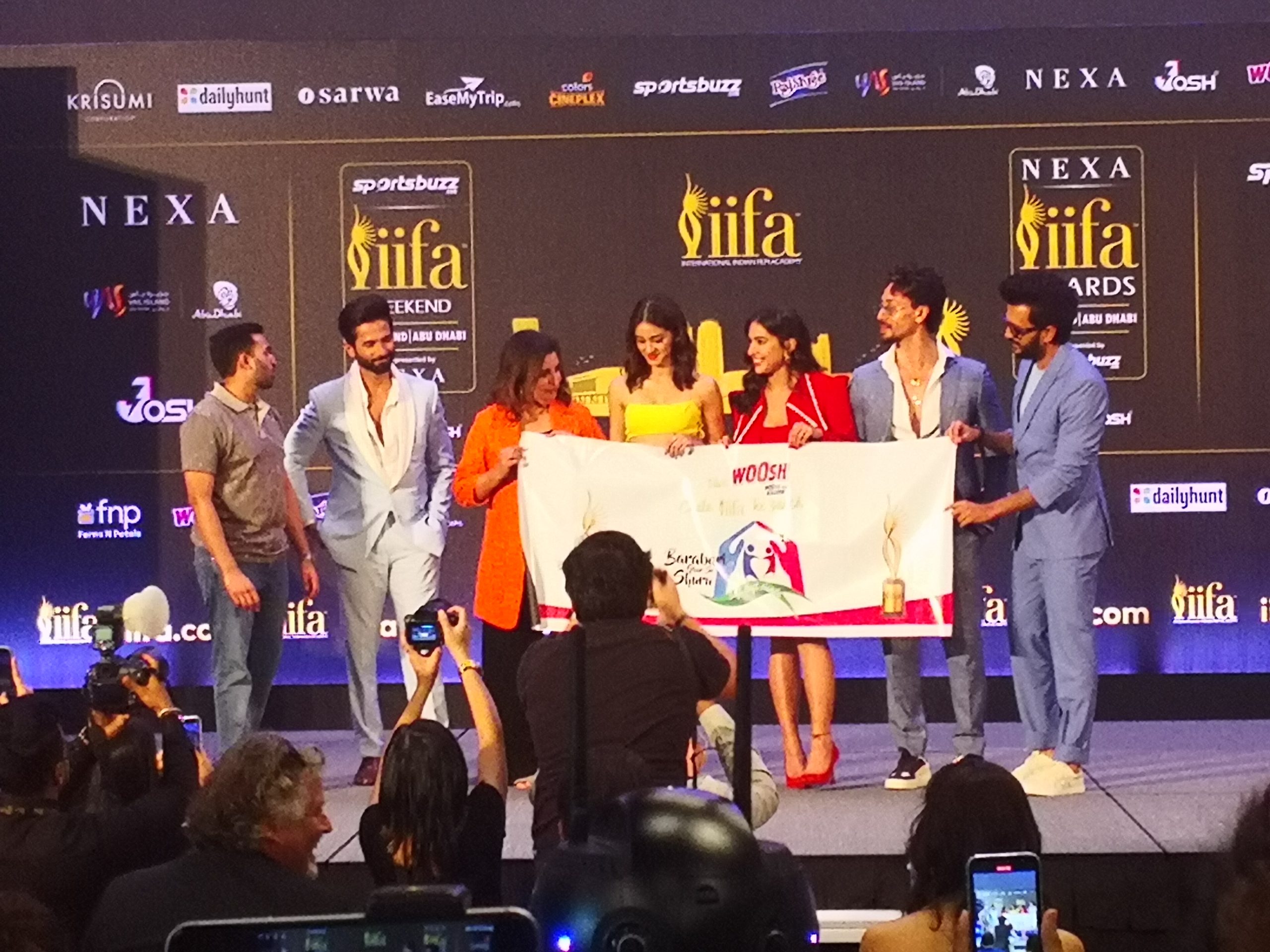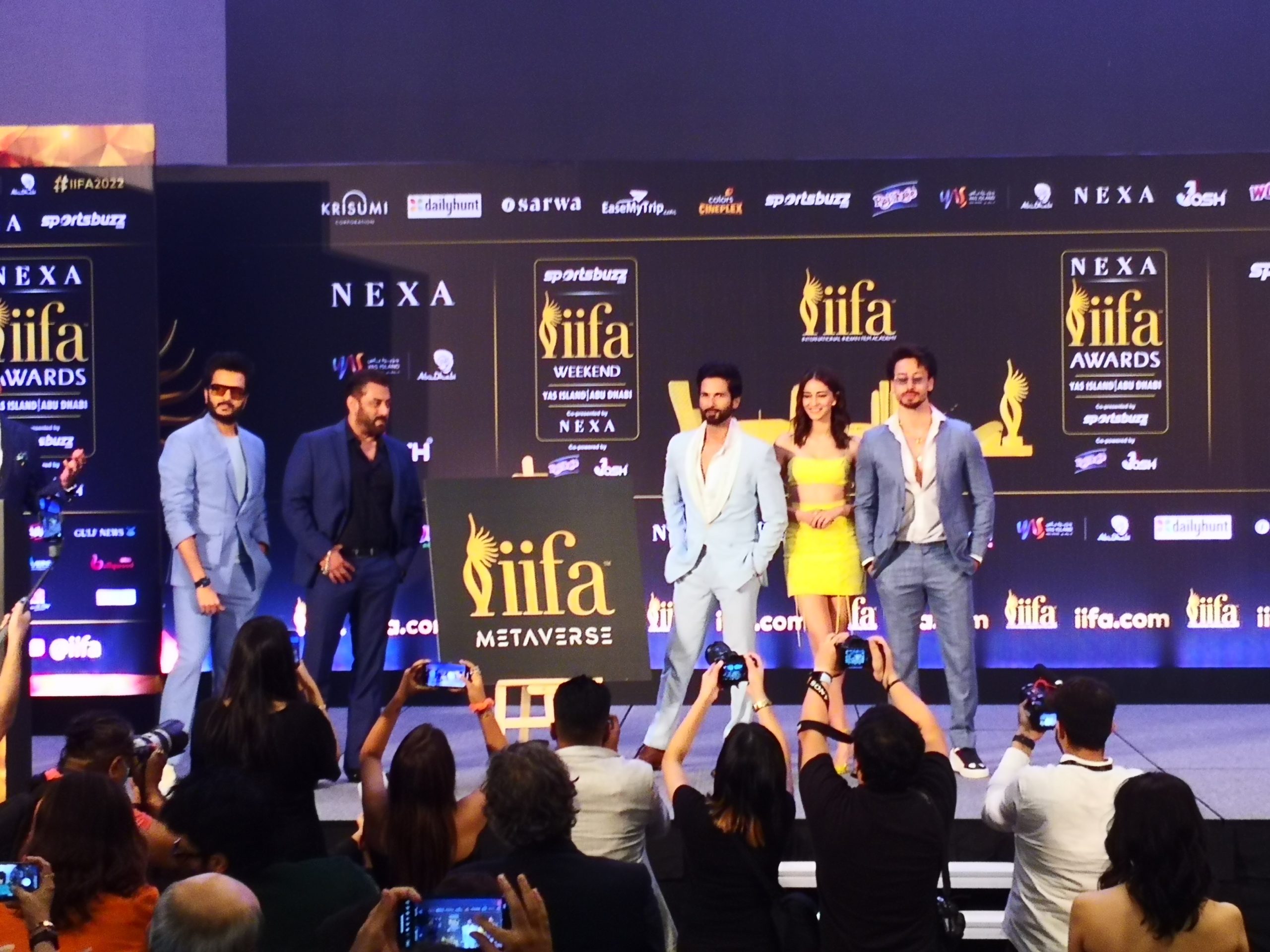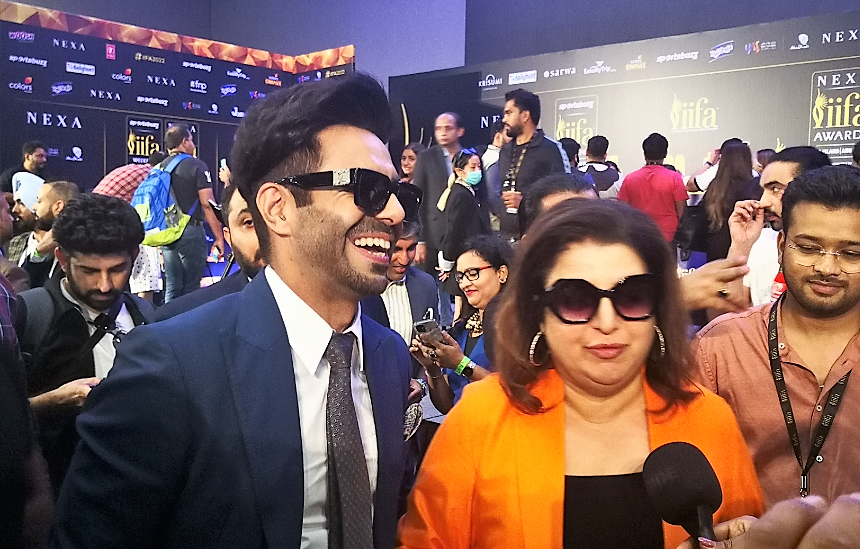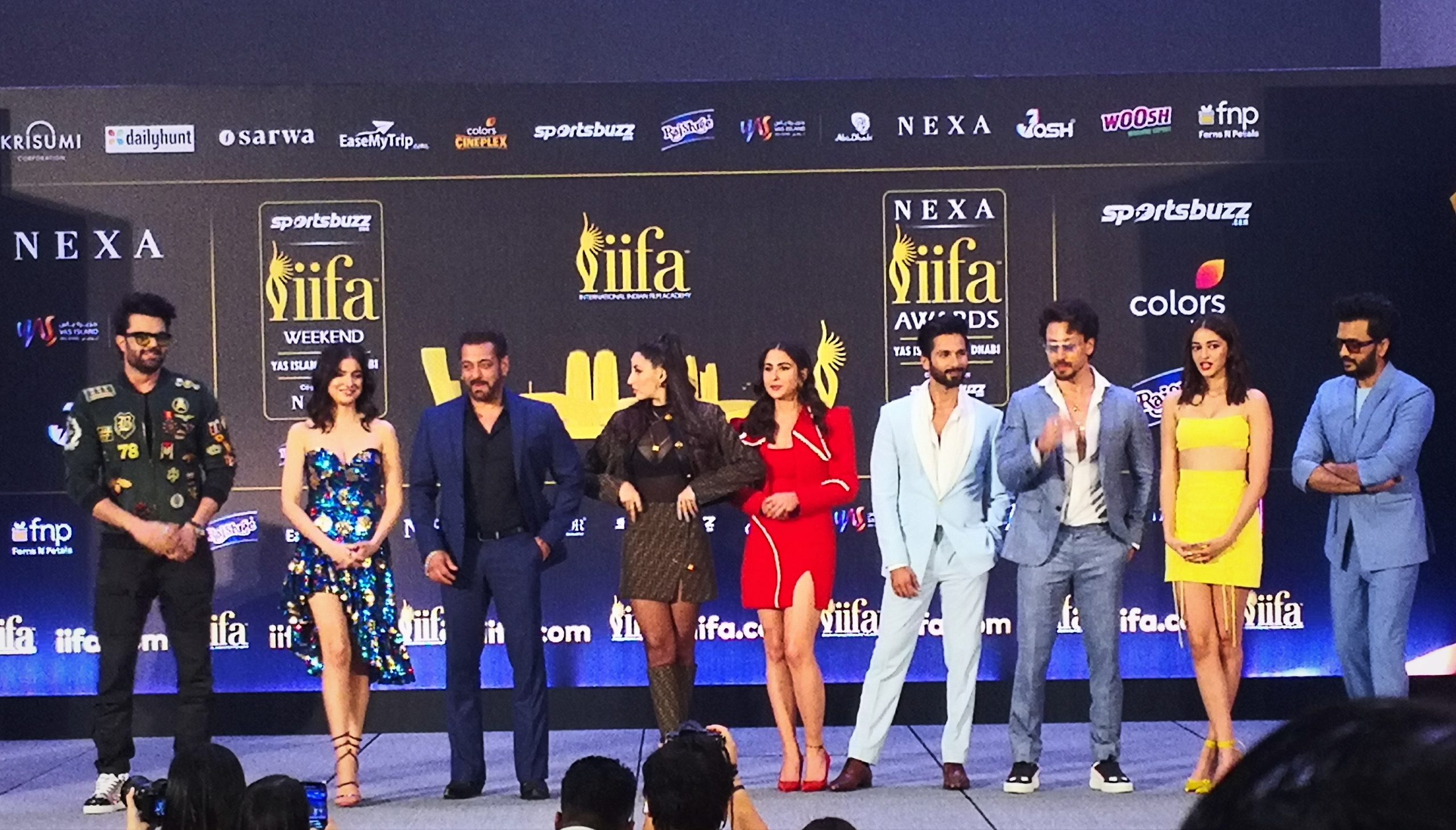 After trying to pretend he was bored with the speeches, Khan said he was "happy to be here in Abu Dhabi, one of my favourite destinations personally. And IIFA has been like a family."
Salman also had a bit of banter on stage and off-stage. When Honey Singh and Divya Khosla Kumar tried to present their song 'Designer' and the emcee Sidharth Kannan just threw a random question of any future collaboration, Singh said he already had a song ready. Khan chimed in from the front row that "there will be billion views for it" and that was cue enough for Singh to voice out couple of lines for an impromptu jig.
Nerves and anxiety
When all the stars took the stage in lots, each was asked what can fans expect from Saturday's main event – to be hosted by Khan, Ritesh Deshmukh and Manish Paul while Farah Khan and Aparshakti Khurrana will host the IIFA Rocks, for the music awards, on Friday.
Deshmukh said he was nervous and will look for support from Salman who immediately quipped in Hindi, "Mein khud Allah ke bharose hoon [I am at the mercy of Allah myself]. To which Paul said he was about to say he was a small fry and was expecting the two to lend support.
Also nervous was Shahid Kapoor, who revealed that he will be dancing to the songs of Bappi Lahiri, who died in his sleep earlier this year. "I was a big fan and I am also nervous because it has been a long, long time. People think I am a dancer … but I haven't actually done it [dance live on stage] for six years! But it's exciting to be back at live functions and meeting people in person."
Every one echoed that the IIFA Abu Dhabi, being one of the first awards function to be in-person after three years of disruption due to the pandemic, has everyone looking forward to it.
That included Sara Ali Khan in crimson red attire, Ananya Panday in bright yellow, Tiger Shroff matching Kapoor in light shades of blue and Nora Fatehi in a greenish-brown sobering dress.
Initially Karan Johar was to host the event but the later dropped out when the IIFA had to deferred with the death of Sheikh Khalifa bin Zayed Al Nahyan.
Yet, Farah and Khurrana handled questions like a well-gelled unit of professionals and broke into one-liners and jokes naturally during an interaction with the media. Farah also revealed that "two years went off peacefully at home, spending time with the family, but I am getting that itch to make a film again." Her last direction was in 2014 with Happy New Year.
Asked who was the boss among the two, given the fact that it was Khurrana who hosted the previous IIFA edition, both pointed at each other. Farah stated the obvious of IIFA being on Khurrana's CV and the latter admitted, but added: "Yes I did conduct it with bhaiya [brother Ayushmann], but she has so many years of experience being on stage, and that matters a lot."
Asked if the duo were nervous, both said they were well-prepared but they would be if the jokes do not land as they are hoping for.
The married couple of Abhishek Bachchan and Aishwarya Rai will also be among other stars to be spotted at the Etihad Arena.
Weekend schedule
IIFA Rocks
Hosts: Farah Khan Kunder & Aparshakti Khurana
Performers: Devi Sri Prasad, Tanishk Bagchi, Guru Randhawa, Honey Singh, Neha Kakkar, Dhvani Bhanushali, Zahrah S Khan, Dhvani Bhanushali, Asees Kaur
IIFA Awards
Hosts: Salman Khan, Riteish Deshmukh & Maniesh Paul
Performers: Shahid Kapoor, Tiger Shroff, Kartik Aaryan, Sara Ali Khan, Ananya Panday, Divya Khosla Kumar and Nora Fatehi.

Yo Yo Honey Singh's Casanova gets grandiose launch in Dubai
A music video, the product of an interesting collaboration of international talent and shot at a nightclub in Dubai, was released on Sunday evening at Dubai Festival City waterfront with a laser show and fireworks.
Produced by Beast Music, the single Casanova is touted to be part of the web series 7th Sense which is in the works for the OTT platform. It is an international collaboration with two producers from India and Pakistan, sung by Yo Yo Honey Singh (New Delhi), American rapper Lil Pump (Miami) and DJ Shadow (Dubai).
Producer Gaurang Doshi, of Aankhen fame, has collaborated with Pakistan's Rocky Khan, to conceive Casanova and presented it on a grand scale with all bells and whistles on display in the laser presentation. Indian actor Vivek Oberoi was also present as special guest.
The façade of the Intercontinental Hotel that lines up on the waterfront also serves as the canvas for the motion poster for the 7th Sense series and also Line of Fire, both productions which have been announced earlier but delayed. Doshi attributed the setbacks to Covid, but assured that things were back on track, along with Roadies host Rannvijay Singh who was the emcee for the event.
"When Covid kicked we couldn't do much but we could not sit idle as well," Doshi said. "So among many others that we [him and Khan] discussed, this video was something that we were all keen on and on the same page. And where else such as international collaboration happen than in Dubai."
Even the song has a depth of international flavours as DJ Shadow said: " For the past one year, I have travelled across the global. I picked up cues from the music scene in South America, Nigeria … there is some Latin hymns. So we have tried to do something different here."
Waxing eloquent about the 'different' and grand approach of Doshi, partner Khan added: "Who else can think of such a unique and magnificent display to launch the video than Gaurang. It was a great learning experience to do this with him. It has not been easy, he is tough to please but his vision is amazing and it is so great to work with him."
The grandiose show featured laser searchlights, fire effects, geysers, choreographed fountain and lights, fireworks and graphics on spraying fountain water. According to a claim by the organisers, it was the first time in history that a song was choreographed on laser, fountain and fireworks during its launch.
Although Lil Pump and Honey Singh were absent, representatives from other sponsors such as the Futtaim Group, Bhutani Infra, Satoshi FX, DEX Sports Radio and others were present. Members from the audience won gift vouchers randomly handed out by the celebrities on stage.
The choreographed fountain on the CASANOVA music will be played thrice a day for the next month. You can catch a glimpse of it on our Instagram page.  Within 24 hours, the video crossed 5.6 million views on Youtube.
— Staff report
Dates revealed for Global Village Season 27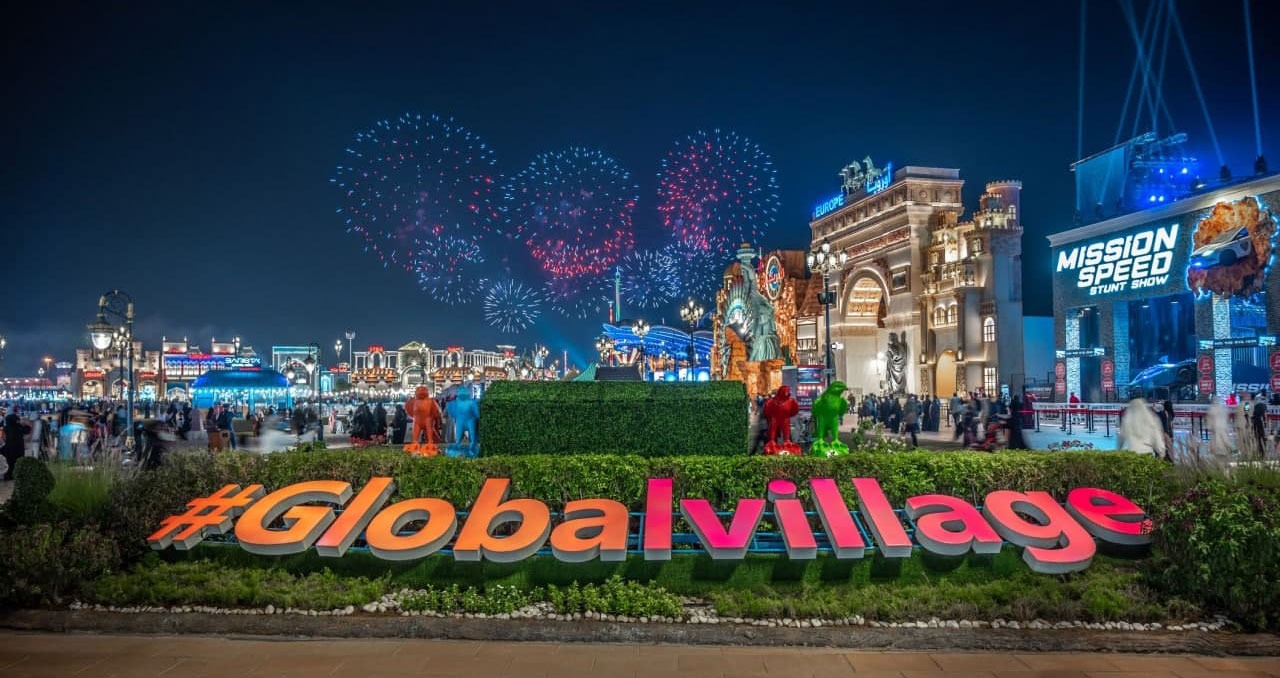 Hurrrray.…the countdown begins.
Global Village has announced its opening date for its coming season. The popular family-friendly destination will reopen on October 25, although little other details are known yet including when exactly it will run until and what will be new. However, on the official website, it says Season 27 followed by the dates "October 2022 — April 2023" which follows the typical dates the attraction usually stays open for.
Last season's Global Village had a record 7.8 million guests visit during the six months it was operational. This also includes an extended period, which saw the attraction stay open for an extra four weeks until May 7.
The destination marked its 26th season with 26 pavilions representing more than 80 cultures from around the world.
Among the countries and continents represented were: the UAE, Saudi Arabia, Bahrain, Kuwait, Afghanistan, China, Egypt, India, Iran, Iraq, Japan, South Korea, Lebanon, Morocco, Pakistan, Palestine, Syria, Thailand, Turkey, Yemen, Russia, the Americas, Africa and Europe.
BTS announce hiatus, to focus on solo projects
BTS's band members—who include RM, Jin, Suga, J-Hope, Jimin, V and Jungkook—announced they are taking a hiatus in a video posted to social media on June 14.
"We're each going to take some time to have fun and experience lots of things," Jungkook said. "We promise we will return someday, even more mature than we are now." As they celebrated their nine-year long journey, the music band shared with their fans that they are planning to take a break to focus on their individual interests.
[#2022BTSFESTA]
🕘614
기다리고 기다렸던
2022 찐 방탄회식 공개!
(https://t.co/lxC4g968IC)#2022BTSFESTA#BTS9thAnniversary#2022찐방탄회식#아미사랑해 #아포방포

— BTS_official (@bts_bighit) June 14, 2022
Band leader RM or Namjoon said that the whole K-Pop Idol thing is a constant work, which doesn't really give artistes time to focus on their own careers as solo performers, which is what they now intend to do with their break."I always thought that BTS was different from other groups, but the problem with K-pop and the whole idol system is that they don't give you time to mature. You have to keep producing music and keep doing something," said the rapper. Meanwhile, Jimin said that this was a tough decision to take as they feel bad for letting down their fans in some respect. "We can't help but think of our fans no matter what. We want to be the kind of artistes that are remembered by our fans. I think that's why we are going through a rough patch right now. We are trying to find our identity and that's an exhausting and long process."
Suga, 29, noted that the "hardest thing" lately has been writing lyrics and that "we need something to say … you can't force it. I have to talk about something that I really feel, but right now I'm just squeezing it out because we have to satisfy people's wants and the listeners … it's so painful."
This news isn't going down smooth like butter.