Tens of Thousands March in New York City to Kick Off Climate Summit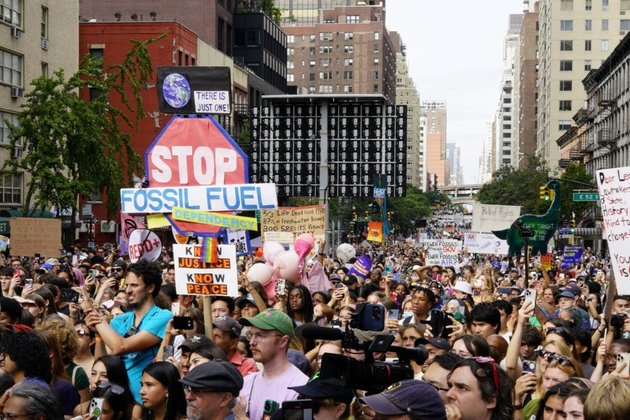 New York City – Yelling that the future and their lives depend on ending fossil fuels, tens of thousands of protesters on Sunday kicked off a week where leaders will try once again to curb climate change primarily caused by coal, oil and natural gas.
But protesters say it's not going to be enough. And they aimed their wrath directly at U.S. President Joe Biden, urging him to stop approving new oil and gas projects, phase out current ones and declare a climate emergency with larger executive powers.
'We hold the power of the people, the power you need to win this election,' said 17-year-old Emma Buretta of Brooklyn of the youth protest group Fridays for Future. 'If you want to win in 2024, if you do not want the blood of my generation to be on your hands, end fossil fuels.'
The March to End Fossil Fuels featured such politicians as Rep. Alexandria Ocasio-Cortez and actors Susan Sarandon, Ethan Hawke, Edward Norton, Kyra Sedgewick and Kevin Bacon. But the real action on Broadway was where protesters crowded the street, pleading for a better but not-so-hot future. It was the opening salvo to New York's Climate Week, where world leaders in business, politics and the arts gather to try to save the planet, highlighted by a new special United Nations summit Wednesday.
Many of the leaders of countries that cause the most heat-trapping carbon pollution will not be in attendance. And they won't speak at the summit organized by U.N. Secretary-General Antonio Guterres in a way that only countries that promise new concrete action are invited to speak.
Organizers estimated 75,000 people marched Sunday.
'We have people all across the world in the streets, showing up, demanding a cessation of what is killing us,' Ocasio-Cortez told a cheering crowd. 'We have to send a message that some of us are going to be living on, on this planet 30, 40, 50 years from now. And we will not take no for an answer.'
This protest was far more focused on fossil fuels and the industry than previous marches. Sunday's rally attracted a large chunk, 15%, of first-time protesters and was overwhelmingly female, said American University sociologist Dana Fisher, who studies environmental movements and was surveying march participants.
Of the people Fisher talked to, 86% had experienced extreme heat recently, 21% floods and 18% severe drought, she said. They mostly reported feeling sad and angry. Earth has just gone through the hottest summer on record.
Among the marchers was 8-year-old Athena Wilson from Boca Raton, Florida. She and her mother, Maleah, flew from Florida for Sunday's protest.
'Because we care about our planet,' Athena said. 'I really want the Earth to feel better.'
People in the South, especially where the oil industry is, and the global south, 'have not felt heard,' said 23-year-old Alexandria Gordon, originally from Houston. 'It is frustrating.'
Protest organizers emphasized how let down they felt that Biden, who many of them supported in 2020, has overseen increased drilling for oil and fossil fuels.
'President Biden, our lives depend on your actions today,' said Louisiana environmental activist Sharon Lavigne. 'If you don't stop fossil fuels our blood is on your hands.'
Nearly one-third of the world's planned drilling for oil and gas between now and 2050 is by U.S. interests, environmental activists calculate. Over the past 100 years, the United States has put more heat-trapping carbon dioxide in the atmosphere than any other country, though China now emits more carbon pollution on an annual basis.
'You need to phase out fossil fuels to survive our planet,' said Jean Su, a march organizer and energy justice director for the Center for Biological Diversity.
Marchers and speakers spoke of increasing urgency and fear of the future. The actress known as V, formerly Eve Ensler, premiered the anthem 'Panic' from her new climate change oriented musical scheduled for next year. The chorus goes: 'We want you to panic. We want you to act. You stole our future and we want it back.'
Signs included 'Even Santa Knows Coal is Bad' and 'Fossil fuels are killing us' and 'I want a fossil free future' and 'keep it in the ground.'
That's because leaders don't want to acknowledge 'the elephant in the room,' said Ugandan climate activist Vanessa Nakate. 'The elephant is that fossil fuels are responsible for the crisis. We can't eat coal. We can't drink oil, and we can't have any new fossil fuel investments.'
But oil and gas industry officials said their products are vital to the economy.
'We share the urgency of confronting climate change together without delay; yet doing so by eliminating America's energy options is the wrong approach and would leave American families and businesses beholden to unstable foreign regions for higher cost and far less reliable energy,' said American Petroleum Institute Senior Vice President Megan Bloomgren.
Activists weren't having any of that.
'The fossil fuel industry is choosing to rule and conquer and take and take and take without limit,' Rabbi Stephanie Kolin of Congregation Beth Elohim of Brooklyn said. 'And so waters are rising and the skies are turning orange (from wildfire smoke) and the heat is taking lives. But you Mr. President can choose the other path, to be a protector of this Earth.'

Varun Sharma, Pankaj Tripathi starrer gets flying start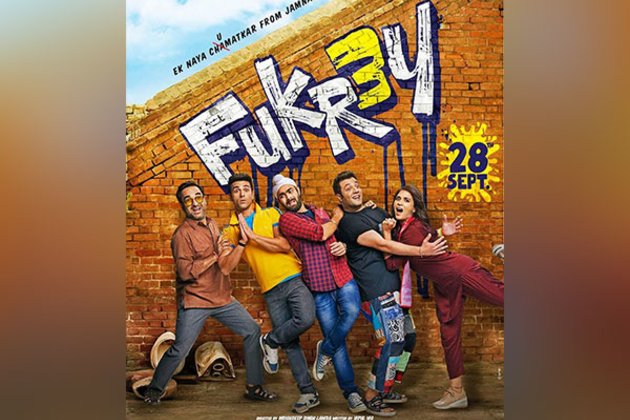 Mumbai (Maharashtra) [India], September 29 (ANI): Actors Varun Sharma, Pankaj Tripathi and Pulkit Samrat starrer comedy film'Fukrey 3′ has according to estimates collected Rs 8.82 crore at the Indian box office on its first day.
Taking to Instagram, trade analyst Taran Adarsh shared a post which he captioned,"Fukrey3 fares well on Day 1… Evening / night shows perform better… Biz in Maharashtra affected due to GanpatiVisarjan… Needs to witness substantial growth from Fri – Mon for a strong, impressive total… Thu 8377; 8.82 cr. India biz. Boxoffice"Helmed by Mrighdeep Singh Lamba and produced under the banner of Excel Entertainment by Ritesh Sidhwani and Farhan Akhtar, the film also stars, Richa Chadha and Manjot Singh in the lead roles.
Both 'Fukrey' and 'Fukrey Returns' had audiences in splits and emerged as hits at the box office in 2013 and 2017, respectively.
There have been several delays for 'Fukrey 3′. The movie's initial release date was September 7–was intended to conflict with Shah Rukh Khan's'Jawan'. After that, it was pushed to December 1.
Now it's shifted back to the month of September.
Actor Ali Fazal, who appeared in the first two instalments of the hit franchise, is not a part of the third instalment.
Ali, earlier issued a statement, confirming his exit from the franchise. He informed that he did not work in 'Fukrey 3' owing to a scheduling conflict with 'Mirzapur 3' season.
Reacting to Ali's absence from the film, actor Pulkit Samrat told ANI, "We actually miss him a lot. We have a lot of fun with him during the promotions or even during the shoot. He also gives very interesting inputs, but unfortunately due to his dates and time he will not be seen in Part 3, but who knows, he might be in Part 4." (ANI)
RajKummar Rao urges people to participate in PM Modi's 'Swachhata Hi Seva' campaign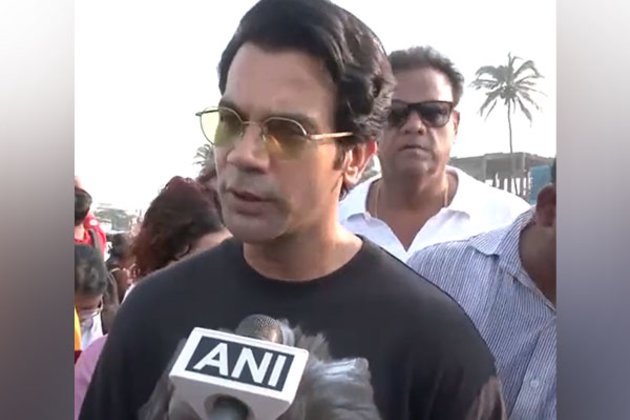 Mumbai (Maharashtra) [India], September 29 (ANI): Actor RajKummar Rao on Friday morning took part in a beach clean-up drive at Juhu Beach in Mumbai.
Speaking to ANI, RajKummar hailed Prime Minister Narendra Modi's "Swachhata Hi Seva" campaign, urging citizens to do their bit to ensure public places are clean and tidy.
"This is a very important initiative. We all should take part in Modi ji's 'Swachta hi Sewa' as it is very important to keep our city and country clean," he said.
On his 105th episode of Mann Ki Baat, Prime Minister Narendra Modi appealed to people for 1 hour of shramdaan for the swachhata (cleanliness) at 10 am on October 1 calling the initiative- 'Ek tareekh ek ghanta ek saath'.
On organising a cleanliness drive at Juhu Beach today, social worker and singer Amruta Fadnavis said, "Many people including celebrities and the city police commissioner have joined this beach cleanup. It is our responsibility to leave a clean planet for future generations. Mumbai's bio-diverse coastline can be protected only through each individual's contribution."Brihanmumbai Municipal Corporation (BMC) Commissioner Iqbal Singh Chahal also talked about the drive which is scheduled to take place on October 1.
"On 1st October, we are conducting cleanliness drives at 168 locations in Mumbai…We are setting up seven Sewage Treatment Plants at the cost of Rs 25,000 crore in Mumbai. this way we will be able to release only treated and chemical-free water in the sea," he said. Actors Manushi Chhillar, Saiyami Kher and Isha Kopikkar were also spotted at the cleanliness drive "Cleanathon 2.0" — organised a day after immersion of the idols of Lord Ganesh during Ganesh Chaturthi. (ANI)
Soni Razdan wishes son-in-law Ranbir Kapoor on his birthday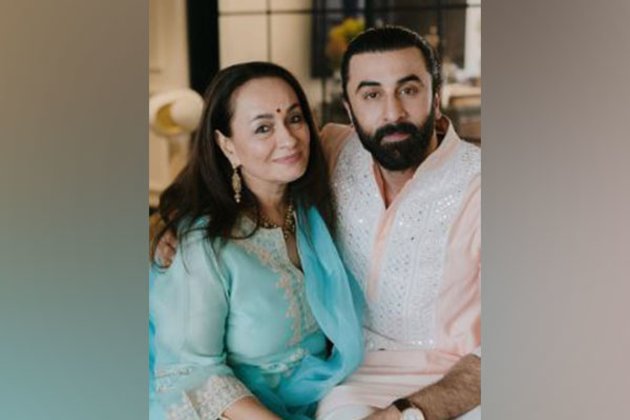 Mumbai (Maharashtra) [India], September 28 (ANI): Actor Soni Razdan has a special birthday wish for her son-in-law Ranbir Kapoor.
On Thursday, she took to Instagram and shared a selfie with Ranbir.
"Happy birthday to the sweetest SIL RanbirKapoor. You make the world a better place just by being in it…Have an amazing year ahead love you loads," she wrote.
Actor and wife Alia Bhatt also wished her hubby Ranbir Kapoor with some adorable pictures of him and penned down a sweet message.
She took to her Instagram handle to post several pictures of Ranbir. In the first one, Alia can be seen kissing Ranbir on his cheek, while in the other the couple can be spotted enjoying a baseball match.
The following image shows Alia posing in front of the number 8 while taking a selfie. She further shared a close-up, monochrome picture of Ranbir taken on their wedding day. Another black and white photo shows Alia gazing at Ranbir's palm. The final image was another up-close portrait of Ranbir's face.
Along with the pictures, she wrote in the caption,"my love.. my best friend.. my happiest place.. as you read this caption from your secret account sitting right next to me .. all I'd like to say is.. happy birthday baby… you make it ALL magical"He also received special birthday wishes from his mother and veteran actor Neetu Singh and his sister, Riddhima Kapoor.
Ranbir tied the knot with Alia Bhatt on April 14, 2022, and announced their pregnancy in June 2022. On November 6, last year, the couple welcomed their first child, a baby girl, named Raha.
Meanwhile, on the work front, Ranbir is all set to come up with a film titled 'Animal' and the teaser of the film has been unveiled.
The movie also stars Anil Kapoor, Rashmika Mandana and Bobby Deol. The film will hit the theatres on December 1 in five languages – Hindi, Telugu, Tamil, Kannada, Malayalam. (ANI)