Food and Staycation deals this Valentine's Day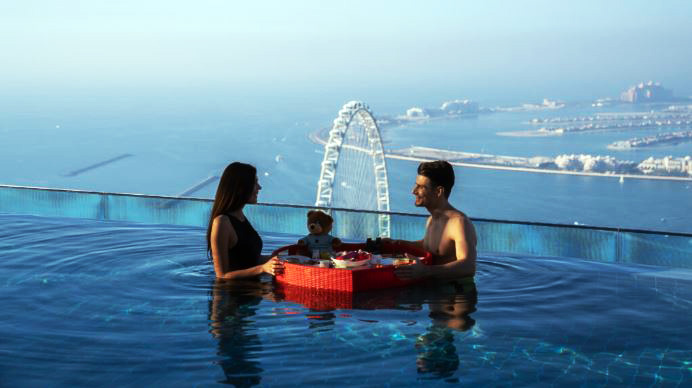 Restaurants in the UAE will vouch that the way to one's heart is through the stomach, and not surprisingly, they have lined up special menus and bargain deals to celebrate love on Valentine's Day, February 14. A lunch or dinner date with your love at one of the many signature restaurants in Dubai or a drive as far as Ras Al Khaimah should be on your cards to make the day truly romantically special.
Lapa Eatery
Make this Valentine's Day unique by heading to the first gluten-, dairy- and sugar-free wellness restaurant that has just opened on 594, Jumeirah Beach Rd, Umm Suqeim, Dubai. From exotic charred eggplant and smashed avocado on homemade almond bread toast, sweet potato benedict with a slice of fondant and homemade spicy napolitana sauce, and hand-crafted shakshuka sauce served with eggs and coconut flat bread, Lapa Eatery's exhaustive menu is a must-try if you love and care for your body. Check out its a la carte menu of breakfast items as well as appetizers, salads, main courses, desserts, and cold and hot beverages. There is a 15 per cent discount on the total bill.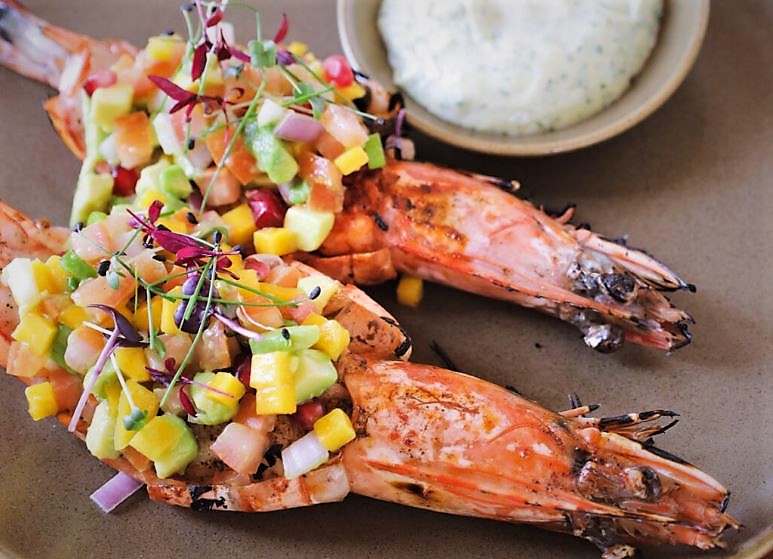 Banan Beach Brunch
Banan Beach in Ras Al Khaimah offers a Palestine-flavoured brunch every Saturday this month while the instagrammable place promises to transport you to Greece. The brunch takes place at their pool area called The Human Club and is open to adults only. Located at Al Hamra just an hour's drive from Dubai, Banan Beach is pet-friendly and and is named after its founder Banan Abdalla, a Palestinian/ Canadian entrepreneur.
The brunch is named after the 1,100-year-old Olive Tree a staple at Banan Beach and many Palestinian households. The property is built in the most sustainable way possible, hence all furniture, fixtures, doors, windows, and decorations for the villas and tents, are handmade by the local team using recycled, locally sourced, and biodegradable materials.
Zeta 77
When you start with a nice breakfast to set the tone for the day everyday, why should Valentine's day be lunch or dinner-only affairs? This year treat your loved one to the ever-popular floating breakfast. Zeta Seventy Seven is offering guests to float above the clouds (and water) and enjoy a range of delightful breakfast dishes as well as a glass of prosecco each for Dhs698 per couple.
Zeta Seventy Seven, Address Beach Resort, Feb 10 to 14 from 9am to 11am, Dhs698 per couple, pool access included. Tel: (0)4 879 8866 addresshotels.com.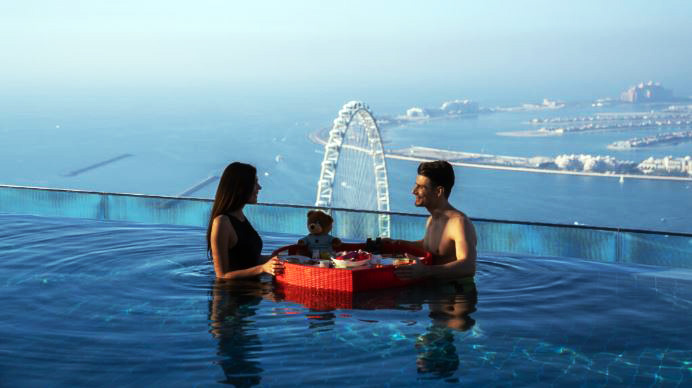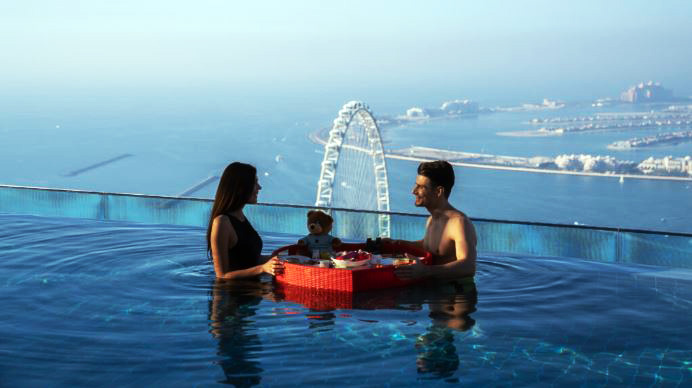 Bombay Bungalow
Relish the flavours of India as you celebrate love desi style at Bombay Bungalow in the Beach Mall, JBR while soaking in the sights of the iconic Ain Dubai and Bluewaters Island. The gastronomic journey will take you to the best of desi cuisine from mustard jumbo prawn curry, lamb korma, butter chicken and dal makhni to crunchy pani puris with guacamole and jhinga kalimirch among others. For vegetarian lovers, the array includes paneer (cottage cheese) steak, kadai bhindi, vegetable jalfrezi, wild mustard seed potatoes, biryani and breads. The non-vegetarian menu is priced at AED 300 per couple and the vegetarian at AED 250 per couple.
View this post on Instagram
Hilton Ras Al Khaimah Beach Resort
Steal your beloved away from the hustle and bustle and bask in some quality time and attention together surrounded by the pristine natural beauty of the bay, beach and gardens of Hilton Ras Al Khaimah Beach Resort.
Indulge in a relaxing couple's massage, followed by a romantic candlelit 'Cena Romantica', a private three-course dinner for two at a secluded spot on the 1.5 km private beach, ask about the exclusive 'Dinner in the Sand' option. RAKmantic Retreat packages start from just AED 1,050, inclusive of stay, spa treatments, and breakfast for two.
Contact the resort on +971 (0)56 992 9631 or email reservations_rakresort@hilton.com
China Bistro
Treat your Valentine to the flavours of Asia at any of the six outlets of China Bistro for just AED 160 per couple. The Special Valentine's Day Set Menu at the Pan Asian restaurant will provide a five-course culinary adventure all day to patrons wanting a sophisticated dining experience. Be refreshed with Pomegranate Lemon Ginger drink or soups before snacking on Appetizers like Fire Roasted Mandarin Chicken and South Asian Cottage Cheese. Fish Hubei Style, T-Hoi Chicken and Exotic Vegetable Chilly Basil Sause feature in the Main dishes along with Fried Rice or Wok Tossed Hakka Noodles. End your romantic dinner on a sweet note with desserts such as Brownie with Hot Chocolate Sauce or the classic Vanilla Ice Cream.

Dive into coffee intelligence at The Brew Crew in Dubai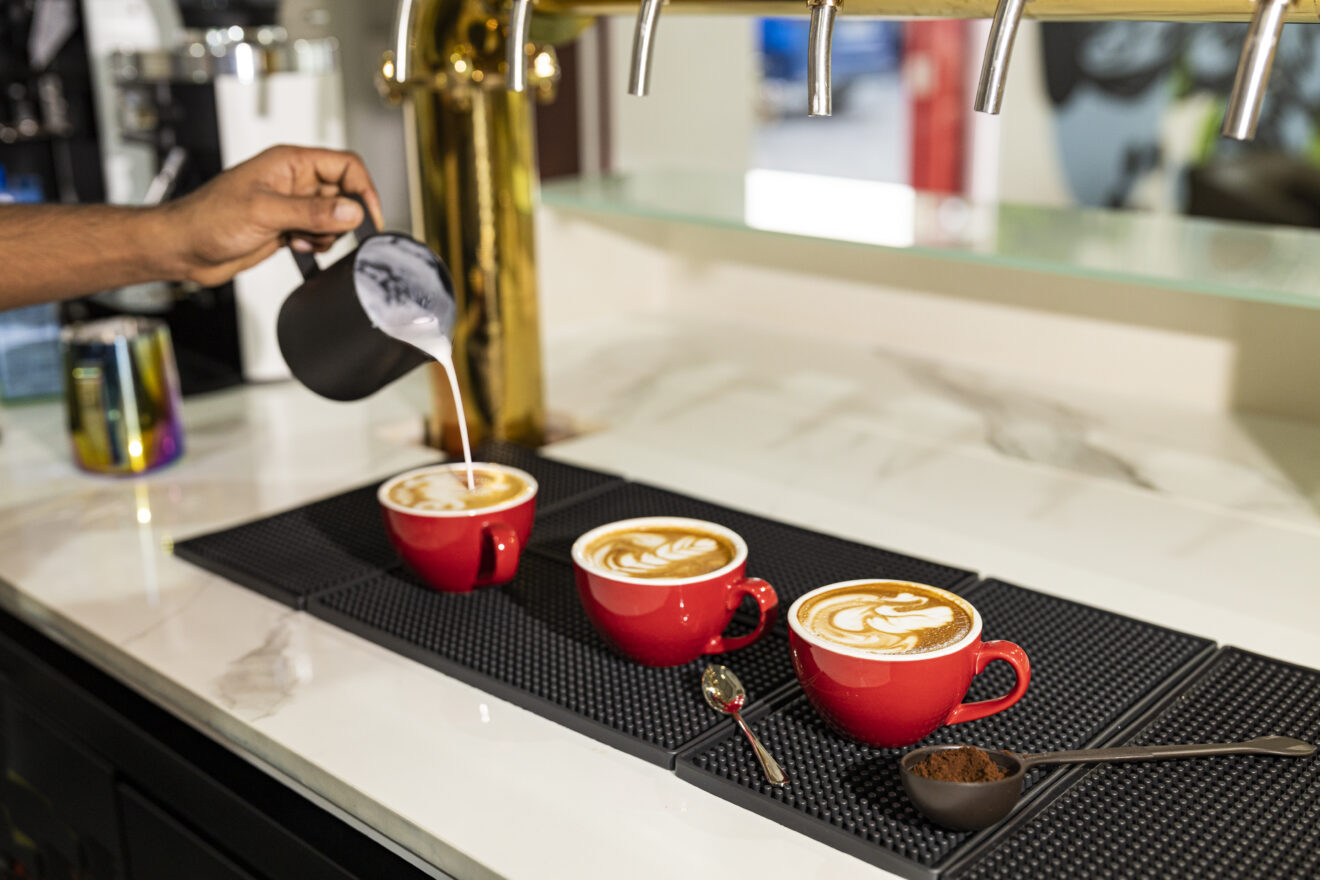 Dubai, UAE – Coffee enthusiasts in Dubai have a new haven for exploring the realm of Coffee Intelligence (CI) at The Brew Crew, a recently opened café located in Dubai Investment Park (DIP) 2. While Artificial Intelligence (AI) grabs headlines, it's Coffee Intelligence that's capturing the essence of coffee appreciation for aficionados.
The Brew Crew, welcoming coffee lovers since September 2023, goes beyond simply brewing a good cup of coffee. Founded by Ashjeet Talwar, this coffee haven offers a unique experience of understanding the intricate aspects of coffee, ranging from sourcing and roasting to brewing and pouring.
Importing and roasting a diverse range of specialty coffees from various corners of the world, The Brew Crew boasts over 30 artisanal beverages. Ashjeet, the founder, shared the vision, stating, "We believe in knowledge sharing, and there's nothing better than a coffee connoisseur immersing themselves in the world of coffee beans."
The café aims to be a space for both coffee lovers and the coffee-curious. Upon entering, visitors are treated to a complimentary crash course by the in-house baristas. The sprawling 6,650 square feet area is equipped with state-of-the-art facilities, including a temperature and humidity-controlled setup, featuring a Brew Bar, a Roasting Training Campus, and a Green Coffee Storage.
At The Brew Crew, patrons can select coffee beans primarily from Brazil, Ethiopia, and Malawi. Notable recommendations include their Signature Ceremonial Matcha Latte, the Artisan Brew Iced V60, or the Coffee on Tap Nitro Original and Cold Brew.
View this post on Instagram
For those eager to replicate the experience at home, guests can purchase ethically sourced beans and receive valuable tips from the team on proper storage to maintain the coffee's flavor. Ghanu, Head of Beverages at The Brew Crew, emphasized their commitment to educating guests on various factors influencing coffee flavors.
In the near future, The Brew Crew plans to partner with delivery platforms across Dubai. However, for now, coffee enthusiasts are invited to dine in and immerse themselves in the vibrant and visually appealing ambiance, adorned with captivating graffiti.
Moreover, The Brew Crew intends to enhance coffee literacy by hosting a series of lectures, talks, and workshops. The aim is to further instill a love for coffee and enrich the coffee culture across Dubai.
Stay tuned for more updates as The Brew Crew redefines the coffee experience in Dubai.
British Gastro pub The Stables making a comeback
It is summer time in the UK and couple of notches higher in the UAE, and so bubbly-lovers can look forward to spending some great time indoors when the popular British gastro pub The Stables opens its doors again in Dubai on July 9 after a remarkable transformation.
Combining contemporary gastronomy with traditional pub culture, The Stables promised a renewed exquisite culinary experience as it tries to reclaim its status as a cherished local establishment on the UAE dining and entertainment scene.
The team behind the relaunch has strived to create a welcoming ambience where locals and visitors alike can savour exquisite dishes, sample finely crafted beverages, and bask in the welcoming atmosphere. Led by executive chef David Ceagle, the kitchen presents an eclectic fusion of traditional British fare with international influences. From mouth-watering gastro classics to inventive vegetarian and vegan creations, each dish showcases a harmonious marriage of flavours, locally sourced ingredients and meticulous attention to detail.
The Stables boasts a beverage menu curated to satisfy even the most discerning palates. A variety of great concoctions for cocktails and a mixology of spirits and beverages pay homage to the pub's rich heritage. Live music performances ranging from retro and progressive rock to jazz, saxophone, and percussion, as well as a blend of modern and classic tunes will provide the perfect background music score.
The interior decor includes more contemporary design elements with the pub's rustic allure. The Stables boasts a warm and inviting ambience with comfortable seating to ensure guests feel at ease.
The Stables will officially open its doors to the public on July 9, 2023. For more information, please visit The Stables website or follow them on social media @TheStablesDubai
a

Go down Dhaba Lane for deliciously simple Indian cuisine in JLT
Add one more Indian cuisine restaurant to your must-try list. Dhaba Lane, a popular name for North
Indian food lovers in the Karama-Bur Dubai belt has hopped on to the other side of the city – swanky
Jumeirah Lake Towers (JLT).
In the last few years, JLT, Marina and its neighbourhoods have welcomed a number of South Asian
outlets, most of which have originated in old Dubai. But that's all the more reason to cheer since fans of Indian or Pakistani food now don't have to trudge to a Karama or Deira for their fill of good kebabs or butter chicken.
And that brings us to the home-grown Dhaba Lane, a restaurant founded by entrepreneur Eti Bhasin,
that, true to its name, pays homage to the famed Dhaba cuisine in India in its interiors and menu.
Thus you are welcomed by an eclectic décor, comprising vibrant art on the walls by talented artist Snehita, colourful ceiling draping and cushions, chunky and quirky jewellery pieces paced artfully, the ubiquitous truck facade and bright lights. The detailing spill over to the presentation too, as seen in the dahi chaat which was interestingly served in an umbrella like bowl and the daal makhni served in a faux "well". Both score high on the taste too!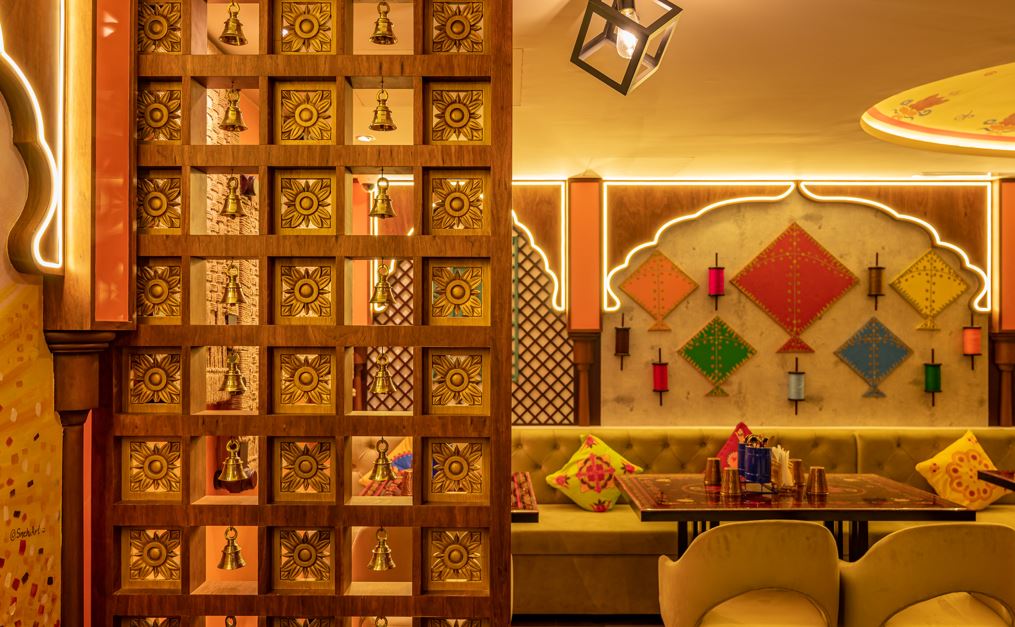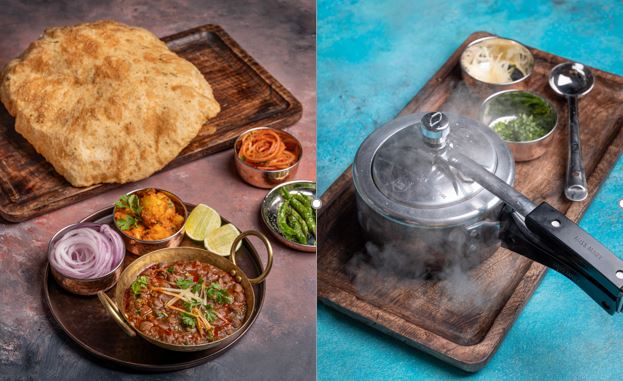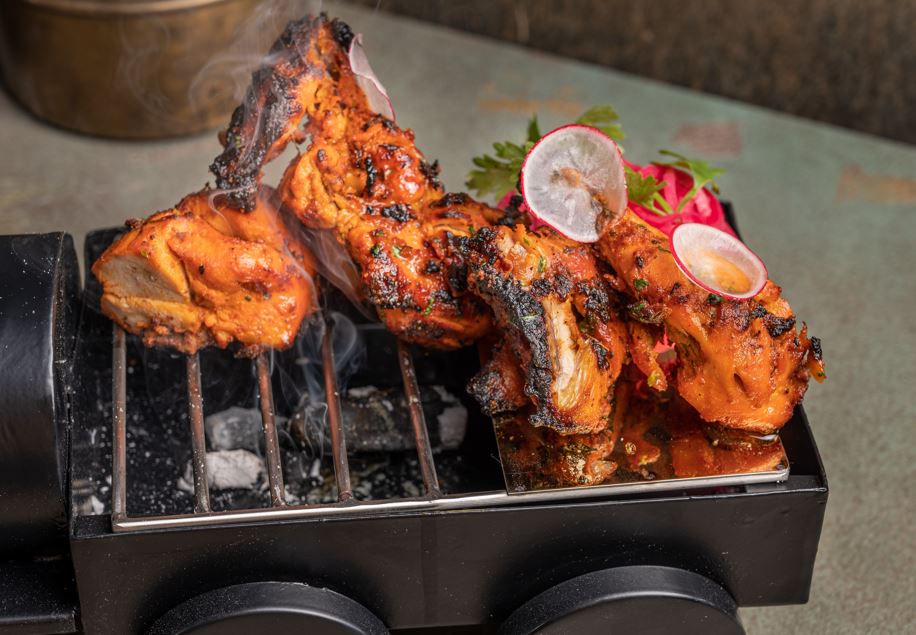 The menu has been designed by award-winning chef Harangad Singh who has stuck to the tried-and-
tested and much-loved flavours sans any weird experimentation that have come to define Indian food in Dubai. However, some dishes deserve a special mention.
The mushroom galauti kebab hits the ball out of the stadium! Mildly spiced with a true melt-in-the-mouth consistency (just the way galautis are supposed to be!), this vegetarian version of what is essentially a meat delicacy, deserves full marks for innovation and execution. A trip to Dhaba Lane is worth it just for this one dish alone.
View this post on Instagram
By comparison, the dahi kebabs, an eternal Delhi favourite, seemed a bit tame. A misstep from the otherwise great starters and drinks list, was the pani puri with guava spiced water, which didn't work for us!
For the main course, all the palate-pleasers in the traditional flavours like Tandoori Murgh, Kadai Paneer, Martban Ke Chole, Murgh Masala Maarke and a range of paneer curries tempted the taste buts along with an array of desserts. The Ras Malai stood out!
In other words, Dhaba Lane has everything that a Punjabi food fanatic loves, so for New Dubai residents, here's another comfort restaurant to go to (or order from), when the pangs of home food hit hard.
PS: if you are in the mood for something different, try their 'Bahubali Bhature'. A 1-feet long and round Bhatura is paired with Chickpea Curry aka Chole and other condiments for Dh35. Order now!
ALSO READ: The Great Indian Thali in Dubai