BTS announce hiatus, to focus on solo projects
BTS's band members—who include RM, Jin, Suga, J-Hope, Jimin, V and Jungkook—announced they are taking a hiatus in a video posted to social media on June 14.
"We're each going to take some time to have fun and experience lots of things," Jungkook said. "We promise we will return someday, even more mature than we are now." As they celebrated their nine-year long journey, the music band shared with their fans that they are planning to take a break to focus on their individual interests.
[#2022BTSFESTA]
🕘614
기다리고 기다렸던
2022 찐 방탄회식 공개!
(https://t.co/lxC4g968IC)#2022BTSFESTA#BTS9thAnniversary#2022찐방탄회식#아미사랑해 #아포방포

— BTS_official (@bts_bighit) June 14, 2022
Band leader RM or Namjoon said that the whole K-Pop Idol thing is a constant work, which doesn't really give artistes time to focus on their own careers as solo performers, which is what they now intend to do with their break."I always thought that BTS was different from other groups, but the problem with K-pop and the whole idol system is that they don't give you time to mature. You have to keep producing music and keep doing something," said the rapper. Meanwhile, Jimin said that this was a tough decision to take as they feel bad for letting down their fans in some respect. "We can't help but think of our fans no matter what. We want to be the kind of artistes that are remembered by our fans. I think that's why we are going through a rough patch right now. We are trying to find our identity and that's an exhausting and long process."
Suga, 29, noted that the "hardest thing" lately has been writing lyrics and that "we need something to say … you can't force it. I have to talk about something that I really feel, but right now I'm just squeezing it out because we have to satisfy people's wants and the listeners … it's so painful."
This news isn't going down smooth like butter.

Placido Domingo returns to Dubai Opera as headline act for Dresden Ball's UAE debut
The Dresden Opera Ball, which will be hosted by Dubai Opera in 2022, will bring together internationally renowned performers to share their cultural legacies with the varied population of the UAE.
Taking place on November 15, the gala and awards feature performances by Placido Domingo (tenor), Marina Rebeka (soprano), hosts of the evening Riz Khan and Oksana Fedorova, the European Peace Chamber Orchestra Dresden, Anton Lubchenko (conductor), Igor Butman (saxophone), Roman Lyulkin (bass) and more.
The first Dresden Opera Ball in Dubai will take place five years after the "king of opera," Placido Domingo, wowed the audience at the Dubai Opera's grand opening in 2016.
As part of the program, debutant couples will also put on a choreographed dance show. As they have done in high society throughout European history, these couples will captivate the audience. Ladies in spectacular gowns and gentlemen in stylish tuxedos will take over the stage in an extraordinary dance exhibition in a three-four-time signature.
The glamorous event is presented by M Premiere and the Opernball Dresden, the largest classical entertainment event in the German-speaking world that made its debut in 2006 in the German city of Dresden.
The Dubai Dresden Opera Ball follows the recent gala event at the beautiful Catherine Palace in St Petersburg, Russia and now, it is arriving in the UAE.
Dubai's convening power creates the natural platform for an event which seeks to connect cultural and artistic icons from the European and Arab worlds.
A VIP guest list for the Dresden Opera Ball includes HE Mariam bint Mohammed Saeed Hareb Almheiri, Minister of Climate Change and Environment of the UAE.
Hikmat Al Kaitoob, an international businesswoman and global philanthropist, is the official presenter of the evening's festivities. Leading broadcaster and author Riz Khan will moderate the proceedings, which will also be hosted by former Russian Miss Universe Oksana Fedorova.
Hans Joachim Frey, General Director of the Dresden Semper Opera Ball, said: "The main message is to have international cultural bridge building between Germany, the Arabic world, the United Arab Emirates and the European world. Culture brings people together and Dubai is a centre for this and we are very happy to be here."
Dresden Opera Ball Programme
18.00 Red carpet opening ceremony
18.30 VIP reception
20.00 Gala show program
21.30 Grand finale with Dresden Opera Ball debutants
21.45 Fulminant ball opening dance
22.00 Gala dinner orchestrated by Armani Hotel Dubai culinary team
23.00 Dancing music and entertainment
01.30 Closure of the event
Tickets are available to purchase at:
Dubai Opera: https://www.dubaiopera.com/events/dresden-opera-ball-in-the-uae
Platinumlist: https://dubai.platinumlist.net/event-tickets/84187/dresden-opera-ball-in-the-uae
or by calling +971507686418
Ticket pricing:
Silver AED 975 (including a pre-show drink)
Gold AED 1,125 (including a pre-show drink)
Platinum AED 1,425 (including a pre-show drink)
Premium table AED 3,825 per person
Diamond table AED 4,675 per person
Royal table AED 5,525 per person
VIP table AED 6,375 per person
All table seats include: a VIP welcome cocktail, three-course dinner and a beverage package from 8pm until midnight (T&C apply)
'London Calling' and 'Loud House' part of entertainment's return to Global Village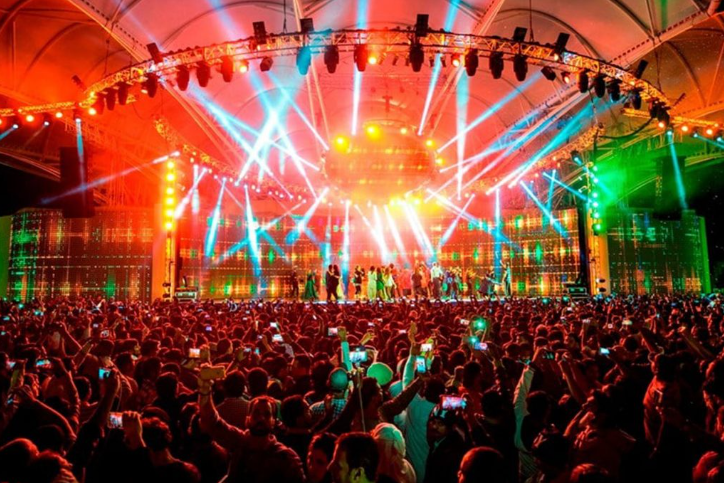 Global Village has revealed a packed new season line-up featuring a range of fan favourites, renowned performers, stunt shows, famous characters, world-class concerts and street entertainment.
With over 400 performers from around the world, guests can enjoy more than 200 performances each night at the region's leading multicultural family destination.
Back by popular demand and turning Global Village into the hottest jazz club in town, 'Putting on the Glitz' returns to enthral music lovers with groovy notes and spirited cheers.
If you love all things cool Britannia, 'London Calling' will take you through a whirlwind of nostalgic numbers from the swinging sixties through punk rock to the trend-setting tunes of today.
'Calling Clowns' to the rescue, with hapless fire-fighters who never actually get to fighting fires – the high energy clowns from Colombia are sure to give audiences a laughter riot.
For those who prefer some slapstick comedy 'Bank Heist' will offer a true-blue Dr. Seuss-style escapade featuring Townsville's very own 'Keystone Kops', determined to crack down on the crime wave.
If you thought your family was crazy, wait till you enter 'Loud House', a big Bollywood celebration featuring an eccentric set of characters in a hilarious soap-opera style show, who will serve up laughter in all its dysfunctional glory.
'Skyline' will provide a vibrant sensory showcase of music, style, dance and light which will transport the audience straight to the heart of Bollywood at night.
Global Village will continue to bring some of the world's best talent, performing a range of mesmerising spectacles during Season 27.
Straight from the stage of America's Got Talent (AGT), 'V.Unbeatable' – the extremely talented dance crew from Mumbai got the golden buzzer not once but twice before winning The Champions title in 2020.
The crew will guest star on the Main Stage from January 4 for just one month.
Another Global Village favourite has also recently gained AGT fame, Philippine troupe 'Urban Crew'.
These flyers of the south, as they like to be known, will take centre-stage again in Season 27, having received unprecedented love and support from audiences in Season 26.
Known to defy gravity with their contagious energy and unrivalled acrobatic skills, the group is currently competing in this year's America's Got Talent, before they fly right back to Dubai to entertain Global Village guests again this season.
Another international troupe returning by popular demand are the incredible drumming ensemble AAIJAA from Columbia. These extraordinary young percussionists will be pumping the perfect beats for a memorable evening.
Flagship Global Village productions and characters will also be making a return with fresh shows and new storylines.
Global Village's very own characters, The Wonderers – Ozka, Waleef and Zoya will return in their Main Stage hit, Legend of the Staff.
They will also appear at the Kids Theatre in a brand new production as they uncover 'The Mystery of the Golden Rock'.
From epic dance moves to echoing drum beats, season 27 is knocking our doors with America's Got Talent's @AGT stars V-UNBEATABLE and the one & only AAINJAA! 🤸🏻 Ready for a season full of excitement? 🤩

We're excited to welcome you all starting 25 October#GlobalVillage #GVWOW pic.twitter.com/X7kvTvl4j4

— Global Village القرية العالمية (@GlobalVillageAE) August 18, 2022
Peter Rabbit, Lily Bobtail and Squirrel Nutkin are back on their quest to steal a giant prize radish from Mr. Noweeds – the GV gardener on duty.
The Octonauts are back at their station, as Captain Barnacles, Kwazii and new-ship-mate Kai get on board to complete their new missions and share oceans of fun.
Care Bare favourites – Grumpy, Funshine and Cheer will be making a special on-stage appearance, while Ben & Holly and PJ Masks will also be back in their own shows.
Chhota Bheem will also be on ground to snap a selfie. The Kid's Theatre will also host Don't Do the Dodo, based on the illustrated children's book 'The Curious Tale of the Dodo' by world-famous writer, comedian and conservationist Bill Oddie.
Bigger, better, and more explosive than ever! Get ready for the best sequel to Aqua Action – the region's only water-based stunt show.
With incredible new fire effects, record-breaking LED car scenes, high-powered street bikes and a gigantic monster truck, this one is a firm favourite with guests, jam-packed with explosions, drifting, back-flipping bikes, precision driving, jet-ski stunts and fly-board action.
"It doesn't matter where you're from, what age you are or what you're into – there really is something for everyone. We want our guests to have exciting new experiences every time they visit and keep coming back for more. That's why we've pulled out all the stops to give our guests the best performers from all over the world," said Shaun Cornell, Director – Entertainment, Dubai Holding Entertainment.
Yo Yo Honey Singh's Casanova gets grandiose launch in Dubai
A music video, the product of an interesting collaboration of international talent and shot at a nightclub in Dubai, was released on Sunday evening at Dubai Festival City waterfront with a laser show and fireworks.
Produced by Beast Music, the single Casanova is touted to be part of the web series 7th Sense which is in the works for the OTT platform. It is an international collaboration with two producers from India and Pakistan, sung by Yo Yo Honey Singh (New Delhi), American rapper Lil Pump (Miami) and DJ Shadow (Dubai).
Producer Gaurang Doshi, of Aankhen fame, has collaborated with Pakistan's Rocky Khan, to conceive Casanova and presented it on a grand scale with all bells and whistles on display in the laser presentation. Indian actor Vivek Oberoi was also present as special guest.
The façade of the Intercontinental Hotel that lines up on the waterfront also serves as the canvas for the motion poster for the 7th Sense series and also Line of Fire, both productions which have been announced earlier but delayed. Doshi attributed the setbacks to Covid, but assured that things were back on track, along with Roadies host Rannvijay Singh who was the emcee for the event.
"When Covid kicked we couldn't do much but we could not sit idle as well," Doshi said. "So among many others that we [him and Khan] discussed, this video was something that we were all keen on and on the same page. And where else such as international collaboration happen than in Dubai."
Even the song has a depth of international flavours as DJ Shadow said: " For the past one year, I have travelled across the global. I picked up cues from the music scene in South America, Nigeria … there is some Latin hymns. So we have tried to do something different here."
Waxing eloquent about the 'different' and grand approach of Doshi, partner Khan added: "Who else can think of such a unique and magnificent display to launch the video than Gaurang. It was a great learning experience to do this with him. It has not been easy, he is tough to please but his vision is amazing and it is so great to work with him."
The grandiose show featured laser searchlights, fire effects, geysers, choreographed fountain and lights, fireworks and graphics on spraying fountain water. According to a claim by the organisers, it was the first time in history that a song was choreographed on laser, fountain and fireworks during its launch.
Although Lil Pump and Honey Singh were absent, representatives from other sponsors such as the Futtaim Group, Bhutani Infra, Satoshi FX, DEX Sports Radio and others were present. Members from the audience won gift vouchers randomly handed out by the celebrities on stage.
The choreographed fountain on the CASANOVA music will be played thrice a day for the next month. You can catch a glimpse of it on our Instagram page.  Within 24 hours, the video crossed 5.6 million views on Youtube.
— Staff report