Erica Fernandes in reveal mode as showstopper in Dubai
Kuumar Kavita Shyam
Leading actress-model Erica Fernandes enthralled a select audience in Dubai as a showstopper at a fashion event, fresh after getting her 10-year golden visa.
On the sidelines of the event at the Park Hyatt hotel resort in Deira over the weekend, Fernandes revealed how her days spent in Dubai are on the cusp of getting longer as she has turned entrepreneur with her own production company Celeste. The hostess of the popular Emirates Draw is only 29 and the business move comes as unusual for someone who was ranked top in 2020 as the 'most desired woman on TV' by Times of India.
"I always wanted to do stuff for myself, tell stories – mostly for the OTT platforms – produce good content besides my modelling and other things. But generally, films and Bollywood are not something that I would say I am craving for. If they happen, then it is good, but it is not my focus," Fernandes says with the confidence that would define the clarity of a startup founder.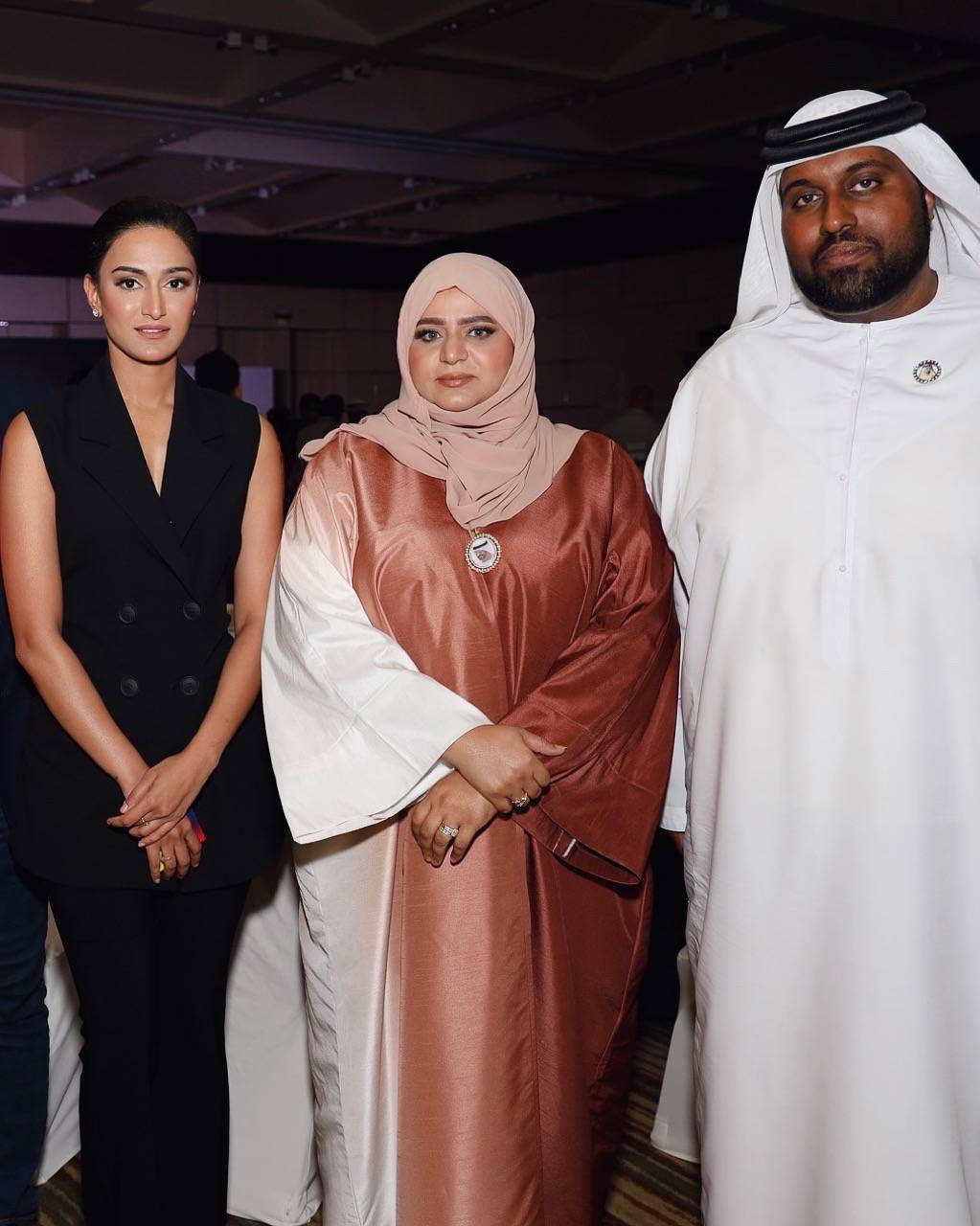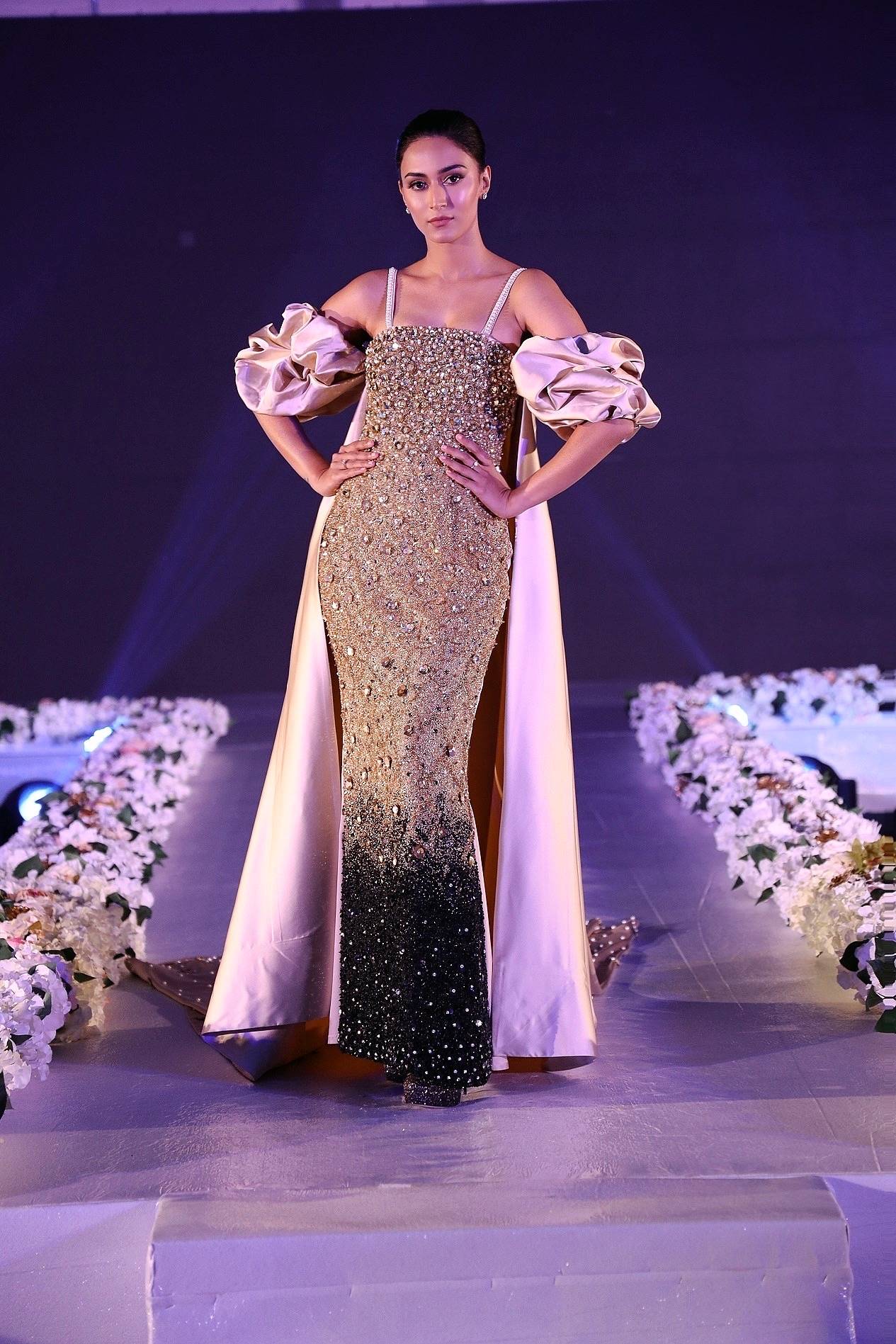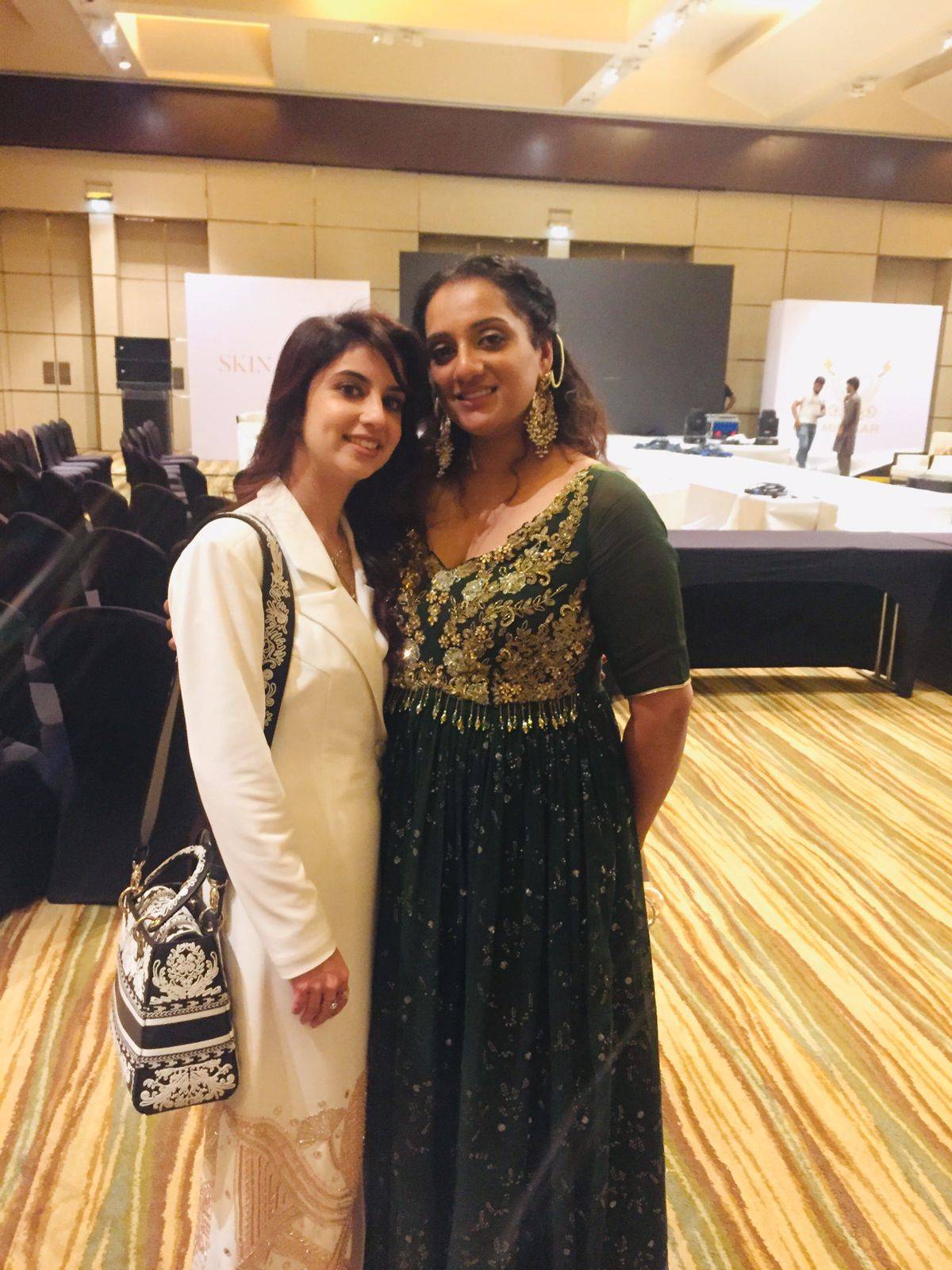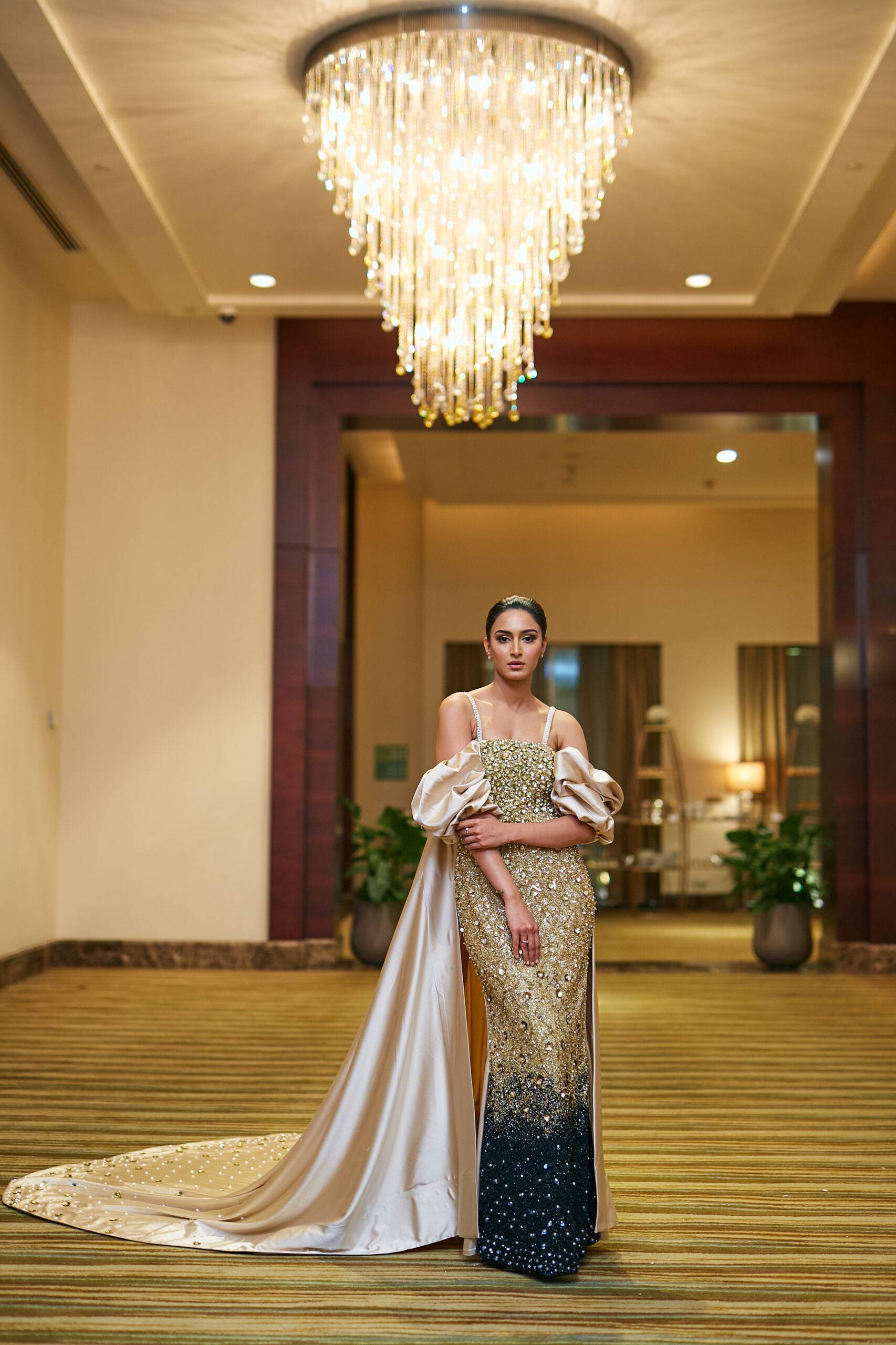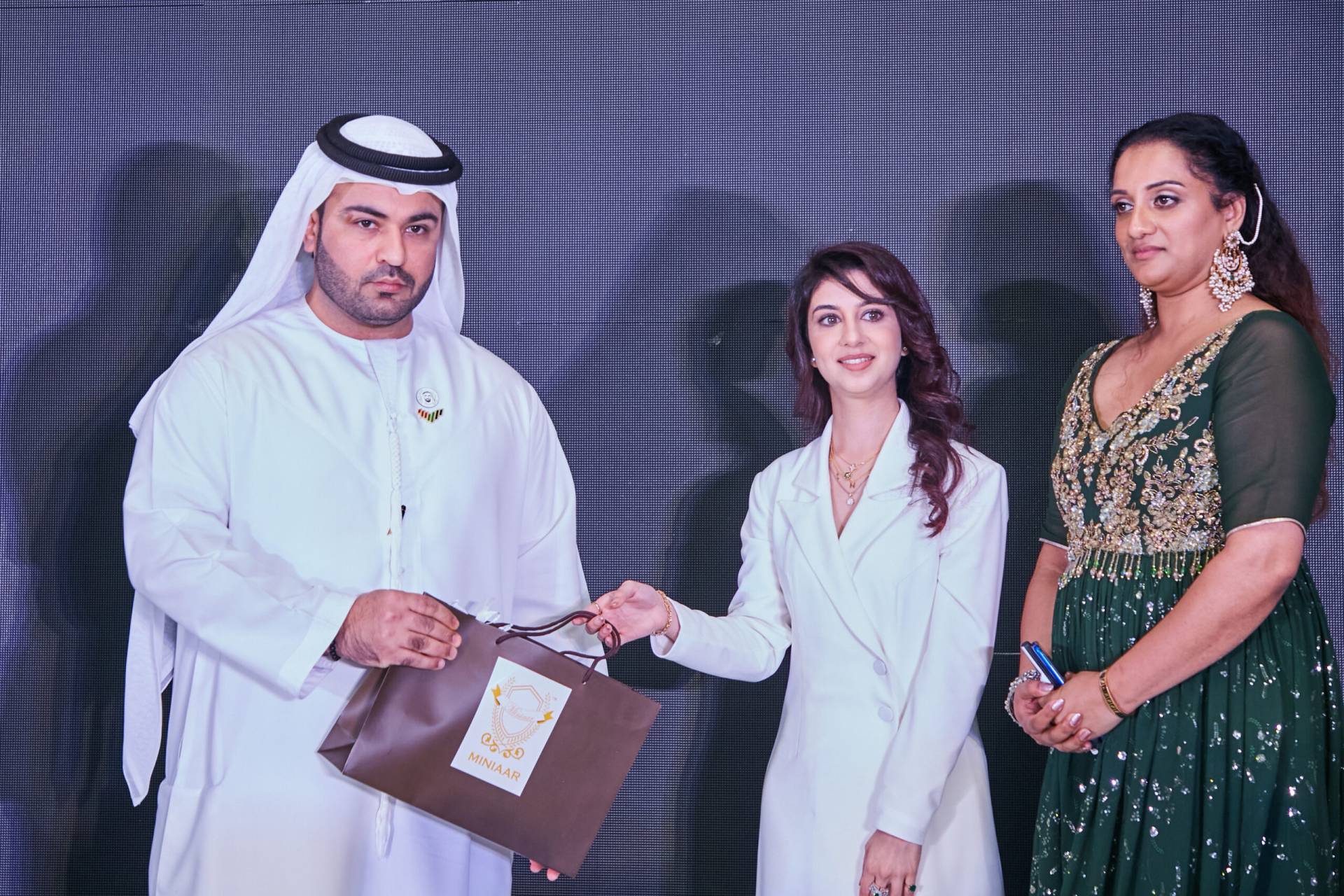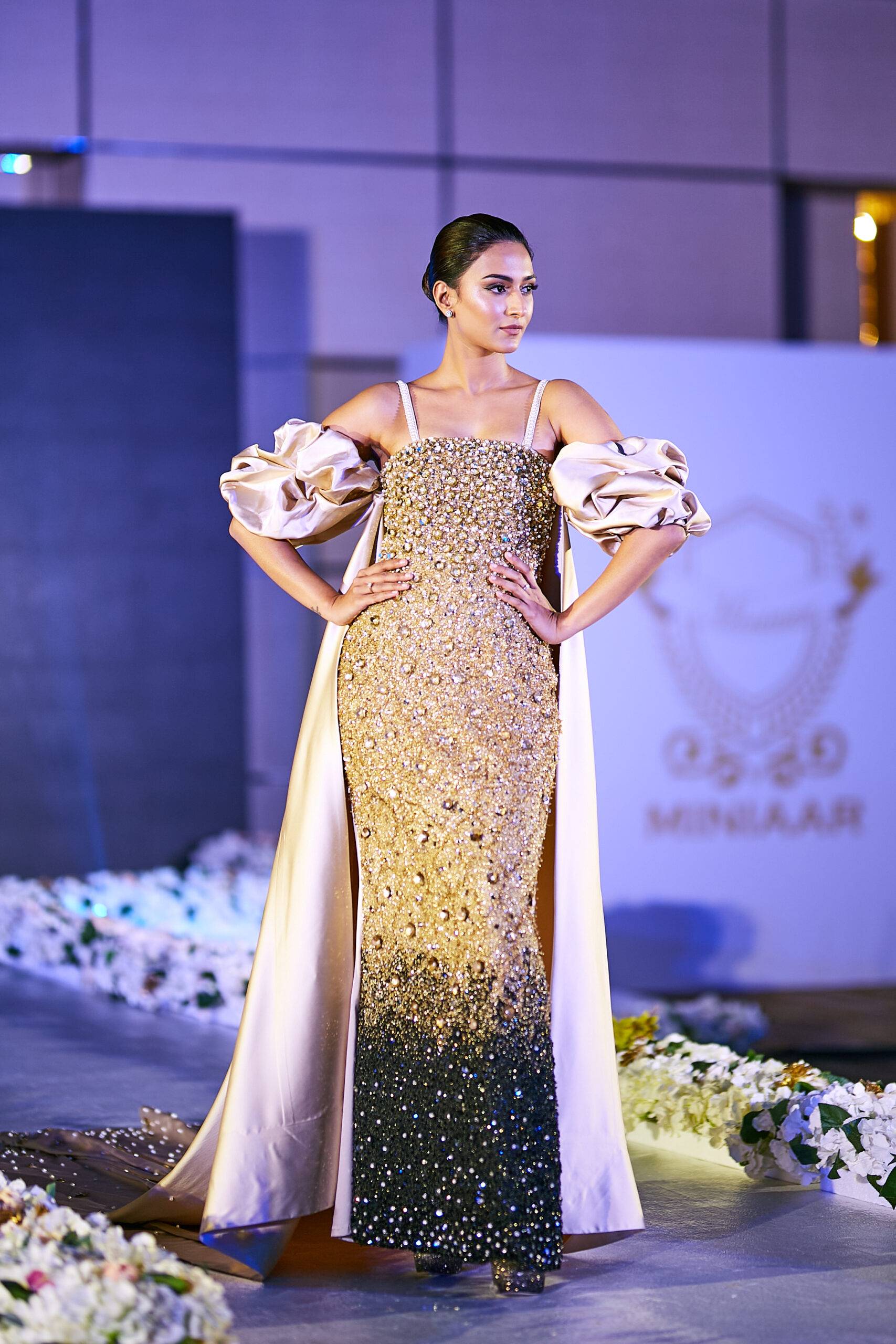 0fbea333-fcca-42d4-8d11-37b923b4c90a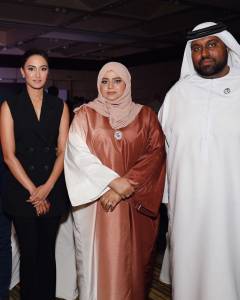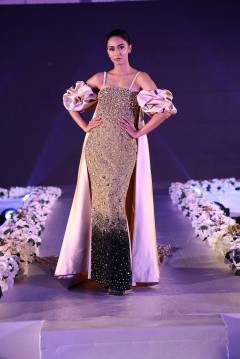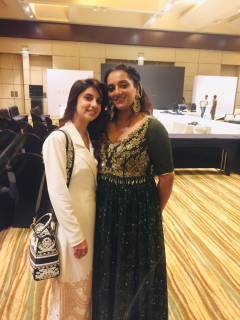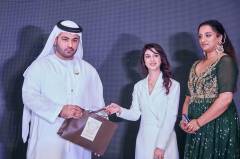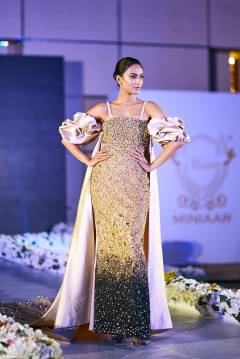 The jury on her success will have to wait, but the Mumbai lass is not the only one looking at Dubai as the land of opportunity – officially. "Work has meant that I have been going to and fro between Mumbai and here, although Dubai has been my home for the past 6-7 years."
It does not mean work from the tinsel town of India has stopped. In fact, she is unauthorized to do but cannot stop dropping a hint that something is coming up very soon on Amazon Prime. It could be a web series, we speculate, judging by her reaction that "it is something she has never done before and very exciting."
With Celeste on her mind in the hotel ballroom, showstopper Fernandes wore the designs by Mumbai-based fashion designer Tinaz Bodhanwala and her brand Miniaar. The event, sponsored by SkinAura, saw two Arabic dancers kickstart the show with performances on tribal tunes and ended with a typical Bollywood dance show.
Many dignitaries including Sheikh Majid Rashid Al Mualla, Juma Madani and wife Munira Al Bloushi, Bangaldesh consul general Jamal Hossain and wife Abida, Kazakhstan consul Dr Nawab Mir Khan, and others graced the event.
Bodhanwala said she believed in working hard on her designs and taking risks by not following the beaten path. "The success everyone saw today is a result of years of hard work and perseverance," she said.
The event was also the stage for Skin Aura founder Fiza Khan to announce their mission to go "old school and bring back boutique style luxury clinics to establish affordability with a personal touch."
With over 15 years of experience in dermatology and aesthetics, Khan said she was confident after making it big in the already crowded market of Dubai. "After-care and going on a personal journey with your clients is very important from start to finish and this is one of the USPs of SkinAura. I feel this is missing in Dubai."
Meanwhile, Erica is using the upcoming Ramadan lull to prepare her launch more projects with Celeste. Famous for performances in the TV series Kuch Rang Pyar Ki Aise Bhi and Kasautii Zindagii Kay, she brings along a huge fan base. Erica uses her presence on social media to promote a variety of social causes and bring attention to significant topics in addition to her acting career.

Dubai jewellery designer wins top Germany award for crab earrings
Headline staff
Leading jewellery designer Pavit Gujral has won the prestigious Inhorgenta award in Munich, Germany, for her crab earrings creation from the Marine Collection. She won in the High Jewellery of the Year classification out of a total of 10 categories.
Pavit has a studio in Dubai Design District where she shared the award news on the sidelines of a pre-planned event to also showcase vignettes of her designs for a select audience.
"I am delighted to be acknowledged by such a prestigious institution where I submitted two designs in the same category. Also, I could not make it to the event, so my father (Daljit) got to collect it on my behalf. And I cannot be happier than that because he is the one who keeps pushing me in my career, so it was just good that he got to pick it."
Already a multiple award-winning celebrity designer, Gujral, 30, had planned to share a peek into her latest collection couple of months back. With father Daljit bringing back the earrings in the early hours of Thursday, it took the pride of the place at the interaction at The Name café in D3.
A few items each from the Voyage, Marine, Sylvan, Memoir and Le Fleur collections by Pavit Gujral were also on display. Gujral's winning crab earrings design is from her Marine collection. Gujral is an ace scuba diver as well.
The Crab earrings seem like balancing beautiful Tanzanite hearts with their claws when they adorn the earlobes of the owner. The pair has been set in 18K Gold with over 800 pieces of in pink and yellow Sapphires and Rubies. The piece is finished with deep blue heart Tanzanites and round Diamonds.
"I try to seek perfection in all my designs. These are designs which are inspired by the nature or life around us on a daily basis or through my travels around the world," Gujral said.
View this post on Instagram

"As totems, Crabs are symbols of intuitive nature, perseverance, self-sufficient behaviour and sensitivity. The earrings are very dynamic and display movement due to the setting technique. A crab I saw which was pinkish-orange in colour, so that's behind the choice of the gems I picked."
The Inhorgenta award has a jury comprising journalists, entrepreneurs from the industry and other prominent personalities. "When I am working on the designs, I am not thinking of the awards. The crab earrings were always my favourite, but it is great to see that experts also liked it, and it is a big vindication coming from Europe's best."
Gujral's latest award and reputation as a perfectionist proves she is on the roll ever since she graduated from the Gemological Institute of America, New York, in 2015. She is also a recipient of the prestigious Saul Bell Design Awards and the IJ Jewellers' Choice Design Awards, both won in 2020. Her works were chosen as part of the 'Contemporary Jewels as never seen before' at the Milan Jewellry Week by Artistar Jewels.
For more information, please visit www.pavitgujral.com and follow the brand on Instagram @pavitgujraldesigns.
Kimono fashion show set to foster UAE-Japan relations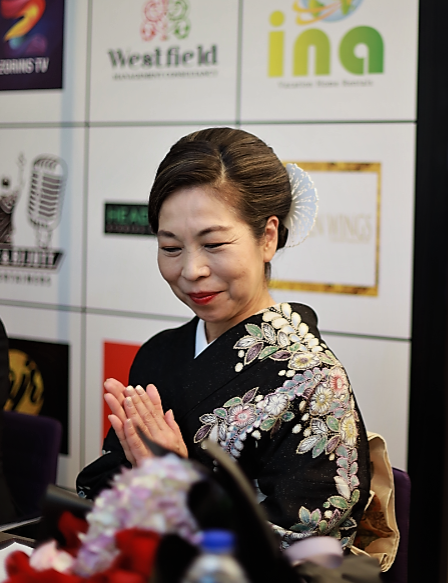 Kimono, the traditional dress of Japan with centuries-old history, has seen many revivals, and a fashion show for it in the futuristic city of Dubai could well be the latest such attempt.
Organisers hailing from the Far East nation have announced the Look Up Japan Fashion Show which will revolve around the Kimono and will be held on September 10.
In a long but winding room at the Novotel hotel in the backdrop of the World Trade Centre, Dubai's first iconic building since the UAE came into being, the ironies were plenty.
A troop of Japanese residents in the UAE came along dressed as a pretty ensemble of Kimonos to show support to the organisers. One of them was an extremely shy and awkward septuagenarian in her late 60s and the mother of the Look Up fashion show director Rytshiko Kaneko.
Businessmen from UAE and Japan were instrumental in bringing the show together and summed up nicely by Huzaifa Ibrahim, the chairman of Global Peace Foundation. "Japan is called the Land of the Rising Sun. Dubai is a country with more than 200 nationalities and we are only happy to co-exist here in the Land of the Future," he said to a rapturous response especially from the Japanese in the hall.
All but one of the Japanese on the dias could barely converse in English but a translator proved to be the busy link between all parties. Mr Ibrahim set the tone by understanding and took pauses for the nervous translator to get to work.
The main brainchild, the designer Yuko Murakami (pictured above), said she chose Dubai as the venue for her Kimono collection because she is trying to modernise folk fashion in a western style and with modern-day materials using nanotechnology.
There were others who were offering moral or technical support by way of their expertise. Leading businessman Yakoob Al Ali, Pakistani model-singer Azeem Tahir and Hollywood singer Persiana Dulo were some.
Another example of the wide range of cultures in the mix for this event was the choice of the show-stopper. Tall Indian model Ayesha Mulla will be the centre of attraction for the Kimono show.
"It will be my first time, not only my first fashion show out of India, but also my first experience with Japanese culture and I am so excited about it," Ms Mulla said.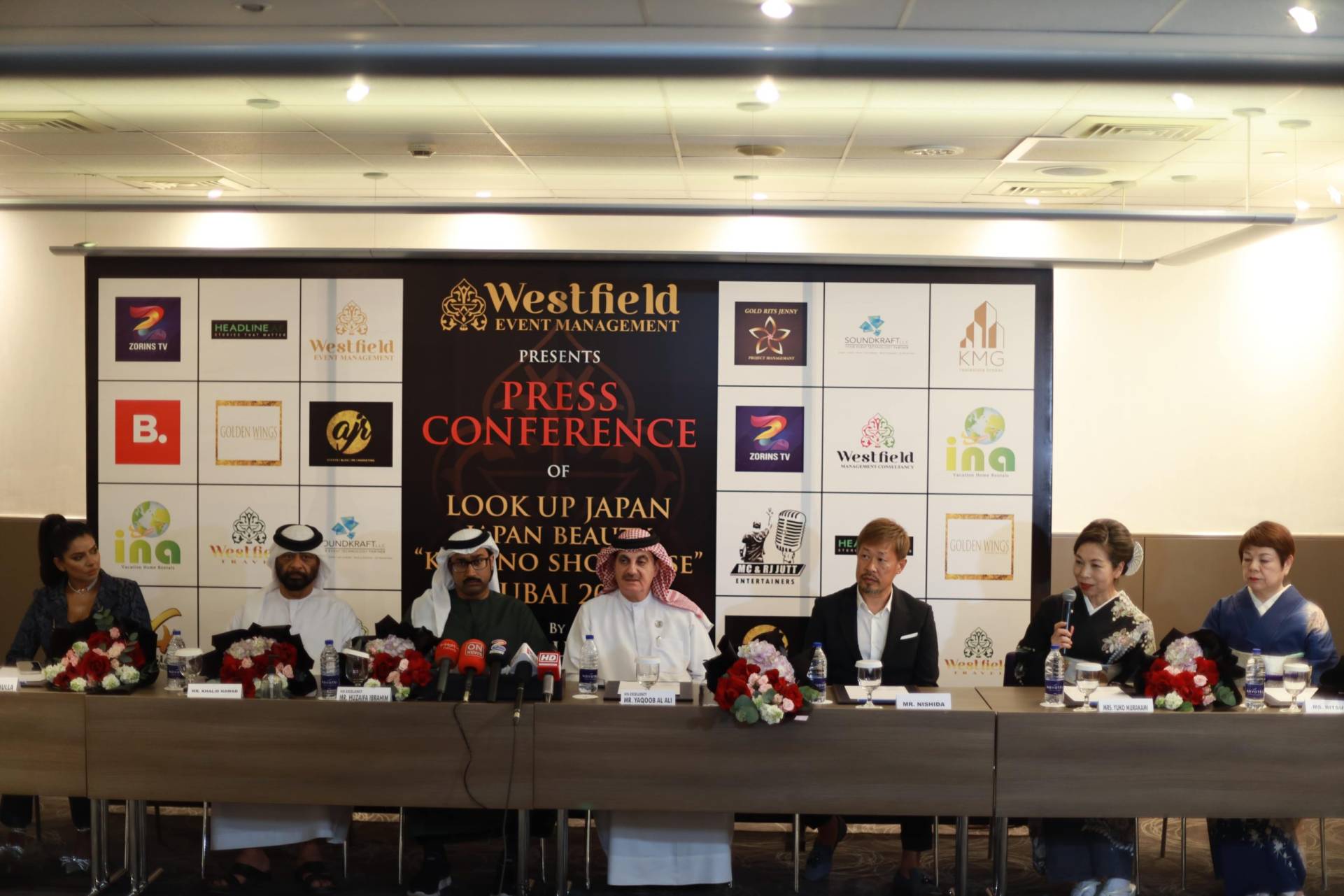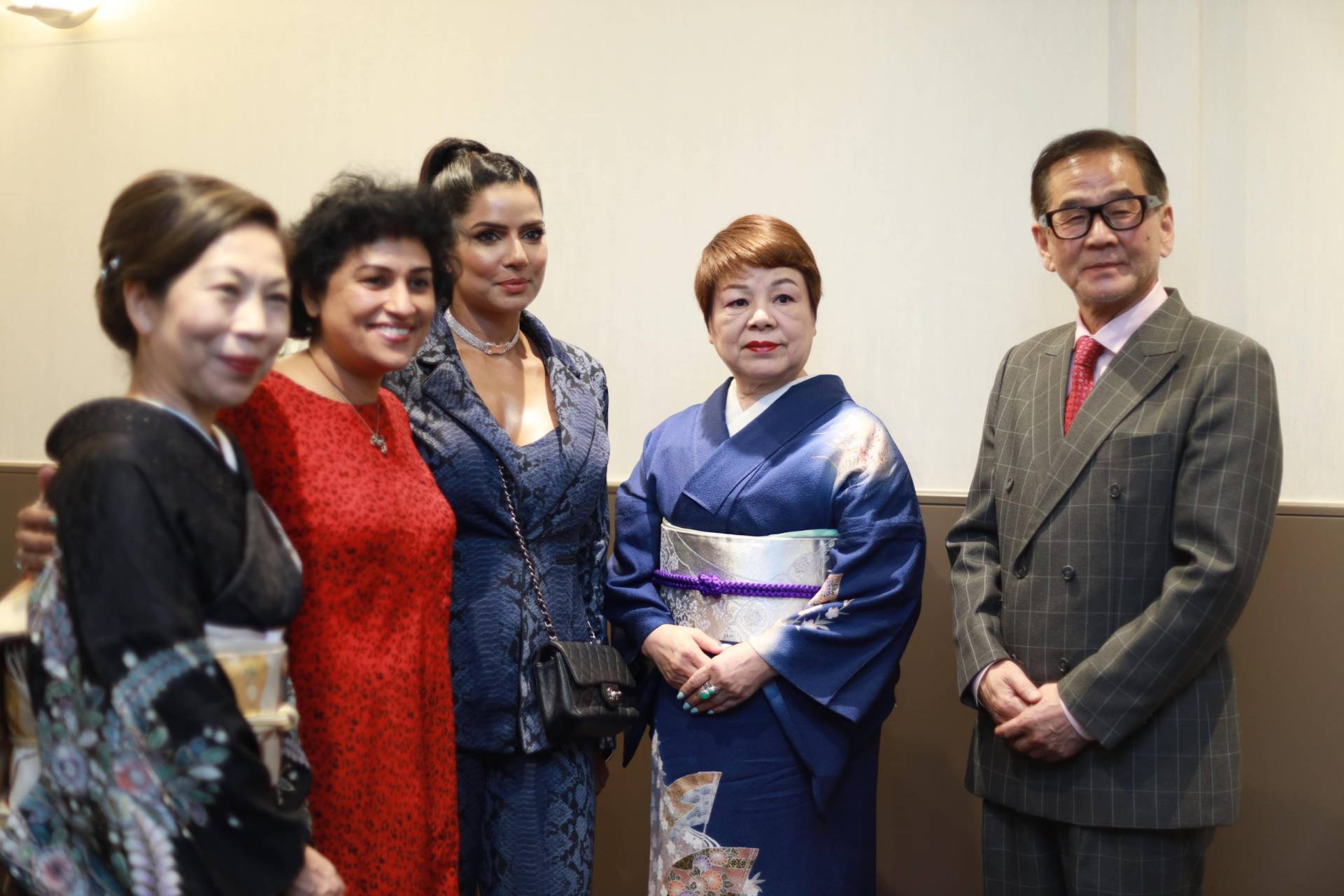 Yakoob Al Ali, centre, flanked by women dressed in Kimonos at the Novotel, WTC.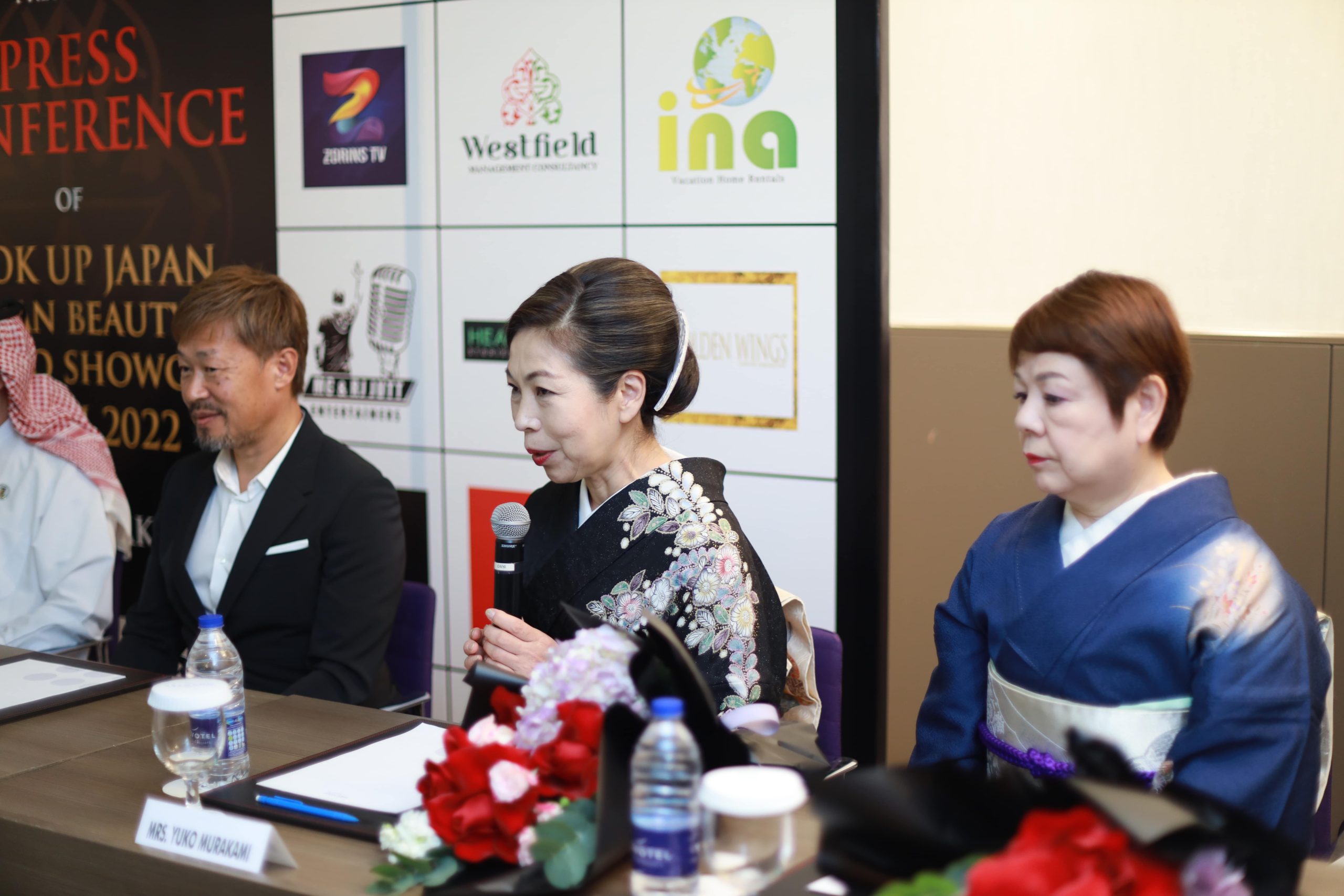 The Look Up Fashion Show will feature modern creations of the Japanese Kimono by designer Yuko Murakami
396A2650-min
Huzaifa Ibrahim, centre, is the Global Peace Ambassador from the UAE
Look Up Fashion showstopper Ayesha Mulla, centre, and the show director Rytsuko Kaneko with her husband during the pre-event news conference.

The Kimono is traditionally worn with a broad sash, called an obi, and is commonly worn with accessories such as zōri sandals and tabi socks.
Sporting a bronzed tan and dressed in a suit, Ms Mulla said she did a trial on the morning of the pre-event announcement and she felt "so good" with the obi giving a hidden boost of confidence to some sorts. The way a person wears their Kimono is known as kitsuke, meaning "dressing" in Japanese.
Ms Mulla has featured lately in the remix video of the old Hindi classic "Ghar aaya mera pardesi" (translation – Home comes my outsider/ foreigner).
Given the enthusiastic response and mutual sentiments in Emirati-Japanese relations, expect to see a lot of kitsukes at the Look Up Fashion Show trying to establish an "at home" feeling in the Land of Future.
Dates revealed for Global Village Season 27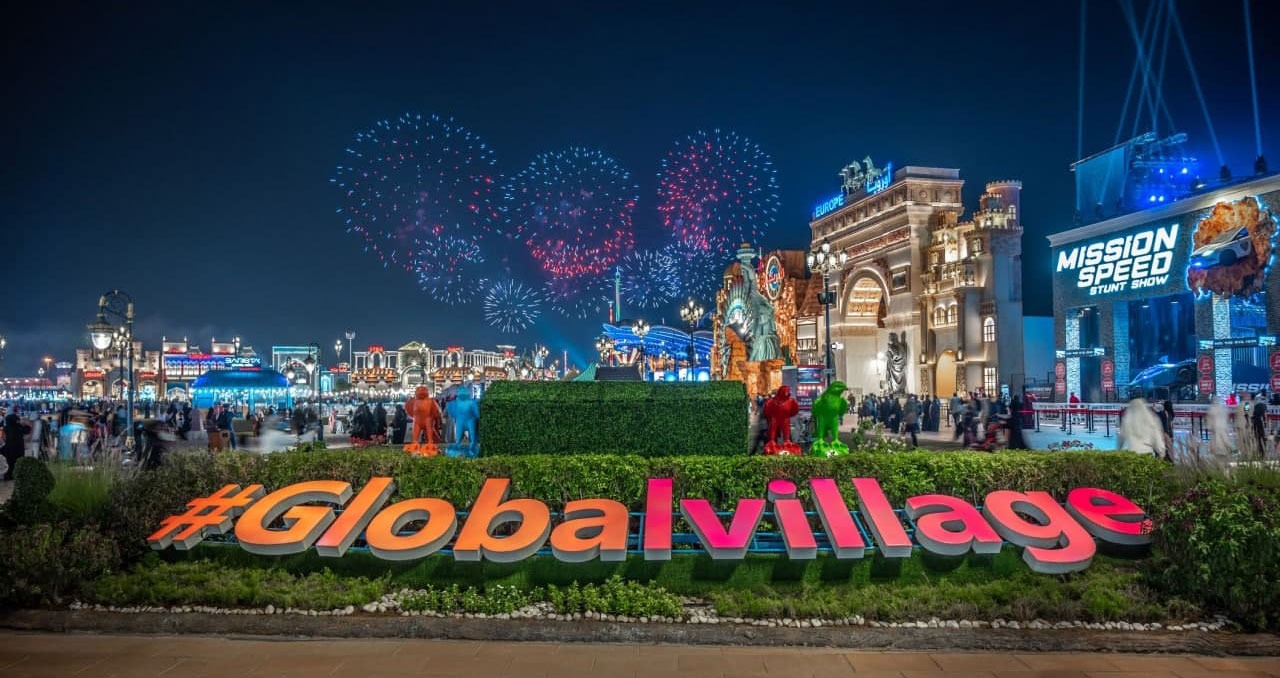 Hurrrray.…the countdown begins.
Global Village has announced its opening date for its coming season. The popular family-friendly destination will reopen on October 25, although little other details are known yet including when exactly it will run until and what will be new. However, on the official website, it says Season 27 followed by the dates "October 2022 — April 2023" which follows the typical dates the attraction usually stays open for.
Last season's Global Village had a record 7.8 million guests visit during the six months it was operational. This also includes an extended period, which saw the attraction stay open for an extra four weeks until May 7.
The destination marked its 26th season with 26 pavilions representing more than 80 cultures from around the world.
Among the countries and continents represented were: the UAE, Saudi Arabia, Bahrain, Kuwait, Afghanistan, China, Egypt, India, Iran, Iraq, Japan, South Korea, Lebanon, Morocco, Pakistan, Palestine, Syria, Thailand, Turkey, Yemen, Russia, the Americas, Africa and Europe.